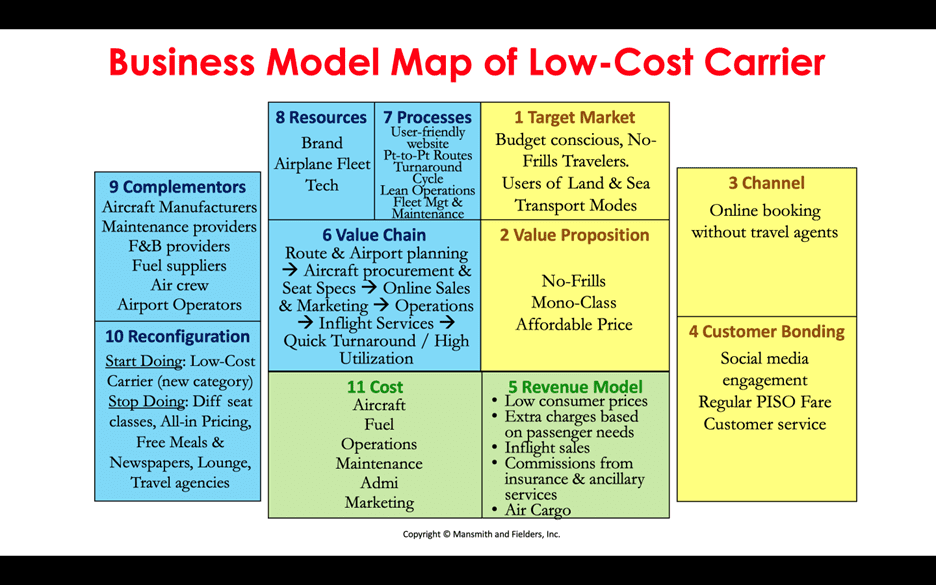 Business Model Map of a Low-Cost Carrier (Decoded by Josiah Go)
Let's begin by examining a scenario where superb marketing is coupled with an insufficient business model during the entry of budget airlines into the industry
Case 1: Philippine Airlines (PAL) smartly offered different classes – first, business, and economy – to suit various travelers' needs. PAL also emphasized their sterling reputation for top-tier service and unwavering safety standards through various media platforms. They actively engaged in travel expos, events, and rolled out specialized promotions and loyalty programs. Furthermore, PAL nurtured relationships with travel agencies, offering incentives to cultivate customer loyalty and stimulate repeat business. These were all consistent with the standards expected from the players of the airline industries at that time.
However, the landscape shifted with the emergence of low-cost carriers (LCCs) such as Cebu Pacific Air in the mid-1990s. PAL encountered challenges brought about by the surging popularity of budget airlines, which showed a shift in consumer preferences. The novel competitor's business model significantly diverged from PAL's (please see explanation below and in the illustration). The allure of budget-friendly fares and enticing deals to popular destinations resonated with budget-conscious travelers, leading them to prioritize affordability over amenities like complimentary snacks during short flights. This shift drew many passengers away from Philippine Airlines.
LCC Offering Model:
Target Market: Price-conscious, no-frills travelers and users of alternative transportation modes (sea or land travelers).
Value Proposition: No-frills, mono-class (economy class without free lunch or snacks) affordable price.
Channel: Online booking without travel agents.
Customer Bonding Strategy: Regular Piso fare promotions to make flying accessible to everyone, social media engagement, customer service.
Revenue Model: Low consumer prices if booked early, but extra charges based on passenger needs. Generate additional revenue from air cargo business and inflight sales, commissions from selling ancillary services like insurance.
LCC Operating Model:
Value Chain: Route and airport planning, aircraft procurement and seat specs, online sales and marketing, operations, inflight services, then quick turnaround / high utilization.
Key Processes: User-friendly website, point-to-point routes, efficient turnaround cycle, simplified and lean operations, fleet management and maintenance.
Key Resources: Brand, fleet of airplanes, tech.
Key Complementors: Aircraft manufacturers, maintenance provider, food and beverage provider, fuel suppliers, air crew, airport operators.
Reconfiguration for Innovation: Start Doing: Low-Cost Carrier. Stop Doing: Different seat classes, all-in pricing, free meals and newspapers, lounge, travel agencies.
Costs: Oil, maintenance, administration, marketing cost.
In the case of Cebu Pacific Air, a low-cost operation was necessary to sustain low prices. Initially, they used the same plane type, mono class, and removed many services traditionally offered. Instead of market segmentation, they focused on desegmentation based on a single commonality – Low Price. Unlike the traditional offer of "more for less" marketing approaches, they challenged the norm by offering a "less for less" business model, driving the market to adopt a new category with new expectations.
While PAL had marketing efforts in place, it had to reevaluate its business model to stay competitive. The company implemented changes such as cost-cutting measures and acquired Air Philippines, renaming it PAL Express, to counter their losing market share to Cebu Pacific Air on local routes. The initial marketing efforts fell short due to the challenge posed by a new category with different assumptions and business model design. For example, there was a time when PAL made meals optional but passengers flying PAL had been used to automatic meals inclusion on all flights. This caused much customer dissatisfaction and disappointments. Thus, simply understanding marketing and customer engagement fell short of the more strategic business model design.
What is a Business Model?
A business model brings a business idea to life, demonstrating how a firm intends to create, deliver, and capture value for its target market and the firm. The Mansmith Business Model Map has 11 building blocks that offer a comprehensive framework for designing and analyzing a business model. This framework aids decision-making, strategic planning, and effective execution, subdivided into the offering model and the operating model.
Here's a breakdown of each building block, illustrated with my example of a LCC.
A. Offering Model
Target Market: Identifies the intended beneficiaries of a firm's products or services.
Value Proposition: Specifies the relevant and unique benefit that consumer gets from buying or owning the firm's products or services.
Channel: Describes the distribution system where products or services will be made available to the customers.
Customer Bonding Strategy: The relationship as well as the solution that will be established with buyers and end users. Aims to communicate, build trial and maintain strong customer relationships.
Revenue Model: Defines the framework how a firm will be compensated for providing its value proposition to support its intended profit.
B. Operating Model
Value Chain: Represents the strategic linkage of the extended supply chain for the firm to provide value proposition to the customers for competitive advantage.
Key Processes: The critical repetitive activities that are routinized by the firm to deliver the value to the customers and to the firm in a sustainable way.
(Note: Value chain is like the forest as distinguished from key processes which are like the important trees inside the forest)
Key Resources: The most important hard and soft assets deployed by the firm to carry out its value proposition for the customers.
Complementors: People or groups who will help, both directly and indirectly to enhance the value proposition.
ReConfiguration for Innovation: Emphasizes the rearrangement of resources, processes, activities or offering that can help enhance the profit goal of the company.
Cost: Refers to the monetary consequences of the means to carry out the value proposition.
Two building blocks are emphasized in the Mansmith Business Model Map for a more complete view. These are Value Chain (which enables the value proposition) and ReConfiguration for Innovation (from challenging industry's assumptions) to ensure comprehensive business model design. These two elements underscore critical aspects essential for both short-term and long-term success and competitiveness in the evolving business landscape.
By considering all 11 building blocks, businesses gain a holistic understanding of their target market, value proposition, channels, customer relationships, revenue generation, value chain, processes, resources, complementors, intended innovation, and cost structure.
To conclude, here are two additional business model innovation case examples from the Philippines:
Case 2: COL Financial Group, Inc. (formerly CitisecOnline) revolutionized stock market participation by providing a simplified online platform for buying and selling stocks, and opened up a wealth of educational resources to guide both novice and seasoned investors. This enabled users to make informed investment decisions and navigate the complexities of the financial world. This democratized investing and resulted in industry leadership with over half a million clients and over P100 billion in net investment.
Case 3: CARD Mutually Reinforcing Institutions (CARD MRI) has disrupted conventional notions of micro-lending, centering its efforts on empowering women and extending low-interest credit to individuals and communities with modest incomes. Employing an inclusive methodology, CARD MRI interconnects micro-lending with progressive initiatives such as vocational training, educational assistance, healthcare coverage, and a community-rooted, collective lending strategy. This far-reaching approach has enabled CARD MRI to effectively tackle the intricate array of challenges confronting its clientele, thereby making substantial strides in alleviating poverty and advancing women's autonomy. The result of this tailor-made, widespread approach is an astounding 99.17% repayment rate from a customer base of nearly 9 million, all without need for collateral.
Commonalities
Across all these instances of business model innovation, several commonalities emerge. These encompass possessing a compelling vision and purpose that goes beyond profit considerations, daring to challenge entrenched industry norms and conventional business practices, fearlessly scrutinizing deeply ingrained assumptions about the market dynamics, and crafting a comprehensive perspective on value creation that extends beyond the core offering. These innovations also share an uncommon sense, one that defies initial intuition but paves the way for the inception of novel categories. Moreover, their adeptness at skillfully addressing consumer pain points stands out, while simultaneously nurturing an environment that fosters continuous and relevant improvements. By examining these cases closely, one uncovers a blueprint for innovative business models that will help individuals and teams to think differently, see things differently and do things differently.
***
The 3rd Business Model Forum is set on September 15, 2023. To attend the weeklong celebration of the Business Model Week for free, register at www.continuum-edu.com.
***
Josiah Go is chairman and chief innovation strategist of Mansmith and Fielders Inc.. He is also author behind the comprehensive 55-video Business Model Course.  He is set to host another "Business Model Innovation for Corporate Transformation" seminar tailored for time-starved executives on Oct. 3-5, 2023 (3-5:45pm), For details, kindly email info@mansmith.net
See more articles on Business Model.