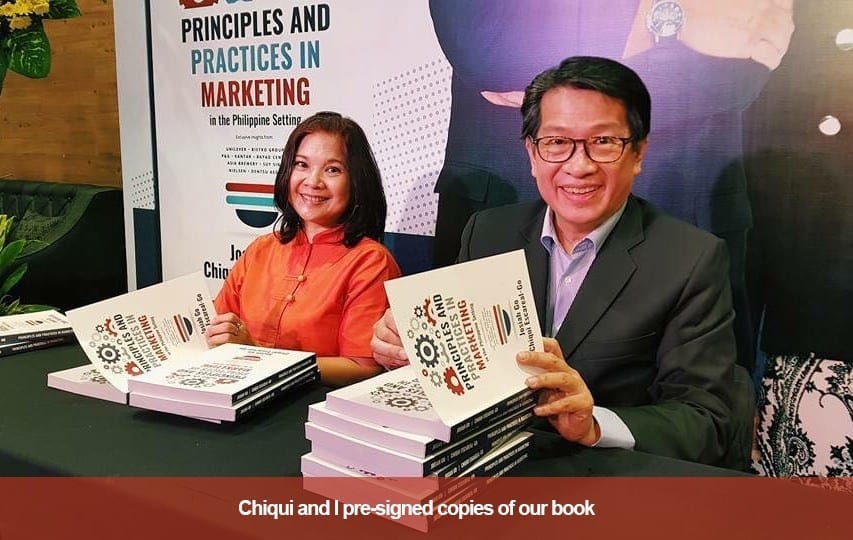 Chiqui Escareal-Go and I truly appreciate the people who showed up in our marketing book launch last Nov. 24, 2017 (Friday), 7pm at National Book Store Glorietta 1. Truth be told, I wanted to launch in Shangri-La Mall in Mandaluyong to avoid the crazy Friday traffic in Makati, and Mandaluyong being in the center of everyone in Metro Manila; however, National Glorietta 1 was much more accommodating for a book launch.
(Bestselling author Emilio Macasaet III interviewed us about some of the most common violations in marketing strategy formulation)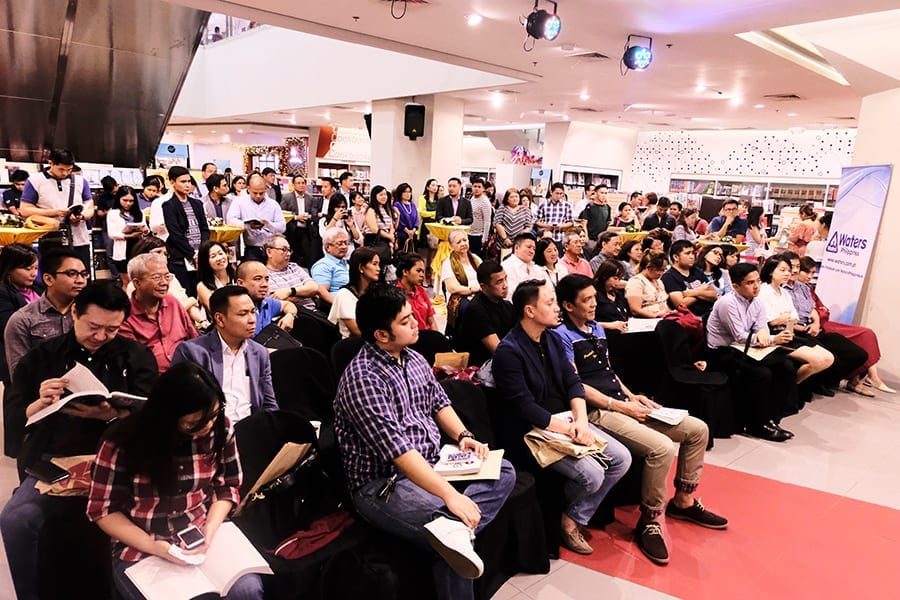 (Despite crazy Makati friday traffic, we were blessed with a SRO crowd)
We started promptly 
at 7pm
 as promised and did a
Q&A
hosted by bestselling author Emilio Macasaet III as a treat to those who came early. Then, as if on cue, during the last minute of our Q&A, Trade and Industry Secretary Ramon Lopez walked in to attend our book launch.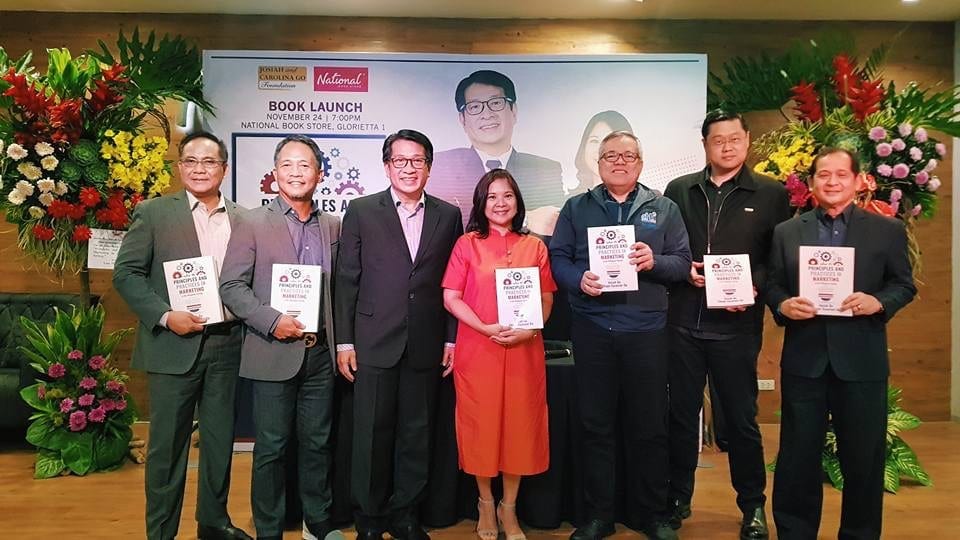 (DTI Secretary Ramon Lopez with the Mansmith Marketing Mentors)
We were honored by his presence, knowing how busy he is. He even gave a brief talk and endorsed our marketing book. Sec. Lopez then stayed and socialized with many people while Chiqui and I were on stage autographing our book for buyers. Thank you, 'SuperMon' Secretary Lopez for holding a copy of our marketing book while having a photo with friends. Big thanks for your kind words and braving traffic to attend our book launch. No wonder you are Philippines no. 1 super 'salesman'!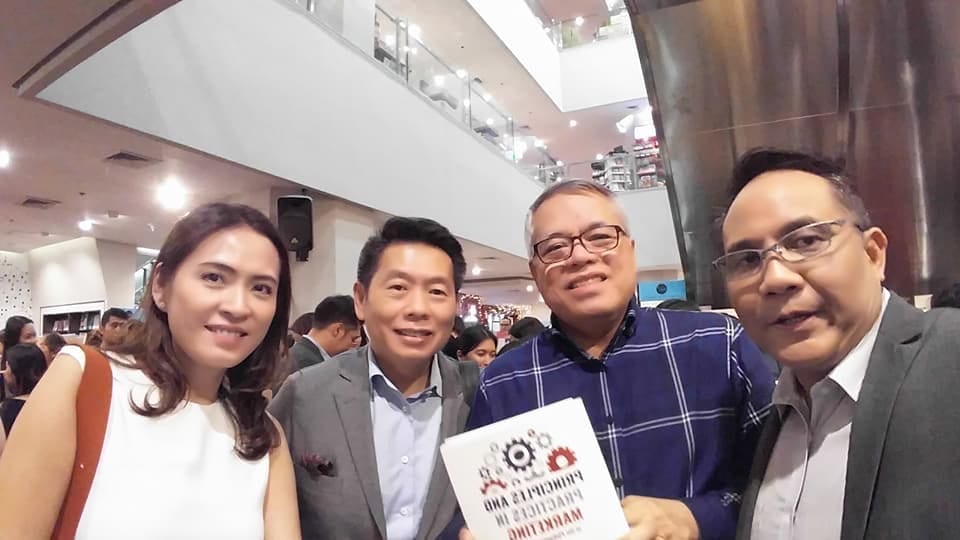 (DTI Sec. Ramon Lopez with Escada's Marilou Koa, French Baker's Johnlu Koa and Connecting Mavens' Rowen Untivero)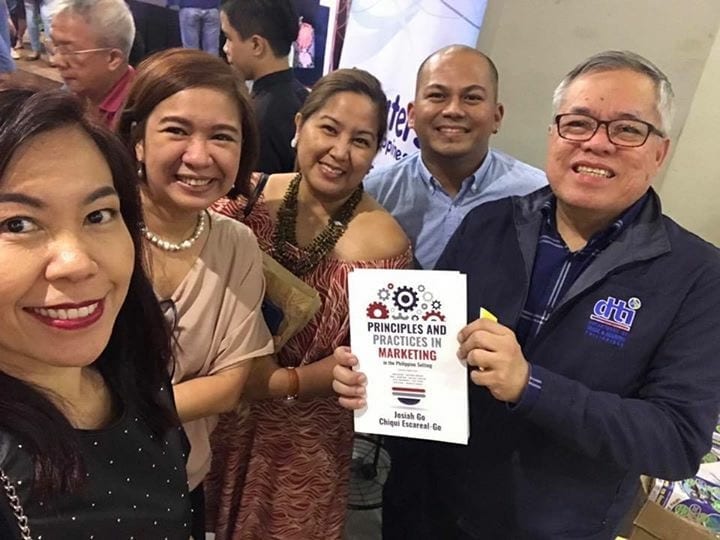 (DTI Sec. Ramon Lopez with officers of the Philippine Marketing Association)
Ms. Arlene Padua, President of the Philippine Marketing Association (PMA), and Mr. Daniel Hebron, Past President of the Association of Marketing Educators (AME) came to show their support. The PMA and AME both endorsed my book 25 years ago when I was a neophyte marketing author; and now on my 25th year as an author, I am delighted our relationship is ongoing and they continue to believe in me. Throughout the last 25 years, PMA and AME have continuously officially endorsed our books.
(Philippine Marketing Association President Arlene Padua and Team affirming PMA's official endorsement)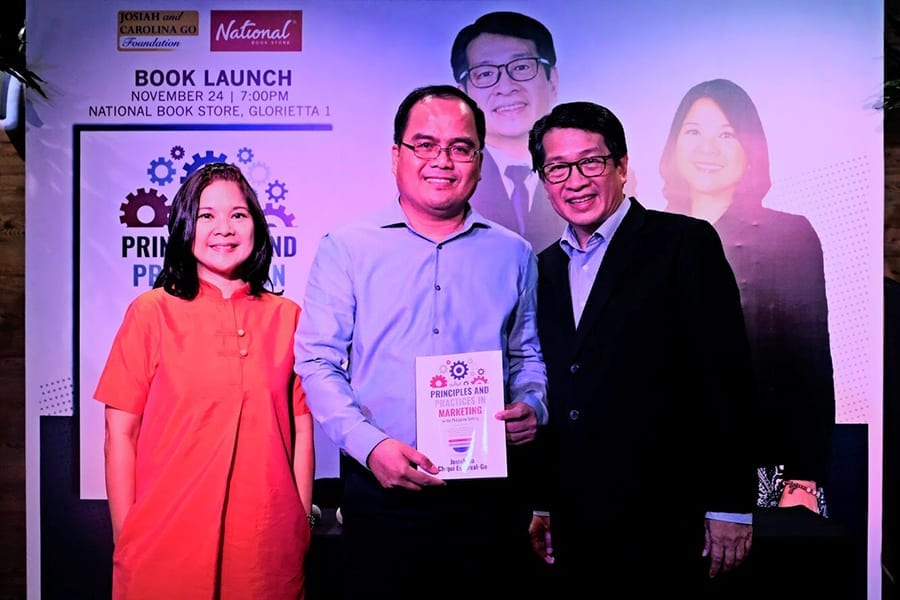 (Association of Marketing Educators Past President Daniel Hebron affirming AME's official endorsement)
The Philippine Franchise Association and Francorp sent us flowers which made our stage more beautiful. Goldilocks sent a customized cake bearing the image of our book as well as our photos in the cake (were you able to get a piece of me?). My good neighbor, Johnlu Koa and Alu Koa, were so kind to hand-carry their delicious Cha Time milk tea drinks and freshly-made French Baker products so my staff will not be hungry. Thanks for all these kindness.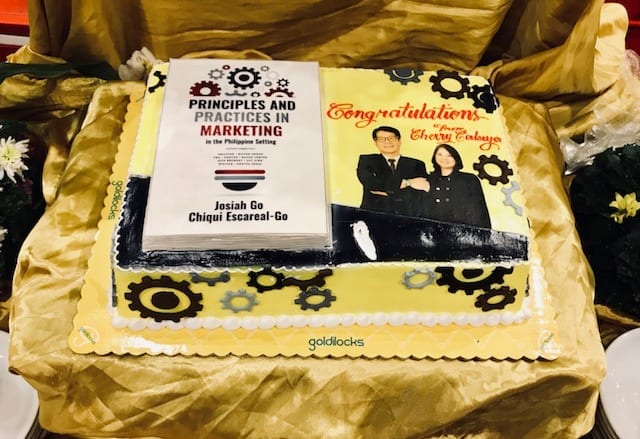 (Goldilocks made a special cake for our book launch. Thanks Goldilocks)
Thank you to all who personally came, as well as those who preordered the book even if they were unable to attend. I appreciate your support. Next to 'The Rainmakers: Marketing and Strategy Lessons From 25 Entrepreneurs', our new book 'Principles and Practices in Marketing in the Philippine Setting' has the second highest store launch sales record in the Philippines.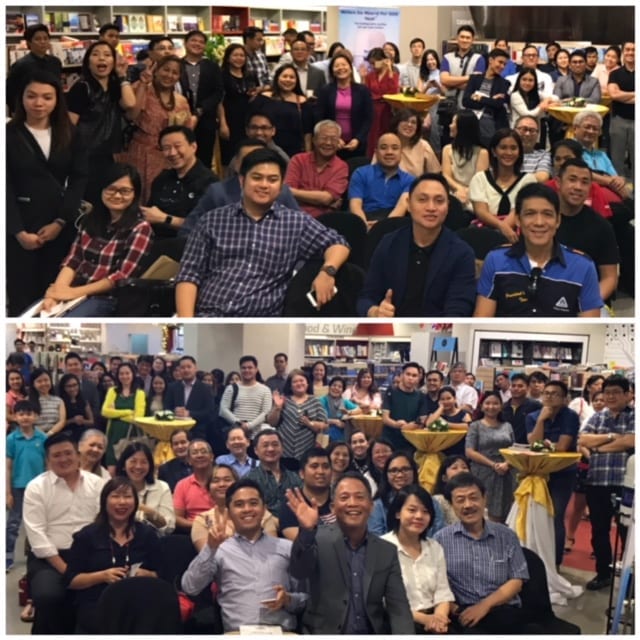 (We got many feedbacks from friends and fans they attended despite being in traffic for 2-3 hours. We are so grateful)
The book is now available in National Nook Store's Metro Manila branches, and in Vismin in about 2 weeks. It makes a great Christmas gift. French Baker's Johnlu Koa told me he really loves the 60 consumer trends in the Philippines. Check out National Book Store and Power Books!
(A great gift of knowledge for yourself and your loved ones)
Chiqui and I are grateful. Praise God!