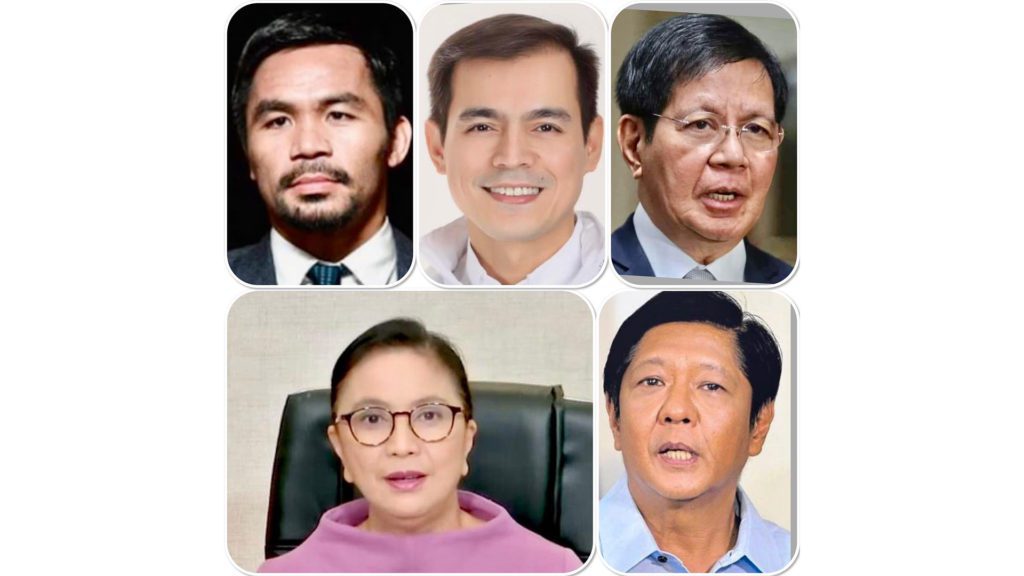 The presidential elections of May 9, 2022 is near. Many things have been featured about the candidates, though perhaps only a few using the dynamics of the decision making process of voters as consumers of a political exercise. Below is a sequence of tests for political players to consider.
1. The Name Recall Test: Brand awareness is a minimum requirement. Hence, celebrities, celebrity-like social influencers, controversial personalities and incumbent politicians (and their family members) have a big advantage against unknown but more competent new candidates. The name recall test is also a hierarchy where those who can be remembered and mentioned ahead of the others have the edge against those mentioned later (known as unaided awareness) or those who need to be prompted to be remembered (known as aided awareness). It is therefore next to a miracle for those with low name recall to expect to win in the next election. Voters may even ask what they did before the elections to effectively improve their own chance of leading the country. If they cannot even make themselves known to the voters, how can they even get things done for the voters! Advertising-driven mass media frequency can be faster but are resource heavy. Selling-driven house-to-house campaign can get more personal engagements with voters but is a slow and tiring process.
2. The Positive Value Proposition Test: Brand awareness must lead to a positive brand association. This is especially needed from a set of voters large enough to counter any negative brand association. In a marketplace of many candidates for the same position, gaining majority is not needed, only a plurality. President Fidel Ramos got close to 24% in 1992 while President Rody Duterte got close to 39% in 2016. Both candidates came from behind early poll surveys. President Duterte's brand association was about no-nonsense fighting criminals and drugs, while President Fidel Ramos was about political and economic stability, both issues considered relevant during their respective campaign periods. Know the depth of the pain points and wish list of the voters before choosing a specific brand association and/or image reflective of the candidate. Without brand awareness, however, brand association is useless.
3. The Likability Test: Voters are human beings who are naturally attracted to some candidates while also turned off with others. A likability scale exists especially important to those undecided voters as well as to voters still without a firm choice as an initial shortlisting process. Likability is critical in order for key campaign messages to penetrate and be believable. Likability is beyond looks or simply being nice. Specific traits can make a candidate likable or not likable. Having a track record of empathy and helping others is an obvious plus. Having an elitist image is a no no, hence, candidates typically wear t-shirts or checkered shirts to look like the ordinary voters they are courting. Manila Mayor Isko Moreno, offering himself as the alternative candidate, even has a "Nais Ko" musical ad in You Tube showing him eating with his hands like the poor, emerging from a rat-infested house in a high density alley suggesting his own transformation from poverty, learning from President Duterte's 2016 campaign that appealing beyond logic and political platform is a stronger option. Usually, the context of likability during economic crisis periods can change people's preference for likability traits. These may include confidence or optimism, available resources and competency needed not just to lead an economic turnaround for the country, but also the practical question of the candidate's ability to translate national gains to the level of one's life and family.
4. The Weighted Test: Conversations can be altered by first understanding the degree of importance of an issue close to the hearts of the voters. Being data-driven is indispensable but the ability to translate the meaning of the data is key. Do voters want jobs (Robredo's economic-oriented platform)? Do they want unity (Marcos' political leadership platform)? Do they want someone with the most experience (Lacson's competency-oriented attribute)? Do they want to remove corruption (Pacquiao's justice-oriented platform)? Do they want action-oriented change (Moreno's fast execution promise)? Each candidate will try to propagate their program to be remembered and adopted as the preferred platform, hoping it will fly and resonate with the people. Remember the Senate election of 2019, won overwhelmingly by the administration without a single opposition making it. Voters must believe candidates can get things done for their benefit. What is important for a candidate may not be important to voters. The enemy of the candidates may not be the enemy of the voters. Once every six years, the "masa" voters, close to 9 of out 10 people in the Philippines, ensure their voices are heard, by collectively exercising their choice, many times different from other socio-economic classes.
5. The Psychological Benefit Test: It is not always about what a candidate's attribute (functional benefit) is but also about what the emotional and social benefit to the voters would be. Human being are emotional creatures with hints of logic, not the other way around. Voters, like consumers, evaluate based on many layers of benefits. It would be inadequate to focus only on platform of government, etc. Voters can even choose to be more involved, like being part of a fandom, which can offer real and immediate benefits to themselves. Fandom is a subset of fans that show greater feelings of connectedness with their idol (or even object), as well as other people like them. Like in a TV or movie show, they may have attachment to a character, even if they are fictional.
Ilocanos, for instance, look up to the late President Ferdinand Marcos, at least 85% of them do, and by extension, his son gets benefited with this fandom. Ilocanos can gain social benefit by being seen or being associated with one of their own. This offers them a sense of identity and self-esteem from lost pride three decades earlier during Edsa People Power of 1986 which drove their idol out of Malacañang. It may even give them a sense of purpose beyond their life's routine, especially knowing the fandom's son lost in an earlier election by a thin margin. When followers develop into becoming part of a fandom, whether it is out of love, out of obsession or for whatever reason, they tend to mix what's real and what's not, to the point of creating myths and urban legends. The important observation is why some candidates have a large fandom and what is the cause that cements these large groups.
And as if with foresight to influence the future, the late President Ferdinand Marcos actually expanded the territory of the original Ilocos Region by transferring Pangasinan from Region III into Region I in 1973. This added more Ilocanos who have been migrating out of their homeland to other parts of the Philippines (and even Hawaii and other parts of the USA) due to high population density then.
6. The Brand Belief Test: Voters are influenced with what they hear and what they see as evidence. This helps them shape their belief system. For instance, the Marcos name is associated with the Cultural Center of the Philippines and other major infrastructures that people can still see today. Fortunately for the Marcoses, not many can remember where the Martial Law Museum and the EDSA People Power Museum are located, and if they even exist, a big miss for political and education leaders for over three decades. There is a need to understand the importance of signs and symbols in cultural engagement, which is the most fundamental in consumer behavior. The meaning of the color yellow is a clear example that after three decades, not a single political party want to carry that color anymore because it conveys a different meaning, a negative association among certain groups of voters. On the other hand, we see many posters and videos of candidate BongBong Marcos beside windmills in Bangui, Ilocos Norte, attempting to create his own signs and symbols separate from those of his father and namesake, even if there are different versions as to his real role in the installation of the windmill, a fact other candidates and media have been questioning, either to correct misinformation or to alter belief about the Marcos brand.
Fandom and Cancel Culture:
The Brand belief system can also come from reputational cancel culture, which is a toxic way of dehumanizing people by public shaming them, and leading to potential destruction of their careers. Recall the many times Vice President Leni Robredo had been rebranded as weak in crisis ("walang diskarte") by President Duterte. Repeating the same message often enough without an effective counter message or defense communication can lead to potential validation of the cancel culture message, casting doubt, at the very least by President Duterte's own fandom. This can now benefit candidate Bongbong Marcos, and by virtue of his choice of President Duterte's daughter Sara as his running mate, sealing the fandom of Marcos' north and Duterte's south. This makes it harder for VP Leni to convert a Duterte diehard or a pro Marcos supporter. This also explains why Mayor Isko Moreno and Senator Ping Lacson will be the biggest beneficiaries should candidate Marcos be disqualified before elections day for his previous crime of not filing income tax returns from 1982 to 1985.
There are three parts of a value proposition that can be converted into votes, and in sequence, these are relevance, uniqueness and believability. Get the first two right without the third element won't mean much to the voters. One has to be believable and show proof of believability. Congresswoman Leni Robredo was the underdog in the 2016 elections being the lowest-ranked politician running for vice president. After winning that, she is now the highest ranking government official running for president, and the context is very different. Her priority to unite the opposition thus delaying her decision to run may have hurt her a bit more than expected. But VP Leni has a track record of overcoming overwhelming odds. She won two major elections against well-oiled political families in the past and continues to work for the benefit of Filipinos all over the country despite the meager budget of her office and being the number one target of countless misinformation, fake news and cancel culture.
Still, there may be a sudden change of dynamics. Beliefs of voters can drastically change with powerful internal scandals that can shock beyond a fandom's confirmation bias. Having one big name with a large following can influence cancel culture, and even cement a new following, especially if it is followed by a strong second voice that lends credibility to the first.
In the past, voters have elected candidates with many wives, with graft cases, with foul mouth, so what else can really scandalize the Filipino? Despite his many scandals, President Duterte's approval rating continue to be high, although not as high during its peak. Is there something the opposition is not seeing?
Scandals must be so extra potent and irrefutable, otherwise such will just produce a re-entrenchment of existing beliefs when the position of the fandom gets challenged. Remember that the psychology of fans is they are typically interested in all the details of their idol and the fandom, and they spend a greater part of their time, energy and resources to be involved in that special interest network. They show tribal behavior of in-group vs out-group and have a need for social recognition, socialization and symbolism of what they represent. However, fandom members can lose objectivity as they can easily be swayed by the decision of the majority. They can also be swayed by strong influencers who have seen and report inauthentic behaviors.
Fortunately, Leni Robredo did so well in the 2016 vice presidential debates she gained so many points in the process to win the vice presidential race by a thin margin. It also helped that fellow candidates Senator Antonio Trillanes and Peter Cayetano ganged up on Senator BongBong Marcos during the vice presidential debate that the latter did not want to participate in subsequent televised debates anymore. Being way ahead in presidential surveys, there is not much to be gained by Senator BongBong Marcos in a debate format, except if pressured by his own fandom, or required by the Comelec.
Reflection:
As voters, we need to stop taking our view of candidates as the only correct view. We can start using an anthropological lens not just to question our own assumptions of our political preferences but also to pay attention to how different market segments understand, experience and shape their intent to vote in the next elections. We also have to question our own assumptions of campaign strategy norms and preferences. We should pay attention to how an outlier candidate named Rodrigo Duterte won the presidential elections of 2016 without following traditional logic of election campaigns. Finally, we should reflect if the people are already tired of polarizing politics?
Josiah Go is Chairman and Chief Innovation Strategist of Mansmith and Fielders Inc. 
See more articles on Decision-Making.