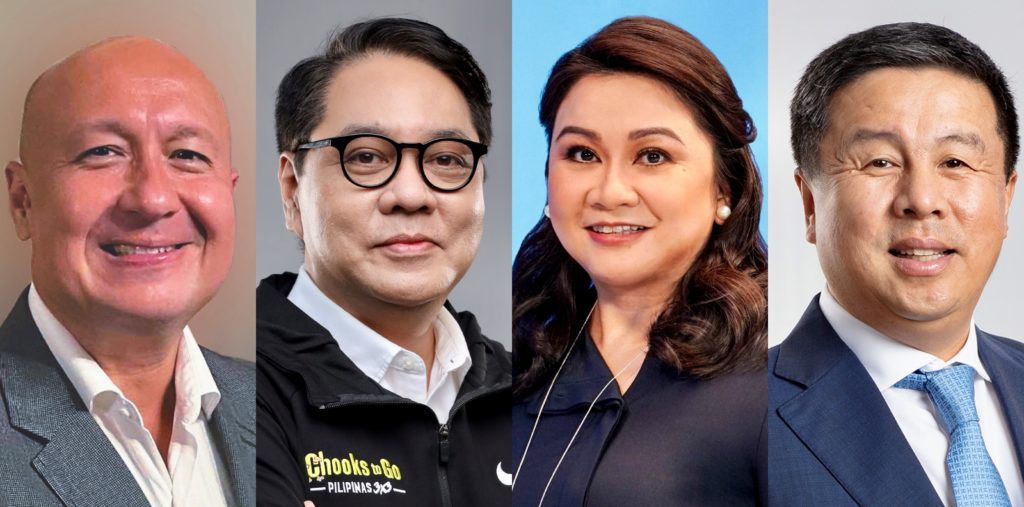 (From left to right: Lhullier, Mascariñas, Sazon, Uy)
Four prominent Filipinos have been named Master Innovators in the 2nd annual Mansmith Innovation Awards. They are Jean Henri Lhuillier, Ronald Mascariñas, Martha Sazon and Dennis A. Uy. They will join an equally elite roster of game-changing master innovators recognized last year — Edwin Bautista (Union Bank), Kenneth Cobonpue (KennethCobonpue Collection), William Tiu Lim (Mega Sardines) and Beatrice Valdes (BeaValdes Design).
Jean Henri Lhuillier is CEO of Cebuana Lhuillier Group of Companies. From a pawnshop chain, he has converted it into a retail powerhouse doing not just pawn-broking, but micro insurance, bills payment, money remittance, loans, collections and e-loading, among many other micro financial services, exploiting the "sachet" concept in their pawnshop chain with over 2,500 branches.
Ronald Mascariñas is President and CEO of Bounty Agro. Over a decade ago, poultry integrator Bounty Group innovated on its business model, establishing over 2,000 retail outlets of Chooks-to-Go, Uling Roasters, and more recently Hei Hei chicken burger take-out stores, outnumbering and outselling all other major take out cooked chicken chain combined. It has also promoted nationalism through sports.
Martha Sazon is President and CEO of GCash, the pioneer and biggest in mobile wallet and payment in the Philippines and the first operating unicorn born in the Philippines. Its number of users have more than doubled the last two years from 20 million in January 2020 to over 50 million users by the end of 2021. GCash has expanded its fintech platform to include savings, loans, insurance, and investment.
Dennis A. Uy is Chairman and CEO of publicly-listed Converge ICT, the first to introduce end-to-end fiber internet in the Philippines, implementing market-driving strategy by launching a new tech category of high speed broadband to millions of underserved customers in the Philippines, capturing a dominant market shares of fiber internet despite being a late entrant in the telecom industry.
As a Mansmith-innovated process, master innovators select up-and-coming enterprise innovators, shortlisted from applications submitted and screened. Four winners have been selected by them – – David John Aguilar, EJ Arboleda, Paco Magsaysay, and Steve Sy. They will join last year's winners composed of Katrina Chan (QBO), Barnaby Chong (CHG – Easy Soft Shoes), Neogin Evangelista (Philusa), Rose Ilao (Mobile Optima), RJ Ledesma (Mercato Centrale) and Dr Merlinda Palencia (Envigor).

(From left to right: Aguilar, Arboleda, Magsaysay, Sy)
David John Aguilar launched The Final Pitch, the first business reality TV show in the Philippines where contestants transform their startups via pitching for mentorship and back-end support services, providing a platform for both entrepreneurship education and business investment.
EJ Arboleda founded Taxumo, the Philippines' first end-to-end online tax assistance platform that makes it easy for self-employed individuals and small business owners to compute, file, and pay taxes. EJ created Taxumo after seeing how his entrepreneur wife (Ginger) stressed monthly about tax filing, consuming her time and attention away from her business, and paying hefty penalties to the BIR when her previous accountant forgot to file her quarterly taxes and accomplish her bookkeeping requirements.
Paco Magsaysay launched Carmen's Best ice cream, the first premium Filipino ice cream brand in the Philippines, using local milk and specialized ingredients and pasteurization processes in ice cream production, turning the problem of proper storage of fresh milk into a new product opportunity in new market spaces.
Steve Sy is Founder and CEO of Great Deals E-Commerce, the pioneer and largest end-to-end ecommerce solution provider for branded products in the Philippines, currently handling over 300 principals. Steve saw the ecommerce channel opportunity after selling thousands of powerbanks online in one day and e-distributing virgin coconut oil for a small manufacturer.
These eight Filipino innovators will receive the 3D printed Mansmith innovation sculpture trophy, specially designed by world renowned and internationally awarded Sadjid Imao in the afternoon of April 26 and 27, 2022, where each awardee will personally share their insights on the making of their innovations which span many industries – from product, service, business model, to retail, tech and digital transformation. The awarding and the summit, both officially endorsed by the Department of Trade and Industry and Go Negosyo, are offered free as a public service and attendees can directly interact with the awardees through zoom. Free registration is limited to the first 1,000 via www.continuum-edu.com courtesy of corporate supporters Acer, JS Unitrade, Union Bank, Abenson, Waters Philippines, Philusa and Inquirer. Invite your partners, mancom and team members and learn how these giants dared to dream.
Another opportunity awaits as the 2nd Mansmith Innovation Challenge is here. Some P250,000 in cash prizes are at stake, where teams of 3 or 4 have the opportunity to recommend innovative solutions to real world challenges and win cash prizes. Details are available at www.mansmithinnovation.com
*****
Josiah Go is Chairman and Chief Innovation Strategist of Mansmith and Fielders Inc. Visit www.mansmith.net for eight innovation courses that can help your company grow. 
See more articles on Innovation.