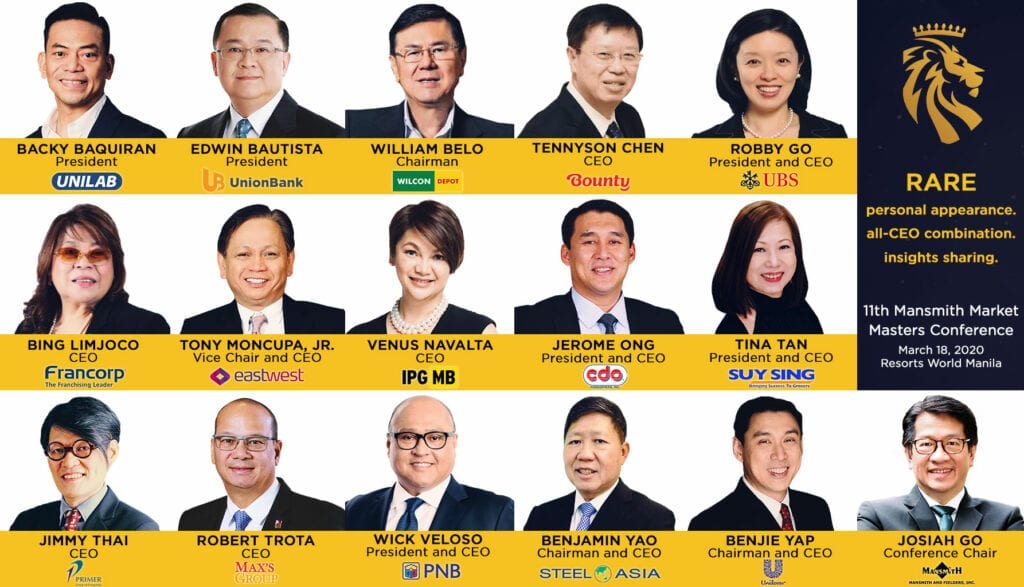 I am extremely proud to announce the 30th anniversary offering of Mansmith and Fielders Inc.— the 11th Market Masters Conference — featuring a dream team of high-powered CEOs in 5 high-impact topics. It is definitely THE Marketing Conference to attend in 2020.
Check out the conference agenda below.
Session 1:
Behind The Scene: The Strategist Behind the Strategy
Top executives guide strategy formulation and execution, but is getting more difficult in a fast-changing world where agility rather than rigidity would be required. In this session, our panelists will answer questions like:
How do the personal, educational and career backgrounds of the strategists influence them in strategy formulation?
How does a strategist see things differently and think differently?
How do they know if their strategies will perform better than competitors?
What capabilities should be present in a chief strategy officer?
Which part of strategy planning process would need changing and why?
Panelists:
Robby Go, President and CEO of UBS Securities
Benjamin Yao, Chairman and CEO of Steel Asia
Benjie Yap, Chairman and CEO of Unilever Philippines
Session 2:
Intrapreneurship: What Marketers Can Learn from Entrepreneurs about Opportunity-Seeking and Risk Mitigation
The marketing management process starts with opportunity-seeking and not marketing mix formulation. New opportunities not identified and pursued will derail the growth of a company. In this session, our panelists will answer questions like:
What are ways to effectively seek business opportunity?
Are there practical, thin slicing processes in seeking opportunities?
How can one mitigate the risk of new launches, new projects, new businesses in order to have higher odds of succeeding?
When and what are the signs they need to abandon an opportunity?
How can large companies be better than start ups in opportunity-seeking and innovation?
Panelists:
William Belo, Chairman of Wilcon Depot
Bing Limjoco, CEO of Francorp Philippines
Robert Trota , CEO of Max's Group
Session 3:
Market-Driving Innovation: Exploiting Opportunities in Underserved Markets
Instead of resorting to price or promo-driven and brand-switching tactics, visionary leaders push the innovation button, creating a new path for the company's future, potentially resetting an industry's competitive factors, launching new categories, and attaining thought leadership then category leadership. In this session, our panelists will answer questions like:
How to choose which specific underserved and unserved markets to tap?
How to get insights for big idea?
How to validate that their big idea is the right idea?
How to sell the idea internally and to the board for budget allocation?
What barriers can be expected to be encountered within the company and how to handle them?
Panelists:
Edwin Bautista, President and CEO of Union Bank
Tennyson Chen, CEO of Bounty Fresh Group
Jimmy Thai, CEO of The Primer Group
Session 4:
The David Phenomenon: The Mindset of a Serious Challenger
Goliath, with all the strengths and advantages of a dominant soldier, lost to a shepherd named David, giving hope that in the marketplace, challengers can gain more than a niche and even win. In this session, our panelists will answer questions like:
What are ideal situations to compete against established brands?
How should startups and smaller players compete with established Goliath in the marketplace?
What should market challengers never do?
How to determine if established players will retaliate or not and what to do about these scenarios?
How to estimate the probability of success of a challenger in the marketplace?
Panelists:
Tony Moncupa, Vice Chair and CEO, East West Bank
Venus Navalta, CEO of IPG Mediabrands
Jerome Ong, President, CDO Foodsphere
Session 5:
Distinctiveness vs. Differentiation: Competing in an Increasing Commoditized Market
Standing out in the marketplace is becoming harder and harder. The push for differentiation may be misguided as it is getting a shorter "shelf life". An alternative is to be distinctive, with recognizable assets and ideas associated with the brand that are liked by the customers. In this session, our panelists will answer questions like:
How do you differentiate against competitors in the industry?
What can be the distinctiveness of a company and brand?
What is the process of arriving at differentiation as well as distinctiveness?
How to compete to avoid the commoditization trap?
How does a firm, especially large established organizations, ensure continuous market relevance?
Panelists
Backy Baquiran, President of Unilab Inc.
Tina Tan, President and CEO of Suy Sing
Wick Veloso, President and CEO of PNB
Marketing Executives and business leaders are expected to be in Resorts World Manila on March 18, 2020. Mark your calendar, you do not want to miss this!
Registration is now open and may likely close earlier March 2020 or soonest the tickets are sold out. Register as soon as possible to secure your slots. There are also volume discounts for corporate groups of 10, 20 and 40 people.
Would you help me share this post to marketers you want to see in the dream marketing conference of 2020?
***
To register online for the Marketing Conference of 2020, go to www.marketmastersconference.com. For inquiries, reach Tessa at  ask@marketmastersconference.com or call (02) 8722-2318 / 0917-629-4649.