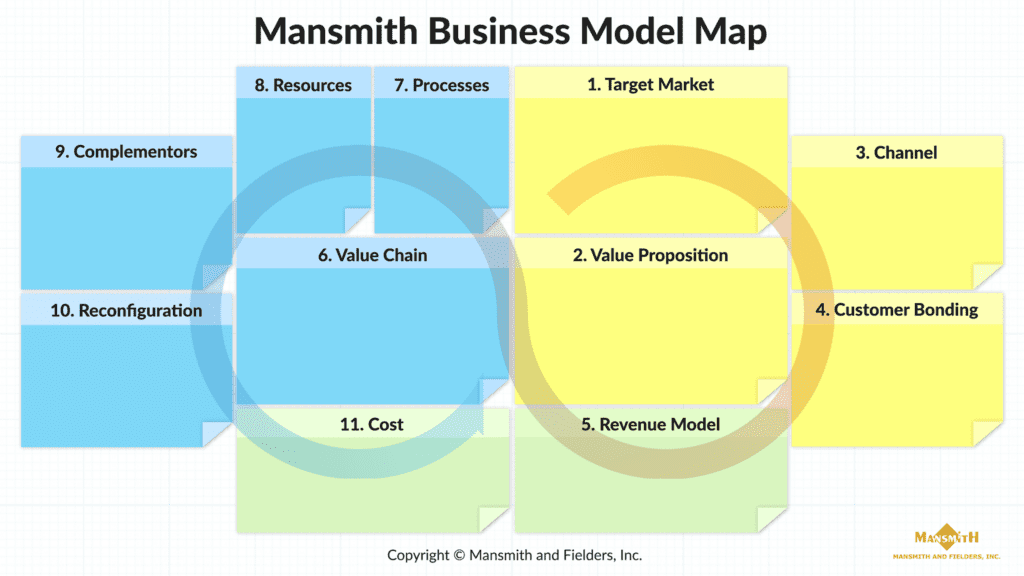 Why do some marketing strategies work with some companies but not with others? Besides having bad products, pricing and a host of related issues that affect awareness, trial and repeat purchase, the answer may have something to do with the company's operating model. A colleague with over 20 years of experience in the food and beverage industry shared a frustration that when they once launched a new pizza variant, it was quite successful until they ran out of cheese – if only purchasing and finance did their part promptly and correctly within the operating value chain!
An operating model is part of a business model. A business model explains how a company creates value to the customers and consumers (known as value creation) as well as to the company (known as value capture).
There are two main parts of a business model: the offering model (marketing's domain) and the operating model (operation's territory). Under each of the two parts are five indispensable elements. For the offering model, you have target market, value proposition, channel, customer bonding strategy, and revenue model – they are what marketers are most familiar with. For the operating model, you have value network, resources and processes, complementors, configuration, and cost, which are often left to managers of other functional departments.
Without bothering to know and be involved in the operating model, many marketing strategies cannot be executed or executed well. Consider the following cases:
Value Network – KIVA (kiva.org) collapsed the normal value chain of financing microenterprises by creating a website patterned after social networking. There, people who want to help can lend whatever amount of money directly via institutions that help local entrepreneurs from developing countries. The site itself removes its creators from the actual fund decision of who gets what, while also removing the credit risk involved in a money lending activity since field partners or fund managers are fully accredited and lenders do not actually expect to earn from the transactions.
Complementors – Ginger Hotel, part of the Tata Group of India, like the Go Hotel in the Philippines, has less than 10 regular employees running each hotel of about 100 rooms. All other manpower is outsourced way ahead of time based on rooms booked online. Compare this to 130 employees in a 5-star hotel. The result is a higher gross margin of about 65% versus the typical 35-50% of 4 and 5-star hotels that charge much more. At the same time, high customer satisfaction is maintained.
Resources – The Singapore government determined that their civil servants are key assets; hence, any civil servant who can point to an obsolete law that needs to be abolished is rewarded S$1,000.
Processes – Zara from Spain's Inditex Group is best known for reducing the typical design-to-store cycle from 5-6 months to only 2-4 weeks, thereby increasing the number of new designs per month – giving consumers more reasons to visit the stores and resulting to some one billion pieces of clothes sold worldwide.
Configuration – Easy Group of Greece learned lessons from low cost carriers in the airline industry. They applied the same no-frills policy in the cruise business where the average age of a cruise passenger is usually in the 50's because of the prohibitive price. Their low cost structure resulted to lower prices for their Easy Cruise which attracted many people in their 30's.
Marketers must not limit themselves to knowing the offering model. A gold mine can be secured by understanding, challenging and innovating on each element of the operating model. As can be seen from the above examples, the operating model helps marketers create not just a value offering but competitive advantage as well. This manner of strategic thinking is much better than marketing people being mere promo tacticians of the company, seated far away from the CEO's side during an executive meeting.
How much of the business model essentials do you know and understand?
(Thanks to BusinessWorld for publishing this article)