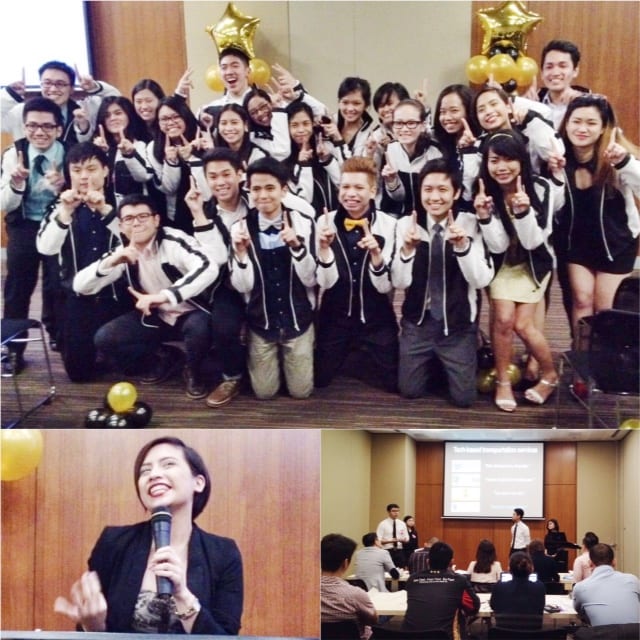 In 2004, Ding Salvador (then newly–retired ASEAN president of Johnson and Johnson's) and I put up MarkProf Foundation Inc. to help develop future leaders of the Philippines.  We saw some biases happening in the corporate world where hiring of important entry-level positions, including management trainees, was usually limited to three schools, namely: Ateneo, De La Salle, and University of the Philippines (not necessarily in that order).  We wanted to cheer for the "underdogs" — other brilliant college kids whose parents may not have had enough money for tuition for these schools, or who may have had fewer choices given their limited access to opportunities.  We did not like the fact that the dream of many Filipinos is to be able to work and stay abroad.  We wanted to contribute to the improvement of marketing education in the Philippines.  In a focus group discussion with some CEOs such as Herbert Sy (SM), Cecilio Pedro (Lamoiyan) and Grace Castaño (J&J), they mentioned that companies have, in fact, tried to recruit from other schools but have not experienced the returns commensurate to their efforts.  This is how MarkProf Foundation Inc. came to be. We were on a mission.
We launched several school searches and implemented a rigorous screening process to find the most outstanding graduating student leaders.  Those chosen yearly were a mix of students coming from various universities (today, even included Visayas and Mindanao).  They had to earn the right to be included as one of the Top 25 Marketing Management Trainees of the Philippines by successfully completing a 7-weekend bootcamp in marketing leadership.  Like a management trainee program, none who entered the bootcamp was guaranteed to graduate.  They had to prove they excelled in innovativeness and critical thinking, among other desired traits.
In subsequent years, graduates of the MarkProf program took over running the bootcamp.  Belle de Jour's Darlyn Ty (who later became one of the youngest Agora awardees in entrepreneurship) became MarkProf President after me, followed by Unilever's Jem Perez, Glaxo's Mea Guinhawa, Nestle's Kakam Gabunada, J&J's J-Anne Gaurino and Bounty Fresh's AR Polinar. Ding Salvador and I relegated ourselves to oversight and cheerleader functions but tried our best to be present during the bootcamp proper.
MarkProf today has become not just a resume equalizer for its graduates but has changed lives.  The MarkProf credential has given students, not coming from exclusive schools, an opportunity to be management trainees.  Its first big breakthrough was when Gerry Ablaza (then CEO of Globe Telecom) asked his HR to include MarkProf graduates in their yearly search, treating MarkProf as a "fourth school". Other companies like Splash supported MarkProf as they understood the vision of MarkProf to nurture future leaders who will shape the business community.  For the last few years, MarkProf worked with different marketing knowledge partners like Nestle, P&G, Unilever, Jollibee, Nestle, Glaxo, Splash, McDonald's, McCann, Coke, and Globe who took turns each week in providing venues and speakers on various themes, supplemented by CEOs and CMOs from other companies who talked about the latest thinking like market-driving strategy (underserved markets), business model innovation, 360-degree brand activation, personal branding strategy, etc.
On its eighth year in 2011, a digital fundraiser program was started in the morning of June 18 via Facebook.  The campaign called for twenty five people willing to be "godparents" to contribute Php 8,000 each with the purpose of supporting the bootcamp. Within twenty four hours, the target was exceeded, and over 70 godparents have been appointed.   While these godparents do not demand anything in return, they understand that the training program can benefit the marketing industry and in making the Philippines more competitive.
Mansmith and Fielders Inc., headed by CEO Chiqui Escareal-Go, has supported MarkProf every year since its inception and has donated millions of pesos to-date. This year, we are proud to share the news that 26-year old style & travel blogger Tricia Gosingtian donated Php250,000.00 to the 12th batch headed by Alaska Milk's RG Gabunada.
The MarkProf team, ran purely by past graduates, are all volunteers. Over 100 marketing practitioners support the MarkProf crusade yearly, acting as either event organizers, speakers, mentors, judges, or godparents.
Should you wish to be a knowledge partner who can provide venues and speakers, is interested to be a MarkProf godparent or would like to hire from our pool of graduates,  please email me at josiah@mansmith.net with specifics as to your hiring requirements or for other inquiries.
Having so many people in the marketing industry coming together to ensure the upliftment of our country's educational system and the future of marketing, is definitely inspiring and empowering.  We are forever grateful for the trust and support of our colleagues in the industry.  When we see our MarkProfers graduate and take their place in various industries, we know we have a good thing going and the future of the marketing industry and our country can only look brighter.