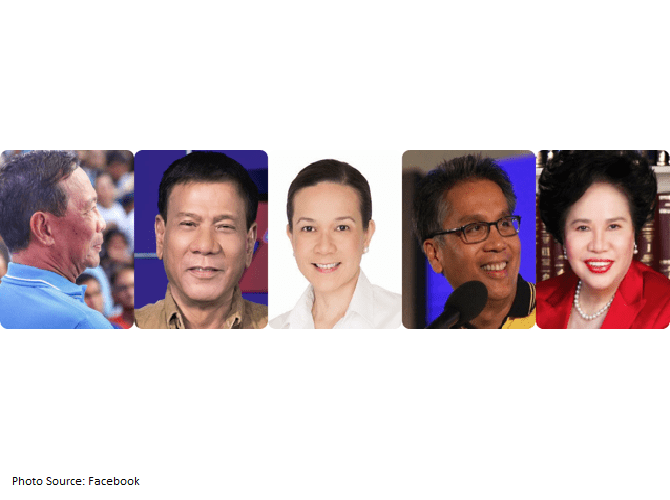 I wrote about the phenomenal come-from-behind win of Makati Mayor Jejomar Binay as Vice President of the Philippines in my book "Fundamentals of Marketing in the Philippine Setting (2nd Edition, with Chiqui Escareal-Go, 2012). His message that he will do to the Philippines what he did in Makati resonated to the public as it positioned him as a public servant with solid track record in public service. A heartbeat away from the presidency, he became the instant man to beat in the 2016 Presidential elections, thanks to his high brand awareness and conversion rate then.
If there is an exception to the first mover advantage, it is in politics, as VP Binay became the subject of alleged corruption charges while performing as Makati Mayor with evidence presented by no less than his former vice mayor and the Commission of Audit (COA). He was also accused of political dynasty when his wife and his son succeeded him as mayor, and his other children winning as senator, congresswoman and councilor. He was branded a traditional politician, ironically something he was fighting for against the Marcos regime decades back.  His first presidential debate in Cagayan de Oro was not impressive to most; his answer to the question about how he inherited his wealth from his parents left more questions, as he has always claimed his parents were poor. On the second presidential debate, he avoided a direct answer when given the chance by Mar Roxas to answer corruption charges he has been avoiding, preferring to state that the court will decide. Of course, cases can only be filed after his term as VP and assuming he will not win the presidency.
With accusations left and right, some of his positive share of mind turned into a negative brand association, with the words "corrupt and liar" as top feedback given by voters who disliked him, including in social media. Left unaddressed, the noise created will affect, and has in fact affected, his voters' share of heart or believability score, his lower likability upsetting his brand preference score which will further affect his voters' intent to vote score. The 14.6 million votes he got previously as vice president, may no longer be repeated in 2016 1) if voters will believe corruption accusations against Binay; 2) if voters will demand accountability of the promises made by Binay to be elected as VP; 3) if voters will find more viable candidates like Rody Duterte, Grace Poe, Mar Roxas or Miriam Santiago; 4) if voters start believing the PNoy administration did well and want continuity; 5) if voters will not believe or trust his P30,000 monthly income tax exemption in his new TV ad; or 6) if voters who failed to vote for Mar Roxas in the 2010 election may decide to give him a chance in 2016 remembering that he was defeated with the second-narrowest margin in the history of Philippine election with an electoral protest after he sacrificed his presidential ambition to President Noynoy Aquino (PNoy). Yet Binay remains to be the choice of many Filipinos experiencing poverty, as he always claims that he is from a poor family. They sympathize with Binay, who among all candidates can say that he truly knows what every Filipino need to get out of poverty. If he capitalizes on being the choice of "masang Pilipino", he might get a huge percentage of votes from that segment of voters.
Note however that while our analysis is based on logic, voters may not be as logical. A review of 2010 Presidential elections revealed that President Erap Estrada who made a comeback almost got reelected if not with the entry of PNoy, who won the presidency based partly on strong positive emotions after the demise of his mother, the well-loved president Cory Aquino. Then, Erap Estrada still got 9.5 million votes, despite being indicted for corruption and pardoned by his successor, President Gloria Macapagal-Arroyo. Erap then returned to public service by getting himself elected no less than the Mayor of Manila, a prestigious position in the government. This recent election result is an indicator that election in the Philippines have not been fought by issues alone but by personalities as well.
Many candidates have pluses and minuses on their side. There seem to be no perfect candidate, even my family members are split among three presidential candidates. Here are some of the top positive words associated with each candidate:
Binay: Makati, Performance
Duterte: Doer, Anti-Crime, Anti-Drugs
Poe: Fresh change, no. 1 senator by virtue of being daughter of actor FPJ
Roxas: Continuity, BPO catalyst, "Disente"
Santiago: Experience, Intelligent
Here are some of the top negative words associated with each candidate. The stigma will be carried with them at least in the first few months of the office assuming they win.
Binay: Corrupt, Political dynasty
Duterte: Morality, Vigilante group
Poe: Lack of experience, once a US citizenship with husband and children still American citizens
Roxas: Issues related to his performance as a cabinet secretary
Santiago: Health issues, BongBong Marcos as her VP
Ultimately, two situations will have to be met: 1) the positive traits should be strong enough to neutralize the negative; and 2) the existence of game-changing strategy that can be created to make voters change their perceptions about each candidate that their negatives may no longer be relevant. For instance, towards the election date, the following examples may happen that can add to the positive traits of the candidates, thereby winning the undecided voters as well as from those without definite commitment to their votes.
Binay: Endorsement of Iglesia ni Cristo reversing a declining base
Duterte: Being a peace maker and adding God-fearing image reversing "vigilante" image, withdrawal and endorsement of Miriam or when a heinous crime (God forbids) is committed that highlights the need for toughness vs. criminals (so long as not in Davao)
Poe: Evidence of strong executive decision reversing inexperience tag
Roxas: Arrival of new MRT trains that can remove traffic congestion in Metro Manila reversing being blamed for traffic woes, or endorsement of credible celebrities and political heavy weights with loyal following, as well as a solid official campaign among workers of the fast-growing BPO industry
Santiago: Sudden burst of energy reversing alleged health issues
Towards the election date, the following hypothetical examples can add to the negative perception of each of the candidates, this time losing the emotional connection of the undecided voters as well as from those without definite commitment to their votes.
Binay: What if the alleged lying or corruption are effectively communicated as to how it has deprived the poor?
Duterte: What if there is abusive human rights violation? or a major crime in Davao?
Poe: What if there is a surge of nationalism? (affecting both Poe, who pledged her loyalty to the US once, and Bongbong Marcos, being a recipient of the ill-gotten wealth of the former President Marcos)
Roxas: What if news about Mar's personal life has not been 'Daan Matuwid-like' comes out? or a major traffic nightmare will occur just before election?
Santiago:  What if she is suddenly hospitalized?
Brand awareness is a function of media weight, including the indispensable social media factors since ownership of smart phones has reached 40% as per Kantar Millward Brown Philippines. The undecided voters will closely listen to what they read and hear in the "advertising copy" in mass media, social media and during debates, the message will not just have to be relevant but memorable.
Remember when candidate Mar Roxas repositioned top three candidates Binay, Duterte and Poe during the first presidential debate? Mar Roxas reclassified Makati into two: the rich Makati developed by the Ayalas and the poor Makati governed by the Binays; Roxas also repositioned Duterte's Davao as a source of drugs and in his opening remark, used hiring of family driver as an example: not to hire those with corrupt cases (Binay), short-tempered (Duterte) or inexperience (Poe). This is an example of repositioning competition. To narrow the gap between him and those scoring higher than him, he had to logically create doubts and change the minds of the voters of his opponents.  Of course, he was criticized for bringing down his opponents, which appeared to be a deliberate and calculated move, hoping more undecided voters will take it in his favor than against him. To be fair, it is not just Mar Roxas repositioned opponents but fellow candidates as well, citing Roxas record as DOTC and DILG secretary and the one tasked by president Pinoy to be in charge of Yolanda typhoon victims and the Zamboanga seige, accusations he straightened out during the second presidential debate where he introduced the word 'disente' or having a respectable, moral fiber as a must-have characteristic of a president.
Here is another factor to consider. Millennials, composed of 35 million people in the Philippines, are more open to consider possibilities and take a chance at change with leaders who can capture their imagination.  You will be surprised at their ability to take risk! This segment may end up deciding who the next president and vice president will be, after all, they will have a bigger and longer stake who the next leader will be. Candidates are imperfect and they have to choose whoever is the 'least of all evils' so to speak.
Candidates have been repositioning each other so will the voters settle for an 'inexperience' but fresh leader, a 'vigilante' straight talking leader, a performing but alleged 'corrupt' leader, a decent leader accused of being pretentious by some or even a sick leader absent in the second debate? Who do you think the millennials will ultimately vote for?