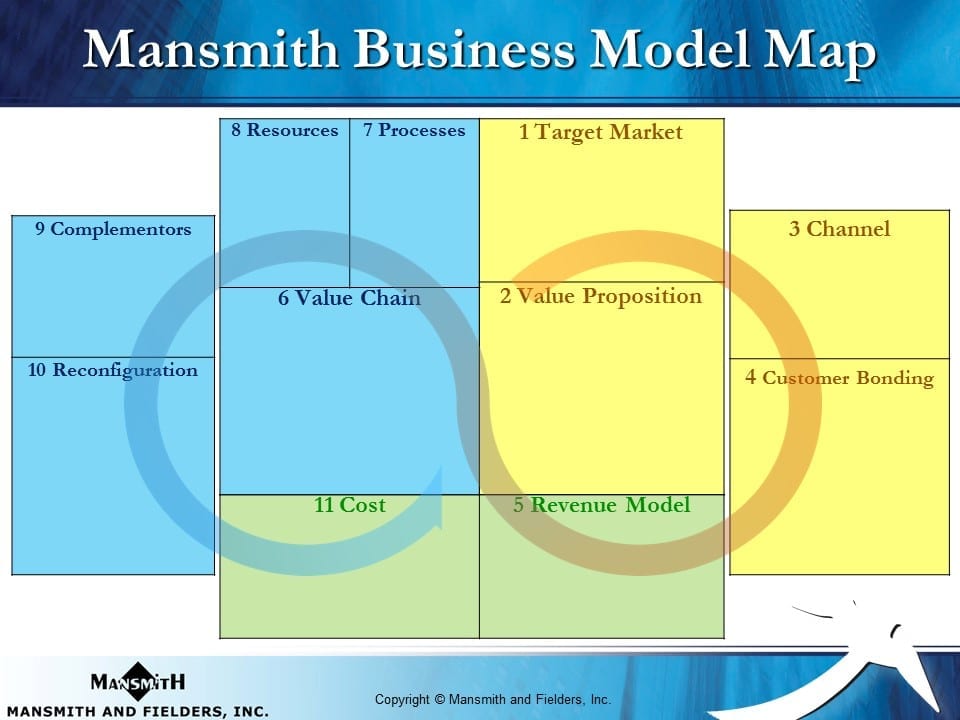 When I formulated the 7-step process of Market-Driving Strategy in 2009, the 7th step was to convert a compelling market-driving strategy into a compelling business model. Thus, I launched the Mansmith Business Model Map the next year as a next in sequence to the Market-Driving Strategy, with a well-received Business Model Innovation seminar eventually running on June 24 – 25, 2010. It was so successful, we had to get a bigger hotel ballroom to accommodate all participants.
Since 2010, I have retained the Mansmith Business Model Map's building blocks but improved upon it as follows:
Switched the building block location of the value chain to be beside the value proposition to emphasize the continuity that the value chain is responsible for delivering the value proposition.
Split key processes and key resources into separate building blocks for greater clarity.
I have also asked concept artist Juju Gosingtian (my son) to help me visually improve the map. He recommended and I agreed to the following:
Adding a number sequence
Color coding the offering model as yellow, operating model as blue and financial model as green, since combining yellow and blue gives green, just as the financial model is a result of the offering and operating model.
Add a continuum loop starting from the offering model and ending in the operating model to highlight the sequence in implementation, as well as connote that there is no business model that can last forever, since consumers are constantly evolving, and environments are constantly changing.
The visuals of the business model map made a big difference when colored. Juju's concept art education in Singapore was not wasted!
Over the years, I have realized that a business model must help firms look at their business challenges differently. They need to get new insights not just to solve problems operationally, but in order to innovate and be the first in their industry to do so instead of just following the logic of their industry (LOI), rather than the logic of strategy (LOS), which is to be unique and stand out in the marketplace. I have seen so many ordinary businesses using the regular business model canvas (a good start), and am thankful that the Mansmith Business Model Map, with 11 building blocks, has the following:
An explicit reconfiguration element that forces users to think of innovation, specifically what to start doing and stop doing in their industry.
It also has a value chain building block separate from key processes, the former like a forest while the latter like the trees inside a forest, to help businesses plan how they can create and deliver value in order to be unique, not just in the marketing mix level, but in the business model level.
These thoughts were from my reflections on the time I relaunched Waters Philippines in 1995 as the first home water purifier company using the network direct selling model with installment plans in the Philippines. Waters Philippines celebrated its 25th anniversary in 2020 as the leader among Waters Asia distributors. I did not invent network direct selling, and I did not invent installment payments. But I created a fusion, making many firsts as my industry's "start doing" and as I stopped distributing my products in retail stores.
My competitor then was a large multinational European company with some 20 branches nationwide and some one hundred vans roaming around residential areas. They were using a hardcore knock-on-the-door system. Not knowing any better, I tried using the same approach in the beginning but discovered it was not sustainable for 3 reasons:
More women were working and not at home.
Real estate was starting to get expensive and more high rise condominiums were expected to be built.
Peace and order situations will prevent households from welcoming strangers selling products. Security would be very strict for class A subdivisions and condominiums.
I did not want to fall into the Law of Foolish Fellowship trap, so I pivoted to another business model, even if network direct selling was not popular in 1995 (as Amway and Herbalife were not even introduced in the Philippines yet).
Along the way, being active as a marketing educator, I have also discovered that one of the most common mistakes people commit when formulating their business model is to think of differentiation in the wrong way.
Companies limited differentiation mostly to the value proposition.
Companies' differentiation did not consider the pain points that need to be solved before planning their unfair advantage. In order words, they did not become relevant before becoming unique, hence, my usual joke is that companies are trying to be uniquely irrelevant!
Years later, I have formulated criteria for each of the 11 building blocks, to guide users how to formulate each of them. For instance, I have shared in the past that the criteria for value proposition is not differentiation but three elements, using the acronym R.U.B.
Relevance is identifying and solving pain points of the chosen market.
Uniqueness is the differentiation after relevance is assured.
Believability is about being trusted, especially in a world full of uncertainty. A proposition that is relevant and unique but not believable will not work.
After over 10 years, I have collected in 55 videos my Business Model Course, with emphasis on selection criteria, risks that need to be mitigated per building block, reconfiguration, and innovation. They can be seen in Mansmith's digital platform, Continuum Academy (www.continuum-edu.com). I also have the blessing of being able to convince 10 successful major companies from 10 different industries to share their business model maps. These are:
Fila (shoes and sports fashion retailing)
Cignal TV (pay TV)
Union Bank (banking)
Concepcion Industrial (appliances, building solutions, and technology solutions)
Acrotrans (computerized trucking)
Bayad Center (payment)
Mega Global (canned sardines and other canned products)
BPI-Philam Life (bancassurance)
Chooks to Go (rotisserie chicken)
Converge ICT (fiber)
Not only did each company share their business model map, they also agreed to have additional Q&As to discuss certain building blocks more in-depth. Union Bank even shared perspectives from different departments, and I have featured their chief technology officer, chief customer experience officer, and chief HR officer for their award-winning digital transformation.
The introductory price of the 55 videos in 4K quality, with free attendance to the 1st Business Model Conference on Jan. 19 – 20, 2021, and free membership to the Business Model Community is only P1,488. Download the 11 building blocks template for free in www.continuum-edu.com