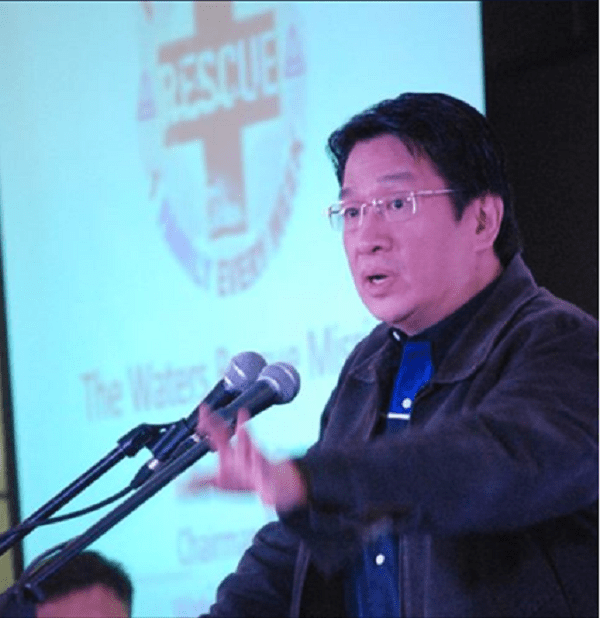 Mercury Drug, the leading drugstore chain in the Philippines has a free and transferable customer loyalty program known as Suki (regular customers) Card. Launched in 2001, a portion of the amount spent is stored in the customer's Suki Card for them to buy products in the 'future'.
Ms. Cora Lim, a top executive of Mercury Drug described the Suki Card as 'a loyalty program aimed at giving benefits, special privileges and rewards to loyal customers who continuously patronize Mercury Drug'. She adds that 'loyal customers will always go to our branches at least on a monthly basis.'
Recently, Mercury Drug reminded their in-store customers that 'Suki earned points will be reverted back to zero if the card is not used after 180 days from date of last purchase'. One wonders what customers' needs are they trying to satisfy, how this policy will motivate customers and whether some customer complaints triggered them to educate customers with point-of-purchase reminders. It is also interesting to know what made Mercury want to remove some value sharing, how this move can affect their trust and caring image as expressed in their website, as well as how competitors may exploit this.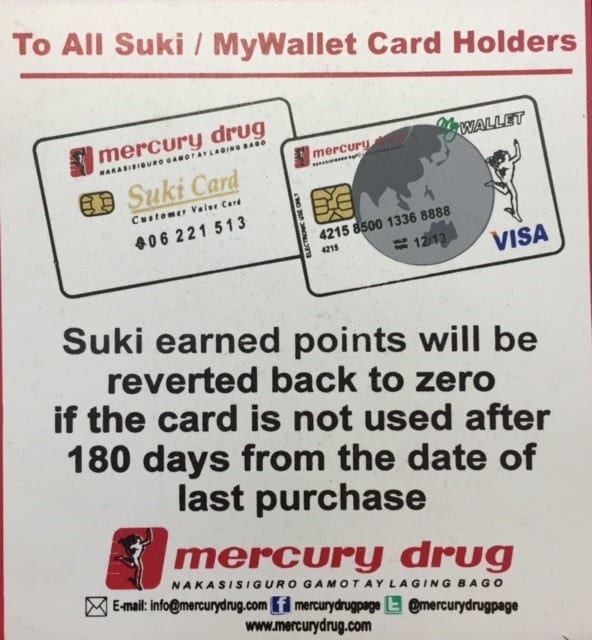 When asked for the rationale, Ms. Cora Lim added that 'Since Suki Card is transferable, any member of the family can use it thereby making the rule of 180 days . . . long enough period for the suki card holders. This rule is approved by the FDA.'
Ms. Lim confirmed the goal is not just loyalty marketing but a defense strategy to 'prevent switching to competitors' since newer competitors have started giving them a serious challenge, a valid point since sharing value must include the company gaining something in the exchange, in this case, a change of consumer behavior but sustainable only when competition will not have a superior value proposition or a superior loyalty program, or both.
A look at the competitive landscape will show increasing number of major challengers in the drugstore industry. Whereas Mercury Drug had more stores relative to other drugstore chain over a decade ago, the number of stores of major competitors have expanded and now outnumbered Mercury at least 3.5:1 today — The Robinson Retail Group which bought 51% control of TGP last May 2016 after buying 90% of South Star Drug in 2012 for P2.6 billion have expanded to some 400 stores now, making them have the widest number of drug stores at over 2,200 nationwide. While still small relative to Mercury Drug's revenues, TGP has attained thought leadership being frequently cited as an innovator in a new retail white space unoccupied by Mercury, a pattern observed in marketing and innovation history where dominant players tend to ignore opportunities inconsistent with their current strengths. While prices of TGP's generic medicines are much lower, it's retail margins are typically at least 50% better than branded medicines. TGP not just has over 1800 retail locations against Mercury's over 1000 stores, the mere name change from The Generics Pharmacy to TGP will reveal a change of major business direction not limited to generic medicines. In a previous interview with TGP founder Benjamin Liuson, he disclosed a more ambitious distribution plan with the name change. This certainly made TGP a lot more valuable as an acquisition to the Gokongwei-owned Robinson Retail group, which was able to double net profit of South Star on their first full year of taking over despite adding only 9% more stores.
Watsons has partnered with SM and its consolidated loyalty program is in synergy with SM Advantage Card where points from companies owned, in partnership or has alliance with the SM group will earn points for each transaction. This means, among others, from SM, Watsons, SM-owned hotels and even BDO Bank, it is the biggest loyalty network in the Philippines and the P150 membership fee it charges is a reflection of the value it offers within the network, including over 400 stores of Watsons. Generika's 50% shares has been bought by the Ayala Group recently with over 500 stores while Cebu-based Rose Pharmacy, now 49% owned by Dairy Farm, has some 250 stores.
Ms. Frances Yu, a retail and loyalty expert, thinks that the Mercury's Suki Card program can be more customer-centric instead of penalizing infrequent shoppers. 'Mostly expiry usually is after 1 to 2 years, not 180 days! I haven't come across any program that expires points in 6 months.' As to why points need to be expired, she adds 'You have to expire points due to accounting rules. You cannot have outstanding rebates when you close your books. But companies like Citibank do not expire points'
Mercury Drug does not give points to all purchases. For one, medicines that are already enjoying senior citizen discounts are not given any reward points since customers should not expect double rewards. However, a check with Mercury's suppliers revealed that senior citizen discounts are actually charged in full to these suppliers so the profit of Mercury is not inferior in case of transactions involving senior discounts, in fact, it can be surmised that Mercury profit more selling to seniors by getting a 20% rebate from their suppliers while not giving rewards to their customers, a sweet spot as customers become older and suffer more diseases, they become more profitable to serve and Mercury does not have to share some of the value they get from suppliers in proportion to the customers' loyalty created for them.
Given this sweet spot, the practice of not giving reward points to senior citizens comes with disadvantages. For one, it makes it hard for Mercury to detect who the real profitable customers are if based on reward points alone, specially if Suki Card is transferable, which means they cannot give the highest value to their most profitable customers. In the same manner, it will also be hard for Mercury to detect defection of seniors since they do not have an accurate way of knowing, other than banking on them buying regular items that are not entitled to discounts.
Loyalty has actually many dimensions, two of which are behavioral loyalty and attitudinal loyalty, the former deals with purchase frequency while the latter with attitudes consisting of liking a program, preferring a loyalty program versus that of competitors and intending to participate (or withdraw) in a program. While behavioral loyalty gives market shares, attitudinal loyalty is what creates an emotional bonding with consumers beyond mere transactions. It is the share of consumer's heart as distinguished from share of consumer's wallets and habits. The best is having both types of loyalty.
A discussion in my Facebook page revealed mixed emotions about the 180-day rule of Suki card — there are those who don't mind since they frequent Mercury or don't have Suki Card anyway versus another segment who think Mercury have not taken consumer's needs into consideration, the latter gave interesting insights, rightly or wrongly, like: 'A CRM program should not put pressure on the customers, otherwise, it defeats its purpose of strengthening the relationship'; 'That policy sounds arrogant'; 'The card was supposed to help people . . . This new policy reveals that the card is now a pure money grab'; 'The intention is good but the execution is bad. . . If you want to make your customers use your card, you might want to use a carrot'; 'This is no longer a benefit or incentive. This is more like a threat of the management to its customers'; 'There are now more available pharmacies that offer more effective and affordable medicines. Their policy is no longer a mission and does not offer value to consumers'; 'This means Mercury wants us to be sick in every five months?'
Based on above comments, Mercury appears to have created a self-selecting approach to customer loyalty segment with their 180 days limit. They may have to review the implications if making customers 'hostage' with their shorter 180 days policy as a defense strategy will make them not just lose attitudinal loyalty in the process given increasing serious competitive threats. Mercury may also need to look at other marketing options in growing their business such as targeting underserved markets instead of staying traditional and focusing on existing customers. But even for existing customers, it may need to ensure the consumer purchase journey to Mercury will not be disrupted by competitors by truly understanding and fulfilling what the customers need.
Some customers may find a trip to Mercury simply out of habit, others who have tried buying from competitive stores may just find enough reasons to make Mercury their secondary drugstore, still others may find the convenience of combining technology and supply chain as part of an integrated customer retention management program more relevant to them, after all, compelling value proposition determines sustainable repeat purchase and that a Suki Card alone cannot address gaps in serving changing customer's needs.
Suppliers, on the other hand, now have a newer and viable volume option with TGP now under Robinson Retail Group expected to carry not just some branded medicines but stores that can accommodate some consumer products as well. Mercury will now have to objectively re-assess their relationships with their major suppliers as well as their customers.
Mercury's future as an institution may change for the better, with their combined loyalty and defense plan, or the worst, starting with a simple shorter Suki Card expiry. Change is indeed worth observing in the drug retailing industry.
(Note to readers: Edsel Manuel, Director of Mercury Drug's Regulatory Compliance wrote 'The full 12% plus the drugstores' share in the 20% discount for every senior citizen transaction are all cut from drugstores profit'. This is published to give Mercury their side to my article.)