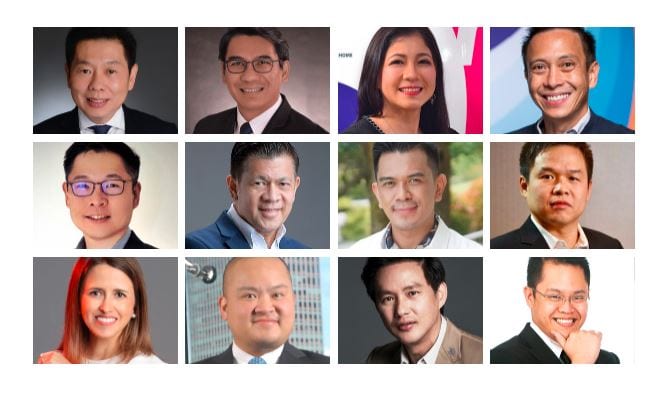 from left (Johnlu Koa, Jet Parma, Aleli Arcilla, John Rubio, Harvey Ong, Greg Banzon, Neil Trinidad, Alvin So, Ana Aboitiz-Delgado, Dr. Nicco Tan, Steven Tan, Kakam Gabunada)
The global pandemic has jabbed a wrench into many organizations' plans, making the future seem unknown. But as new consumer trends begin to emerge and more leaders are now able to combine hard data with experience, ways have emerged for organizations to remain forward-looking in this crisis.
Twelve market masters shared their insights. It starts with continuously observing patterns in consumer behavior, especially how your customers' habits have changed: the market Trends.
Johnlu Koa, CEO, French Baker: "The marketing givens have changed. Now is the right time to rethink, relearn and retool."
Jet Parma, President, Syngenta: "No matter how good you are at successfully marketing a bad product, customers will eventually experience the truth. You could lose more than sales – most likely, your company reputation. So, market responsibly."
Aleli Arcilla, President, Reckitt Benckiser: "Finding opportunity in crisis is not about being the first to draw the lucky cards, but how well you play the hand that you are dealt with."
John Rubio, Country Director of Facebook: "As marketers, we love funnels, paths to purchase and shopper journeys. But for most consumers, the best journey is no journey at all. People these days want what they want, when they want it, where they want it. And by putting your customer first, you can eliminate friction, inspire discovery and maybe even set a new standard in convenience."
More than pushing forward to sustain your business operations, it's also key to reconnect with your purpose: why do you want to continue moving forward? Why do you want your company to succeed? What responsibilities do you have to not only your customers, but to others as well? These leaders' Treasures are their purpose and mindset.
Harvey Ong, COO of AlfaMart: "In our pursuit of greatness, let us not forget to be good. Success should not be an end in itself. But rather, a means to a greater end — to uplift and inspire others."
Greg Banzon, EVP of Century Pacific: "At the height of the pandemic supply chain disruptions, customers from North America, the Middle East, the African Union and some countries in Asia reached out to the Philippines to help sustain food security. CPFI was quick to respond while being able to sustain supply domestically."
Neil Trinidad, CMO of Lazada: "More than building our brand [Lazada] to become a top name in Philippine eCommerce, we want to also build our purpose and how our brand is helping uplift the Filipino community. We strive to be known for not only being a platform where you can find what you're looking for, but also a platform that does more and gives back to its customers, sellers and partners."
Alvin So, Regional Head for ASEAN, Bayer Consumer Health: "Having ambitious thinking and goals will ultimately lead to success, even if your original plans on how to get there change significantly!"
To survive and thrive in the new normal and beyond, future-proofing an organization's marketing plans, these leaders view Transformations as revisiting the core business model.
Ana Aboitiz-Delgado, EVP and Chief Digital Channel Officer of Union Bank: "A company's business model communicates its values and purpose louder than any purpose statement or tagline does. A company can claim to want to deliver a service that is more inclusive easily on a company website and press release but in order for it to live up to that proposition product pricing, supply chain design and even organizational structures need to be set up to deliver on that purpose statement."
Dr. Nicco Tan, VP of Resorts World Genting Malaysia: "True digital transformation requires a fundamental shift in delivering value through your customer experience, a complete change in your processes, and ultimately create new business models."
Steven Tan, President of SM: "Filipinos today window shop in stores just as much as they do on their mobile phones. That's why every retailer today needs to be both shoppable and shippable."
Kakam Gabunada, VP – Sales, Nestle: "The rules are changing. Tomorrow's new and better reality belongs to those who can learn to unlearn, keeping consumer and purpose at heart."
These twelve market masters will be coming together to give their thoughts on upcoming Trends, Treasures and Transformations, everything leaders and marketers need to know to continue to survive and thrive in this period of uncertainty during the 12th Market Masters Conference this June 15 – 16, 2021, to be held live, online via Zoom.
Josiah Go is chairing the 12th Market Masters Conference, the marketing conference of the year. Learn more at www.marketmastersconference.com
********
Want to keep a copy of these 12 insights or would like to forward to a friend? Download a pdf copy now!