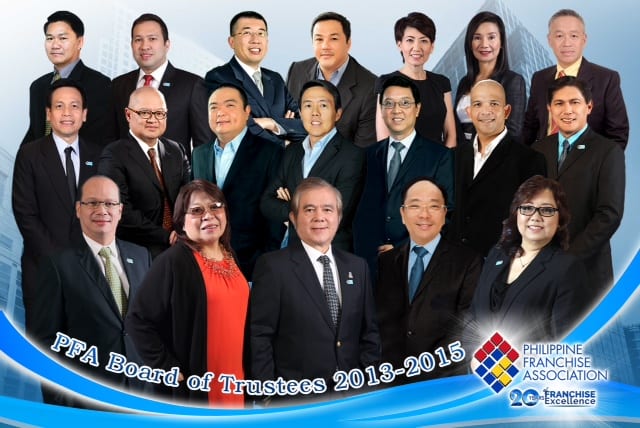 Q5: Some companies do not franchise their businesses because of quick ROI and significant positive cash flow. A few have been able to successfully expand quickly. What are pros and cons of this approach?
Fruit Magic President Dr. Alan Escalona: A business that wants to increase its market reach and advance its brand value needs to expand rapidly. If the said business has enough capital and qualified managers to expand fast then there is no problem. But the fact is that the main reasons why a company is not able to expand as fast as it wants are due to lack of capital and qualified people. Large companies may be able to expand as it pleases but large companies are less than 0.5% of businesses in the Philippines.
This approach does not only favor large companies, it also provides minimal impact to the economy in terms of jobs created and business generated.
This is the reason why PFA introduced franchising to MSMEs. It is to give MSMEs the opportunity to grow fast and – in doing so – open more job and business opportunities for the country.   
Q6: Can franchising help an ailing business?
Mister Donut CEO Mauro Agustines: Franchising is about duplicating a successful business. It is about sharing its success to the franchisees. If you franchise a failing business then you will just be duplicating failures.
Franchising should not be used as a revenue-making measure to prop up a failing business. After all, the franchisor is not supposed to use the franchise fee for himself but so that he can give initial support to the franchisee. The franchise fee should go back to the franchisee in the form of franchisee support.
Furthermore, a franchisor makes money through the royalty paid by the franchisee. Royalty fees will not be sustainable to an unprofitable business.
Q7: When is a company ready to franchise their business?
The Generics Pharmacy Chairman & CEO Benjamin Liuson: Perhaps the most important sign that your business is ready to be franchised is when you have been running a successful business for at least two years. Success should be measured in terms of high profitability and growing brand value.
Having a business with high returns is important because you are going to share this profit with your franchisee in the form of royalty fees. If the profit margin is not high enough you may end up with unhappy franchisees.
Another aspect is the growing brand value of your business, which is an indicator that the consuming public has grown to love your brand. You will know this if you get a lot of inquiries if you are offering your business for franchise.
Q8: Other countries use the term franchising for dealership partnerships. Why is this so?
Seaoil President Francis Glenn Yu: Broadly speaking, franchising is about giving somebody the right to do business. Dealership is a form of franchising because the owner of the brand gives somebody the right to sell its products or services. It is specifically known as product format franchising.
We, in the Philippines, understand franchising as business format franchising which is a method of doing business by which a franchisee is given the right to sell the products or services of the franchisor under a prescribed system and with the support of the franchisor. The system and the support given by the franchisor give the franchisee the higher chance of success.
Q9: How are franchising fees and royalty fees determined? 
McDonald's Philippines President Kenneth Yang: Franchise fees are determined by taking into account the cost of preparing a franchisee to be part of your store network. This means that it should cover the costs of franchisee selection, training and pre-opening assistance. Other items which a franchisor may include in the costing of the franchise fee are the trademark or brand value (since the franchisee will use the franchisor's trademark), initial supplies and opening support. Franchise fees are also called initial fees.
When it comes to franchise or initial fees, the franchisor must take into consideration the franchise fee of its competitors. It is best that one sets it at par with your competitor especially if you are a new player. If you set your franchisee fee too high, you will limit potential franchisees; and if you set it too low, your credibility will be questioned.
Since the franchise fee goes back to the franchisee in terms of support, it is not considered an income for the franchisor. The income comes from the royalty fee, which is usually computed as 5 to 8% of the gross revenues for a certain period of time.
A practice being done in the Philippines is to pay a monthly or even weekly royalty fee. The reason for this is so that the franchisee need not prepare a huge amount should he be paying an annual royalty fee.
The franchisors earns from the royalty that is why he should take care to make his business continuously relevant to the consumers so that he will continue to make good sales, which will also be favorable to the franchisee.
Q10: Different companies have different criteria for choosing franchisees. What are commonalities they look for other than having the money to franchise?
Shakey's CEO Vic Gregorio: The franchisor-franchisee relationship is a special kind of partnership. A franchisor looking for a franchisee should bear in mind that he is looking for someone who will be given part of the responsibility to make his business grow. This means the prospective franchisee should have the background, experience, temperament and skills needed to get the job done.
A good franchisee candidate must have a wide and strong support network of family and friends. These will be his first customers, after all. He should be an A student which is an indication of his work ethic. This can be also seen in his job history. If he has been able to hold a job for a long time and held important positions, then it shows that he is not only a good worker but also a good manager.
A good franchisee should also be a good follower since he would be required to follow the franchise manual, which is designed to increase his chances of success. Another important characteristic of an ideal franchisee is his ability to work easily with others because a franchisee will deal with a lot of people – the franchisor and his franchise support team, the suppliers, his employees and his customers. It would be good if he is also good in sales.
Q11: Based on the performance of franchisees, do you see significant difference between full time and part-time franchisees?
PR Gaz CEO Siu Ping Par: Most franchisors prefer to deal with full time franchisees – especially first-time franchisees – because they are able to give their total attention to the business. Since franchisees are effectively the managers of the business, full-timers certainly have an edge over part-timers.
But what will really make the difference is if the franchisee is a firm believer of the brand and all that it stands for and is committed to its success. This is the kind of franchisee that will deliver and help the business grow.
Q12: There's a saying that goes that if you build, they will come. This can mean that if you open a business that offers the best products or services, people will go there even if it is not in a good location. Is this advisable?
K2 Drug President Rebecca Bucad: This may work for a while but once a competitor opens the same concept but in a better location then it is the beginning of the end of the original business. The importance of location in a business cannot be overemphasized.
Just like any other businesses, location is our key to success. In our business it is a must that our location should not only have high traffic but must also be near our institutional anchor like hospitals, markets and universities. It is a non-negotiable requirement.
Q13: One of the most often irritants is an unprofitable franchise due to bad location. This affects sales
volume. Many franchisees are first-timers and don't know the science of spotting a good location. How does one determine a good location and what should they avoid in location hunting?
7-Eleven President Victor Paterno: There is a misconception that the secret to choosing a good location is simply to look for a place with lots of people. This might be true a certain extent but this is incomplete. While size of the market is a determinant, there are also other aspects to consider when choosing a good location.
One important thing that you have to think of is the image of your brand and if it is consistent with the location you have chosen. Will the location maintain or strengthen your brand image or will it weaken it? Another way of looking at it is if your brand will be appreciated by the market in the locality? Is your brand relevant to the market?
Choosing a location is all about strengthening the relevance of your brand to your target market. To the eyes of your consumer the relevance of your brand will depend on a number of things and these include intangibles like the consumer's affinity to the values of the brand and the ability of the brand to make the consumer feel good; but I believe that the main factor is convenience. As long as it is convenient for a customer to visit your store then your brand is relevant to him.
This can only mean that anything that makes it inconvenient for a consumer to visit your store should be avoided.