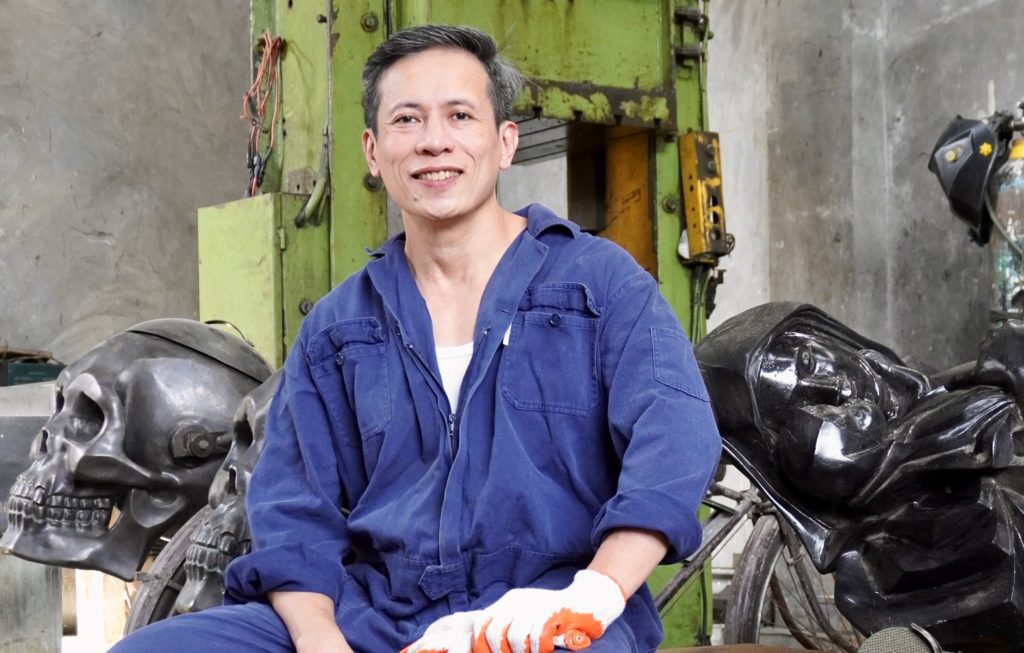 Juan Sajid Imao is a multi-awarded sculptor whose career has spanned over 30 years. He won the Ten Outstanding Young Men (TOYM) of the Philippines in 2001, and Ten Outstanding Young Persons (TOYP) of the World in 2006. Among his popular works are the brass sundial in Bonifacio Global City, an abstract crucifix at the Church of the Gesu in Ateneo de Manila, a massive copper-and-stainless steel sculpture (known as Diversi-Team) for Deutsche Bank in Netquad building in BGC, the Marawi Heroes Memorial at the Libingan ng mga Bayani, a brass crucifix for De La Salle Santiago Zobel School, a copper Sacred Heart sculpture at the new chapel of Ateneo de Cebu, a modern mother-and-child bronze sculpture at Heritage Park in Taguig, and a 9-ft. bronze Rizal statue in Fort Santiago in Manila. In this interview, he shares the creativity process he follows that led him to be the award-winning sculptor he is today.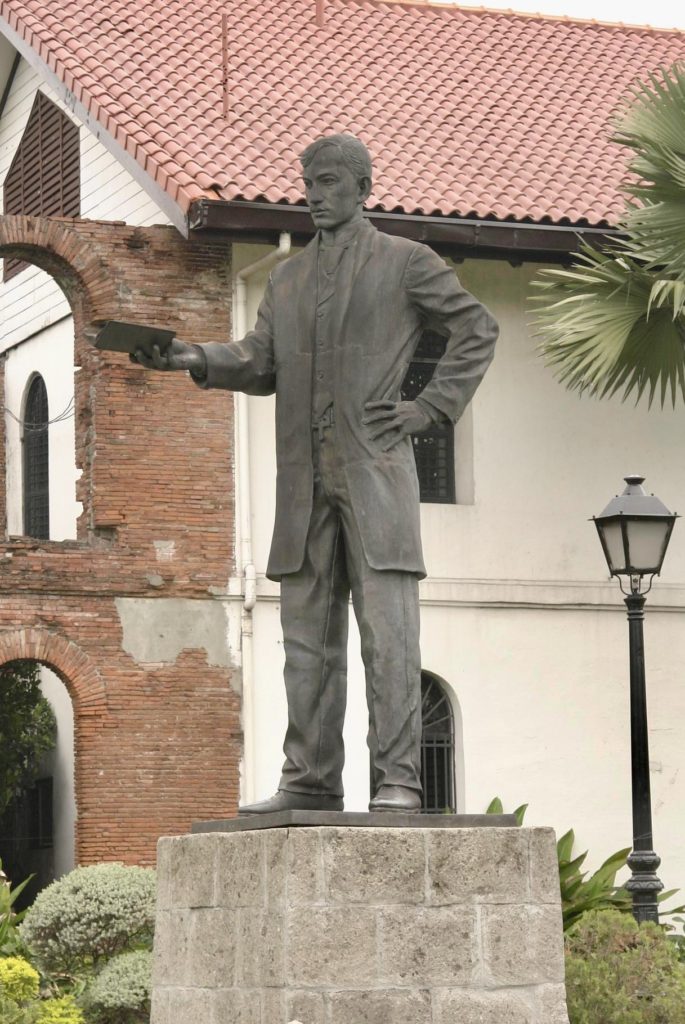 9-ft. bronze Rizal statue in Fort Santiago
Q1: Your father, National Artist Abdulmari Asia Imao was such a big influence in your pursuit of sculpture, yet he discouraged you to go into the same field. What lessons did you pick up from this early tension and how did it influence you subsequently?
A1: Growing up, I was witness to my parents' struggles to make both ends meet. As a parent, he just didn't want his children to go through the same hardship that he experienced as an artist. Despite the discouragement, he was unintentionally mentoring me. As a child, I had free rein in his studio where I would play around with his tools and equipment. I would be constantly in awe of his monumental works. I would also observe him while he was mentoring his assistants and other artists. Through observation, I was able to acquire lessons in casting techniques, welding, and sculpture-making.
It was deliberate on my part to drop my surname "Imao" when I sign my works. Just like my father, I like to create my own story and confront my own challenges. I'd like to create my own identity as an artist.
Q2: Can you describe the Juan Sajid brand that is communicated with each unique sculpture you put together? How do you integrate personal identity into your work?
A2: When it comes to style, I believe my style is constantly evolving. The style of ukkil of Mindanaoan art has a strong influence on my works in terms of material, color and shape. A "Juan Sajid" work, whether a public art piece or a small sculpture, is characterized by distinct, fluid lines as seen in ukkil as well as a deep passion for artistic excellence. A good example of my use of ukkil is the brass sundial I erected in Bonifacio Global City (unveiled in 2000) I presented a half-sun design in curvilinear style which is characteristic of ukkil, with the middle ukkil ray forming a bolo to symbolize Andres Bonifacio. My sundial is rich in interactive elements. You can actually tell the hour, just by looking at the sun's shadow cast by the sculptural components. I've been in the field of sculpture for more than 30 years and I am very conscious of my effort that my public art pieces will be engaging.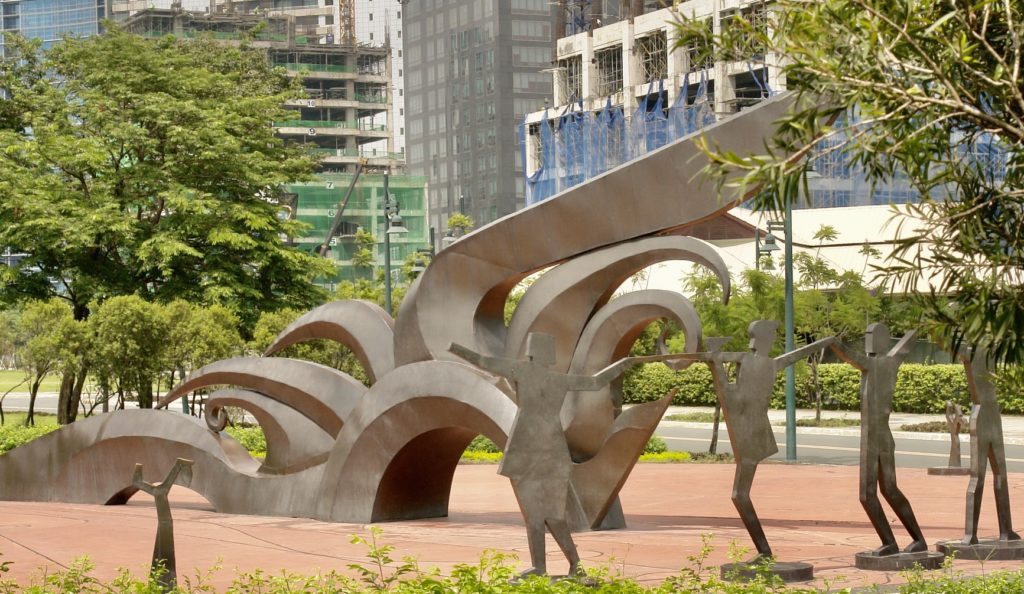 Brass Sundial in BGC
Q3: What should aspiring artists know to get them started in your field? What would you recommend to a beginner in jumpstarting the creative process?
A3: To get started in the field of arts, the first key is to have passion. Love what you're doing and be your authentic self. Authenticity for me means being honest and sincere in creating your works.
In order to "drive" your creative process forward, you must have discipline and good work ethic. You won't be able to start anything if you don't have the discipline. If you don't have the drive, you won't be able to bring out your creative best.
A practical tip for a beginner which I find very useful in jumpstarting my creative process is to always carry a sketchpad and pen or pencil wherever you go. You'll never know when inspiration will hit.
For you to be able to continue your journey as an artist, you must have the courage to create art despite the obstacles. Have the courage to continue and be confident in doing your art, no matter how your art is received by your audience. What's important is you pursue what you really love.
Lastly, find a good mentor. I was blessed to have a very good mentor in college, my professor National Artist Napoleon Abueva who unselfishly gave me the hands-on experience in sculpture that I had been yearning as his student back in the early 90s. I am just so honored that he welcomed me to be his apprentice in sculpting his masterpieces.
Abstract crucifix at the Church of the Gesu in Ateneo de Manila
Q4: How do you feel about how society appreciates art in the Philippines? What are approaches you can suggest for art to be better appreciated?
A4: There are a lot of art events that encourage and support the diverse styles of Filipino artists. But I've observed that very evidently our inclination towards Western art. There's nothing wrong with that. But I hope that our educational system will introduce and highlight more the rich art forms of our local tribes.
I suggest for art to be better appreciated is for our schools to introduce such art forms to students at a young age. These indigenous art forms should be explained to students in terms of being representative of our unique identity as a country. More than being classified as "ethnic," these art forms are a celebration of who we are as a people. We have something to be proud of and should encourage this through proper – and early — art education.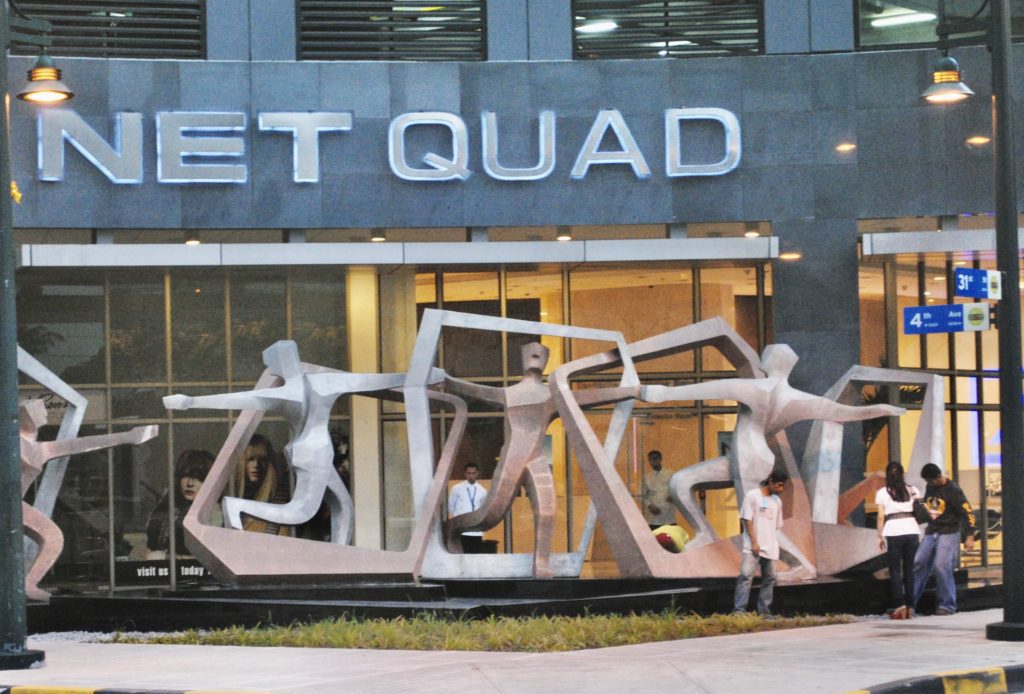 Copper-and-stainless steel sculpture (known as Diversi-Team) for Deutsche Bank in BGC
Q5: You and your wife recently opened a café, Monumento, a fusion of your love for coffee and art. Please share with us more about this passion project.
A5: My wife Cielo and I are very excited about this passion project of ours — Monumento Coffee Studio (soft opening on September 16, 2022).
Our passion for the art of coffee started "brewing" when we both took up barista training and latte art back in 2012. Just like the arts, coffee has become part of our lives. Conversations over coffee never fail to fuel our ideas and our creativity.
At Monumento, we'd like a lot more people to enjoy and celebrate art with us while sipping coffee that's been prepared with excellence and passion. Since I love collecting vintage things, I will also serve up nostalgia in Monumento by preparing coffee using antique coffee roaster, grinders and percolators. This is aside from using our modern espresso machines.
At Monumento, you'll have a total art experience in many forms — visual arts, food and coffee. It is right beside our other store in Marikina called Bingbingcat Kitchen where we offer special Mindanaoan/Tausug delicacies such as Putli Mandi, a type of kakanin or sticky rice cake. It took us some time to realize our passion project but don't all outstanding monuments take time to build?
*****
Josiah Go is Chair and Chief Innovation Strategist of Mansmith and Fielders Inc.
The search for the Mansmith Innovation Awards is ongoing until September 15, 2023. For more information, including forms and details, please visit
www.mansmithinnovation.com
*****
See more articles on Creativity