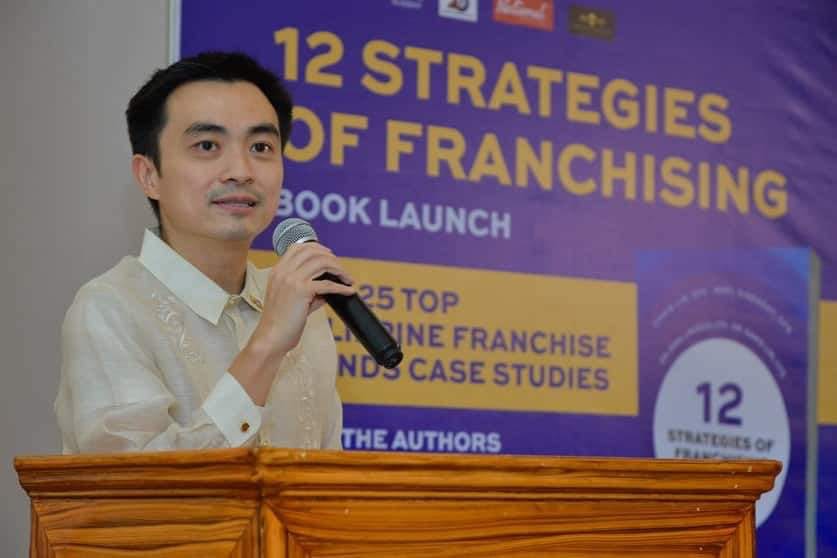 Chris Lim is the President of U-Franchise and Chief Executive Officer of Francorp Philippines, the largest franchise brokerage company and franchise consulting company in the Philippines, respectively. Chris won the 2019 Agora Awards for entrepreneurship (medium-scale). In this Q&A, he gives a guideline of the factors to consider before recommending franchisors and franchisees to sign a deal together. 
Q1: When should a company consider company-owned stores versus franchising?
 A1: Franchising is about scale. The advantages of franchising grow dramatically as you hit larger store numbers, so when you are deciding what growth option to take, you need to first understand the potential of the market. If you think the market can only accommodate a handful of stores, say 3 to 5 more stores, then you could look at opening these as company owned. But if you can see an opportunity to open double digit number of stores, then franchising can help you duplicate the success of your business using other people's money, time and networks. Franchising gives you access to almost unlimited capital as it will be franchisees investing the capital and paying you to train them in running your business. In addition, your stores will now be managed by owners who invested to open the business instead of salaried managers. Finally, you get to tap the networks of the franchisees to gain crucial local insights as well as connections to landlords, partners and local government agencies.   
Q2: You recently co-authored a book on the 12 Strategies of Franchising, what advice do you have for brands exploring to grow via franchising?
A2: Yes, we recently launched a book that brings together over 80 years of combined franchise experience from the 4 co-authors and shares lessons from over 25 featured Filipino brands. One of the key strategies potential franchisors can adopt is to "Keep it Simple" (Strategy 2) as Potato Corner and Waffle Time have done in keeping their offer and operations as simple and replicable as possible. They stayed away from the temptation of adding too many new products and complicating the whole operations and offer of the brand. "Setting a Clear Vision to Guide Growth" (Strategy 4) is also critical as Ben Liuson did when he grew The Generics Pharmacy from 1 to 2,000 stores. As growth comes, it's also important to "Focus on Core Competencies: Contract Out the Rest" (Strategy 7) as Bibingkinitan did as it outsourced construction and other operations to allow the brand to focus on product development and innovation as they scaled up to over 450 branches globally. Lastly, "Exploring New Income Streams" (Strategy 11) and "Expanding Internationally" (Strategy 12) as Jollibee, Penshoppe, Islands Souvenirs, Max's and many more have done, are critical long term components to ensure long term growth of the brand and franchise.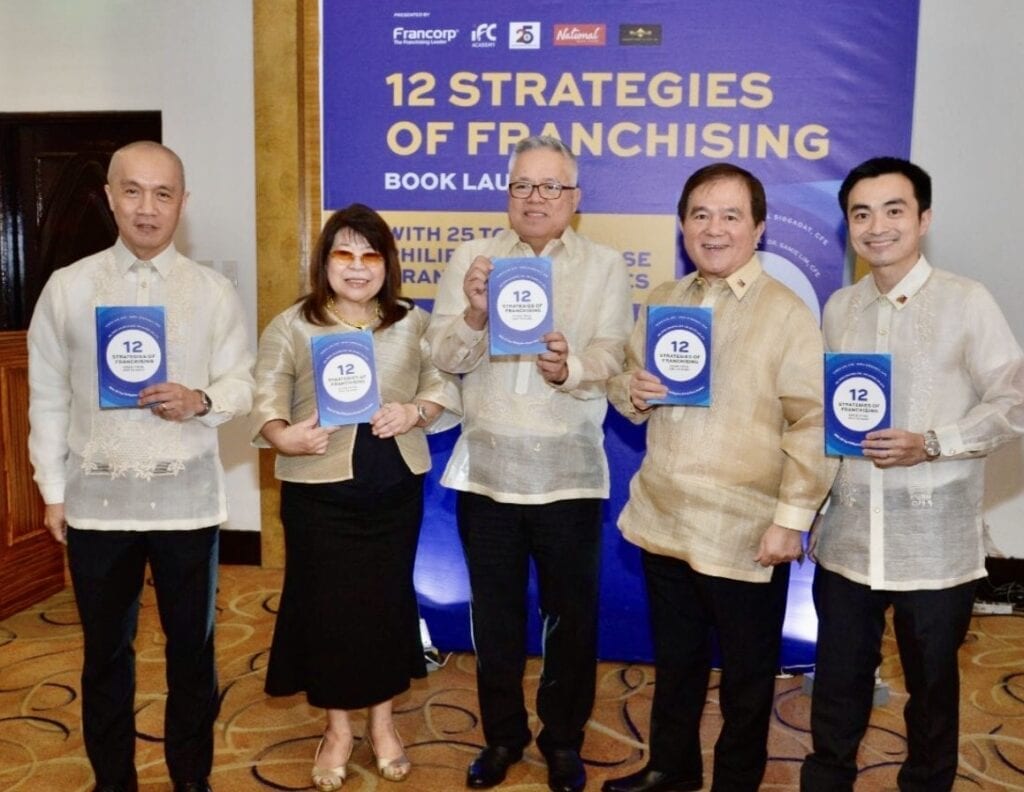 (Photo caption: Chris Lim (right) shown with DTI Secretary Ramon Lopez (middle), with his co-authors Noel Siggaoat, Bing Limjoco, and Samie Lim)
Q3: What do you look for in a franchisor and a franchisor's offer before agreeing to scout for franchisees for them?
A3: Our goal in franchise matching is not to push a specific brand, but instead it's about helping franchisees find the right franchise for them. To do this, we need to make sure we believe in the brands that we carry. Firstly, we evaluate the brand and business proposition it offers to the market. We need to gauge whether it has potential for growth and if it can compete with the other brands in the market. Second, we look at the mindset of the franchisor. Strategy No. 3 in the 12 Strategies of Franchising is "Think Win Win Win," an important mindset to always look for ways to ensure that the franchisor, franchisee and consumers win in any agreement. If the franchisor is just looking for a quick sale and not concerned about the long term, then this is a big red flag for us. Lastly, we also look into how committed the owners are when it comes to franchising. 95% of U-Franchise Clients are also clients of our sister company Francorp as this shows their commitment to franchising and their commitment to "get their systems and organization ready for franchising" (Strategy No. 5). 
Q4: Where and how do you find your franchising prospects? What are typical challenges in your scouting potential franchisees? 
A4: Having spent a decade in Unilever, I've tried to implement the discipline of FMCG marketing when it comes to scouting franchisees. First of all, we had to be clear at our value proposition – that we give objective advise and save franchisees time by showing the multiple franchise options and helping them through the application process. We do all of these free of charge for the franchisees with no hidden or added fees. This builds the trust in U-Franchise, and keeps them coming back to us instead of going through other routes. Secondly, we invest heavily in a mix of targeted online and offline channels. Facebook and Google ads are big online investments for us, mixing interruptive advertising and intent based advertising to capture the right audience. We also have over 50,000 people in our mailing list that we regularly update with new brands and events. Moving offline, we are the only one with an updated 40+ page franchise opportunities booklet that we offer to potential franchisees for free. We give these out during various seminars, events and expos across the country. Last year alone, we were involved in over 60 events – over 1 per week. The biggest event we join is Franchise Asia, Asia's largest Franchise Show, happening Mar 27 to 29, 2020 at the SMX MOA. It brings in over 700+ local and international brands and over 50,000 visitors. It's the best place for entrepreneurs to see and compare the latest franchises and for franchisors to find potential franchisees both from across the Philippines and from all over Asia. 
Q5: When are multi-brand franchisees an asset? When do they become a liability?
A5: Multi-brand franchisees are an asset in that they are able to bring in best practices from various brands to run their stores. They are exposed to different franchisors and also different industries giving them a better insight into how to run their franchise well. They are also able to gain economies of scale by sharing resources such as area managers and back office support to make the business more profitable. Lastly, given that businesses have cycles, multi brand franchisees are able to weather these cycles better especially when the businesses are diversified in such a way that they follow different cycles. Multi brand franchisees can become liabilities though when it starts to defocus them. Some new franchisees jump into too many brands at the onset and this becomes a liability as they have to learn different businesses, coordinate with different franchisors and hire very different types of staff. Instead of getting economies of scale, they fall into the trap of spreading their time & resources too thinly. 
Q6: As much as possible, all franchisees should be profitable but at least how many percent of a franchisors' franchisees should be profitable before you consider them credible? Why this level?
A6: Globally the average success rate of franchising is 90%, so the ideal target is to have over 90% of your franchisees as profitable. This is critical because each failed franchisee creates a ripple effect in the market – from consumers seeing your stores closing down to other potential franchisees wondering what's wrong with the brand. When too many stores close down, it can be a sign that the initial franchise financials were not created with a win-win mindset (ie the franchisor's fees are too high) or that the support level given by the franchisor is not strong enough. 
Q7: What kind of franchisee applicants would you advise franchisors to decline?
A7: Franchising is duplicating the success of a profitable business, so one type of franchisee to decline are those that are overly creative and want to change too many things. It's important that a franchisee has the right entrepreneurial spirit but also the humility and willingness to follow the systems that the franchisor has developed. This does not mean that they should not think of new ideas, but they should work within the system to get new ideas tested and approved instead of implementing on their own. Another type of franchisee to be cautious of are those that are just buying a franchise as a 'gift' to someone. This can sometimes be the case for Filipinos based abroad as they are buying a franchise to invest for their family. While this is a noble cause, it's critical for the franchisor to understand who the operating partner will be, how interested and qualified they are to run the franchise and how committed they are to run it.