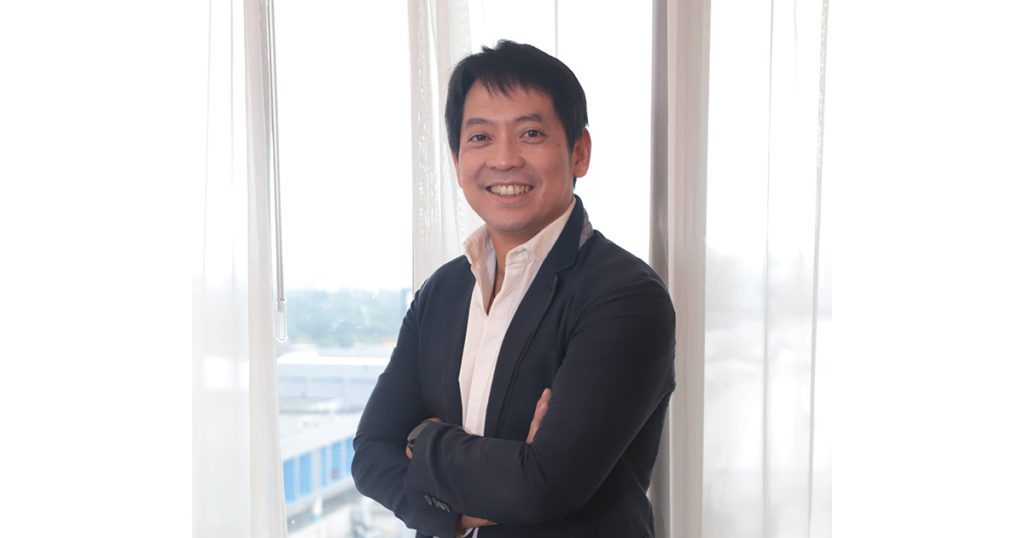 Ronnie Traballo is the CEO of Cypress Bomanite Inc., one of the country's pioneering full landscape construction firms which is celebrating its 50th anniversary this 2022. He is also the Managing Director of Bomanite Southeast Asia with an office in Singapore and a manufacturing plant in Subic. Bomanite is a US-based company focused on all kinds of decorative concrete flooring (such as the over 150,000 square meters of floors the company recently did for Disney Shanghai). Ronnie shares his insights about connecting with clients, architects and installers in their industry.
Q1: Your company's recent projects include City of Dreams, Kidzania, and Okada Resort. How do you market to ensure that your brand gets specified by architects?
A1: World class developments like these, always look for innovations, so we always try to offer new products in the architectural concrete market. And equally important with these innovations is the workmanship and attention to detail. And this is where our company differentiates ourselves from others, while landscape contractors' services are becoming commoditized, by offering a brand like Bomanite in the market we offer a unique service that only we can provide.
Q2: Other than those mentioned earlier, which projects do you consider as major milestones of your company and why?
A2: Recently, we also did the full landscape construction (both hardscape and softscape) of the Grand Hyatt Manila in BGC. We also did all the water features in the main lobby and driveway. This development is from Federal Land Inc.
Q3: Aside from horizontal flooring, you have created your own brands and introduced vertical gardening (like green walls and roof gardens) over 10 years ago. What opportunity did you see then? How are these concepts doing?
A3: In our desire to always be innovative, we were also one of the companies who introduced vertical and skyrise greenery in the Philippines more than a decade ago. I was inspired by the green developments in Singapore so I brought and adopted these systems into our urban concrete jungle. I saw the opportunity of creating more green spaces in Metro Manila. It showed great potential and we had a lot of clients during the initial years, but the high cost of maintenance and upkeep made it difficult to sustain these skyrise greeneries. At present, there continues to be a niche market for skyrise greenery and we continue to cater to them, we just need to set expectations that any garden be it on- ground or above ground requires proper maintenance with more maintenance challenges for sky rise greenery.
Q4: There is usually a substantial gap between the highest and lowest bids in landscaping services. What should clients pay attention to aside from price?
A4: As with any construction bids, price is always a major consideration by developers/clients in their decision-making process; however, our top clients for the past 5 decades, understand that other than pricing, the ability to meet project deadlines and workmanship and quality provides value more than just being the cheapest proposal.
Q5: Installation in accordance with specifications is one of the most difficult tasks in the decorative concrete flooring segment. How do you hire, train and monitor installers?
A5: This is one of the key competitive advantage of becoming a part of the Bomanite International family. Bomanite's Techncial Academy, provides ongoing continuous training for all its installers and regularly qualifies them to ensure that all technical crew working on the job-site has been qualified and trained to be the best in their job. As a testament to these our company has consistently won various worldwide decorative concrete awards from Bomanite International and the Decorative Concrete Council of ASCC (American Society of Concrete Contractors). This year, our installer partner from Mindanao, ARQ Builders won first place in Bomanite International's competition. And also this year, our Bomanite installer partners in Vietnam and Indonesia also won first and second place respectively in the stamped concrete category of the Decorative Concrete Council competition.
These awards and citations did not come by accident, as for the past 15 years, I have been the one conducting and doing trainings of Bomanite all across the Philippines and Southeast Asia. Recently I also did trainings in Israel. I am now an accredited Decorative Concrete Examiner by ACI (American Concrete Institute), and currently one of the directors of DCC.
Q6: Where do you derive inspiration for your landscape to serve those clients who need your service from end to end?
A6: As a second-generation owner, I also got a lot of training working in the FMCG sector as a sales manager before joining the family business. My sales training and experence in P&G has been a good foundation to help professionalize and scale up our family business. Providing high quality end to end service to our customers is very difficult specially with the Philippines being an archipelago. I adopted and implemented P&G's distributor model system in the early 2000 and since then we have now 9 established Bomanite installer distributor partners in the Philippines. And using these same model, we have scaled up and partnered with master distributors in Southeast Asia with a manufacturing hub in the Philippines and a regional office in Singapore.
Q7: The landscaping business is highly-affected by weather conditions. How do you cope with seasonality and ensure profitability throughout the year?
A7: Being a full scope landscape construction company, we offer diversified products and services all year round. During the summer season, that is the peak of our hardscape work (think roads, sidewallks, driveways, etc.) and during the rainy season it is easier and practical to install and maintain softscape (plants and greeneries). We are also diversifying into indoor floor installations like polished concrete and resin based coating systems that can be installed year round.
Q8: Contemporary issues like scarcity of water and the effect of climate change are worrisome. How is your landscaping solution addressing these issues?
A8: Environmental issues and challenges are now an immediate and global concern. Unlike before, where landscaping is seen more as an aesthetic solution, at present new innovations are being developed and implemented to address these. One of the products that we are offering is our permeable/pervious flooring system – Grasscrete that allows water to be stored and re-cycled. Low VOC (volatile organic compound) products in Bomanite systems also helps reduce carbon footprint. But other than product specific solutions, we need to help solve these environmental challenges as an industry and with partnerships from all stake holders. Our company, has helped found and revitalize LACISAP (Landscape Contractors and Industry Specialists Association of the Philippines) and is actively partnering with PALA ( Phil Association of Landscape Architects) to help generate greater environmental awareness and push for more environmental sustainability solutions.
*****
Josiah Go is Chair and Chief Innovation Strategist of Mansmith and Fielders Inc. The search for the 3rd Mansmith Innovation Awards is ongoing. Visit www.mansmithinnovation.com for details. 
See more articles on Marketing.