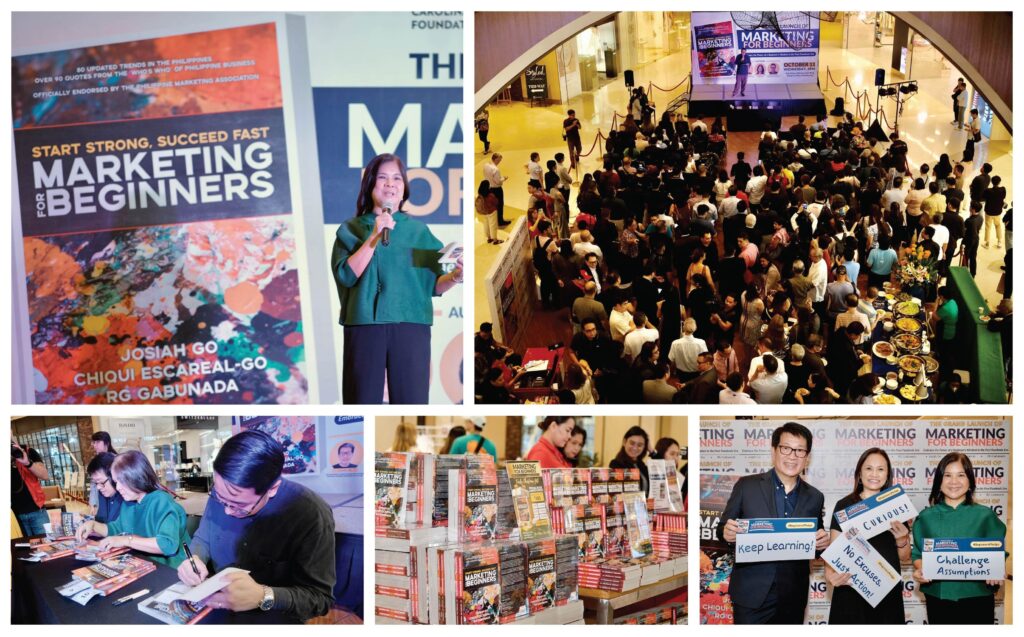 An unforgettable moment occurred last October 11, 2023, during the launching of our book, 'Marketing for Beginners: Start Strong. Succeed Fast."
Reaching a Diverse Audience:
Right from the start, our aim was to create an innovative marketing book that breaks free from conventions. We wanted to make marketing accessible to all, simplify its complexities, and kindle the desire for success within every Filipino. To achieve this, we took the following steps:
Instead of limiting our focus to a specific market segment, we boldly embraced a desegmentation approach. We recognized that our audience includes students, budding practitioners, non-marketing CEOs and CMOs, and even expats. We challenged conventional thinking and crafted a book with a broad appeal, aimed at anyone with a desire to learn. We discovered that despite their differences, these diverse profile of readers shared 11 common needs:

Fundamental concepts
Distinguishing between B2C and B2B practices
Practical examples in the Philippine context
Clear and straightforward communication
Visually engaging cover and content
Trends in the Philippines
Problem-solving exercises
A glossary of terms
Insights into post-pandemic practices
Emphasis on sustainability and social responsibility
Guidance on crafting a practical mini marketing plan

We were delighted to see our book launch attended by a cross-section of society—our very target audience, including students, non-marketers, young marketers, and CEOs / CMOs who embraced our call for a beginner's mindset.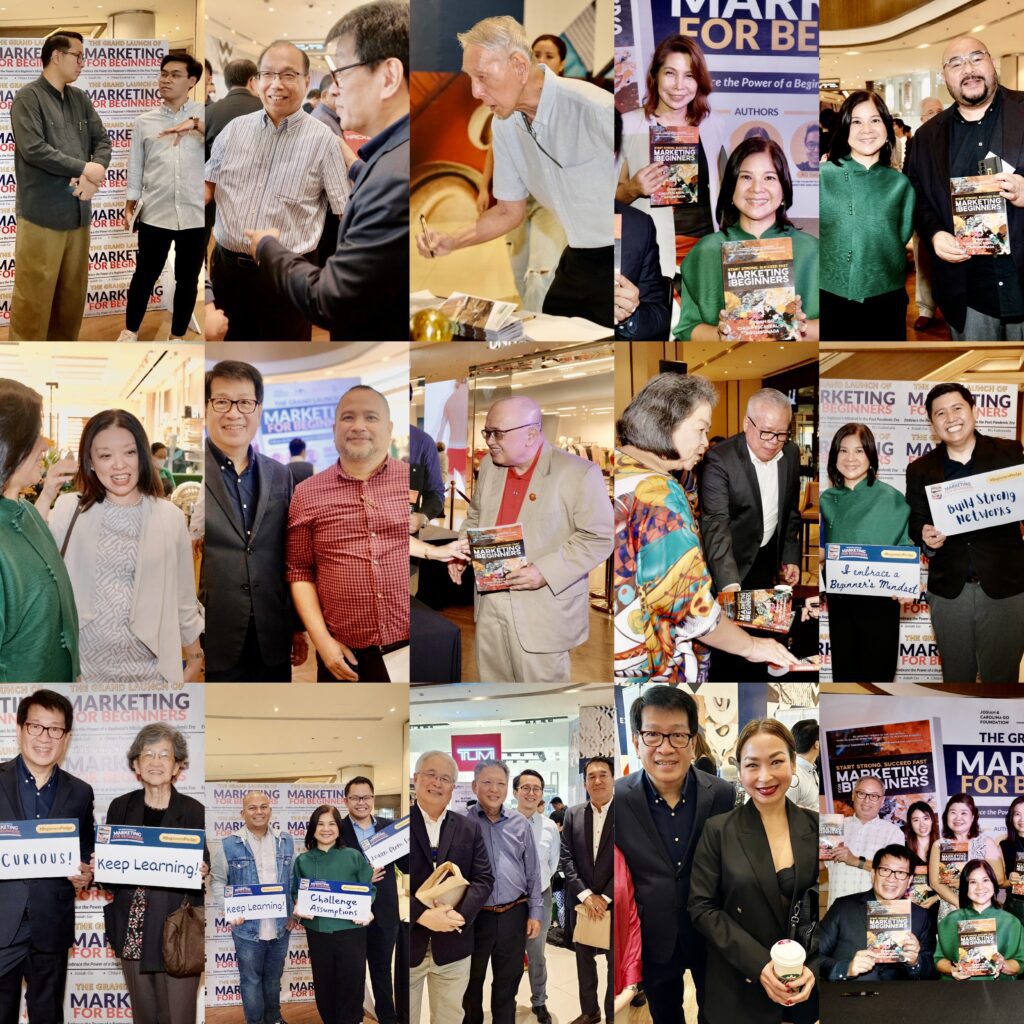 Crafting Engaging Content:
To make our content engaging and easy to digest, we adopted the following strategies:
Instead of lengthy chapters, we broke down the content into bite-sized sections, totaling over 90 sections.
Instead of asking readers to delve into a section to understand its essence, we introduced each section by quoting industry experts to provide a taste of what to expect.
Instead of relying solely on professional editors, we sought the perspective of grade 11 students who provided valuable feedback, resulting in the addition of a few sections.
Creating an Inviting Title:
Our final title, "Marketing for Beginners," balances simplicity and the promise of rapid success with the subtitle "Start Strong. Succeed Fast." This combination effectively communicates the book's value, appealing to a wide range of readers.
Designing the Book Cover:
We entrusted the design of the book cover to my son, Juju Gosingtian, who received a year of postgraduate concept art training in Singapore.
Instead of imposing a strict brief, we allowed Juju the freedom to conceptualize the cover from an artistic standpoint.
Juju believed that the cover should be a piece of art, inspiring readers daily, and conducted several design studies. While some traditional designs appealed to professors, the art-based cover design won the hearts of the younger audience, prompting us to adopt the artist's perspective.
Innovative Book Launch Planning:
We operated with a zero marketing budget, allocating all resources to the launch itself. Despite challenges such as heavy EDSA traffic, friends' travel plans, and an unconventional Wednesday event schedule, we successfully introduced creative strategies:
Instead of investing in digital campaigns, we harnessed the power of storytelling in social media four weeks before the book launch. We unveiled different elements step by step, aligning with consumer behavior and piquing interest.
Instead of traditional retail selling, we introduced a new volume category called 'The Godparents'
Instead of soliciting volume sales from specific companies, we simply made companies aware of the Godparent category, allowing interested ones to step forward. Several companies generously supported us, ensuring the success of our launch. Special recognition to our 11 Godparents: Abenson, Amway, Bistro Group, CDO Foodsphere, Chooks To Go, Gakken, Megasoft, Mekeni, Primer Group, Suy Sing and Waters Philippines.
A Heartfelt Thank You:
We extend our heartfelt thanks to those who attended our launch, demonstrating their support and solidarity. Your presence meant the world to us.
To those who purchased our books, whether one copy or a hundred, thank you for your unwavering support. We recognize that this achievement wouldn't have been possible without your immense backing.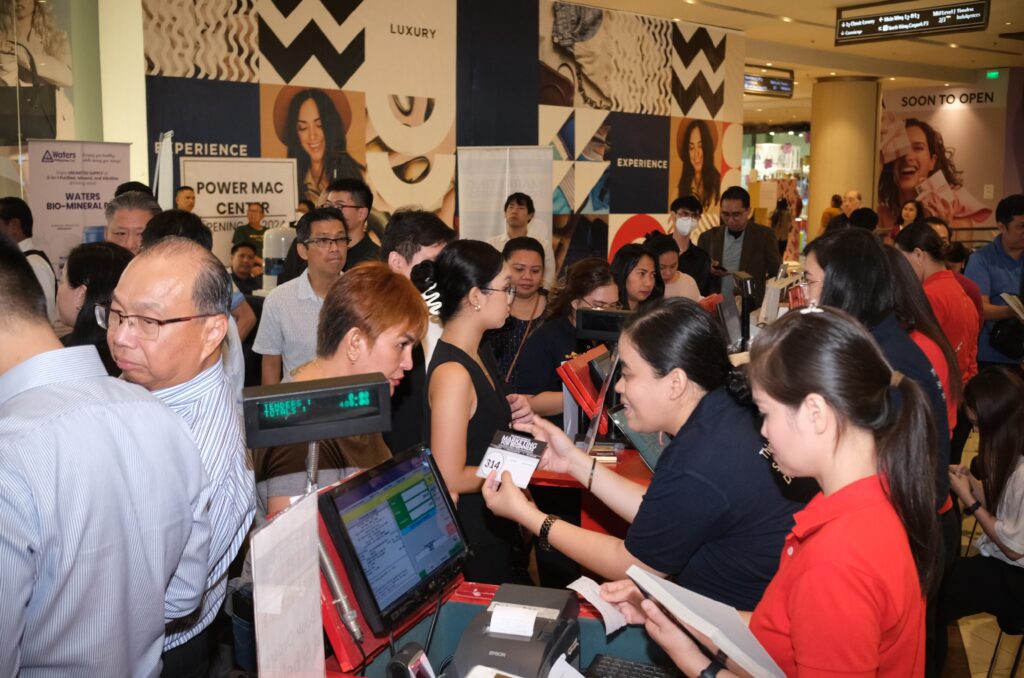 The overwhelming success of our book launch left us both astonished and grateful. We find ourselves surprised and amazed by the tremendous response despite the challenges posed by traffic, travel, and the unconventional choice of a Wednesday. We are truly humbled and attribute this success to the grace of God.
We're excited to announce that 'Marketing for Beginners: Start Strong. Succeed Fast' is now available in all Metro Manila branches of National Book Store and will be available in the provinces by the 4th week of October. This wider availability ensures that our book can reach readers across the Philippines.
We are grateful for the support of our family, clients and friends through all these years.  Proceeds of all our books go to the Josiah and Carolina Go Foundation Inc. that has been providing scholarships and medical assistance to less fortunate Filipinos since 1993.
***
Equip your team with the tools they need to conquer the marketing challenges of 2024. Register Here: https://bit.ly/PracticalMarketingS