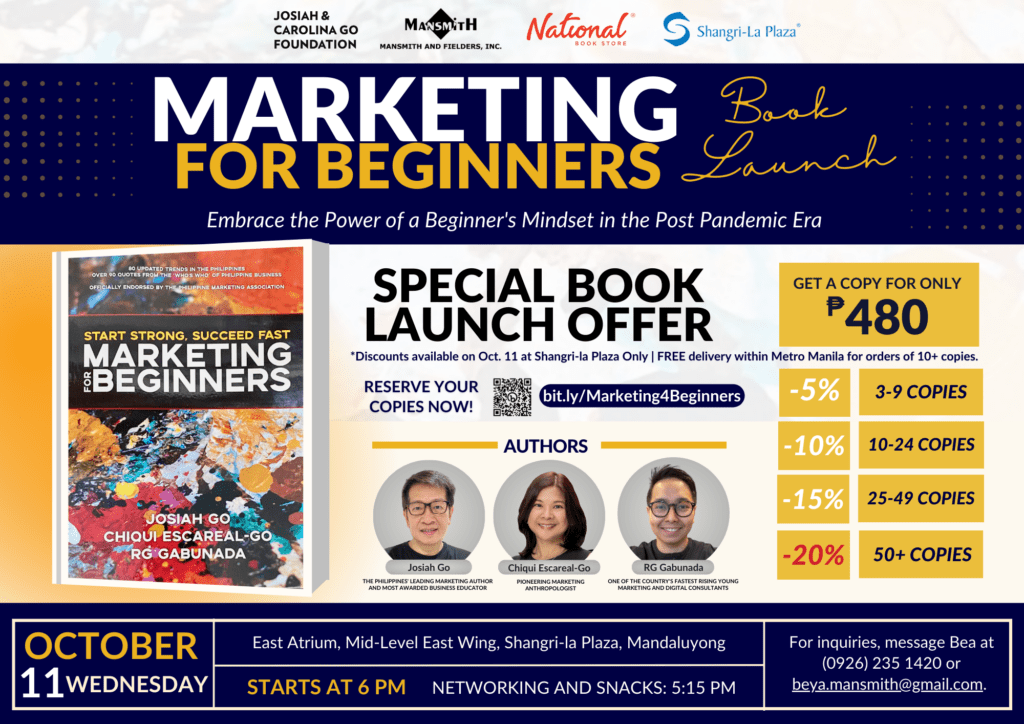 It's been 4 years since my last book launch in 2019, and I am excited to share that a new one is to be launched soon – "Marketing for Beginners," co-authored by myself, pioneering marketing anthropologist Chiqui Escareal-Go, CEO of Mansmith and Fielders Inc., and the dynamic digital consultant RG Gabunada, Partner of Louder PH.
This book is designed to refresh marketing knowledge especially after the pandemic reshaped many traditional businesses and redefined fundamental marketing paradigms.
The Power of a Beginner's Mindset:
In a time where adapting to change is crucial for achieving success, "Marketing for Beginners" extends an invitation – to embrace the potency of a beginner's mindset. The authors firmly believe that approaching marketing with a new perspective and an open heart is a pivotal factor in unlocking novel strategies for both growth and impactful outcomes.
A Decade's Worth of Trends:
One of the highlights of this book is a list of 80 trends in the Philippines encoded over the past decade. Building upon their prior accomplishments and personal experiences, Go, Escareal-Go, and Gabunada have amplified their insights by incorporating 20 additional consumer behavior trends that have surfaced in recent times. These trends may serve as foundational pillars or sources of insights in the crafting of marketing strategies amidst the new normal.
A Comprehensive Guide:
Spanning more than 90 concise sections, "Marketing for Beginners" delivers bite-sized topics as well as frameworks that can be effortlessly comprehended and applied. In fact, we even had grade 11 students review it for comprehension. Whether you're a seasoned marketing professional, an entrepreneur, a student, or just starting your journey, the book's user-friendly format ensures that actionable insights are ready for you on every page.
Wisdom from the Industry Titans:
Another thing that sets this book apart is its inclusion of over 90 quotes from industry leaders and key opinion leaders. The readers can gain wisdom from the who's who of the business world, as they share their thoughts on adapting to change, harnessing innovation, and thriving in a dynamic landscape.
An Invitation to the Public:
The authors would like to extend an invite to everyone interested in learning and to be updated in the evolving world of marketing.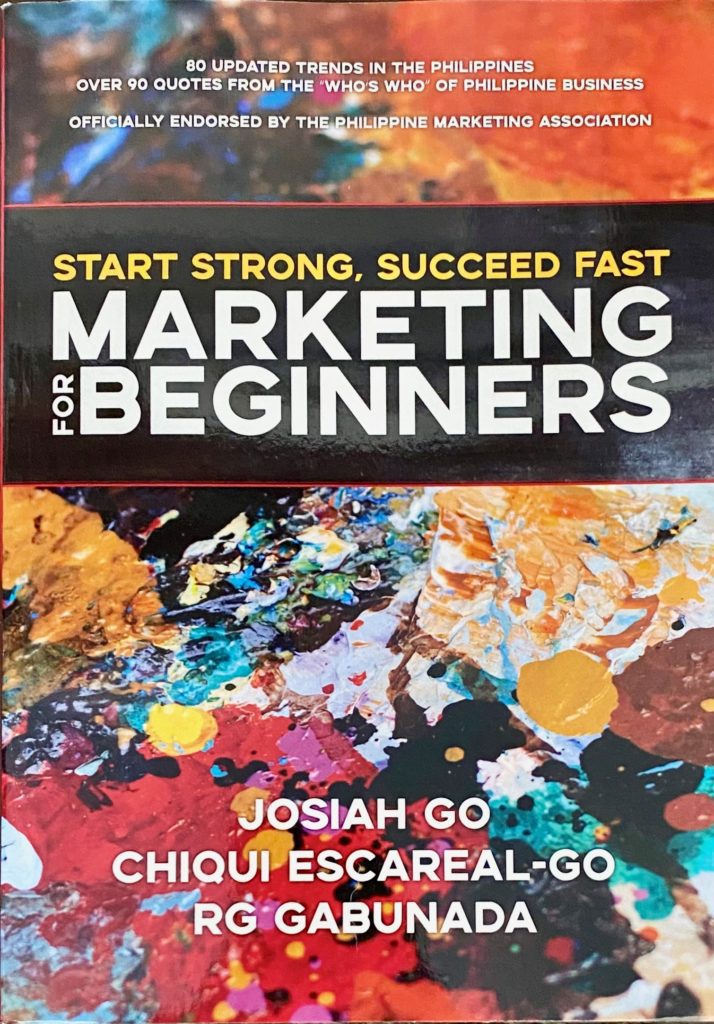 Mark your calendars for the 1-day launch event on Oct. 11, 2023 (Wednesday), 6pm on the East Atrium (Mid level East wing) of Shangrila Mall, Mandaluyong, where you can grab your copy of "Marketing for Beginners" at a retail price of P480.
As an added bonus, if you purchase 3 copies or more, you'll enjoy a special 5% discount. For those ordering 10 copies or more, complimentary delivery within Metro Manila is included, in addition to a 10% volume discount. Pro-tip: Arrive early to enjoy networking opportunities and snacks, beginning at 5:15 pm. Who knows, you might even have the chance to mingle with influential figures of the business world, just like in our past launches.
Bulk Discounts for the Enthusiasts:
For the true marketing aficionados, the authors have something special in store. Purchase 50 copies or more, and you'll receive an impressive 20% discount along with free delivery within Metro Manila. It's an opportunity to share the wisdom of "Marketing for Beginners" with your team, colleagues, clients, or business network as an early Christmas gift.
The Ultimate Marketing Companion:
In a rapidly changing business setting, marketing is more critical than ever. "Marketing for Beginners" can serve as the ultimate companion for navigating the dynamic and definitely unpredictable post-pandemic landscape. With insights from myself, Chiqui Escareal-Go, RG Gabunada, combined with the wisdom of industry leaders, you can create a blueprint for success that is practical and applicable.
Get ready to embark on a transformative journey, embracing the power of a beginner's mindset and unlocking the strategies that will shape your marketing success in the years to come.
Below is the registration form for the launch event. Although walk-ins are totally cool, we would be better prepared if you pre-registered, so please signup early!
https://bit.ly/Marketing4Beginners.
* * *
See more articles on Marketing.