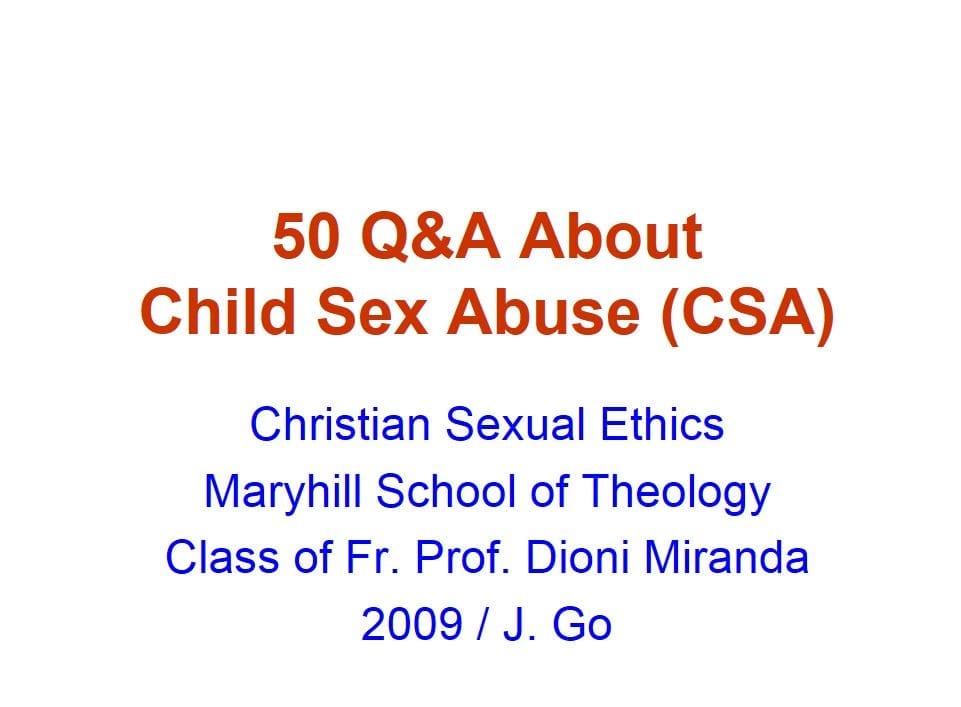 I have decided to share what I know about an issue where silence is the norm – Child Sex Abuse.
'Spotlight' was one of the many movies nominated in the Academy Awards. I watched this last Feb 12, 2016 in Eastwood. It was a movie about child sex abuse committed by those who were supposed to protect and nurture the young and the weak – Priests. The timing of the movie being shown in theaters was perfect as Presidential proclamation 731 declared the second week of February of every year as 'National Awareness Week for the Prevention of Child Sexual Abuse and Exploitation' but any awareness or advertising effort was hardly noticeable!
The movie was set in Boston and the reporters of The Boston Globe thought that they were exposing the abuses of 13 priests, only to be shocked that there were 87 abusive priests instead, representing 6% of the entire number of priests assigned in Boston. When the news broke in 2002, more child sex survivors came out openly and nearly 250 abusive priests were identified in a nationwide scandal. It was embarrassing for the Catholic Church hierarchy to be caught covering up and silencing survivors with non disclosure private financial settlements. In many cases, the abusive clergy were simply assigned elsewhere and just repeated the same cycle in unsupervised contact with minors.
I am not unfamiliar with child sex abuse. In 2009, however, I was assigned to do a research on the topic by Fr. Dioni Miranda, my professor in our Christian Sexual Ethics class when I was then pursuing my M.A. Religious Studies at the Maryhill School of Theology. The good professor gave me a perfect grade of 4.0 for my output, specially after realizing that I not only researched and interviewed survivors, I even helped a child sex abuse center get major funding from HBC whose slogan was 'beauty inside and out.' Thanks again HBC!
I have since been wondering aboutthe practical real world value of the compiled material in my possession for the last 7 years. The timing of the movie 'Spotlight' as well as the launching of my blog 1.5 years ago has enabled me to now freely share '50 Q&A on Child Sex Abuse' to a much greater audience who can benefit from the information. After all, there was no use for the powerpoint if simply left in my laptop.
I have decided to deviate from my usual article or interview about marketing. It is not entirely unrelated as OFW (Overseas Filipino Workers) is part of the culture of many Filipinos. It is estimated that as much as 25% of homes, specially with the absence of a parent (like over 10 million OFWs in the Philippines) will have a family member as victim. Do your math and you will note that it is a social disease! Most of the time, child sex survivors gained the guts to tell their stories many decades after the prescribed years for legal remedies. Others were simply broken and have never felt whole again, never even sharing this dark chapter of their lives to their spouse as can be seen in the movie 'Spotlight.'
To the young business students following my blog, the '50 Q&A about Child Sex Abuse' is about manipulation (the opposite of marketing)! You will learn how a child typically 11-14 years old is groomed and trapped by the perpetrator over a period of time, how perpetrators create a code of silence and dependency for years, when an abuse will likely stop, why co-dependency becomes disastrous and where to seek help.
Note in most cases, the perpetrator is known to the victim and beyond a priest, can even be a guardian, elder brother, brother-in-law, etc.
I feel like I have been given a mission of sharing beyond my 20 classmates in MST. Now I have a platform to share to 20 million. Please help me circulate this information.
https://www.slideshare.net/rommelarizala1/50-qa-about-child-sex-abuse-csa?fbclid=IwAR1ZNnHuWs_j8kc3uSzccgX3wSgJ9RkEmi0drTVqzm606KOVAJqdh1EzoKE