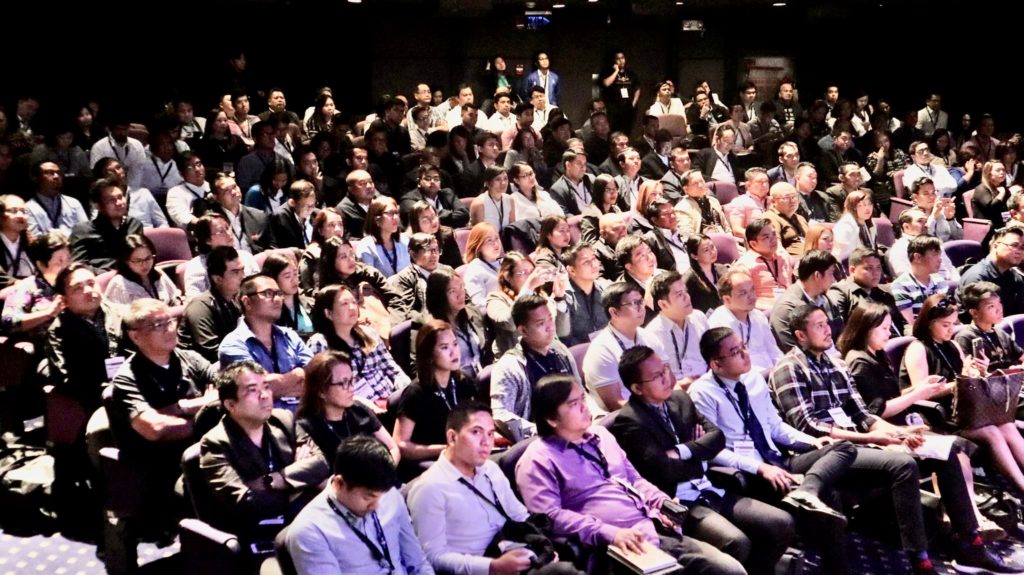 I get the most number of new ideas by attending learning events organized by reputable organizers with track records of delivering quality content. By simply listening to different perspectives of speakers or panelists who have been-there, done-that, I get inspired with their possibility thinking. I build on their ideas, connect a missing piece of a puzzle, or get triggered with an entirely different perspective.
Here in the Philippines, the following events are already being planned by the Mansmith Group for 2023 (dates can still be subject to change). Don't forget to allocate budget for you and your team. It is a cost-effective way to reward them, show your appreciation and send a message you care about their future. Most of these events will be live so there is an additional benefit of networking with like-minded individuals, plus that long-awaited reunion with colleagues you have not seen since Covid-19 lockdown.
1) The 3rd Mansmith Sales Conference (August 15, 2023)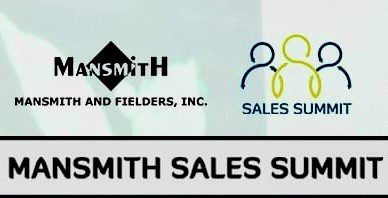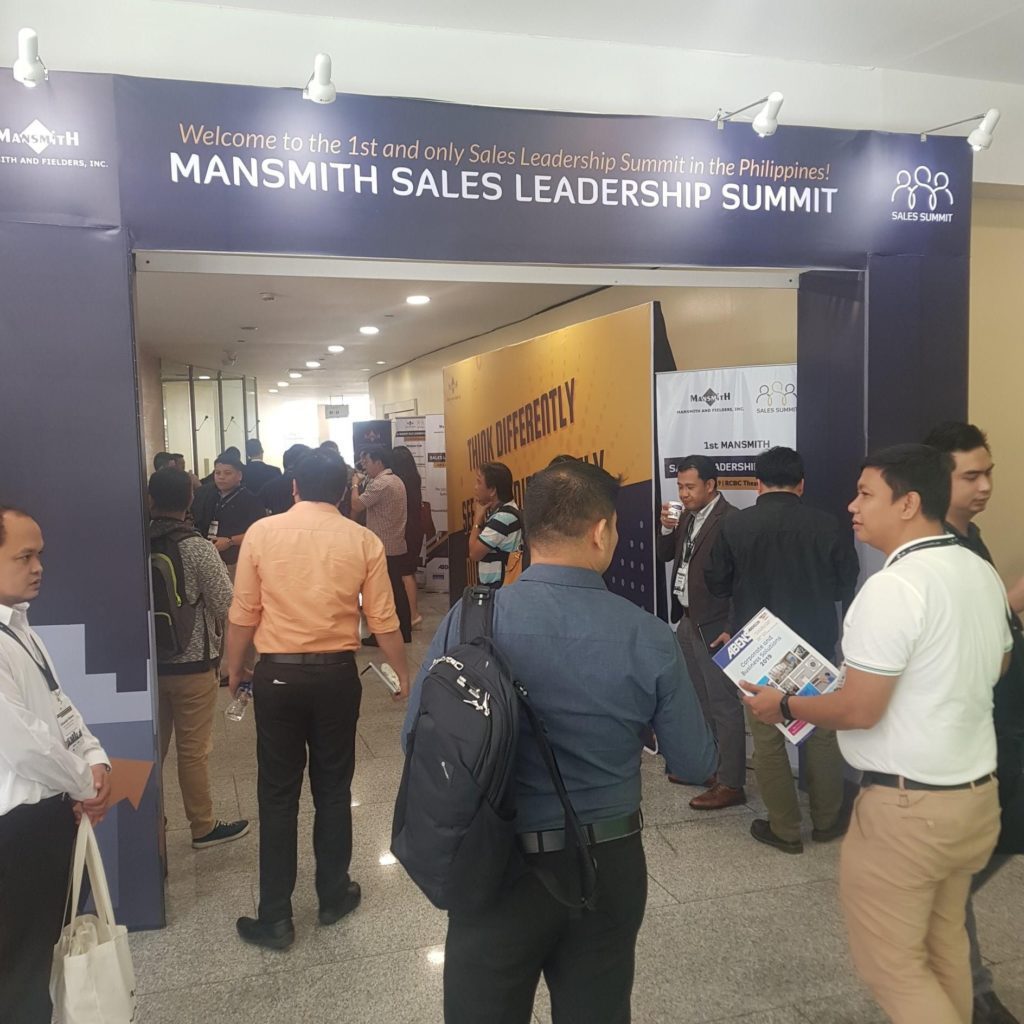 Get the latest views in sales and sales management from experienced sales executives across different industries. The full speaker line-up and program will be posted soon at https://salessummit.com.ph
Recommended for: Sales Managers, Trade Marketers and Sales Practitioners
2) The 14th Mansmith Market Masters Conference (May 17, 2023)
The Marketing Conference of the Year is back with a panel of 16 highly-respected marketers in 4 in-depth sessions. They will speak on the theme Marketing Resiliency: Proven Strategies from Leaders, Challengers, Drivers and Creators. The 5th Market Masters Awards (MMMA) for senior mentors will be incorporated in the 14th Market Masters Conference as a culminating activity of the conference with 4 seasoned marketing mentors to be recognized. Visit https://marketmastersconference.com for the full speaker line-up, awardees and program.
Recommended for: CEOs, CMOs, COOs, Excom, Mancom Executives, Marketing Teams, Strategy Executives, Business Development Teams, Research Executives.
3) The 4th Mansmith Brand Summit (July 26, 2023)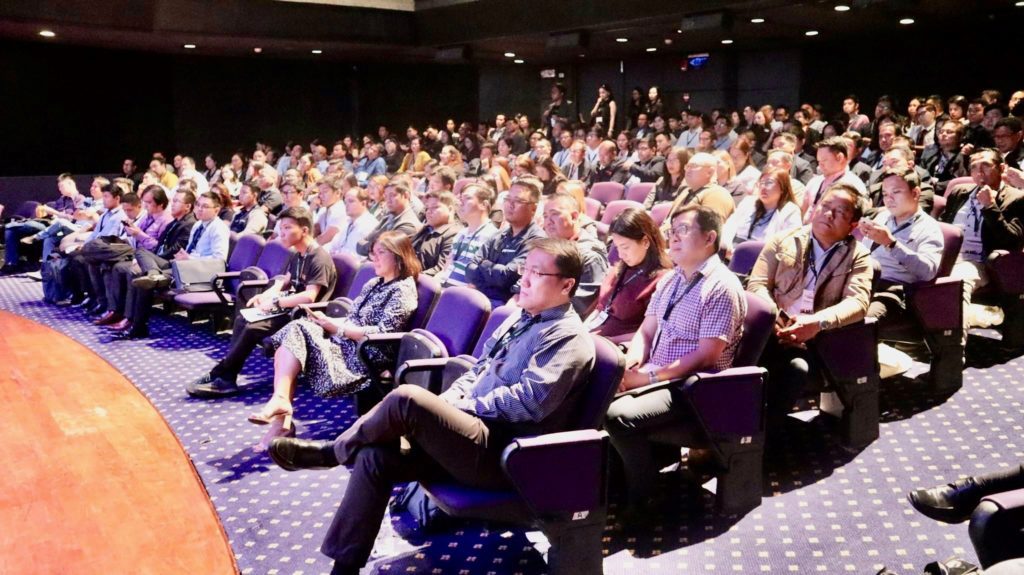 The Mansmith Brand Summit brings together award-winning brand builders who will be sharing actual industry experiences and answer your questions in marketing and brand building. Many of the speakers are true marketing rockstars who were recipients of the Mansmith Young Market Masters Awards (YMMA). Watch out for the full speaker line-up and program, visit https://brandsummit.com.ph
Recommended for: Brand Managers and teams, Trade Marketing Managers and teams, Marketing teams.
4) The 3rd Business Model Conference for Entrepreneurs and Intrapreneurs (August 30, 2023, via Zoom)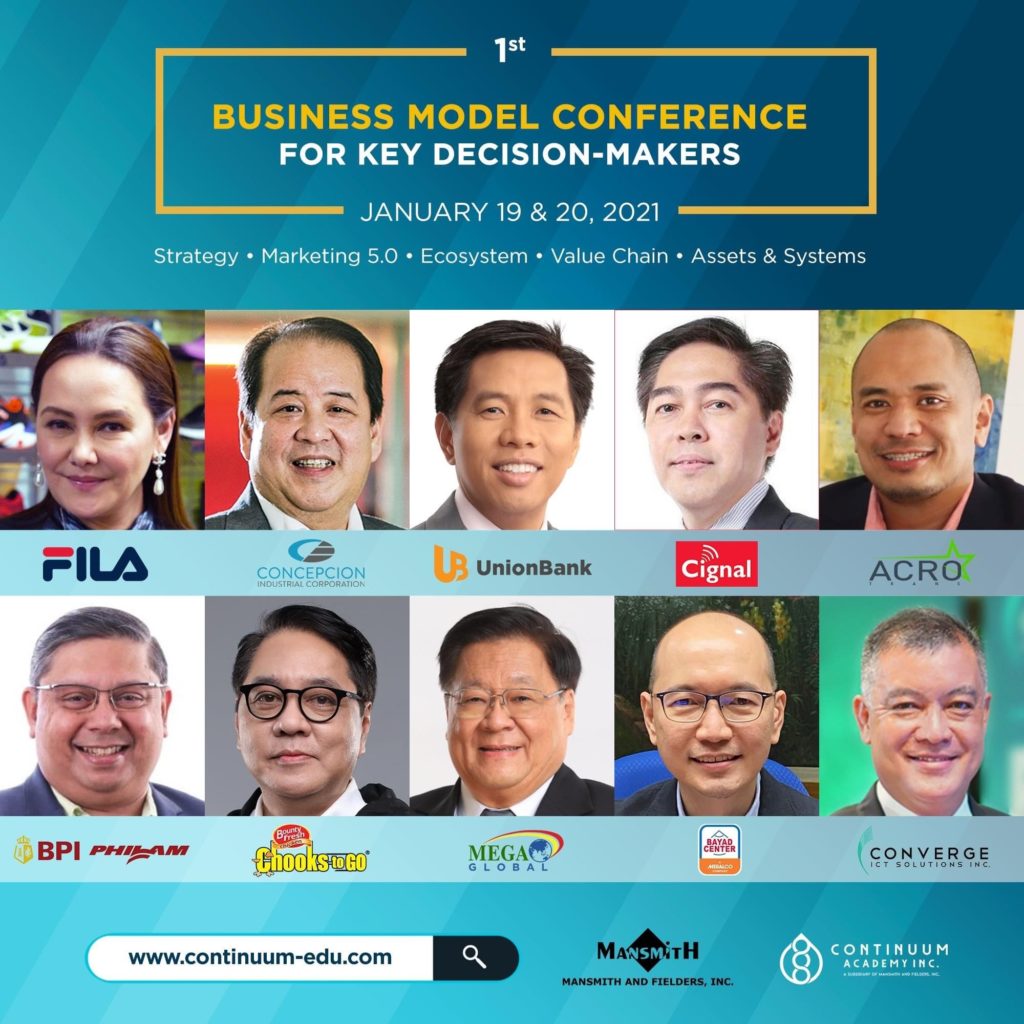 Ever since Mansmith introduced the 11 building blocks of a Business Model in June 2010, thousands of businesspeople have benefited not just in being able to design and pivot their businesses but to look holistically and more strategically about their business model. This includes the offering model, the operating model, the financial model, and the value architecture. This is Mansmith's 3rd year of helping both entrepreneurs and intrapreneurs. The full speaker line-up and program will be up soon at https://continuum-edu.com/.
Recommended for: Entrepreneurs and Intrapreneurs, Start-up Founders, Investors, Board Members, and Business Model Neophytes.
5) The 2nd Mansmith B2B Summit (October 11, 2023)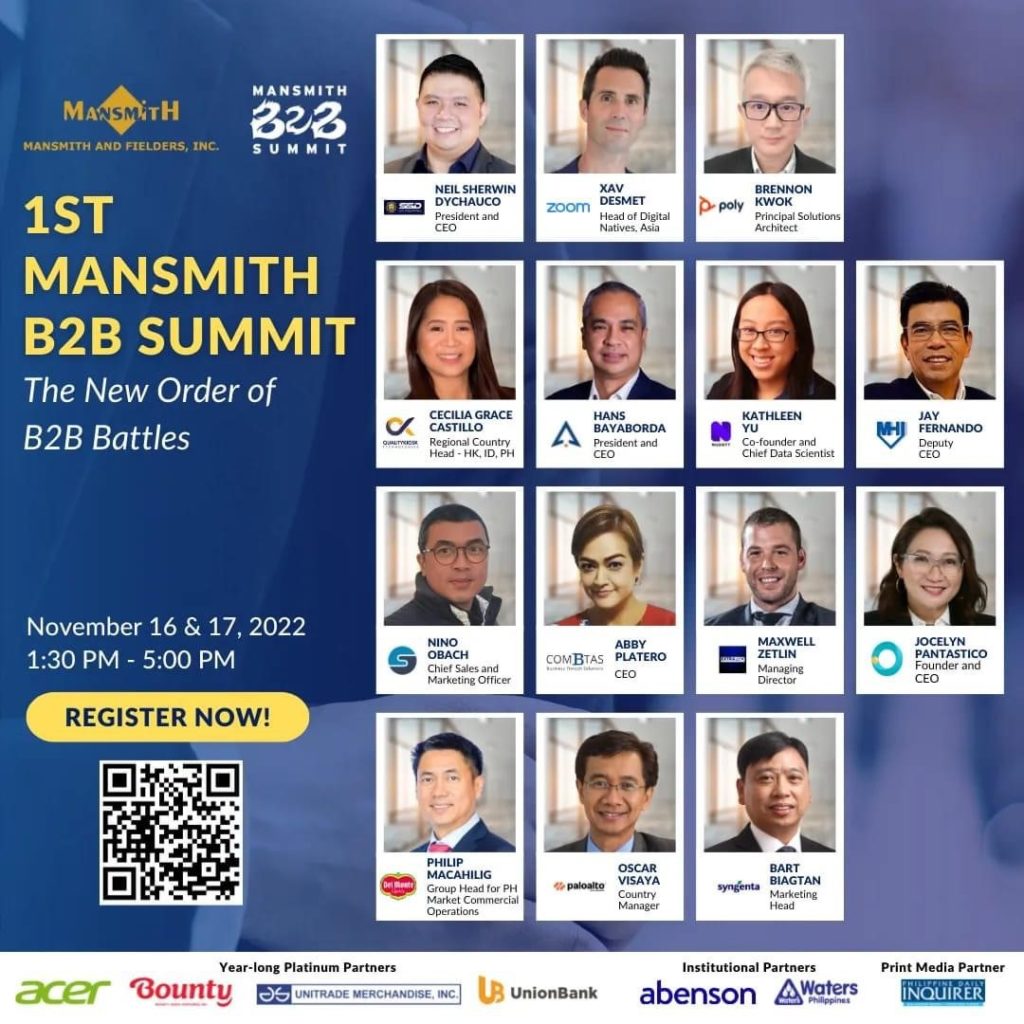 The first and only business-to-business summit in the Philippines. Learn strategies and secrets to developing successful B2B marketing and engagements. Watch out for the full speaker line-up and program soon. In the meantime, check out https://www.mansmith.net/event/1st-mansmith-b2b-summit-the-new-order-of-b2b-battles-2022-11-16-2022-11-17-97/register
Recommended for: Any member of B2B organizations, preferably for entire cross-functional teams to understand B2B strategies together in one day.
6) The 3rd Mansmith Innovation Awards and Summit (November 22, 2023)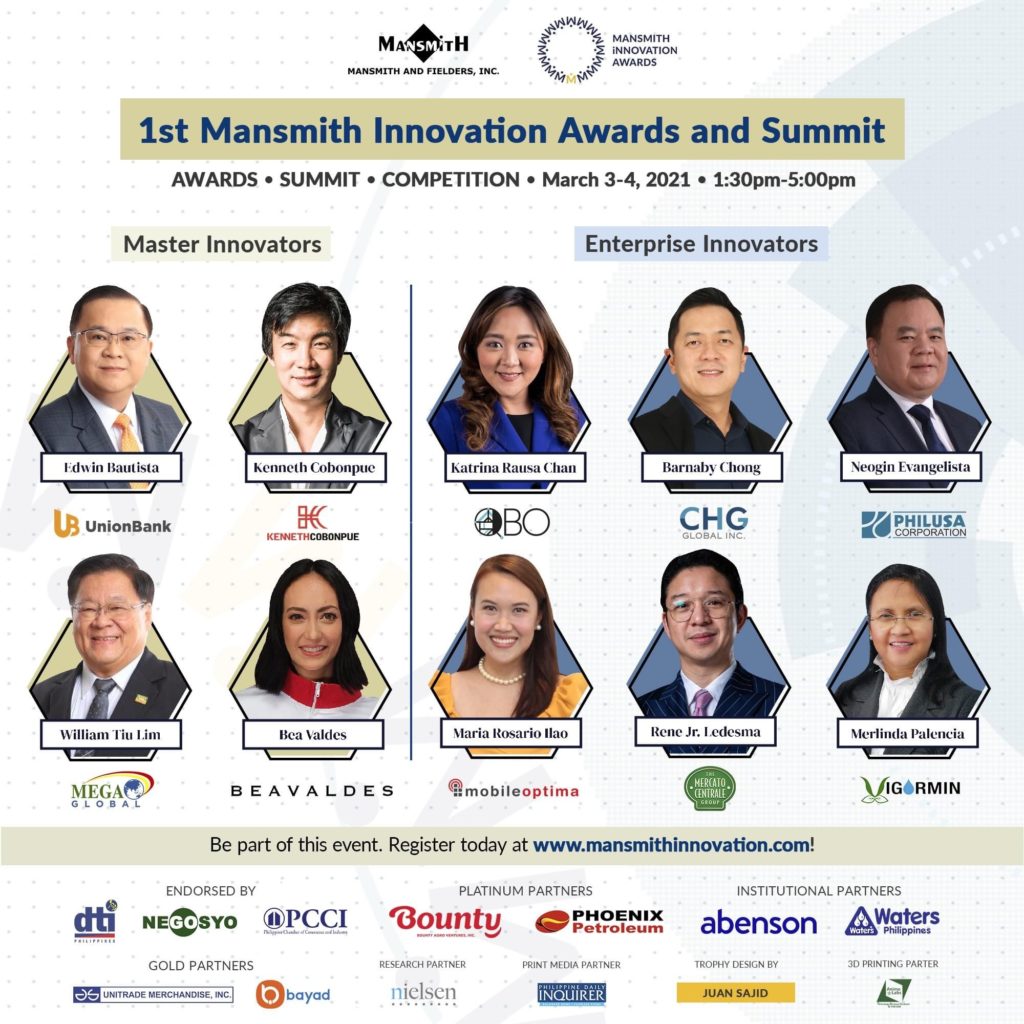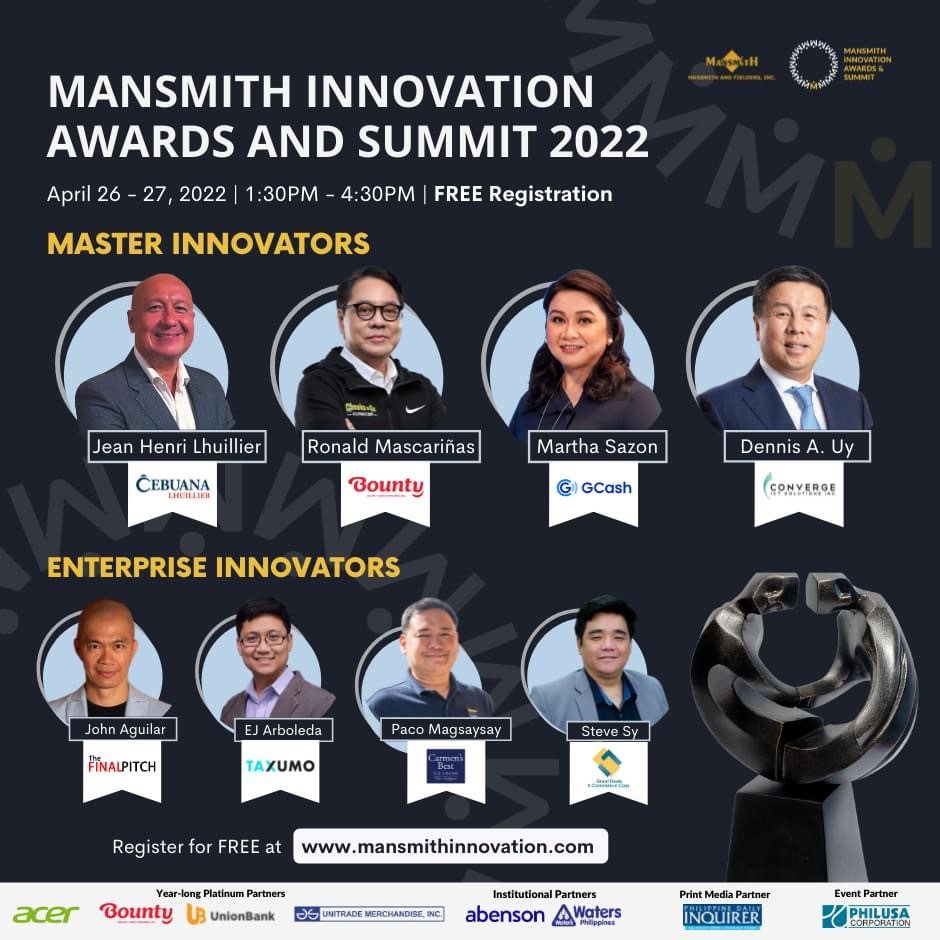 The Mansmith Innovation Awards, officially endorsed by DTI and Go Negosyo, seek to recognize Filipino innovators not just in product, service, digital and tech but also in business model innovation. These Filipino innovators will speak at the summit and share their thinking process and seeing opportunities in market gaps, white spaces and execution strategies. The awardees and the summit program will be posted at https://www.mansmithinnovation.com
Recommended for: Top Management executives, Business Owners, Investors, R&D teams, Innovation teams, Marketing teams, Product Executives, and companies whose core values include Innovation.
For an advance announcement, sign up here: (Click here) Marketing Conferences in 2023
*****
Mansmith and Fielders Inc. would like to thank the following sponsors this 2022 for helping subsidize the conference fees of the participants and/or for enabling us to offer some of its events and services for free : Acer, Bounty Agro, JS Unitrade, UnionBank, Double Dragon, Insular Life, Philusa, Abenson, Waters Philippines and Inquirer. For 2023, we are grateful for the addition of GCash and Orocan who committed to be yearlong sponsors. The list will be updated before the end of the year.