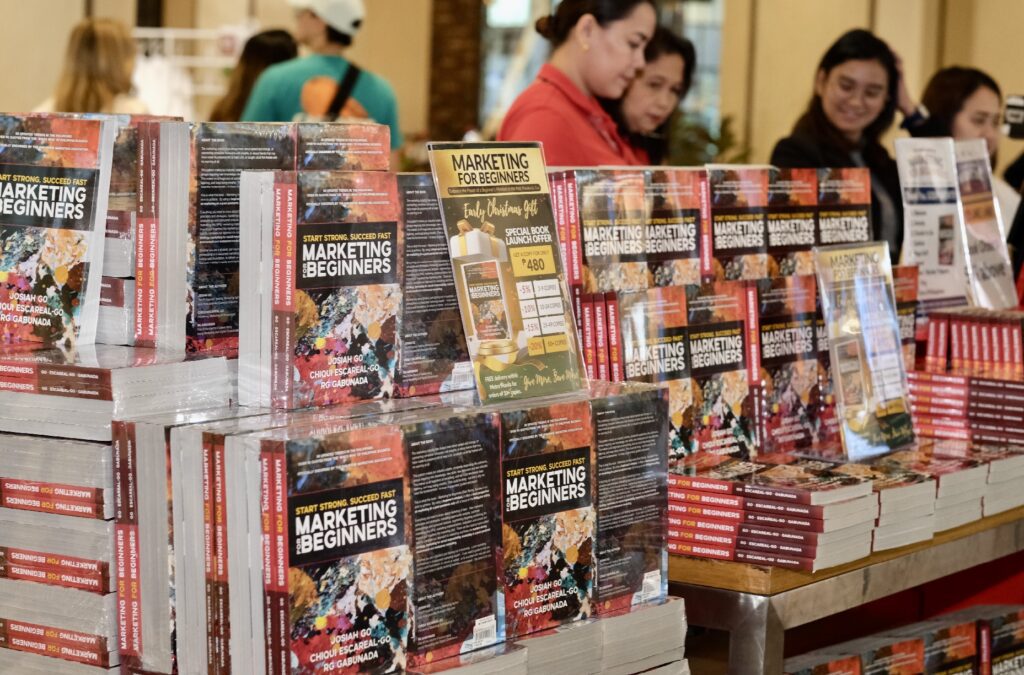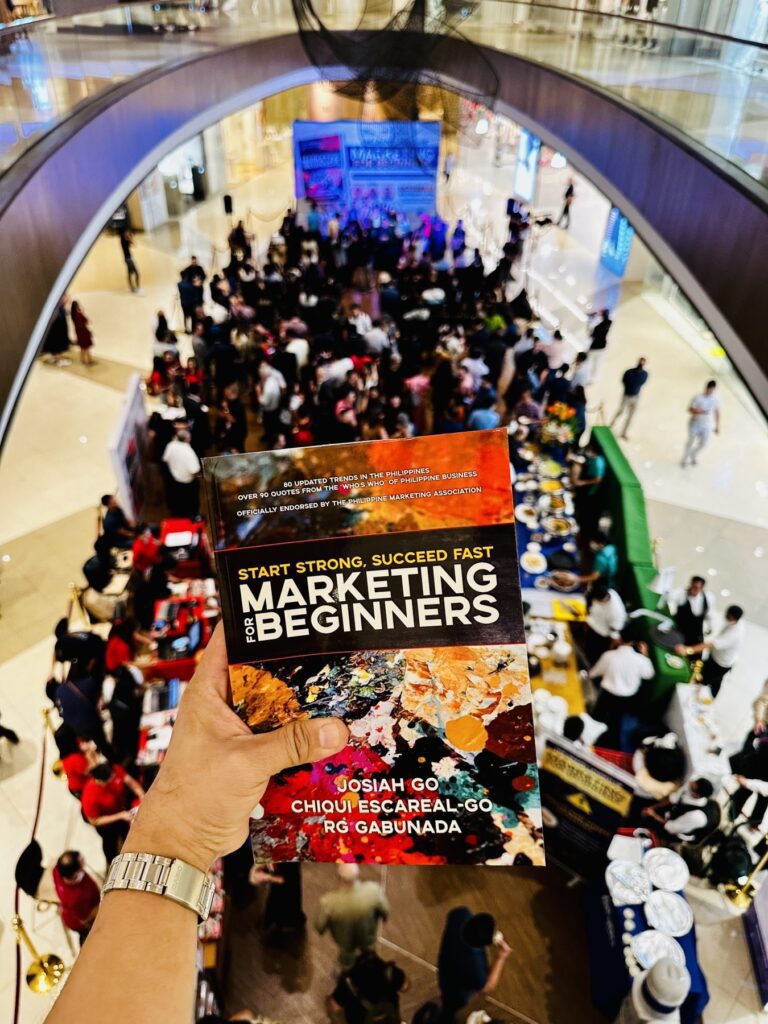 Before we dive into this exciting guests of our record-breaking book launch, I want to take a moment to reminisce. Some of you may remember a similar blog I wrote when we launched our entrepreneurship book in 2018. Back then, we embarked on a journey to unveil the 4 gates model of entrepreneurship. Today, we are here to celebrate the launch of our marketing book, and I couldn't be more thrilled to share this remarkable experience with you.
Thank you to all who joined us in celebrating our book launch on October 11, 2023. We're truly grateful for your presence on a midweek Wednesday, choosing our event over your other commitments. Your support means the world to us.
Some people may have thought that our book, "Marketing for Beginners" is aimed solely at newcomers to the field. We feared it might be perceived as too limiting, but we decided to take a risk. That risk became worth it when we rallied with the battle cry, "Embrace the power of a beginner's mindset post-pandemic." This mindset is not limited to newcomers; it's about always keeping a fresh perspective in a constantly changing world. Many entrepreneurs and practitioners recently went through a "strategic drift" during the pandemic, making our book relevant to them as well.
We asked ourselves, what if people don't attend because they felt they were no longer beginners? This concern led us to present a series of unveilings, from the table of contents to the subject index, covering 80 trends in the Philippines and over 90 quotes from the Who's Who in Philippine business, to encourage a second look, especially among those with an enduring curiosity.
Now, let me introduce some of the extraordinary individuals who took time to attend our event:
Seasoned experts in their 70s and 80s (but definitely young at heart) such as Sol Yuyitung (Publisher of Chinese Commercial News), Atty. Jimmy Buhain (Rex Publishing Group), Raymond Dan (R Dan & Co.), Fil Guba (former president of the Philippine Marketing Association), Napoleon Co (Cebu Overseas Hardware), Sabsy Palanca (ISQ), Flor Tarriela (PNB), Pong Ejercito (former Unilever) and Teresita Ang-See (Independent Director of AUB). They believe in the power of a beginner's mindset.
Then there are those whose ages are not easy to guess, individuals who have either retired from the industry or rekindled their enthusiasm for it. Joey Mendoza (SM Supermarket), Ron Castro (Independent Investor), Raymund Acedera (Brandev) and Angel Umali (Wilga / AIM) took time to attend.
Business giants like Robina Gokongwei-Pe (Robinsons Retail Holdings), Yvonne Yuchengco (Malayan / RCBC), Rosalind Wee (W Group), Jimmy Thai (Primer Group), Samuel Po (Marco Polo Ortigas), Edward Lee (COL Financial), Jerome Ong (CDO), Robby Go (UBS), Jack Ng Jr (AUB, Rebisco, Joy-Nostalg), Rosemarie Rafael(Airspeed), Michael Co (Cebu Home), Mars Aaron (Villa Socorro), Manuel Wong(Acer), and Ramon Lopez (former secretary of DTI), were present. As well as top market researchers, such as Gary de Ocampo (formerly with Kantar), Issa Baron (Good Thinking), and Vicky Abad (Ipsos).
Industry association leaders, present or past, such as Bryan Sy Lato (Philippine Marketing Association), Eric Caeg (International Council of Small Business Philippines), Joey Sarmiento (Direct Selling Association of the Philippines), Rosemarie Rafael(Women Business Council of the Philippines), Joaquin Co (QC Fil-Chi), Jimmy Sybauco (Entrepreneur Society of the Philippines), Wilson Lee Flores & Marcelo Co(Anvil Business Club), Reginald Yu (JCI Senator), Jerry Ilao (Association of Filipino Franchisers Inc), Dina Loomis (Toastmasters), Betty Aw (Chinese Filipino Business Club), Jaime Tan (Dynamic Youth), Krishna Alejandro (JAPI), Johnson Xu (Chinese Writers Association) and Tony Tanael (Printing Technical Association) were present.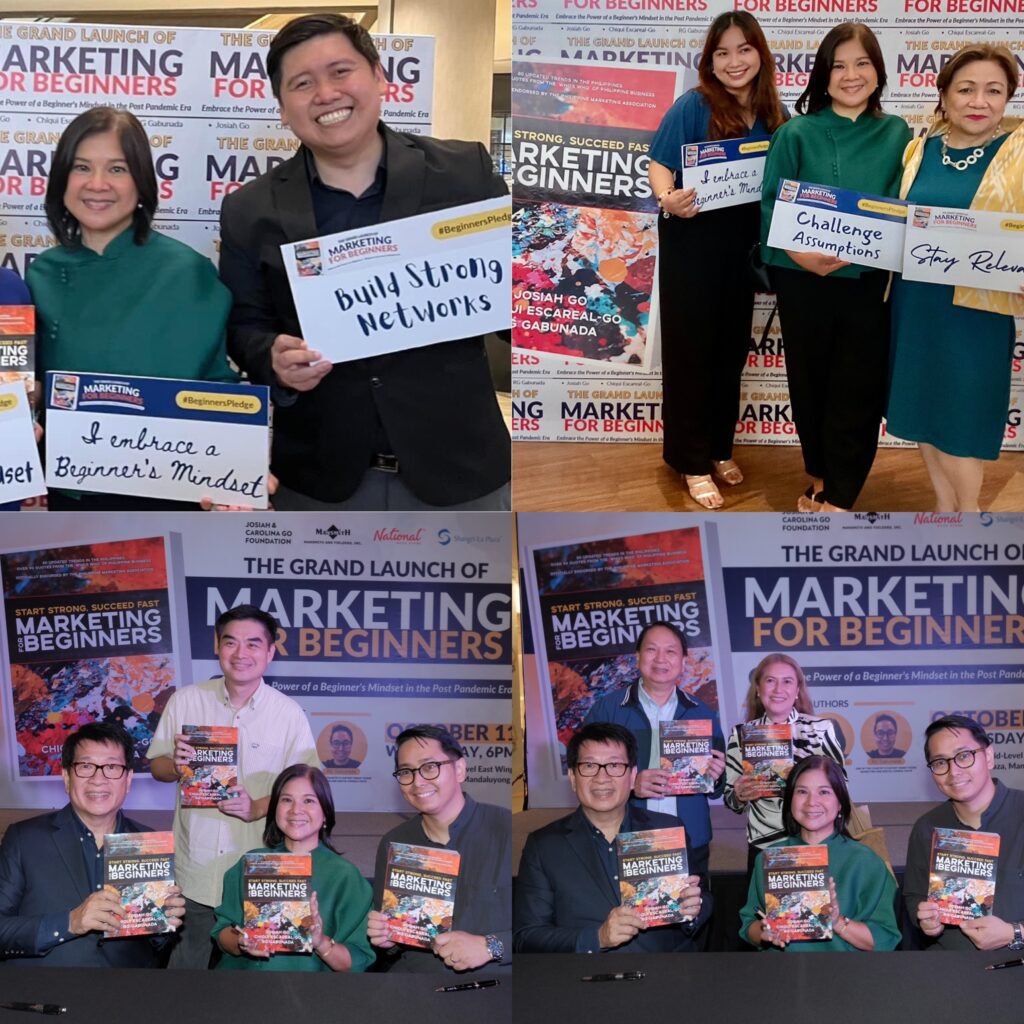 Top executives, including Nic Gabunada (Louder Ph), Ida Tiongson (Prulife), Jeffrey Go (Haleon), Carlo Mendoza (Kopiko), Donna May Lina (Lina Group), James Matti(Watson Tower), Usec Tonette Velasco, Alex Caeg (Smart), Bart Canon (FlyAce), Beth Anana (Xyngular), Richard Uy (The Spa), and foundation stalwart Chito Sobrepena(Metrobank Foundation) came to support.
Award-winning marketing rockstars like Dorothy Dee-Ching (Jollibee), Kim Lato(Kimstore), Chay Cruel (Perla), Albet Buddahim (Primer Group), Kakam Gabunada(Jollibee), Bea Martinez (Century Tuna), Ron Batisan (UnionBank), Jerum Cerbito(Novartis), Joaquin Barandino (Squadzip), Gian Yap (Reckitt), Ichi Apostol-Acosta, Kat Gomez (Mekeni) and Darlyn Ty–Nilo (Belle de Jour Planner) were present.
Marketers from the PMA: Leah Ayeng (Prestige Papers), Dr. Christina Corpuz (NU), Jojo Ajero (Beefshop), Gwen Albarracin (Pop Music), Tess Guevarra (Catalyxt), Therese Galang (Airspeed) and Next Layderos were present.
Hotshot marketers: Gae Martinez (Insular Life), Celina Matias (Phoenix), Carla Cruz (Amway), Wendell Labre (Bayad), Lisa Ronquillo – Along (Bistro Group), Kat Quijano(Max's Group), Raj Traballo (P&G), May Maloles Xu (BDO), Ria Comsti-Rivera (Core Proc), Mark Viri (Rex) and Cherry Caluya (8Magis) came to support.
Marketers alumni from Markprof: Monch Cruz (Mondelez), Jacqueline Gorospe(LRTC), AR Polinar (Flash Express), Sarah Roxas-Wage (Makati Hope), Jennifer Jimenez (Globe), Danessa Lu (DKL), Momar Rosales, Genie Melendres (Philam), Sed Lacsamana (Prime Real Estate), Jeremey Esquejo (Oracle), Michaela Maliwat(Workbean), Kenneth Masuhay (BNext), and Jay Mendoza (Gogoro) were also present.
Entrepreneurs like Rio Ilao (Tarkie), Louie Gutierrez (Silverworks), Dinah Salonga(Yogaplus), Ronnie Traballo (Cypress Bonamite), Jerry Uy (Gingersnaps), Dennis Tirthdas(Chemlux), Butch Salvador (Car Magic), Jun Santos (Valueline), Darcy Co-Ong (Klean Kanteen), Rico & Ral Santos (Agilis), Sam Karazi (Bebang's), Reymont Choachuy (Car Doctor), Carl Dy (Spectrum), Vince Pozon (Estima), Mike & Lucci Canlas (Bang Bang), Marvin Chua (Key Coffee), Joey Espiritu (Foodchow), Matt Queblatin (Animatify), Gerwin & Sheryl See (Treston), Karl & Kay Santos (1919 Chocolate), Jun Lu (Opisina), Chester Tan (Cloth B) and Mary Uy (Marketreach), supported.
Friends from the Englicom Chinoy community: Irving & Susan Sy, Valencia Keh-Wong and Wilson So
Friends from Chiang Kai Shek College: Dr. Annabelle Uy, Mila De Leon Lam, Eleonor Yee, Madison See, Rivero Manabat, James Dee, Evelyn Choi, Lily Yao, Sandy Tan, Jo David & Goson Manumbas
Fellow authors: Eleanore Teo (Raising Heirs), John Aguilar (The Final Pitch), Ines Bautista-Yao (One Crazy Summer) and Ron Magsakay (I Got Humor) came.
Non marketing executives: Ulysses Lao (Starpay), Marito de Jesus (Mineski Global), Atty Lalaine Monserate (Yuchengco Group), Flordeliza Cruz (Rex), Cecile Domingo(Meralco), Sonia De Guzman (PMA), Johnson Sia, Dmi Lozano, Dennis Omila & Erwin Wiriadi (UnionBank) supported.
The attending executives get younger and younger: Karl Po (JS Unitrade), Richard Go (Orocan), Jayson & Kit Robles (Sta Lucia Land), Vohne Yao (Own Days / Lucerne), Louella Chan (Chinatown Tv), Kevin Te (Frankie's) & Adeline Te (Microdata) and Apple Manansala (TNC).
Although it was a practitioner's launch, there were also a few students who asked us to sign their books.
The night had over 300 guests and will be etched forever in our memories for a long time. Your presence and support mean the world to us.
We feel your love.
(Due to space constraints, we may have unintentionally missed acknowledging some of our wonderful guests. Your presence at our book launch means the world to us, and we appreciate your understanding)
____
Equip your team with the tools they need to conquer the marketing challenges of 2024. Register Here: https://bit.ly/PracticalMarketingS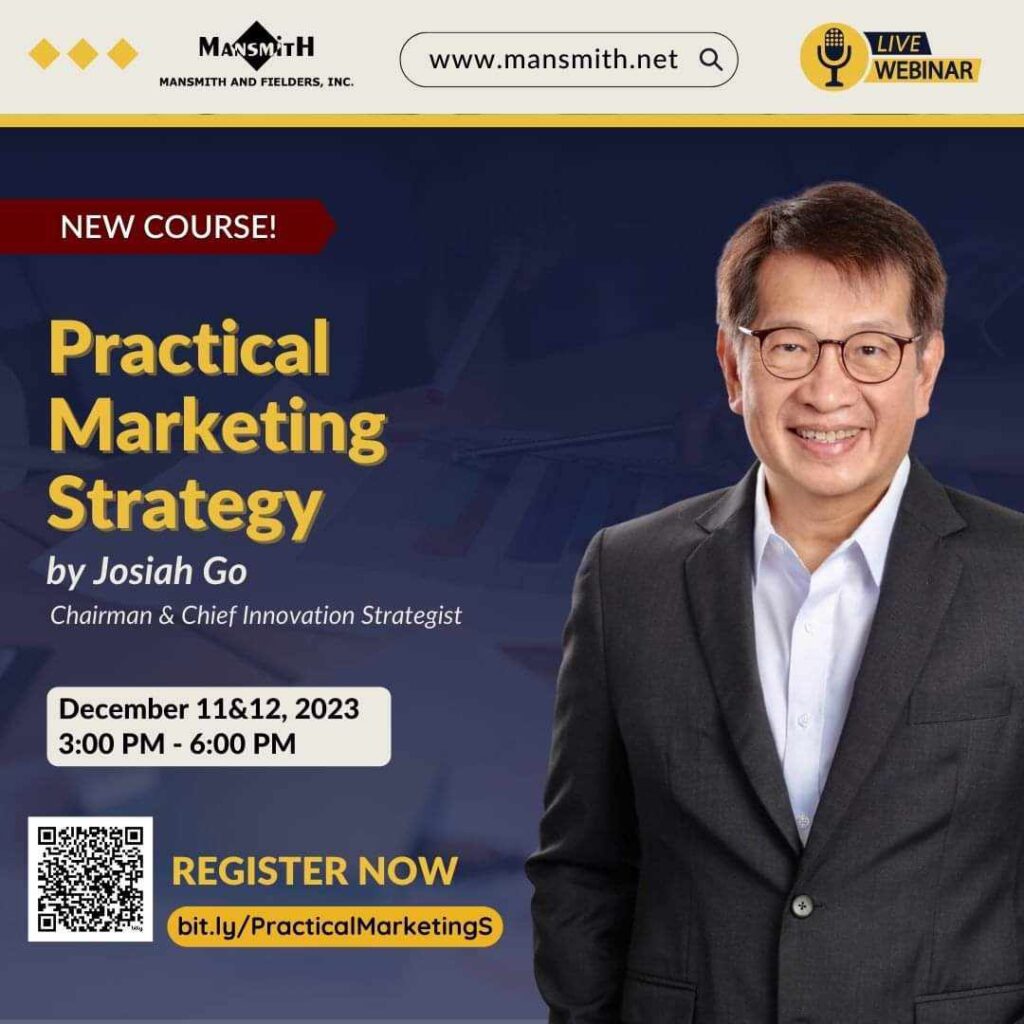 See more articles on Marketing.