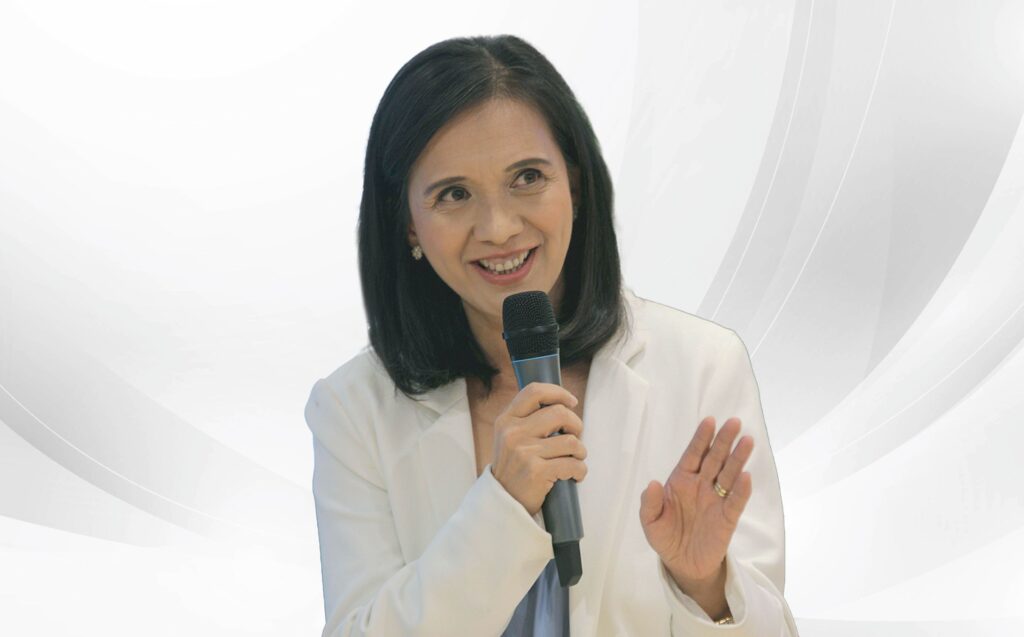 Leni Olmedo, the country manager of Amway Philippines, has been with the company for the past two decades. She provides insights into the strategies and efforts she and her team implemented to successfully lead Amway's recovery and subsequent growth.
Q1: As the leader of Amway Philippines since 2003, you successfully reversed a 7-year sales and distributor decline, achieving six consecutive years of double-digit growth and nearly 800% expansion. How did you accomplish this remarkable turnaround?
A1: Twenty years ago, I started my career in Amway as a sales and marketing director, and my background in these two disciplines helped me to instinctively focus on the key growth drivers of the company: (1) Amway's brands and (2) the entrepreneurs who build their businesses around these brands.
The turn-around strategy was to focus on Amway's core strength on Health and Wellness, with Nutrilite as the hero brand. In 2003, Nutrilite already had almost 70 years of pioneering history in phytonutrients. Plant-based nutrition was a novel concept several years ago, and this had propelled the brand to global market leadership in the health and dietary supplement industry. The next 3 years saw an accelerated pace of portfolio expansion in the Philippine market, with 22 new Nutrilite SKUs launched during that period. This was supported by brand-building campaigns centered around the Nutrilite's unique seed to serving claim as "the only global vitamin and dietary supplement brand to grow, harvest, and process plants on their own certified organic farms." At the same time, we saw the need to equip Amway entrepreneurs with knowledge and skills to enable them to successfully grow their health and wellness communities. We partnered with business leaders and introduced key account management tools and leader-driven incentive programs, revamped customer experience through CRM, and supported reputation-building by strengthening business conduct and rules.
Q2: What motivated your shift from focusing on home and personal care products to nutritional products?
A2: Health and Wellness is the company's core strength and Nutrilite was already the "World's #1 selling vitamin and dietary supplement brand"* at the time of the relaunch. At the same time, nutritional products have a shorter consumption cycle compared to the home and personal care products that even our most loyal customers purchase on a regular basis, and thus, the repeat buying pattern is slower compared to nutrition. This shorter cycle supports better profitability and sustainability on the part of our entrepreneurs.
Q3: Could you explain the role of the Amway Development Academy in driving the increase in the distributor base?
A3: The Amway Development Academy was established to support the training and development of Amway entrepreneurs throughout their journey: (1) onboarding of new entrepreneurs, (2) equipping the emerging business builders, and (3) upskilling them to help them migrate to higher levels of leadership. This program enabled entrepreneurs to attract, retain and grow their customer base, convert them into business builders, and help this growth become more sustainable.
Q4: How did you apply key account management principles to manage your top distributors? What defines a key account, and are there different types within this group?
A4: We started with the basic concept of account segmentation based on quantitative variables such as business size and growth, along with qualitative competencies and traits that are in alignment with the company's growth direction. The key account management concept has evolved over the years as the company refined its segmentation definitions to allow more precision in terms of business support per account segment.
Q5: Among new sign-ups, how did you nearly double the activation rate (over 50%) and increase retention rate by over 60% to reach 48%?
A5: The most critical phase in a new entrepreneur's journey is the first 90-days, and during this period, engagement needs to be stimulated through programs that support a combination of business-building behaviors such as product trial, retailing and sponsoring. Programs can be extrinsic (offers) or intrinsic (experience), and we found that the most effective ones are a combination of both.
Upon sign-up, entrepreneurs have access to free training (online or face-to-face), nutrition consultation, beauty talks and demos, digital tools and other resources, and consultations with our frontline staff in sales, shop operations, and the contact center. Apart from all these resources that the company offers for free, they are also part of a community of entrepreneurs who are eager to share their experiences, best practices, and in fact, nurture them at every stage of their journey.
Q6: How has Amway performed both during and after the pandemic?
A6: Amway's Business Continuity Plan (BCP) ensured us with staff and systems agile enough to respond to changes. For example, we were able repurpose frontline shop employees to increase contact center staffing fourfold with system capabilities and PCI-compliant facilities. But despite having a strong BCP, operating in the midst of uncertainty and complexity proved to be challenging as we had to make quick decisions using imperfect and constantly changing information. Supply chain was our biggest challenge as it became constrained – last-mile deliveries were delayed and we experienced importation difficulties and port congestion. These resulted to high opportunity costs for both our Amway entrepreneurs and the company.
Despite the early challenges, Amway entrepreneurs were fortunate because technology arrived at the right time for the company. Aside from training resources and tools, our entrepreneurs can directly purchase products from our website and they can even service customers using the same platform, with expanded payment options. Delivery is free under certain conditions, and we even expanded our third party logistics partners to cater to and reach more locations. Investments in robust last-mile delivery solutions and digital transformation are continually being made to respond to the needs of our ABOs and their customers with agility and speed.
Amway was well-positioned to navigate through the crisis for multiple reasons: health and wellness remains relevant, and this industry is projected to continue its robust growth in the next 5 years. We have also made early investments into digital transformation and e-commerce enablers, thereby supporting our business goals. We will continue to invest in technology to help improve user experience and keep us ahead of the curve, enabling our entrepreneurs to grow and sustain their communities both offline and online.
Q7: When addressing those who question Amway's legitimacy as a network marketing or multi-level marketing company, how do you differentiate it from illegal pyramid schemes?
A7: In landmark 1979 ruling by the US FTC, Amway was declared that is not an illegal pyramid, and the Amway standards have become the basis for determining legal DS company vs illegal schemes for decades and has paved the way for other MLM companies to flourish. The standards include (1) 70% rule (2) 10 customer rule (3) no headhunting fees. Amway also has other rules in place to protect consumers, and to-date, Amway Promise contains the most robust set of standards, exceeding that which is required by the Direct Selling Association (DSA). In the Philippines, the easiest way to determine whether a DS company is legal or not is if they are a member of DSAP. These DSAP members have gone through stringent screening by the DSAP and have passed the 8-point test, which is a refinement of the Amway standards.
***
Josiah Go is chair and chief innovation strategist of Mansmith and Fielders Inc.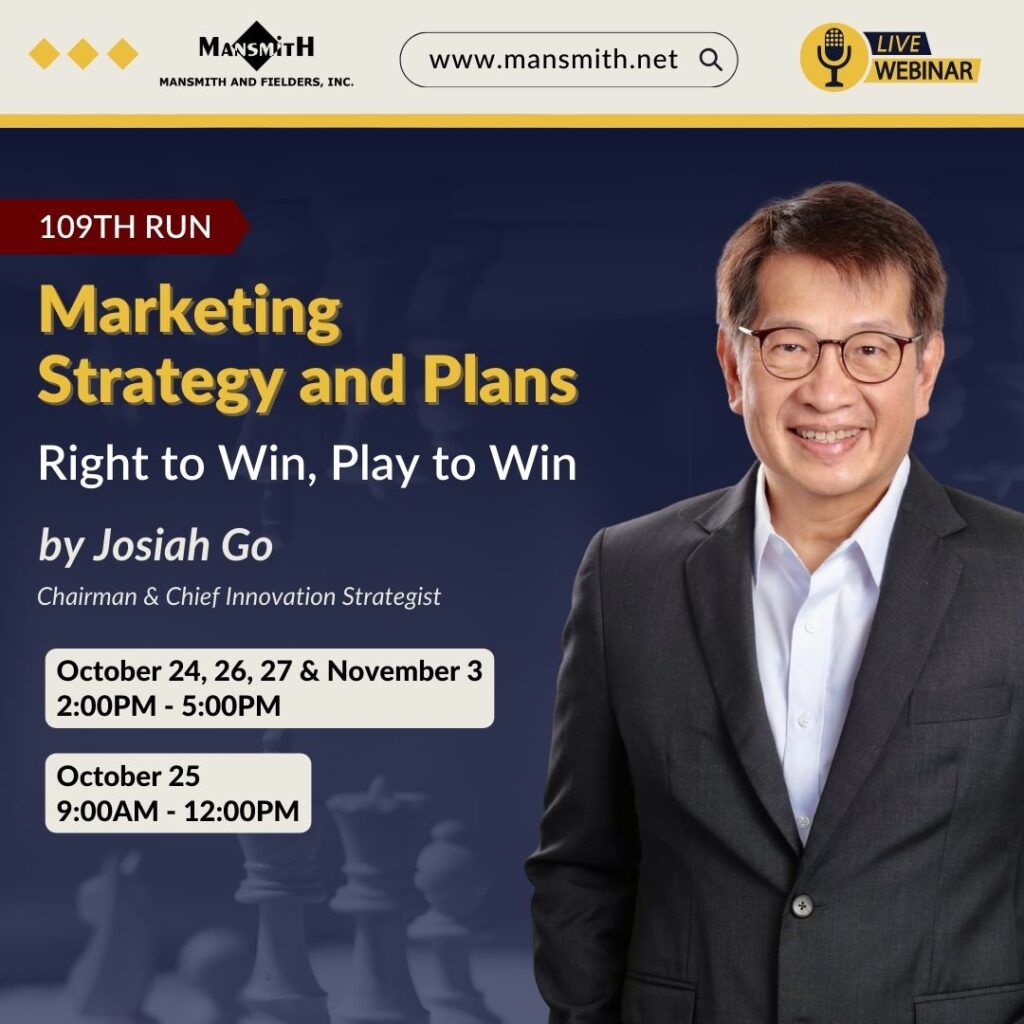 See more articles on Entrepreneurship.