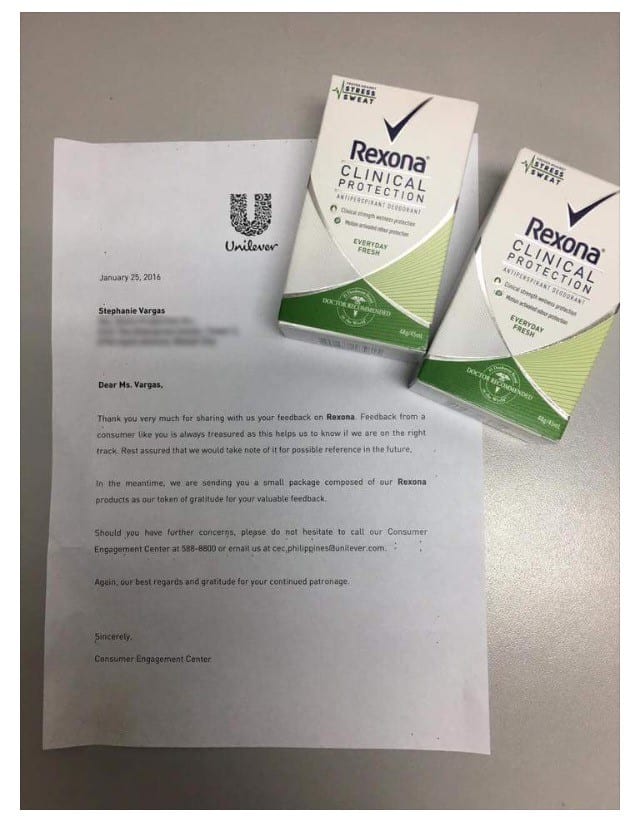 Stephanie Tan-Vargas or Tippi is marketing manager of Sta. Elena Properties Inc.. Besides being a mother of 4, she practices Brazilian Jiu Jitsu (BJJ) at least four times a week which requires a lot of grappling and ground fighting, thus an exchange of sweat happens between practitioners. Tippi has in fact competed and won a gold medal in her first BJJ Friendship competition among neophyte white belts last 2015.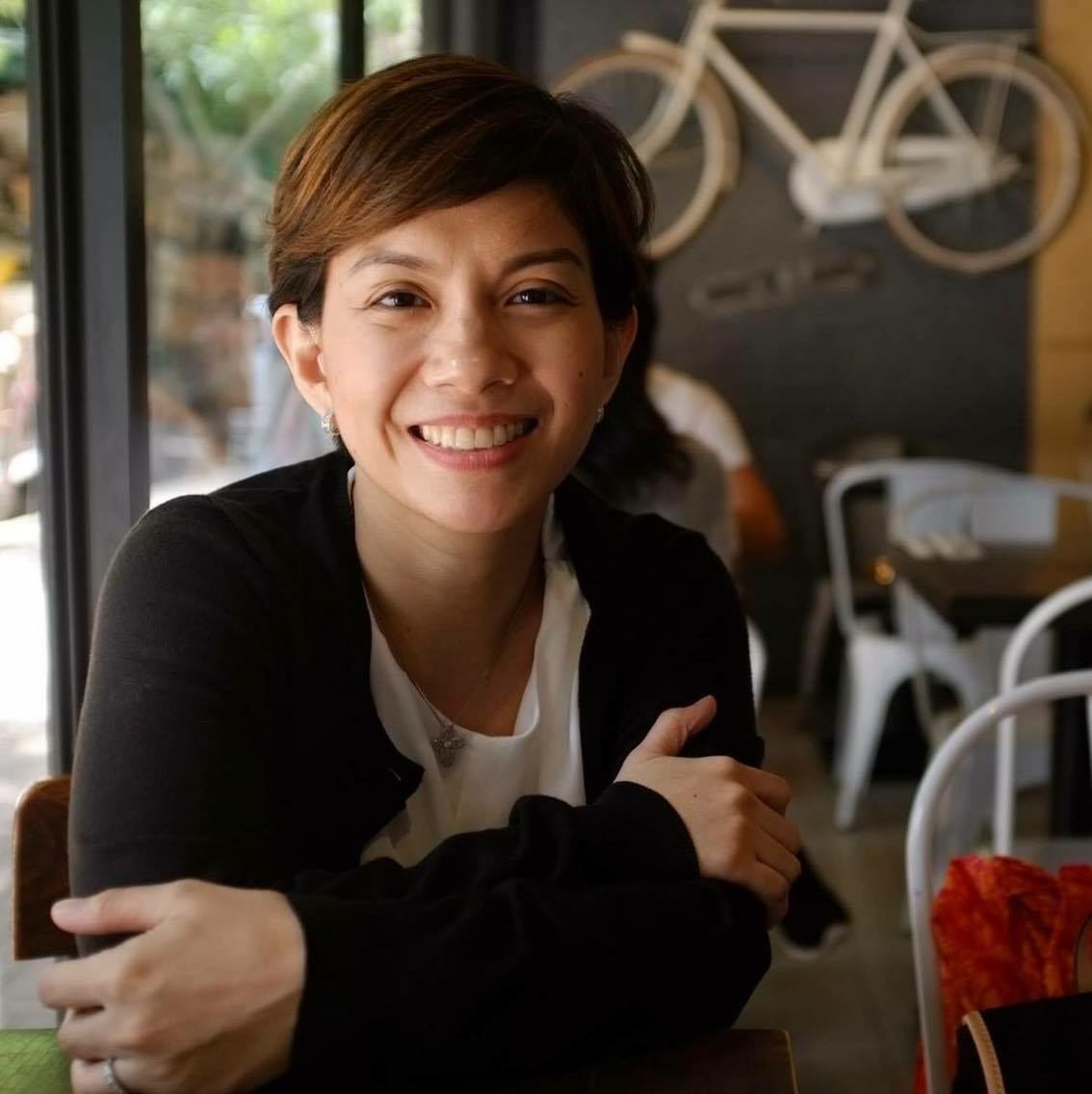 Vargas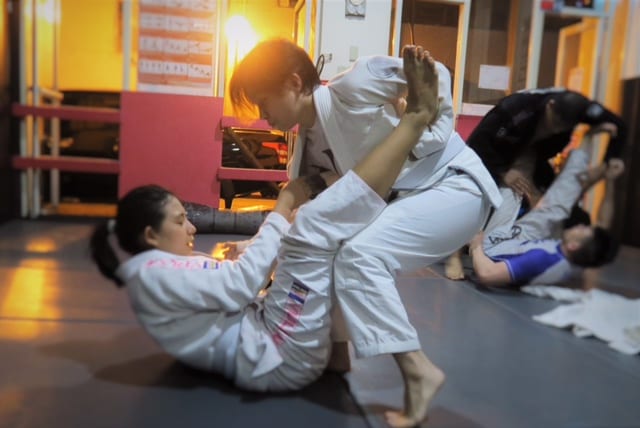 Vargas in action
Her passion for BJJ creates a continuous need for her to use Rexona Clinical Protection deodorant, but her last trip to the store disappointed her as the product was out of stock. What happened next is a story of how a customer-centric company like Unilever wants to treat its customers right. Literally following the brand promise 'Rexona won't let you down!,' the chance to access a relationship created not just situational loyalty, but also attitudinal and behavioral loyalty as well. Tippi posted her delight in her Facebook page on Jan. 26, 2016, then a friend requested that she make that post public. Her Facebook post has since been shared in social media. The following text is from her post.
'Oftentimes it's the small things that make us happy, and these small things become big things to us. My recent experience with a customer service agent is proof, and this is my letter to her:
Dear Carmela of Unilever Philippines Consumer Engagement Center,
When I called your office last week, I admit that I didn't really expect much to come out of the conversation. All I wanted to know was if my deodorant was still available for sale in the Philippines. You were friendly enough to tell me that, yes, it is still available, and even went the extra mile to suggest where I could find it. Then you asked for my number and told me you would inform the product team about the lack of supply, and that you would get back to me if you find anything. So I put down the phone thinking I was never going to hear from you again, which is what happens 99% of the time.
I exerted a bit effort to try and find the deodorant, dropping by as many drugstores and supermarkets as I could, but when it became clear that there just wasn't any stock, I accepted the fact that maybe I had to find something else to use.
You may be wondering what the big deal is with my deodorant. Let me start from the beginning.
Over a year ago I started training Brazilian Jiu Jitsu, and let me tell you, if there's one thing that's abundant in BJJ, its sweat. And it's not just my sweat I have to deal with, but the sweat of everyone else I grapple with. A few weeks into training, I noticed that I was starting to smell like the gym, and so the search for the perfect deodorant started. I came across Rexona Clinical Protection after trying several different products that didn't work for me, and it worked perfectly! So you can imagine the panic I felt when I couldn't find it anymore.
Now back to you. I was so surprised to hear from you yesterday as I really wasn't expecting the call back. When you updated me and told me that there really is a shortage of the supply in the market, I was already very grateful to you for exerting effort in getting the information. But I was even more surprised when you told me you had found 2 tubes of the product, and that you would be sending them to me for free!
Thank you so much Carmela, not just because you gave me free products, but because you showed me that true customer service exists after all. You made me feel like I was the company's most important customer, even if I was only going to buy one tube of deodorant. To say that you went an extra mile with me is an understatement.
And thank you, Unilever, for caring for your customer, no matter how small the concern. With the service I received, I feel like I won the lottery. You have my respect, and I promise to patronize as many of your products as I possibly can.
Sincerely,
Stephanie Vargas'
The representative Carmela Tippi wrote to is Maria Carmela Martinez Lachica or Carmz to her friends. A 2002 marketing graduate of St. Scholatica's College, she has been a Consumer Engagement Center (CEC) Advisor of Unilever since 2013 and is in charge of Rexona consumers. A second generation employee of Unilever, her mandate is to be the consumer's friend in Unilever. To her company, Carmz is the voice of the customers within Unilever. To the customers, she is Unilever.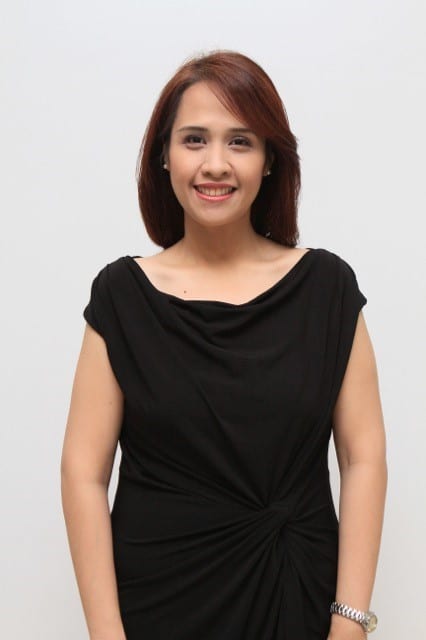 Lachica
The CEC is housed under their Marketing department and was formerly the Consumer Advisory Services in 2014. Back then, they reported to supply chair with a focus on consumer complaint handling. The expanded CEC is mandated to care for the individual concerns of consumers, whether it be product, promo, or even ojt for their kids.
Ria Salvana, Carmz' direct superior, shares that they hire CEC Advisors who possess traits like communication skills, empathy, leadership, flexibility, ability to connect with people from all walks of life, bias for action, and attention to detail. To Ria, "Carmz Lachica is smart, kind, funny lady'. To Carmz, she is simply a die-hard fan of Mickey Mouse.
According to Carmz, she was just doing her usual work, engaging over a hundred customers daily and didn't even realize the impact of her caring act until she started getting congratulatory messages from her officemates, including no less than the Unilever Chairman Rohit Jawa. 'I get a daily high from making consumers happy and satisfied' says Charmz.
CEC advisors are enabled and empowered to decide so this is not the first case of delighting customers. Unilever actually gets so many personal letters and testimonials which for privacy reasons, can not be published.
The common thread is that Unilever, through its CEC Advisors, 'sincerely listen to and engage with the consumers and take ownership/leadership in driving the action which is to delight the customer in order to nurture a long term relationship not just for one brand but as many brands of Unilever' added Ms. Salvana.
But to delight the customers is not as easy as it sounds, to be sure, not all customers inquiring will automatically get free products as it will likely be on a case-to-case basis. Exceptional service entails excellent execution of many inter-related ingredients put together in a coordinated way — The right structure (hiring those with marketing mindset more so than supply chain competency), the right system (enabled and empowered), the right people (caring, competent and committed people more than a mere call center newbie), the right reward (based on internal and external customer satisfaction) and the right leadership (alignment towards mandate) makes delighting customers possible.
It's not every day we hear about a delighted customer; this article is meant to encourage more relevant customer service from companies, and we don't mind catching people doing the right things each time.
Kudos to Carmz and the Unilever Team. Keep up the good work!
(This is not a sponsored post. Excellent customer service deserves recognition along with the system behind it. Marketing does not stop with products and services.)