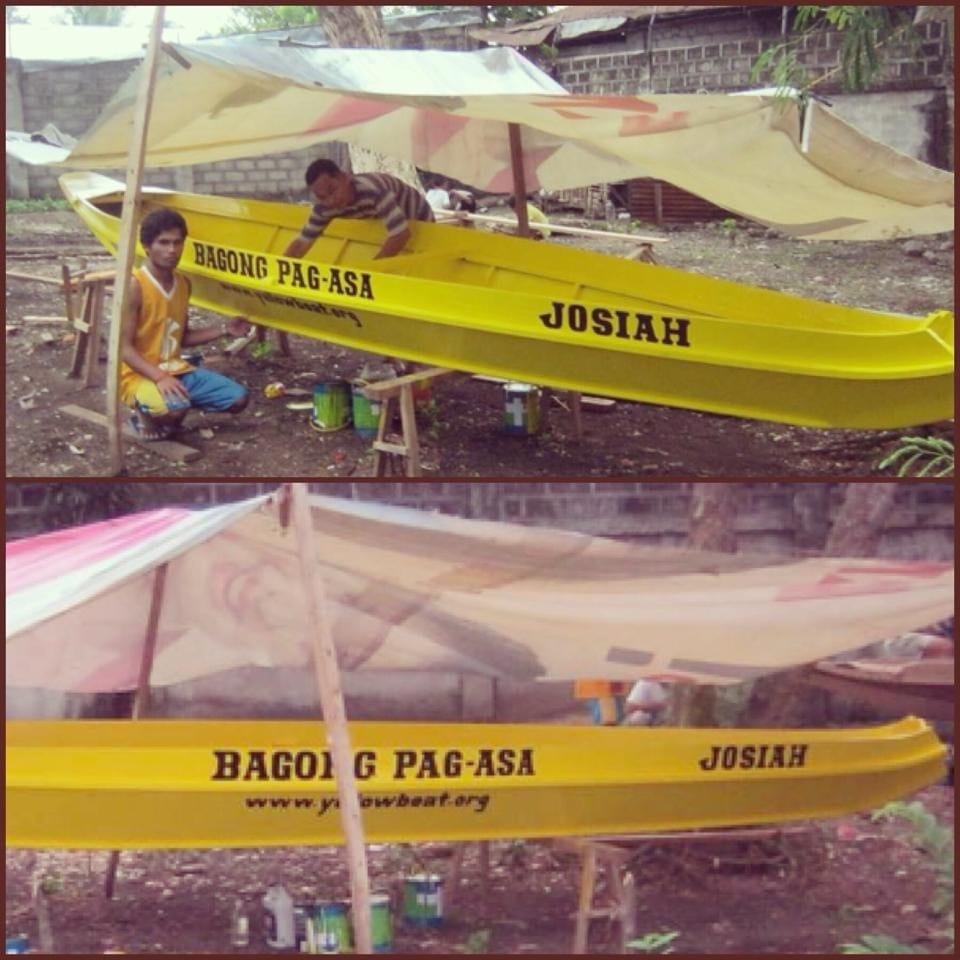 It's been 6 years and I have been reminded about Yellow Boat of Hope (YBH) via a video I recently saw. I have been wanting to blog about this interesting story from my perspective.
Thanks to then head of new media of Malacanang (in 2010) Jay Jaboneta, who had acknowledged me in the video as the first to donate to a fund in order to buy a boat to ferry children in Layag-Layag, Zamboanga to school, instead of them swimming to get there during high tide. This is true since I actually initiated the fund drive myself after I read his post where he shared the ordeal the children went through every day just to get to school. I challenged him to do more than say a story and so I posted the story again but this time with a call for donations. (In the past, from the many news reports, only Readers Digest Singapore bothered to validate this piece of information and I am grateful for their effort to clarify facts.)
So here are some facts as they happened then:
1. I initiated the first fund raising leading to the birth of Zamboanga Boat Fund for Little Kids, the interim name I gave on Nov. 1, 2010.
2. Some P69,020 was raised by people from my network in less than a week's time via Facebook. The actual peso amount differed because one donor (Jerry Caritan) gave US$100. I did not know the price of an actual boat then and I asked Jay to go beyond posting in Facebook and to do something concrete to help. As my former seminar student, I asked Jay to look for a Zamboanga contact to check the price of a boat. The only price I knew then was a rubber boat via Amazon.com bought by my in-law.
3. I was acknowledged but the following 18 people were the first set of donors. They gave their trust even when I admitted I did not know the actual price of the boat.
Josiah Go
Chiqui Escareal-Go
Chase Gosingtian
Juju Gosingtian
Tricia Gosingtian
Calel Gosingtian
Joshua Go
Marilyn Ongchuan Go
Howell Cu
Jerry Caritan
Danessa Lu
Butch Jimenez
Max Joaquin
Rosanna Llenado
Dr Rose Herrera
Jay Jaboneta also pulled in the ff. donors who gave some amount.
Manuel Wong
Lerma Advincula
Cindy Trinidad
Dr. Anton Lim of Zamboanga also started his own local fund raising, including donation of logs from DENR's Region IX Centro via Tito Gador and subsidized labor. The actual cost went up because it was decided to add a Honda engine so the boat can help the local community in their seaweed livelihood project when not being used to ferry children to school.
4. Zamboanga Boat Fund for Little Kids, was later changed to Philippine Fund for Little Kids and then renamed Yellow Boat of Hope (YBH).
5. It took a while to have the boat built because some people tapped were debating whether to buy boat, or build a 1.5 kilometer foot bridge or even create a school in the community. I told Jay that the kids are already risking their lives so we needed to proceed with the boat sooner. I was extra sensitive since I am not a good swimmer and learned how to swim only in my mid 30's.
6. The local leader contacted by Jay was veterinarian Dr. Anton Mari Lim, who was Tzu Chi commissioner in Zamboanga. He was the critical link in the value chain.
7. Dr. Anton Mari Lim took on the leadership and did the most from on ground execution to collaboration to continuity. Initially he had a hard time looking for a boat builder but found Abraham Mawadi with the help of a forward-looking Kagawad Jesse Jamolod on Dec. 9, 2010.
8. On March 28, 2011 or after 3.5 months, a 50-seater BOTE boat, nicknamed 'Bagong Pag-asa' (New Hope) was turned over by local leaders. The boat was the first big boat built by Abraham Mawadi. 'Bagong Pag-asa' was the answer given by Mr. Mawadi when asked by Dr. Anton Lim what the boat meant to him as the boat gave them a new hope in life, that their prayers to Allah was finally heard and some people cared enough to help them.
9. Good thing Dr. Anton Mari Lim did not listen to me when I advised him to focus only on boats and helping kids in other areas. His vision was to look into the total welfare of these kids, including school buildings and their school materials. He was right and I learned much from him. I wish he can be DSWD Secretary in the future. His heart is truly in helping others and gain inclusive growth for all.
10. The Yellow Boat of Hope Foundation was established in 2012 and I was asked to join the board and be the foundation co-founder and chief fundraiser. I declined for two reasons: a) leaders do not need position to get things done just when I founded the Zamboanga Fund for Little Kids; and b) I did not want to raise funds solely for YBH (but I did a couple of times, even without a position) because I have been helping many other communities.
While nothing can happen without a team effort, one thing is for sure, it takes action and heart to get things done – beyond FB posts. This is my tribute to Dr. Anton Lim, who to me is the indispensable leader of YBH. Saludo!
(Read a 2014 Q&A with Dr Anton Mari Lim about the Yellow Boat of Hope https://josiahgo.com/qa-with-yellow-boat-of-hope-foundation-president-dr-anton-mari-lim-about-business-with-a-heart/)