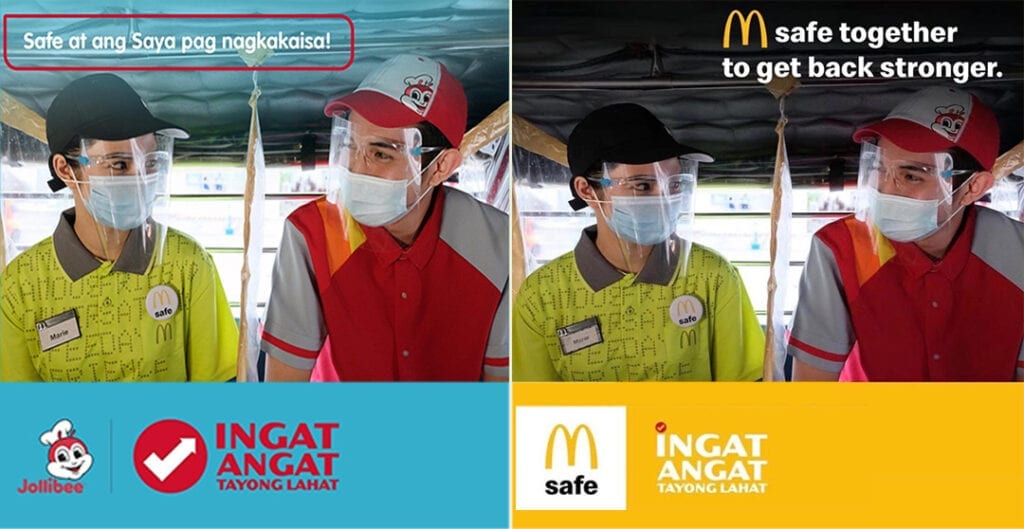 A complex world during COVID-19 needs a simple series of steps: to survive, recover, grow, and thrive. Sometimes this survival is best accomplished through cooperation and collaboration with competition. Kudos to Jollibee and McDonald's for their joint "Ingat, Angat Tayong Lahat" campaign.
The two quick service restaurant (QSR) giants have similar value chains and COVID-19 has affected them the same way–no dine-ins during ECQ, limited seating allowed in succeeding quarantine settings, consumers' fear of uncertainty related to dining in restaurants, customer hassles related to signing up upon entering an establishment, slow down of their average visit frequency, the sudden proliferation of many food delivery entrepreneurs as competitors, the massive shift toward home deliveries and work from home scheme, and unexpected and unprecedented financial losses, among others.
Jollibee resorted to selling their marinated products inside major supermarkets as a temporary channel last March 2020, and McDonald's followed after. They also realized the cost efficiency and uninterrupted service involved in doing deliveries would be best from cloud kitchens than much costlier branches, realizing this value chain issue is a limitation during ECQ. This shows that the business model becomes the heart of a business during COVID-19, not marketing nor operations, but the correct design and redesign of the business first.
Mansmith and Fielders Inc. shares its philosophy – – "Think differently. See things differently. Do things differently" to challenge assumptions with a new set of lenses. Crisis forces firms to change and change fast; what used to be right in the past becomes wrong in the present, branches need to be rationalized, cash preserved, revenues protected, and breakeven points lowered via operational efficiency. Firms need to move one step backward in order to go two steps forward.
Value chain and complementors are two of eleven building blocks in the Mansmith Business Model Map. Both are part of a firm's operating model. A value chain is the strategic linkage of the extended supply chain for the firm to provide its value proposition to its customers. It answers the question "How are activities linked and sequenced to deliver the value proposition seamlessly for competitive advantage?"
Complementors are about people or groups who will help, both directly and indirectly, in enhancing the value proposition. They answer the question "What will make it appealing to start and stay as partners?" An example is the co-opetition model of banks where they both compete and cooperate with each other in providing ATM services, as doing it alone becomes more expensive than doing it as a group.
Both are needed to make value propositions come alive. Marketing textbooks taught us in order to win, you need a compelling value proposition. This has been proven to be grossly inadequate. In order to promote a compelling value proposition, you first need to remove as many barriers to consumption as you can. During the ECQ, the greatest barrier was access. Decoding the latest "Ingat Angat" campaign, it aims to influence the attitude barrier of consumers. For what is the use of opening the economy if people are afraid to go out, of entering establishments, of eating in restaurants?
This joint campaign between Jollibee and McDonald's is teaching competitors and adversaries to learn to work together for the greater good of their industry. It can be applied to bigger groups – – USA and China, Democrats and Republicans, President Duterte and VP Leni, the list is endless. Instead of everybody doing their own thing, they can cooperate and collaborate.
Industry and professional associations can pick up the cue as well to stay relevant in their value proposition to their members beyond continuously doing undifferentiated webinars.