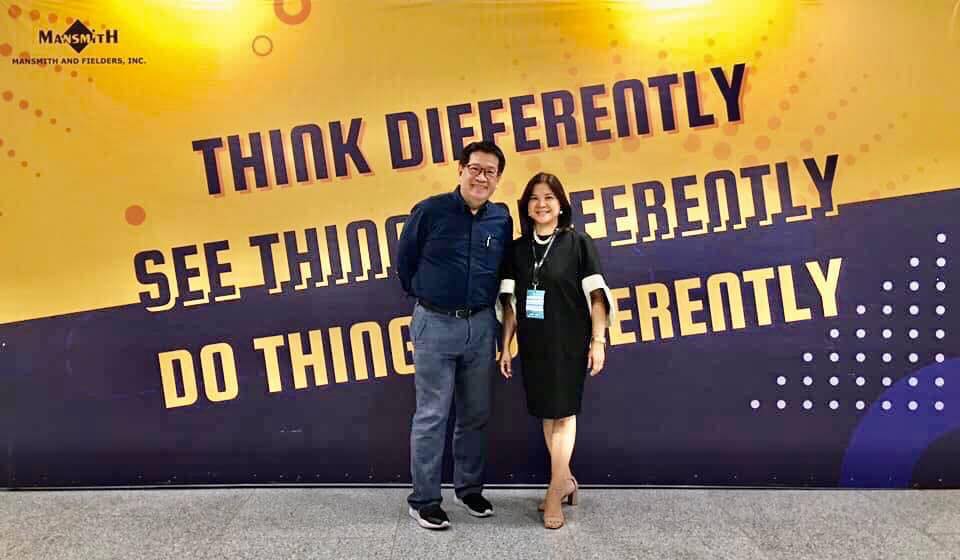 Even before PURPOSE claimed its own space in the growth equation of companies, Mansmith and Fielders had already owned a unique positioning in the training industry. Mansmith is not just a training and consulting firm with a specialized focus on marketing, sales, and innovation, it is the only company in its field driven by advocacy.
This transition happened in 2004 when CEO Chiqui Escareal-Go took over the management reins and led Mansmith's reinvention to lead not just with the mind but with the heart. This meant a melding of knowledge excellence and values at all times intended to give and uplift fellow marketers, and everyone in the ecosystem that includes not just practitioners but also professors and students. This sense of purpose is a standard set in every program, conference, and awards designed. That Mansmith is a privately-owned enterprise with a lean and mean team of consultants and staff, makes this position all the more unique as this kind of engagement is more often attributed to organizations and non-profits. In the case of Mansmith, a huge portion of our net income is allocated to our many advocacies.
Even during the pandemic when many organizations became less active, Mansmith took the initiative to support various sectors of society, proof of consistency and a concrete deployment of its advocacy values. In fact, a mere three days after the first lockdown, my marketing seminar, "Marketing During Corona Crisis" drew an astounding attendance of 3,500 individuals seeking valuable insights, and hope, for navigating the business landscape in those uncertain times.
Although it was established in 1989, Mansmith underwent a relaunch in 1990, a decision necessitated by various factors including a realignment of vision (a story worth exploring in itself). At its core, Mansmith emerged as a specialist in marketing and sales training, blazing a trail by becoming the first seminar company to offer a money-back guarantee for its public seminars. Transparency became a hallmark of our operations, as we openly shared speaker ratings and course evaluations, setting a precedent in the industry. Among our early seminars, "Marketing Strategy and Plans" stands as a testament to our longevity, having been offered over a hundred times since its inception and continuously being updated to incorporate the latest advancements.
Today, Mansmith boasts of a repertoire of 70 courses in marketing, sales, and innovation. Many of these seminars are exclusively available only through Mansmith and for corporate clients. Some of Mansmith's significant offerings include:
Market-Driving Strategy
5 Skills of Master Strategists
Defensive Strategy
Pricing Secrets in Good Times and Bad
Business Model Innovation for Corporate Transformation
New Products and Services as an Innovation Strategy
Discovering, Innovating, Shortlisting Opportunities
Psychology of Consumer Behavior
Channel Innovation
Additionally, the Mansmith team has authored or contributed to over 20 bestselling books that offer invaluable insights into strategy and marketing. Here are a few examples of our notable works:
"The Rainmakers: Strategy and Marketing Lessons from 25 CEOs"
"The Mavericks: How 35 Marketing Rockstars Think, Strategize and Execute"
"The WE Entrepreneurs"
"Entrepreneurship: Starting an Enterprise, Having an Innovation Mindset"
"Principles and Practices in Marketing"
"Trade Marketing"
To foster knowledge sharing and collaboration, Mansmith has also established several annual conferences that have become industry highlights, as listed here:
Mansmith Market Masters Conference
Mansmith Brand Summit
Mansmith Young Market Masters Summit
Mansmith B2B Summit
Mansmith Sales Summit
Mansmith Innovation Summit
Mansmith Business Model Summit
Mansmith Entrep Summit
Mansmith has also taken the initiative to create awards that recognize brand building excellence and innovation within the industry, such as:
Mansmith Young Market Masters Awards (since 1996)
Mansmith Market Masters Awards for Senior Mentors (since 2013)
Mansmith Innovation Awards (since 2021)
WE Awards for Purposeful Entrepreneurship (since 2019)
Mansmith's commitment to entrepreneurship is expressed in our various projects aimed at empowering entrepreneurs. These initiatives include:
Day 8 learning platform for SMEs
Business Model Map video course in Continuum Academy (55 videos)
Entrep Rescue Q&A seminars
One-on-One Mentoring
DTI P5.7 million scholarships for over 1,000 Negosyo counsellors
Mansmith has also been active in the academe since 1997 with the following programs:
Scholarships for Marketing Professors (25 annually)
Certified Marketing Teacher (CMT) training and OJT programs for senior high school marketing teachers
5-year, P33 million scholarship grant for marketing teachers and professors
Sensei (school division of Mansmith) annual 3-on-1 conference attended by over 1,000 students, teachers and parents
Mansmith stands distinctively as the sole private company of its kind within its category on a global scale, demonstrating a clear vision and purpose important to making a meaningful impact. Most recently, this dedication and commitment has been recognized and acknowledged with the prestigious Innovation Excellence awards at the ASEAN Business Awards, triumphing over competitors from ten ASEAN countries. We have grown, we strive to remain relevant and we hope to keep creating impact. Just as we understood almost 20 years ago that purpose makes companies grow, we also knew that purpose helps us willingly disrupt ourselves; after all, we do what we do for the best of the marketing industry, and that's the best way to grow.
***
See more articles on Mansmith Advocacies.