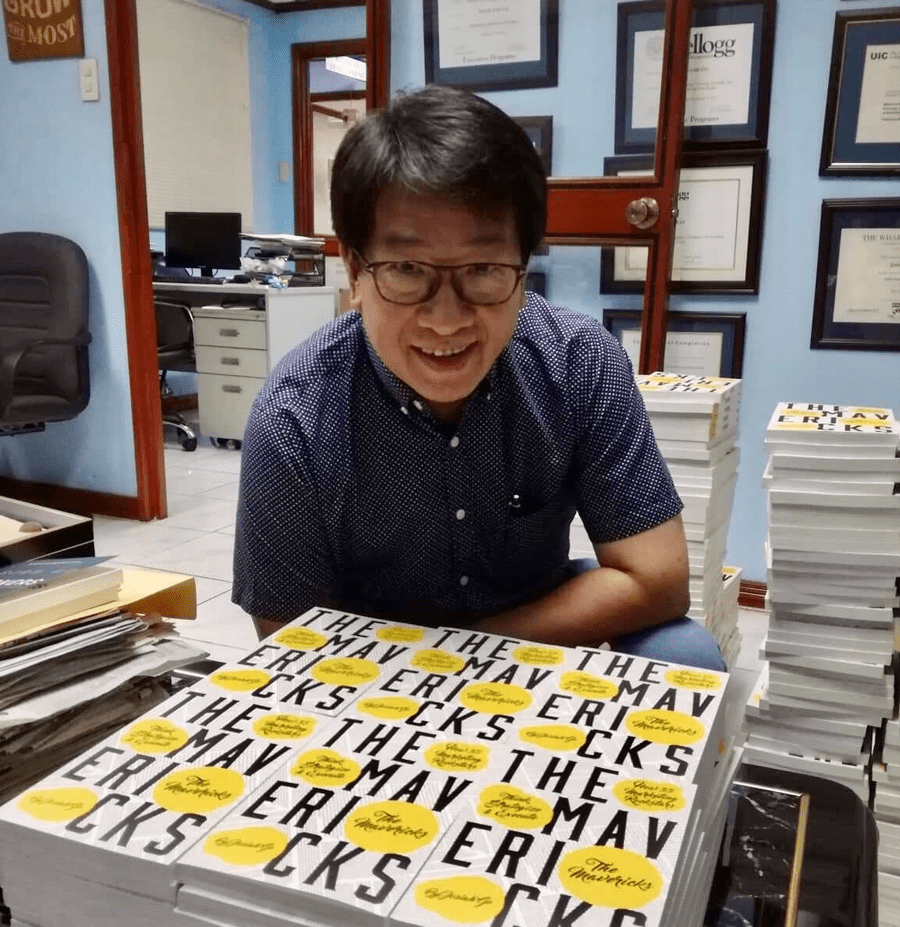 My 18th
No false advertising, I am excited to celebrate the launch of my 18th book!
Come join me on May 3, 2019 (Friday), 6 PM at National Book Store, Shangri-La Plaza Mall. It will also be the post celebration of my April 22 birthday.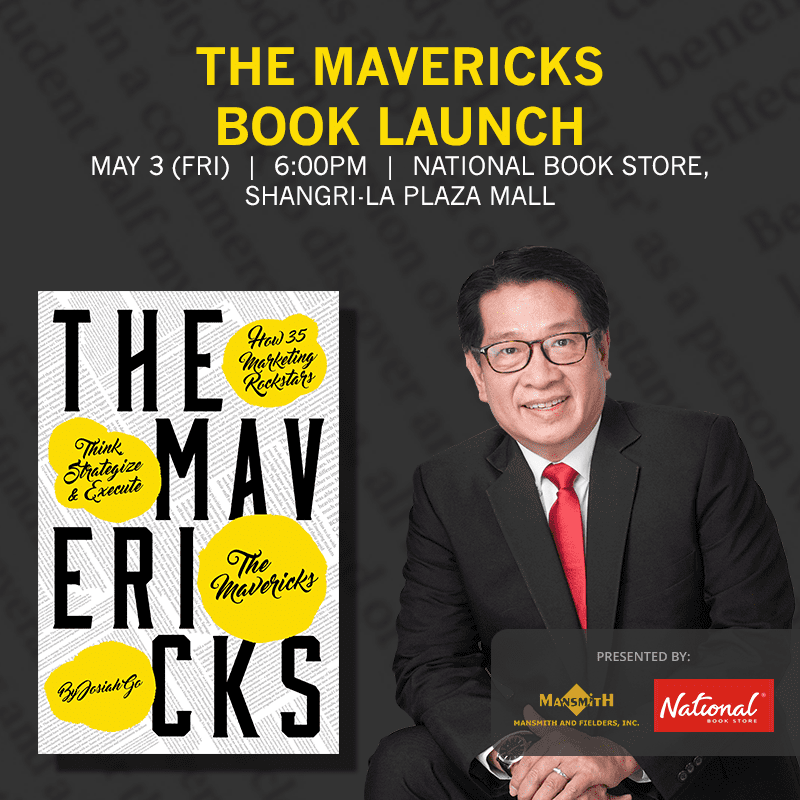 "The Mavericks: How 35 Marketing Rockstars Think, Strategize and Execute" has been on my mind for over a year now. I wanted to curate and feature my interviews with some of the best marketers and young entrepreneurs in the Philippines, following the success of "The Rainmakers: Marketing and Strategy Lessons from 25 CEOs", which remained at the nationwide bestsellers list of National Book Store for close to a year.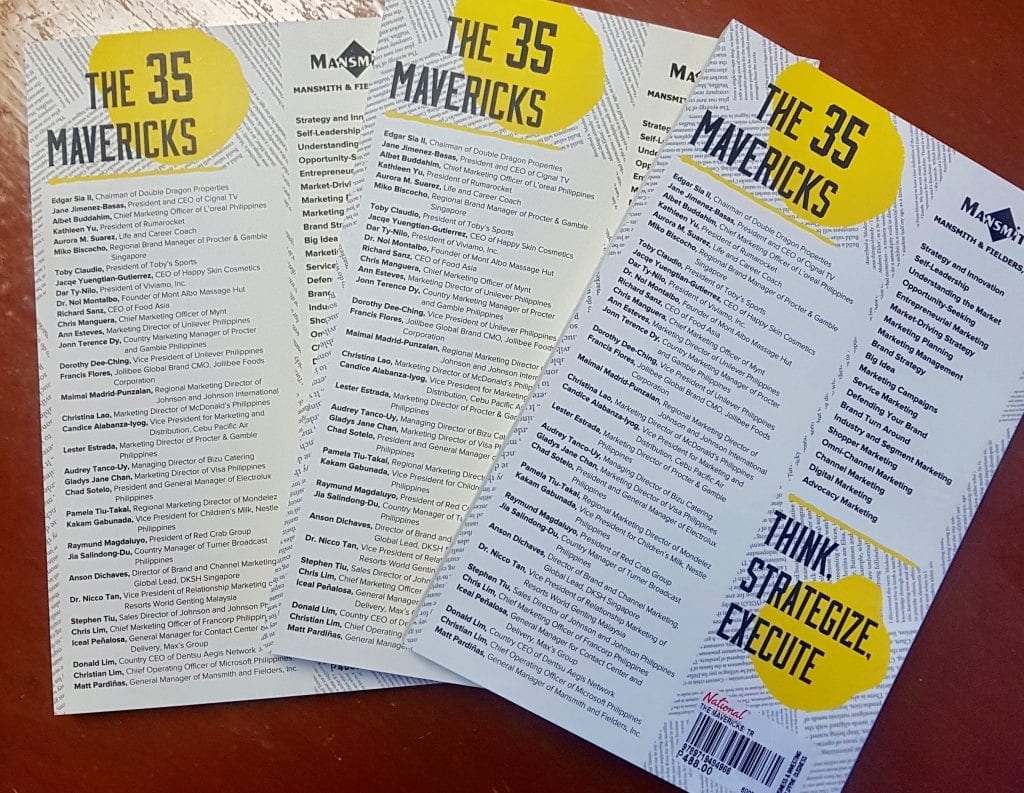 Some of the marketers featured will be with me during launch day. They will give marketing tips at 6pm and co-sign your books.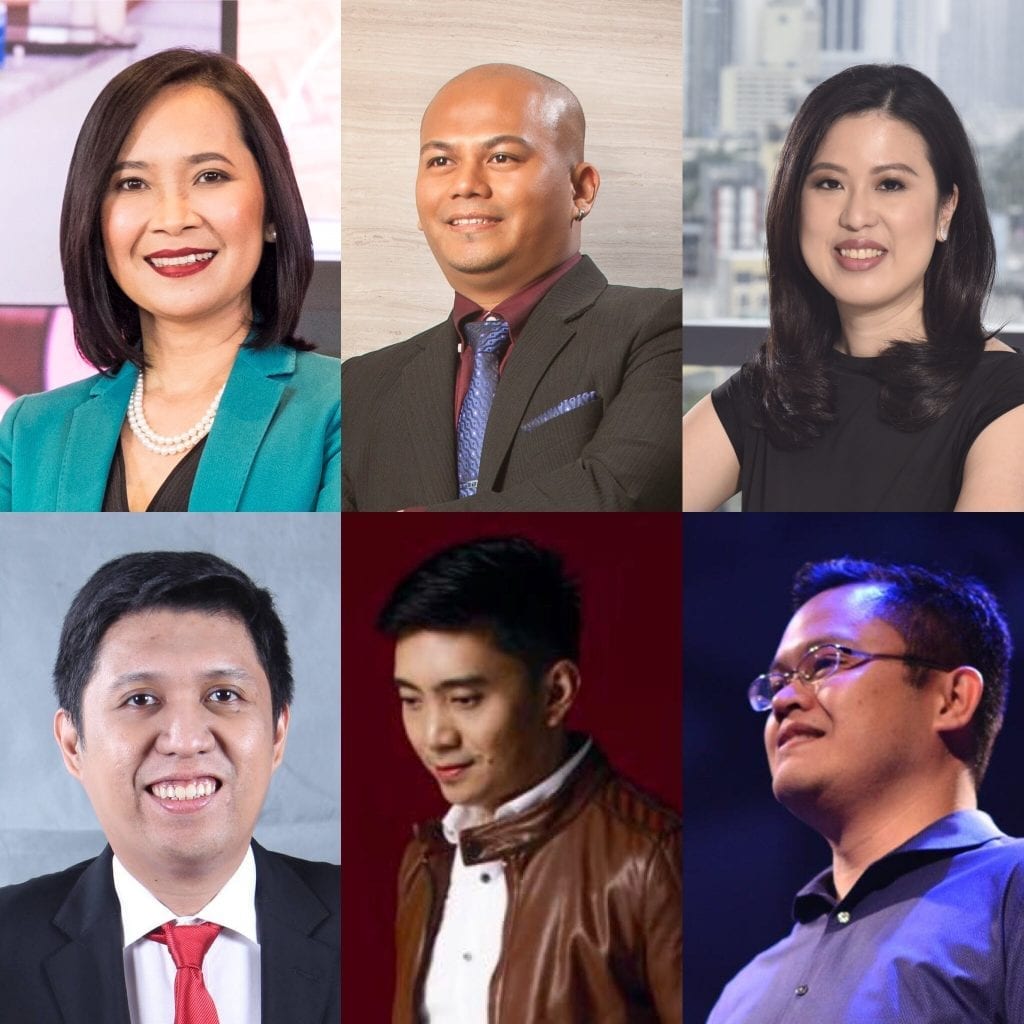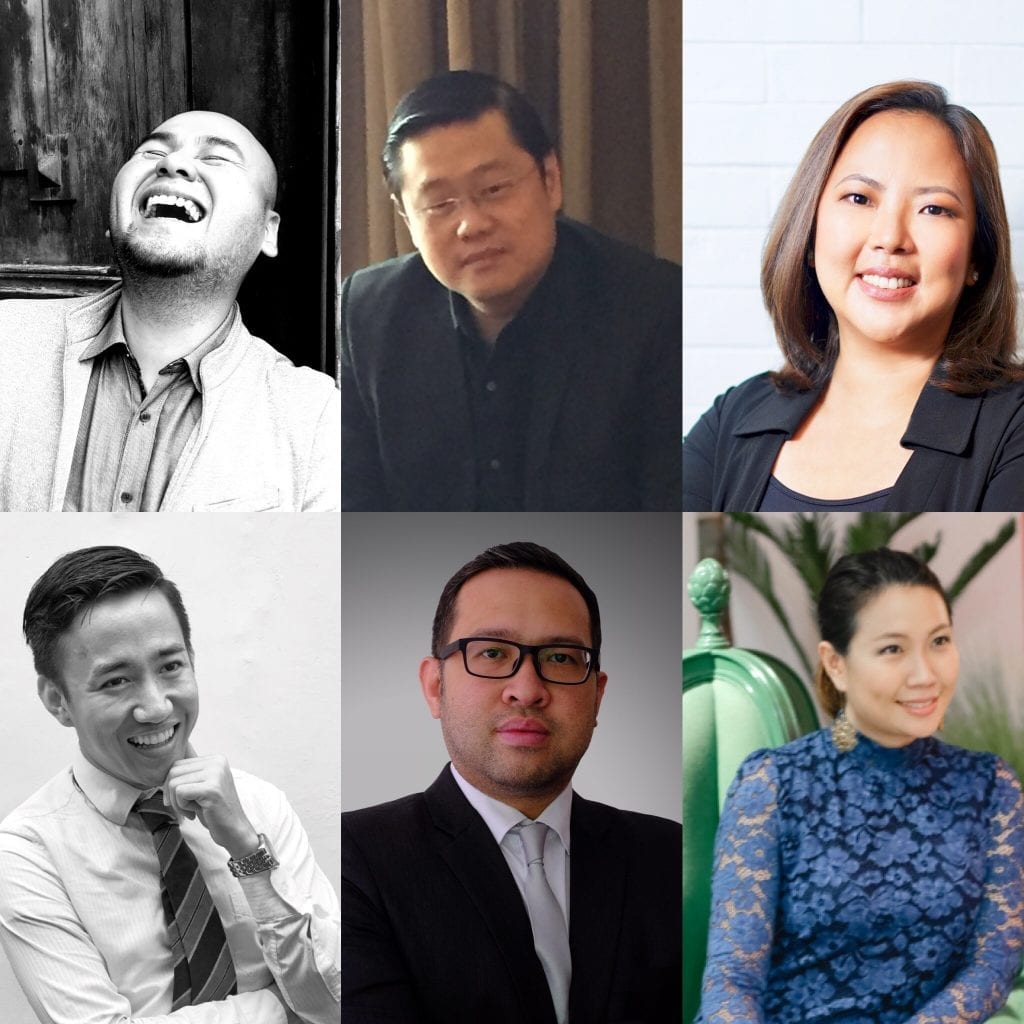 Can you help celebrate with me? Bring your entire marketing team to learn from my marketing friends.
Celebration + Networking + Food + Marketing Tips + Book Signing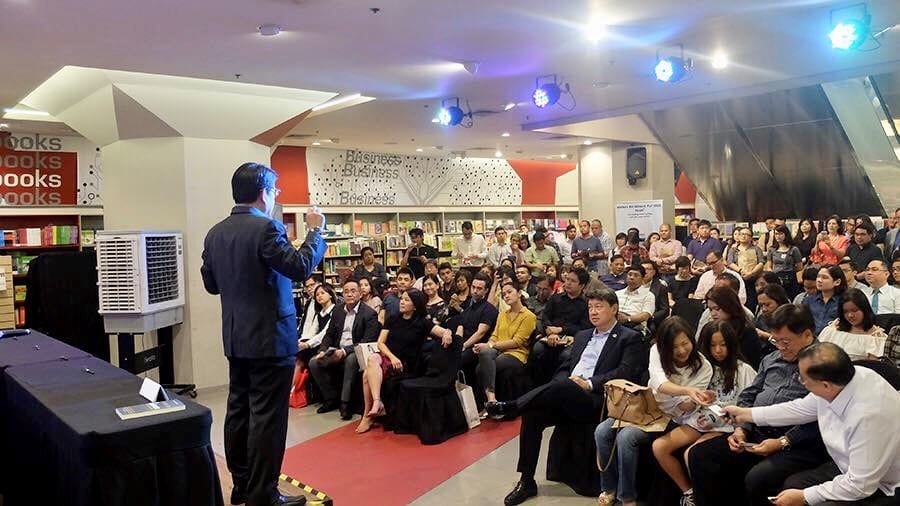 19 Marketing Topics, 35 Market Mavericks
'The Mavericks' features these 35 seasoned marketing experts generously sharing their thoughts and experiences on different aspects of marketing.
1. Strategy and Innovation
New Category Strategy by Edgar Sia II, Chairman of Double Dragon Properties
Growing Through Innovation by Jane Jimenez – Basas, President and CEO of Cignal TV 
2. Self-Leadership
Play to Win by Albet Buddahim, Chief Marketing Officer of L'oreal Philippines
Using Big Data in Predicting Sales Talent by Kathleen Yu, President of Rumarocket
3. Understanding the Market
Understanding Women Achievers by Aurora M. Suarez, Life and Career Coach
Insighting by Miko Biscocho, Regional Brand Manager of Procter and Gamble Singapore
4. Opportunity-Seeking
Sports Retail Trends by Toby Claudio, President of Toby's Sports
Creating a Filipino Cosmetics Brand by Jacqe Yuengtian – Gutierrez, CEO of Happy Skin Cosmetics
5. Entrepreneurial Marketing
Opportunity-Seeking in Underserved Market by Dar Ty – Nilo, President of Viviamo
Tapping the Underserved Market by Dr. Nol Montalbo, Founder of Mont Albo Massage Hut
6. Market-Driving Strategy
Franchising a New Category by Richard Sanz, CEO of Food Asia
Behavior Modification by Chris Manguera, Chief Marketing Officer of Mynt
7. Marketing Planning
Marketing Planning by Ann Esteves, Marketing Director of Unilever Philippines
Understanding Customers Intimately by Jonn Terence Dy, Country Marketing Manager of Procter and Gamble Philippines
8. Marketing Management
Managing Brand Portfolios by Dorothy Dee – Ching, Vice President of Unilever Philippines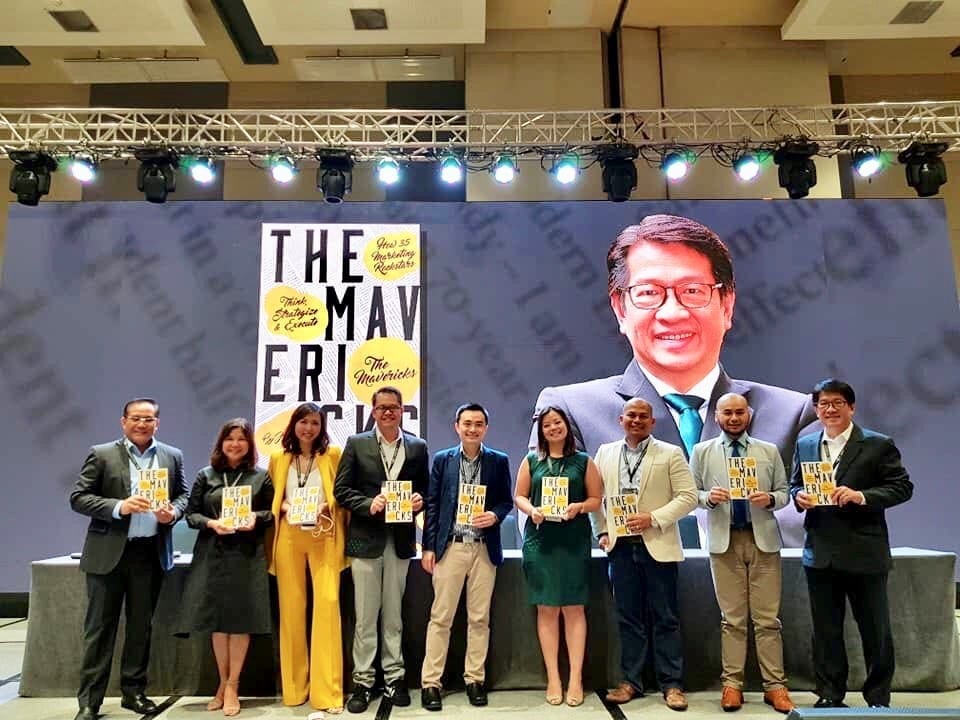 9. Brand Strategy
Growing Brands by Francis Flores, Jollibee Global Brand CMO, Jollibee Foods Corporation
Brand Strategy by Maimai Madrid – Punzalan, Regional Marketing Director of Johnson and Johnson Philippines
10. Big Idea
Formulating Your Big Idea by Christina Lao, Marketing Director of McDonald's Philippines
11. Marketing Campaigns
Advertising and Promotions by Candice Alabanza – Iyog, Vice President for Marketing and Distribution, Cebu Pacific Air
New Rules of Soap Opera Advertising by Lester Estrada, Marketing Director of Procter and Gamble Philippines
12. Service Marketing
Service Brand Extension by Audrey Tanco – Uy, Managing Director of Bizu Catering
Services Marketing by Gladys Jane Chan, Marketing Director of Visa Philippines
13. Defense Marketing
Defend Your Brand by Chad Sotelo, President and General Manager of Electrolux Philippines
14. Brand Turnaround
Recapturing Market Leadership by Pamela Tiu – Takai, Director, Marketing Southeast Asia for Beverages, Meals, Gum and Candies of Mondelez International
Strengthening Old Brands Amidst New Realities by Kakam Gabunada, Vice President for Children's Milk, Nestle Philippines
15. Industry and Segment Marketing
Competing in the Restaurant Industry by Raymund Magdaluyo, President of Red Crab Group
Marketing to Kids by Jia Salindong – Du, Country Manager of Turner Broadcast Philippines
16. Shopper and Omni Channel Marketing
The Future of Shopper Marketing by Anson Dichaves, Director of Brand and Channel Marketing, Global Lead, DKSH Singapore
Omni Channel Marketing by Dr. Nicco Tan, Vice President of Relationship Marketing of Resorts World Genting Malaysia
17. Channel Marketing
Channel Trends in Fast Moving Consumer Goods by Stephen Tiu, Sales Director of Johnson and Johnson Philippines
Franchising by Chris Lim, Chief Marketing Officer of Francorp Philippines
Food Delivery by Iceal Peñalosa, General Manager for Contact Center and Delivery, Max's Group
18. Digital Marketing
Social Media Marketing by Donald Lim, Country CEO of Dentsu Aegis Network
Digital Transformation by Christian Lim, Chief Operating Officer of Microsoft Philippines
19. Advocacy Marketing
Advocacy Marketing by Matt Pardiñas, General Manager of Mansmith and Fielders Inc.
'The Mavericks' comes in a classy cream-colored paper (similar to 'The Rainmakers") with close to 300 pages of indispensable marketing lessons at an introductory price of P488 for a copy. A discount of 10% will be available for volume orders of at least 5 copies or P2,196 only. For volume orders, pre-booking will be appreciated if you want the books pre-signed. Just send an email to me – josiah@mansmith.net with the subject "Mavericks Pre-booking".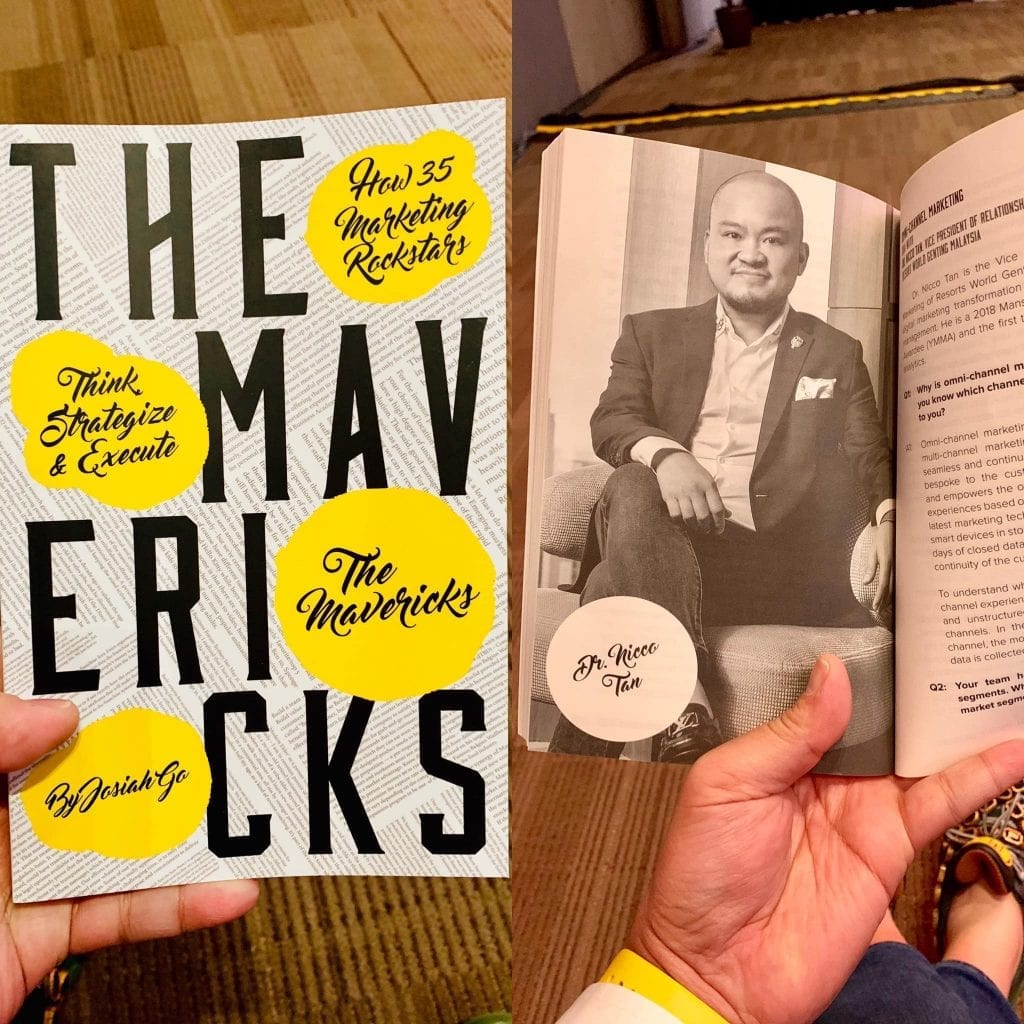 P.S. please don't forget to RSVP to Tessa or Cath 0917-626-0724 / 722-2318.