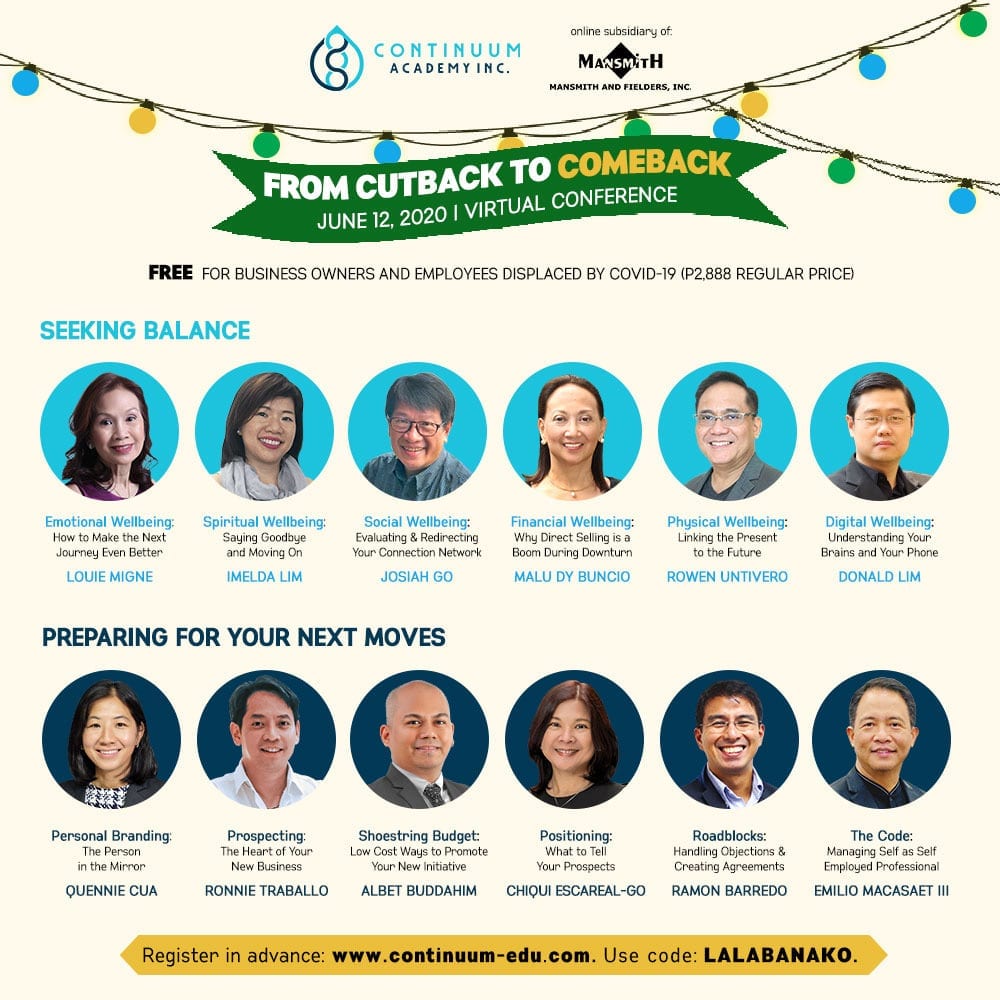 We at Mansmith and Fielders, the leading marketing and sales training company in the Philippines, recently launched Continuum Academy at the beginning of the quarantine period in order to provide its catalogue of expertise and knowledge to businesspeople and entrepreneurs in a safe and accessible online way.
However, just launching a new e-learning dimension to our regular seminars and events wasn't enough for us to adapt to the changing times. We aim to make marketing and sales teams soar, but we can't do that without supporting the businesses that nurture these teams in the first place. So to offer additional assistance and as part of a public service project in accordance with our mission, we are holding the Continuum Conference: From Cutback to Comeback, the first and only conference dedicated entirely to displaced workers and entrepreneurs.
Launched last June 12 by Continuum Academy, the conference features 12 industry experts sharing tips on seeking balance during uncertain times and preparing for one's next moves post COVID-19 pandemic: Josiah Go, Chiqui Escareal-Go, Rowen Untivero, Emilio Macasaet III, Donald Lim, Malu Dy Buncio, Albet Buddahim, Quennie Cua, Ramon Barredo, Ronnie Traballo, Imelda Lim, and Louie Migne.
The first half of the conference focuses on attendees' health, aiming to support them with nuanced perspectives on 6 different aspects of well-being: emotional, spiritual, social, financial, physical, and digital. The second half offers business insights from successful professionals on how to build oneself back up and hone key skills ranging from personal branding to managing self-employment.
If you are interested in viewing the Continuum Conference, it is still being offered for free to those displaced by the pandemic, available in on-demand video format on Continuum Academy's website at continuum-edu.com. You may avail the free course using the code "LALABANAKO" upon checkout.
This is just one of the activities we had planned in accordance with Mansmith and Fielders' advocacy to inspire purpose and uplift Filipino business. We also held the Mansmith Marketing Inspiration Festival last April, a month-long campaign featuring episodes centering around hope, inspiration, and resilience, with a total of over 100,000 viewers benefiting from the Facebook Live Q&A events.
These episodes have also been reuploaded on Continuum Academy, accessible for free using the promo code "MMIF2888" for those affected by the pandemic who most need it.
Amidst the current economic recession, we believe recovery doesn't simply start and end with the nitty-gritty of business management. Motivation, inspiration, and storytelling are just as important to provide Filipinos with the courage and resilience to survive and succeed in the future.