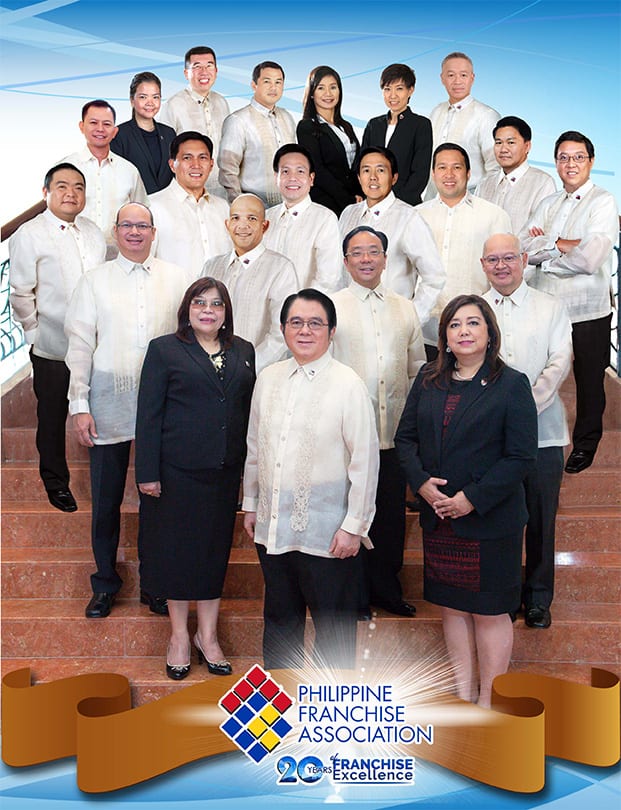 Question 1: Is franchising a better option than starting your own business from scratch?
PFA Chair Emeritus & BLIMS President Samie Lim: While it is true that starting a business creates jobs and may even open more opportunities for other businesses, the sad reality – not only in the Philippines but throughout the world – is that many start-ups end up failing. There is even a study that revealed that as much as 90% of start-ups end up closing shop in a few years. Furthermore, most MSMEs in the Philippines provide little added value in their products and services and, therefore, have little impact in the economy.
That is why PFA has been promoting franchising as a way to become an entrepreneur because franchising offers greater chance of success. In franchising, the franchisee is in business for himself but not by himself because the franchisor is always there to help. The franchisor provides the franchisee with a business plan that helps eliminate the trial-and-error phase associated with most start-ups.
Franchising also puts high value on strong branding and excellent services and products, which gives franchise brands the better chance of becoming global brands. In fact, many of the internationally-renowned brands today are franchises.
Another thing going for franchising is that it is perfect for Filipinos because our educational system trains us to be managers and the franchisee is effectively a manager. Franchising is also a good way to train young entrepreneurs – like fresh graduates – on the ins and outs of running a business.
Q2: How can franchise prospects know they are dealing with credible franchisors?
Wendy's Chair Yvette Pardo-Orbeta:  In order to know if one is dealing with a credible franchisor, an aspiring franchisee may use the following indicators as a credibility barometer of the franchise in question. These include the number of outlets, number of years in operation, consumer awareness of the brand and support system for the franchisee.
We in PFA have the '3-3-3 rule' when accepting new members and this means that a membership applicant must have been operating for at least 3 years and must have at least 3 company-owned outlets and 3 franchised outlets. Another note on number of outlets is that there should be a healthy balance between company-owned and franchised outlets.
A prospecting franchisee should also take note of the following signs which may indicate that one is dealing with a franchise scam. These include high pressure sales tactics, too-good-to-be-true claims of profitability, absence of a prototype or franchisees and minimal details about the franchise.
A franchise that offers a franchise agreement with only a few pages may not necessarily be a franchise scam but is indicative that it is a 'half-baked' franchise. This means it is offering to franchise its business with the purest of intentions but still does not have the system and the support mechanism to make the business profitable for its franchisees.
In other words, businesses that are thinking of going into franchising should take care to offer a fool-proof franchise system that will benefit both the franchisor and the franchisee. It is best to get the service of a franchise developer or franchise consultant. Nothing beats doing things right early on in the game.
Q3: Franchising involves a partnership mindset between franchisors and franchisees. This requires commitment to both effectiveness and efficiency. How do franchisors or franchisees ensure commitment to this partnership mindset?
Max's Group President Robert Trota: It is true that the franchisor-franchisee relationship requires a special kind of commitment between the two parties and one way to ensure commitment is choosing the right franchisee. We have to bear in mind that franchising is often likened to marriage, which stresses the need for shared values and a common vision between the husband and wife to make the marriage work. This means that a franchisor needs to have a franchisee that shares the values and vision of the franchisor's brand. This also means that the franchisor needs to articulate the values and vision of his brand.
In other words, there must be an environment that stimulates commitment and this is the responsibility of the franchisor. The franchisor needs to cultivate a culture of openness and trust with his franchisees. The franchisor should also clarify that growing the business is a shared responsibility and that both franchisor and franchisees have roles to play.
If this is clear early on, then there is increased likelihood for a smooth and fruitful franchisor-franchisee relationship. And if ever there will be misunderstandings, both parties can just go back to their shared values and vision in order to move forward.
Of course, it is important to have a professionally done franchise agreement, which will help enforce a healthy and mutually beneficial relationship.
Q4: In the stock market, a good company can be a bad stock due to low appreciation of stock value. Can a good franchisor company or a top franchisor be a bad franchise from a return on investment perspective?
Francorp President Bing Limjoco: A bad company/business can never be a good franchise investment. However, a good company/business may be a good franchise investment or a bad franchise investment. It all depends on how the franchise program of the company is designed, and how that program is executed.
A good franchise package should be financially sound for both the franchisor and the franchisee. It should be a win-win arrangement. The financial components of a franchise – franchise fees, royalties, margins, etc – should be mutually beneficial for the business to be sustainable for both franchisor and franchisee. The franchisor should also have a good support system to implement the franchise program. Very-capable support personnel, excellent marketing programs, reliable distribution systems, etc. should be found in good franchisors.
"Bad companies" or those that are not doing well should fix their business before thinking about franchising. Replicating at that point would only result in even worse franchise units. Good companies should invest in a good franchise program so that nothing gets lost in replication. This will keep a good company from becoming a bad franchise investment.