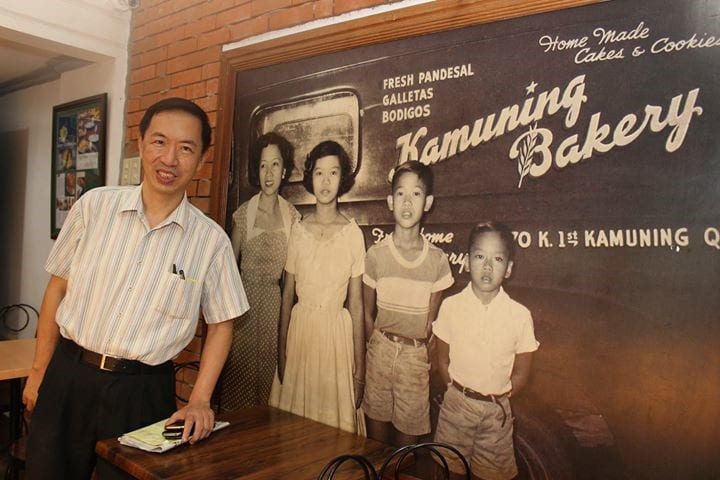 Q6: What have you done to grow the business since becoming the new owner of Kamuning Bakery?
A: Although it was sad that Kamuning Bakery's operation had gone down and was scaled down through the years, and a lot of people have already forgotten it, I saw potential in its past, in its unique "pugon" ovens which the former owners might have thought were problematic and inefficient in this modern era of LPG or gas oven and electric oven baking.
When I acquired Kamuning Bakery in December 2013, I allowed operations to continue past the Christmas holidays and I just observed. In January 2014, despite the low sales volume and lethargic operation, I announced a token across-the-board salary increase for all employees, in order for them not to be shocked or resent my coming as new owner who wanted increase of sales. I only took over management and started reviving it after the new year holidays. Some of the things I did to revive this old forgotten business, listed below not in order:
First, I revived it by physically rehabilitating, repainting and repairing the old structure without changing its original design and materials. I cleaned up the old kitchen area and repaired the two "pugon" ovens.
Second, I documented all the products and processes, also researched in old books and via interviews of old bakers about the many old products they no longer baked and revived them.
Third, I added more sales personnel and more young bakers to train under the old master bakers. Our old bakers are so gifted, they never studied in fancy culinary schools but have learned to pugon bake all kinds of traditional as well as modern pastries.
Fourth, I changed the system of inventory, purchasing, finance, controls, etc., using my existing staff in my real estate business as back support staff also. Instead of small purchases, I did bulk purchases to negotiate lower prices, such as in purchasing flour. I also built a new warehouse for flour and other stocks.
Fifth, I added free WiFi, a new POS system, even a credit card facility (after an old lady from Ayala Alabang in Muntinlupa City complained to me personally why she couldn't use her credit card for her many purchases, thus Kamuning Bakery became perhaps the first neighbourhood "panaderia" to offer credit card convenience!).
Sixth, I used the social media—my personal accounts "Wilson Lee Flores" on Facebook, Instagram and Twitter—to share photos and information about my takeover and revival of Kamuning Bakery, most especially to share pictures of the various products we offer. I also used social media to tell people we needed firewood from trimmings of trees or fallen tree parts.
Seventh, I improved the packaging of all food products for the sake of hygiene, better quality, convenience, good health standards and aesthetic look.
Eighth, It took me over a year to convince the various lease tenants of commercial spaces and back areas to vacate, so that I could further physically rehabilitate the whole structure and to restore the old café. I was only able to re-open the old café on March 20, 2015, which sold numerous all-day breakfast meals, including sandwiches and breads from the bakery.
Ninth, I not only revived various traditional cakes Kamuning Bakery no longer baked such as sans rival cake, old-style carrot cake or custard cake, etc., I also encouraged the old bakers to innovate by coming out with many delightful modern-style cakes of all kinds. We also now bake birthday cakes, wedding cakes and others.
Tenth, I have also encouraged customers to make the historical and iconic Kamuning Bakery Café into a venue for celebrations and events, also for art and culture events. I've also started the non-partisan and issues-focused "Pandesal Forum" at Kamuning Bakery Café, where leaders in national politics and other fields can dialogue with media and intellectuals, this informal and lively forum is inspired by the centuries-old "tertulia" tradition of the Iberian Peninsula and Latin America.
Eleventh, I boosted bulk order sales by customers, also delivery sales.
Twelfth, it is really more blessed to give. I prioritized giving to charities, whether for orphans, urban poor or social, cultural and other causes since the start, even before Kamuning Bakery Cafe's sales increased. I strongly believe in espousing dynamic capitalism with a social conscience.
Q7: Why prioritize charities, when you were still reviving the business?
A: I am not a religious person, but I believe in the Christian teaching of sharing, like the Bible story of a kid's sharing five loaves of bread and two fishes becoming multiplied to miraculously feed 10,000 people. It is also part of traditional Chinese culture to do philanthropy.
To mark the 75th anniversary of this business last year, instead of holding a big party, I asked our team to focus our energies and resources on two things: First, donating in cash or kind to a total of 75 charity or civic causes for the whole year 2014; Second, the celebration of the first ever "World Pandesal Day" on October 16 this year by our giving away free 30,000 pieces of pugon-baked pandesal breads, plus free chocolate drinks, free shampoos, free soaps, etc. to urban poor people in Quezon City, to public school kids near the bakery cafe, etc.
This "World Pandesal Day" was graced by Senator Sonny Angara, GMA Network, Inc. chairman and chief executive officer Atty. Felipe Gozon and actor Dingdong Dantes of the National Youth Commission. On that day, we also presented the biggest ever pugon-baked pandesal bread to 12 public school teacher representatives, it is our way of honoring the great teachers of our society, but also to strengthen our ties with our neighboring public schools. Why October 16? It's the annual World Food Day, also World Bread Day.
Q8: What has been the impact to revenue and profit so far of your initiatives?
A: When I reached one and a half years since I took over Kamuning Bakery, I sat down to make rough calculations and estimated that our daily sales volume increased 2,300%. This good result is partly due to our having to start from an extremely low base.
Q9: What other things do you plan to change in the business and why?
A: Now that Kamuning Bakery and the next door Kamuning Bakery Café are quite stable after their period of revival, I plan to look at branching out in order to serve more customers who have to come all the way from other parts of Metro Manila to buy our products.
In order to cope with our increased sales volume, I plan to acquire new equipment to upgrade the volume of our production, but still retaining the two antique "pugon" ovens.
Q10: What is your vision for Kamuning Bakery? What do you want it to stand for?
A: First, my vision for Kamuning Bakery Café is to make it become a showcase of Philippine baking tradition and excellence, at par or hopefully even better than its counterparts in the West or other parts of Asia. Nowadays, it has become a fad in the Philippines to import foreign bakery, café or restaurant brands and concepts. I am not against this trend, but I would like Kamuning Bakery Café to be as good as these foreign brands in goodwill, excellence, authenticity, consistency and old-fashioned good taste.
Second, I envision to operate Kamuning Bakery Cafe as a profitable social enterprise, by ploughing back its profits into unique, meaningful and even activist socio-civic and cultural endeavors championing social justice, education, health, arts, culture and even spirituality.
I am not in business to become materially rich, because I prefer and enjoy a simple spartan lifestyle. I am in business for the adventure, the challenges, the creativity it requires.
Q11: If there are only three words that you want Kamuning Bakery to be associated with, what would they be and why?
A: Heritage, delicious, happy