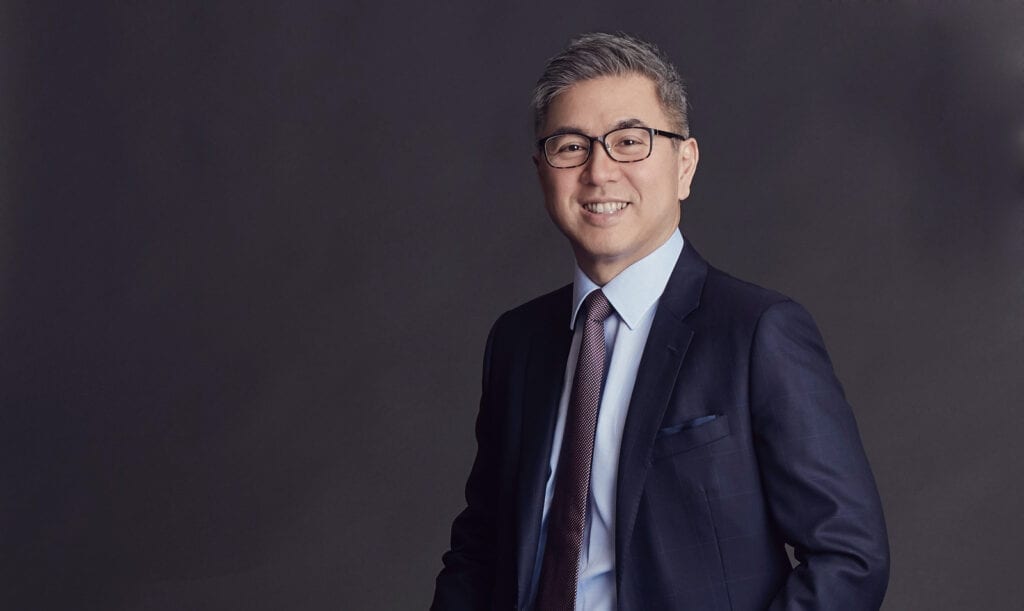 Mr. Kingson Sian is the President and CEO of Travellers International Hotel Group, Inc. (TIHGI), the owner and operator of the first integrated gaming, entertainment, leisure and hospitality resort destination in the Philippines, Resorts World Manila (RWM); TIHGI is a joint venture between Alliance Global Group, Inc. and Genting Hong Kong Limited. He graduated from the University of the Philippines with a Bachelor of Science degree in Business Economics and has an MBA in Finance and Business Policy from the University of Chicago.
RWM's Newport Performing Arts Theater produced and housed the local musical stage play "Ang Huling El Bimbo", expected to have 200 runs, which is more than "The Sound of Music" with 132 shows. At 1,500 theater seats, that is a total of 300,000 theatre-goers at full capacity, representing 1/4 of the AB market in the Philippines. In this interview, he shares his vision for Philippine entertainment.
Q1: The vision and mission of your company is to "thrill the world every chance we get", and "create world-class experiences with a Filipino touch" while one of your company's core values is the "will to wow". What are some of the customer events you are proudest of and why?
A1: Since Resorts World Manila began its operations in 2009, we have committed ourselves in delivering world-class offerings for the Filipino, while showcasing our homegrown artists' innate talent in the performing arts. This was immediately evident since our first year in the business when we mixed the best of Las Vegas entertainment and the glamour of Broadway for our maiden theater offering Kaos, which featured Filipino actors in the lead roles alongside international performers. That year, we also staged our first ever Grand Fiesta Manila, our version of the longest Christmas celebration in the country that eventually became an annual event. Grand Fiesta Manila is a marathon of exclusive offerings in our various segments including entertainment, special events, dining and retail offers, and gaming promotions.
Through the years, Resorts World Manila has also hosted a number of entertainment events that have made us proud. Among them are our award-winning all-Filipino theater productions at the Newport Performing Arts Theater, which includes our latest hit, "Ang Huling El Bimbo"; exclusive musical concerts featuring the best of both homegrown and international artists, including Lea Salonga, Jaya, Lani Misalucha, Sting, Chris Botti, Peabo Bryson to name a few; and grand extravaganzas such as the annual New Year's Eve Grand Countdown at the Marriott Grand Ballroom, which we started in 2016.
Q2: What was your vision behind the decision of making "Ang Huling El Bimbo"?
A2: The decision to stage Ang Huling El Bimbo came after I consulted our artistic directors from our production partners, Full House Theater Company's Ms. Menchu Lauchengco-Yulo and Mr. Michael Williams and line producers Mark and Christine Manalang. At that time, they had several young artists in mind who were making a name for themselves in the local theater scene: musical director Myke Salomon, playwright Dingdong Novenario, and stage director and choreographer Dexter Santos. Discussions soon followed and we figured why not develop a musical that is anchored on the songs of a generation; songs that still serve as anthems to most Filipinos today.
Dexter, Myke, and Dingdong also grew up to these songs and had their own ideas for the musical. After they provided us with the first draft of the script, we brainstormed, made a few necessary tweaks along the way, and started with the auditions. Soon enough, everything fell into place and Ang Huling El Bimbo became one of our proudest theater productions to date.
Q3: How do you decide which shows to run or not?
A3: All our entertainment offerings are meticulously deliberated by our entertainment team with our partners from Full House Theater Company and Ultimate Shows, Inc. – both comprising experts and veteran practitioners in the entertainment industry. All of our shows are also anchored on our commitment to champion the Filipino talent, while being able to create amazing stories for and exceed the expectations of our audiences.
On a related note, RWM has also established the Original Pilipino Performing Arts Foundation as one of our corporate social responsibility programs that aim to constantly raise the bar of entertainment excellence in the country, by nurturing our talented youth through formal education in the performing arts.
Q4: Beyond traffic building role, what is the economics of a show? What is it to the entire RWM complex?
A4: Back in the day, there were only a couple of theater companies in the country which made theater inaccessible to general audiences. When RWM opened in 2009, we saw the viability of investing on Filipino talent here at home as opposed to having our actors audition abroad for major roles.
Today theater productions are now in the mainstream of entertainment alternatives for Filipino audiences and we believe that our all-Filipino productions have somehow contributed to a new revolution in Philippine theater. By not cutting down costs for our theater productions and featuring our talented roster of Filipino actors, we believe that the Philippines has what it takes to be the next Broadway or West End of Asia.
Q5: What is the future going to be like for RWM as it celebrates its 10th year anniversary in August 2019?
A5: Bigger and better things are in store for our guests with more expansion projects in the pipeline here in our Newport City property.
For our anniversary, we have lined up more topnotch entertainment events including an exclusive two-night concert featuring Ms. Lea Salonga on August 30 and 31; our continuing Bar 360 Concert Series featuring the best OPM artists; Grand Bar variety shows comprising of international acrobats and the best homegrown talents; plus more upcoming entertainment events that we shall share with everyone soon, including our next theater production that will definitely surprise Filipino theater fans.