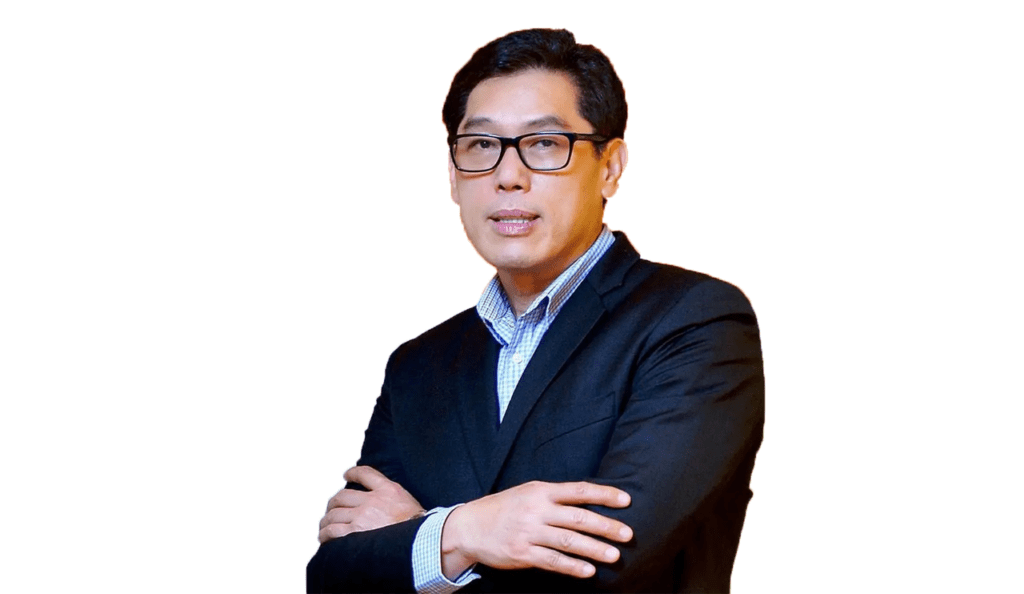 Lucio Cochanco, Jr. is the President and CEO of Fly Ace Corporation, marketer of Jolly canned vegetables, canned fruits, Doña Elena Mediterranean products (olive oil, olives & capers, pasta sauces, canned tomatoes, anchovies, bottled sardines and canned tuna), Good Life oriental products (sotanghon, egg noodles, bihon, bread crumbs, sesame oil and oyster sauce) and other food products, many of which are leaders in their respective categories. He shares about the first 25 years of their first successful branded product, Jolly, and how it became a major player in the canned vegetable category.
Q1: You were a distributor of many brands in the past before you created your own brand, Jolly. Can you tell us about the circumstances that led to the creation of Jolly canned vegetables?
A1: Fly Ace Corporation was incorporated as a family corporation in 1993 to include the second generation, it was a spin off from a trading company – Jolly General Merchandise, which was formed by my parents way back in 1972. Back in the mid 80's, Jolly General Merchandise was purely a trading company engaged in agricultural products and imported grocery products. We had more than 1,000 SKUs in our price list, such as Dove soap, Ivory, Downy Fabric Softener, Secret Deodorant, Spam Luncheon Meat, Maling Luncheon Meat, etc. In the early 90's, multinational companies noticed the growing sales of their own brands in the Philippine market. Thus, they slowly took over the business with their vast resources in marketing and distribution.
We thought then, in order to survive and support our business, we need to create and develop a brand we can own, manage, and grow on a long term basis. We needed a brand that nobody could ever take away from us. Hence, in 1997, we created our very own Jolly, a brand that represents the first initials of my mother's three sons – Jun, Louie & Larry.
We at Jolly believe that eating healthy and delicious meals should not be a luxury nor a burden for the Filipino. We believe in inspiring and empowering homemakers to unleash their creativity with recipes that are not just nutritious but are guaranteed to delight.
Q2: Before Jolly became successful, you had many challenges. Can you share with us some of these and how you overcame them?
A2: When we lost the global brands, our business shrunk by a whopping 90%. We knew it would be an uphill battle. Trading and developing Jolly brand is a totally different ballgame from selling well-established global brands who were already household names. We needed a different skill set and mindset in managing our then unknown brand.
In trading, you do not need investment in developing a brand. You just put the products on the shelves, and your work is done. To support Jolly, we devoted huge resources and money to understand our consumers. We were lucky, we had good relationship with the modern trade, they allowed Jolly to be listed in their stores with minimum listing investments.
When you ask factories to produce your own brand, they will require a minimum order quantity (MOQ). Our overseas suppliers were initially reluctant to produce Jolly, given the small order volume. Due to our persistence, they began to appreciate our sincerity in growing the Jolly brand. We developed mutual trust and confidence with these factories. Decades later, most of them are still our suppliers and partners in growing the Jolly brand.
Q3: You were not the market leader in canned vegetables then. How did you become the market leader? Can you share some key milestones over the past 25 years?
A3: Jolly has remained focused and consistent in meeting the needs of our market. What really set it up for success is it's discernment of the needs of Filipino families. Jolly understands that everyone wants access to nutritious, delicious, and convenient meals. The brand has remained steadfast in meeting this need despite the ever changing market landscape. By learning the aspirations, challenges, and things that delight its market, Jolly was able to come up with innovations that became helpful to the daily lives of their consumers.
We also consistently supported the trade to ensure their canned vegetable category is growing and that the Jolly brand adds value to their shoppers. We cannot achieve being market leader without the support of our modern trade partners and provincial distributors.
To celebrate its 10th anniversary in 2007, Jolly launched its very first TVC. This campaign created a huge impact in terms of awareness and brought Jolly Mushrooms to be the #1 mushroom brand in the Philippines.
In 2017, we celebrated our 20th anniversary and had our very first celebrity endorser. This campaign further enlarged the market share of Jolly.
On Jolly's 25th anniversary last year, we launched our campaign "Yan ang Jolly Love" to celebrate and highlight Jolly's commitment to providing Filipino homes with convenient, nutritious and delicious meals.
Q4: What is Jolly's competitive advantage? How have you managed to maintain a competitive advantage for 25 years?
A4: Since day one, we made sure that the quality of our products meets the expectation of our consumers. We pride ourselves with high quality products that are carefully sourced, easily available and affordable so that a lot of Filipino families may enjoy them every day.
Q5: How did you navigate challenges and obstacles during the past 25 years?
A5: When we decided to launch our own brand Jolly in the canned vegetable category, we are aware that the barrier to entry in this category is very low. It means that any Tom, Dick and Harry who wanted to create their own canned vegetable brand may easily do so. Canned vegetable is a near commodity product that is almost generic in the eyes of the consumers. This has challenged us to be constantly try to be one step ahead of the competition.
We continuously develop and expand our range of mushrooms (Button Mushrooms, Pieces & Stems, Sliced, Shitake, Mixed Mushroom) packed fresh in different sizes. We were the first brand to offer the single-serve pouch mushrooms. Jolly kernel corn (#1 corn brand) uses a very specific variety that we contract farm to ensure its trademark crisp, sweet and fresh taste.
Q6: From a humble Divisoria trader, you had the vision to launch your own brand and professionalize your management team for over two decades. What is your vision for the future?
A6: Divisoria has always been the heart of wholesale trading. Competition is tough while margins are small. With our own Jolly brand we can chart our own direction and dictate our growth path. While trading is second nature to a Divisoria entrepreneur, brand management is something new.
In 1999, our family decided to get the services of my wife who was a former group product manager in a multinational company as our marketing consultant for a year. She helped set up our marketing department and hired our first marketing manager.
For the next two decades, we slowly but surely hired top caliber managers in all the departments in our organization. Only I, as president of Fly Ace remain as an executive. All other siblings sit as directors in our family board. With this professional set up, we look forward to welcome our qualified third generation family members to join the family business.
After 25 years, the plan is for Jolly to be consistently part of every Filipino household by continuously expanding our range of high quality packed vegetable and fruits. As the market leader, we aim for Jolly to continue to blaze the trail for new innovations that will inspire creativity among Filipino home cooks.
In the years to come, Jolly will continue to provide access to fresh, nutritious and affordable produce that answers the growing needs of consumers. We believe that eating healthy and delicious meals should be available for every Filipino.
*****
Lucio Cochanco Jr. was one of the esteemed lineup of CEOs and COO who spoke at the 6th Entrep Summit last February 21, 2023. The summit provided a valuable platform for engaging discussions on pivotal subjects including leadership, entrepreneurship, the successful transition from family-led enterprises to professional management, and the implementation of effective strategies for nurturing the next generation of leaders. This event was hosted by www.day8.org.
If you have missed this summit, the replay can be accessed at the following link: https://bit.ly/6th-entrep-summit-replay.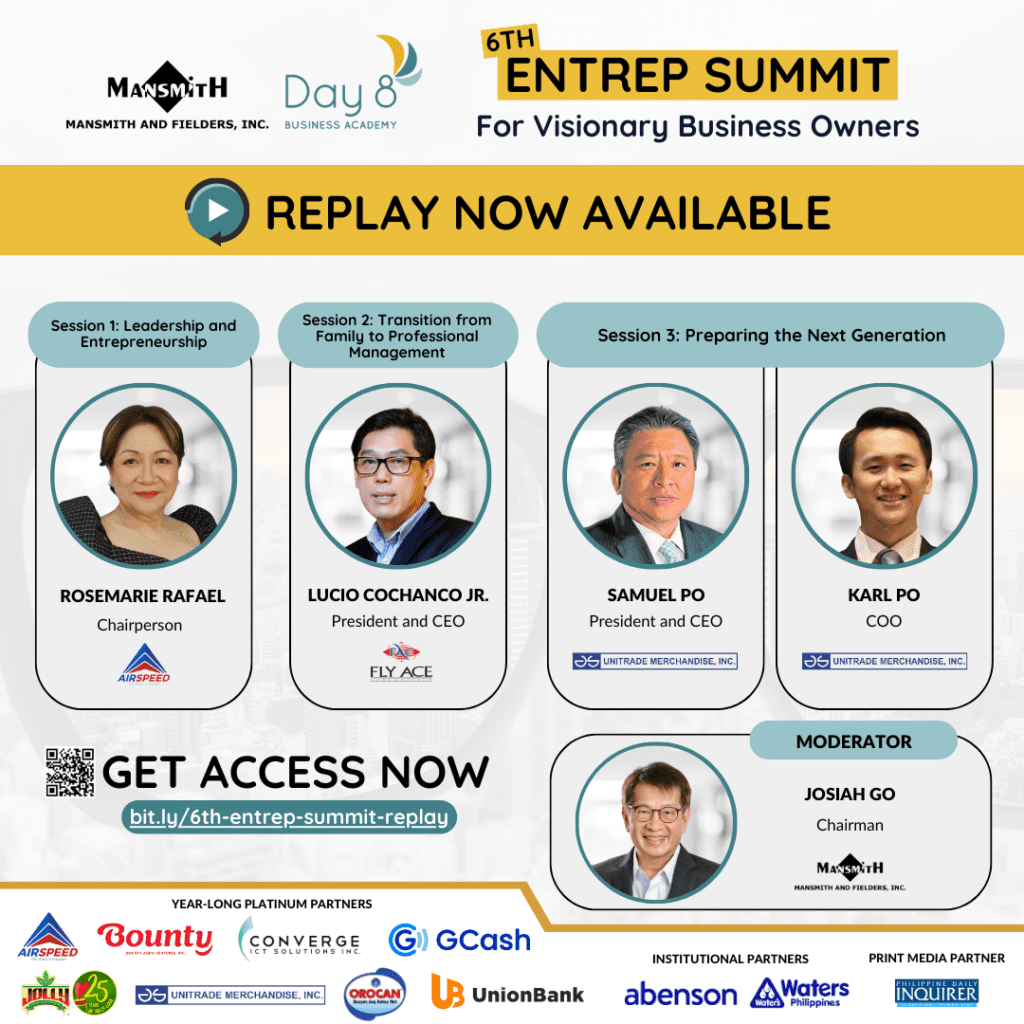 *****
Josiah Go is Chairman and Chief Innovation Strategist of Mansmith and Fielders Inc.  Among others, he is co-author of the bestselling book "Entrepreneurship: Starting an Enterprise. Having an Innovation Mindset"
See more articles on Entrepreneurship.