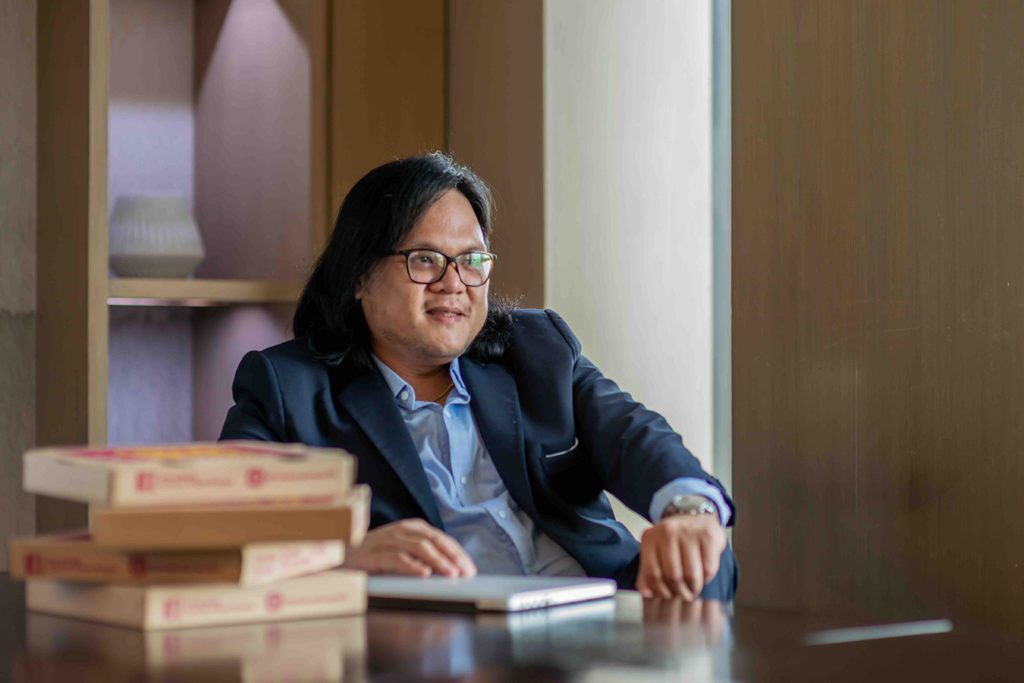 Mike Canlas and his wife Lucci started Bang Bang Special Crispy Bangus at the height of the 2020 pandemic. After expanding through franchising, they developed over 40 take-out stores in over a year (now with 100 stores). Bang Bang Special Crispy Bangus won an international NextGen franchising competition in 2021. In this interview, Bang Bang co-founder Mike Canlas shares how they courageously found and exploited opportunities amidst crisis. They spoke at the 2nd Business Model Forum, organized as a public service by Mansmith and Fielders Inc. with recorded video available at www.continuum-edu.com.
Q1: You were in the events and video production business before the pandemic. How did you move from that to starting a bangus food business during the pandemic?
A1: Since the pandemic brought about a scarcity in projects for corporate videos and events, we needed to find a source of income for the family. My wife and I are full-time entrepreneurs so we didn't have a choice but to have a new business.
Fortunately, the idea of Bang Bang started playing in my mind on January 8, 2020—it was during my son's birthday when we ate a big fried bangus at a Filipino restaurant. So I started experimenting on recipes for this business concept even before the pandemic happened.
Though I've always been fond of cooking, I wasn't a graduate of any culinary course. But I believe that my previous work as a TV director for lifestyle shows allowed my palate to be developed because the restaurants only served us their best dishes during shoots. And during product development, a couple of food tech friends helped us measure the ingredients that I placed while preparing the food. This allowed us to have consistent recipes for Bang Bang.
When it comes to putting up the stores, one of the services we offered was creating trade show booths for clients. My wife conceptualized, designed, and managed the construction of these pavilion booths so creating the look for a small Bang Bang store was very doable.
Marketing the brand for both customer and potential franchisees was also natural for us as this had been our line of work for our creatives company. We made photos, videos, and graphic design pubmats to market our brand. We used social media to promote our products using these marketing materials.
Transitioning from being a creatives company to becoming a food franchise company may seem like a gigantic pivot, but our previous experiences proved to be connected dots to form the big picture.
Q2: You have different flavors of bangus in a pizza box. How did you decide on these flavors? Why use a pizza box?
A2: I chose familiar Filipino flavors because our brand identity is a Filipino bangus kiosk. We also chose not to marinate the fish so they would still get that fresh and juicy taste of the milkfish meat. Should they still want to have that sour taste, a special vinegar dip is included in every bangus box. The Original variant has a garlicky flavor; Cheese is of course, a Filipino favorite in every food; Salted Egg is the usual bangus partner; Inasal is a Visayan flavor that has been loved all over the country, and Spicy Pares, the first-of-its-kind flavor, is a unique mix that added heat to the Pinoy Pares taste.
When it comes to packaging, we chose a pizza box because it is the only container which could fit our big boneless bangus. This also allowed the food to be safe even during transport since during the pandemic, all of us were very conscious with the cleanliness of everything we eat.
Q3: Why did you choose to turn to franchising to expand Bang Bang Special Crispy Bangus?
A3: We chose to expand via franchising because we didn't have enough funds to scale up the business on our own. My wife and I are first-generation entrepreneurs and we came from middle-class families.
Bang Bang was the first-of-its-kind business concept and we knew that the only way to protect it was to scale it up. We've had ideas about franchising because aside from having a big franchisor as a client in our creatives business, we also experienced being franchisees when we franchised a siomai cart in 2018.
At first, we made our own franchise documents but later on, we invested on the consultancy services of Francorp—the biggest franchise consultancy in the Philippines.
By God's grace, many entrepreneurs saw the potential of Bang Bang and they partnered with us by having their own Bang Bang stores. Now, Bang Bang is available in Luzon, Visayas, and Mindanao.
Q4: During the pandemic, many food businesses popped up. How did you mitigate your risk of a new business since you required a store for take out?
A4: We believe that having a brick-and-mortar store was very important during the pandemic because we needed to build credibility since we were offering a new brand. The common question online was "where is your store located?"
To mitigate the risk, we lessened our operational expenses. We made it in a way that the equipment could fit to a space as small as 6sqm, so rent would be minimal. It could be operated by one or two store crew. There's also no aircon needed as it was a take-out kiosk.
And when it comes to logistical challenges brought about by lockdowns, we also made sure that we hired staff who lived near the store. This allowed us to continuously operate, whatever type of quarantine.
Q5: How did you determine what you will and your wife Lucci would respectively handle in the business? How has this division evolved since?
A5: At first, it was just the two of us handling the business. I was in charge of daily operations, production of supplies, and product development, while Lucci was in charge of purchasing, marketing, and store construction.
Now, we have more than 40 people in the head office. As CEO, I am now in charge of overall operations with different departments under me—Supply Chain, Franchise Department, Commissary, Finance, and Admin. Lucci is now in charge of Business Development, Marketing, and Store Construction.
Our work setup has also evolved. She used to come to the office everyday but now, she's able to do her work offsite so she can take better care of our children. Being husband-and-wife allows us to have lots of time to meet and discuss for the business.
Q6: What top challenges did you encounter launching and operating your food brand and how did you solve these challenges?
A6: Launching a completely new product is very challenging because eating flavored fried bangus is not part of our culture, so we needed to consistently promote it via social media. We also communicate with our previous customers and let them know about promos and new products.
Operating on a nationwide scale in an archipelago is also very challenging. What we did was find suppliers from different provinces, establish store hubs in strategic locations which, aside from functioning as Bang Bang stores, also serve as the pick-up points for franchisees in these regions.
With the rising costs of raw materials and with the current economic hardships in the country, we decided for the head office to absorb the blow and be more vigilant in finding solutions. We decided to keep the product prices, maintain the bangus size, and even suspend royalty fees of our franchisees for some months. Though there may be challenges, keeping the quality of our products is vital and is non-negotiable.
Q7: What's the typical return on investment of a franchise?
A7: Typical return of investment is 14 months.
*****
Josiah Go is Chairman and Chief Innovation Strategist of Mansmith and Fielders Inc. 
See more articles on Entrepreneurship.