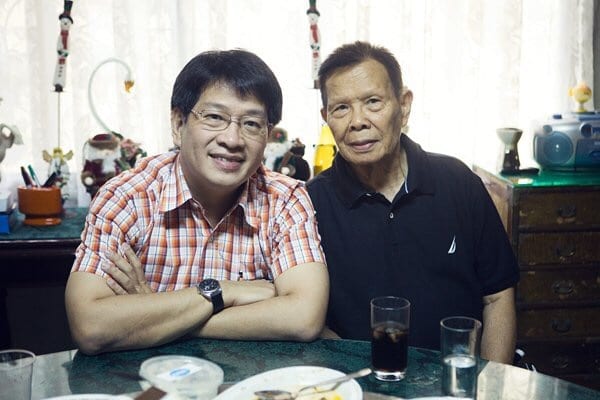 When Chiqui and I became a couple back in college in the 80s, Chinese-Filipino relationships were not the norm due to perceived cultural differences. Chiqui is a Filipino and I am Chinese-Filipino, something that might not matter now as much as it did then. We have been together for over 30 years and maybe our example of a relationship originally challenged by social distinctions can be a case study of how love conquers all … with a little bit of help from family – fathers in particular.
Chiqui's father is the late Justice Romeo Escareal – the son of Congressman Agripino Escareal of Samar. Justice Escareal did not join politics but instead practiced law and was later appointed to the judiciary.
In the early 70s, my father-in-law was appointed judge to the Circuit Criminal Court in Tuguegarao, before he was re-assigned to Cebu City in the mid 70s.
Later, he was promoted as a Justice and Chairman of the second division of the government anti-graft court Sandiganbayan when it was formed in 1978. When President Cory Aquino took over in 1986, he was reappointed to the Sandiganbayan without loss in seniority and position. Many lawyers and public servants who held positions in the Cory government vouched for his diligence, legal savvy and most of all, integrity.
When my parents and I visited Chiqui's family in 1984 for an informal 'pamanhikan', Justice Escareal told us he had no wealth to share but only a good, clean name his children can be proud of. That statement was more than enough. There was no expectation and no need for dowry, Chinese style.
His reputation made it much easier for Chiqui to be accepted in a conservative Chinese family.
At 22, we got married and Chiqui moved to my house with only a luggage or two. Our honeymoon was in Baguio and we took the bus. It was something that can be afforded at that time. But life was simple as both Chiqui and I had been raised that way, something we learned from our fathers.
I lived with Justice Escareal in his house where I sought refuge for over a month when I had a death threat in 1987. I went to my office with no fixed time and strapped a Walter TPK on my calf for over a year as a deterrent to any effort to predict my movements. While it felt surreal and like a movie, it was not a pleasant memory. (Eventually the death threat was traced to a salesperson caught by my company with unremitted collection. The threat stopped the day I confronted the saleswoman.)
During those times I spent in their house in Makati, Justice Escareal was always very kind to me. A simple man, he had a great sense of humor and liked to share stories. He took time to explain the legal implications of issues featured in newspapers. When I encountered occasional business problems as a neophyte entrepreneur, he took time to help me solve a problem.
His love of books and being articulate were inherited by Chiqui and our kids. While Chiqui's elder sisters studied in his alma mater, University of the Philippines, Chiqui studied at De La Salle, much nearer to their house in Calatagan Street in Makati. By then, he was already a justice and could afford the more expensive tuition fees of a private school and with a little assistance from the Philippine Marketing Association (PMA) partial scholarship Chiqui got in her senior year, as outstanding marketing student in 1983. This connection is one of the reasons I chose to be active in PMA in 1988 as my first organization where we can pay forward.
All throughout our married life, Justice Escareal was a constant – with him bringing Chiqui hot pandesal from his favorite bakery, kesong puti, freshly harvested sweet pineapple and corn from Tagaytay or even potted plants he bought from his suki, for our small garden. He would spend a few minutes with us, regaling us with his latest jokes or stories, while sipping his favorite diet softdrink or 3-in-1 coffee.
His health started declining sometime 2014 but still, he would go to his favorite places in Powerplant Mall where most security guards or waiters of his regular lunch places would welcome him like their own father. Last March 2015, he suffered a stroke and never recovered. He died June 27, 2015 just a few days after he turned 88.
I miss him and his stories.