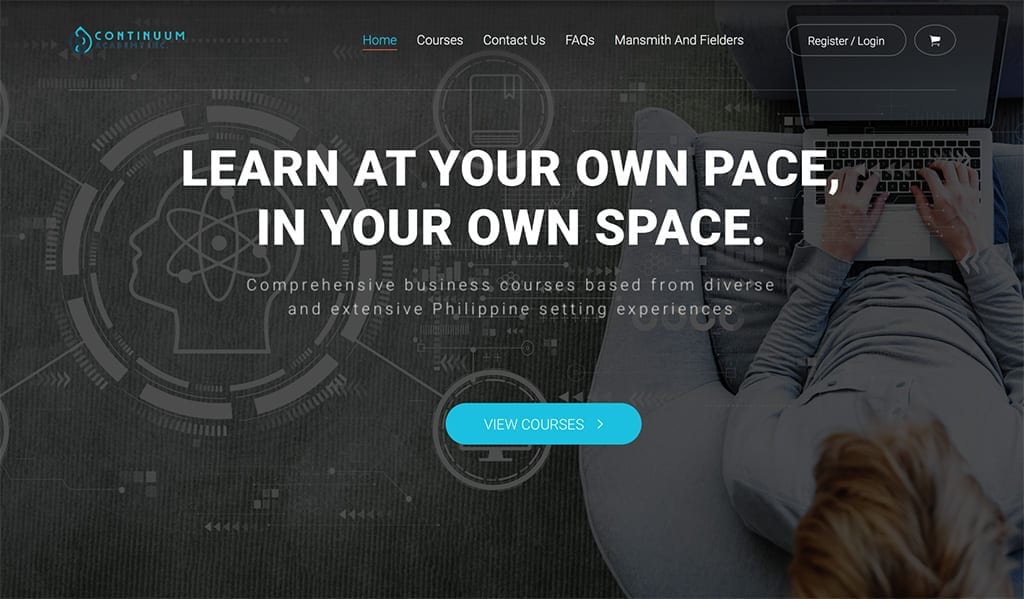 Continuum Academy Inc., the online learning subsidiary of Mansmith and Fielders Inc., was launched last March 19, 2020 with its maiden offering, a free course on "Marketing During Corona Virus". Over three thousand marketers and entrepreneurs were in attendance despite having only a two day-notice.
While going into online digital learning was already in the pipeline of Mansmith as one of the highlights of its 30th anniversary this 2020, everything needed to be fasttracked to be responsive to the pandemic situation and the new needs of customers. The Mansmith lean and mean back office team plus its supportive speakers and consultants were able to adapt quickly to the demands of the circumstances, putting together platform and superior content and frameworks in record time, without sacrificing quality that Mansmith has always been known for. One can describe Mansmith as a 30 year old start up, recharging its vision-mission to inspire purpose, empower proficiencies and transform people to become a highly valued human resource base for globally competitive, cutting edge organizations.
Continuum is set to launch 30 short courses before the end of May 2020.
Listed below are some courses for ready reference – available for both individual online learning as well as for in-house for groups. There are over 100 training programs available to help teams do their jobs better, faster, and differently – at the least cost and time.
Marketing:
Marketing During Corona Virus by Josiah Go (FREE)
4 Emerging Norms From Covid19 by Quennie Cua and Patrick Cua (FREE)
Quick Guide on New Marketing Strategies After Covid19 by Quennie Cua
Quick Guide on Insights Mastery by Quennie Cua
Quick Guide on Value Creation by Quennie Cua
Quick Guide on Low Cost Social Media Advertising by Albet Buddahim
Quick Guide on Digital Marketing During Turbulent Times by Donald Lim
Quick Guide on Digital Experiential Marketing by Ramon Barredo
Marketing Strategy for Schools by Josiah Go
The Big Seminar for Small Stores with Big Dreams by Chiqui Escareal-Go
Business Model:
8 Things to Evaluate in your Business Model During Corona Virus by Josiah Go (FREE)
Entrepreneurship:
40 Ways to Drive Business Growth by Josiah Go
Entrepreneurial During After Covid: Growing From Failures by Josiah Go
Before You Buy or Sell a Franchise After Covid by Josiah Go
Quick Guide on Practical Business Development by Malu Dybuncio
Sales and Sales Management
Key Account Management in Times of Uncertainty by Emilio Macasaet (FREE)
Key Account Management During and After Pandemic by Emilio Macasaet
Crisis Proofing Your Sales Territory by Emilio Macasaet
Managing Sales Revenues by Rowen Untivero (FREE)
Crisis Adaptive Selling by Rowen Untivero
Sales Conversation Control by Rowen Untivero
Sales Discovery and Argumentless Persuasion by Rowen Untivero
Sales Obstacle Handling by Rowen Untivero
Marketing-Oriented Selling by Chiqui Escareal-Go
Quick Guide on Building Salesforce Resiliency by Ronnie Traballo
Quick Guide on Effective Story Selling by Ramon Barredo
Business Continuity Planning
Quick Guide on Disruptions and Business Continuity Planning by Imelda Lim
Operations Management
Quick Guide on Operations Management
Legal
Legal and Recovery Remedies for MSMEs During and After Covid by Atty Dennis Chan (FREE)
Online
Quick Guide on Moving Your Training From On-site to Online
For schedules or in-house inquiries, please email Matt Pardinas, General Manager of the Mansmith Training Group via matt@mansmith.net or send a message via Mansmith and Fielders Facebook page. Please also visit our website at http://www.continuum-edu.com