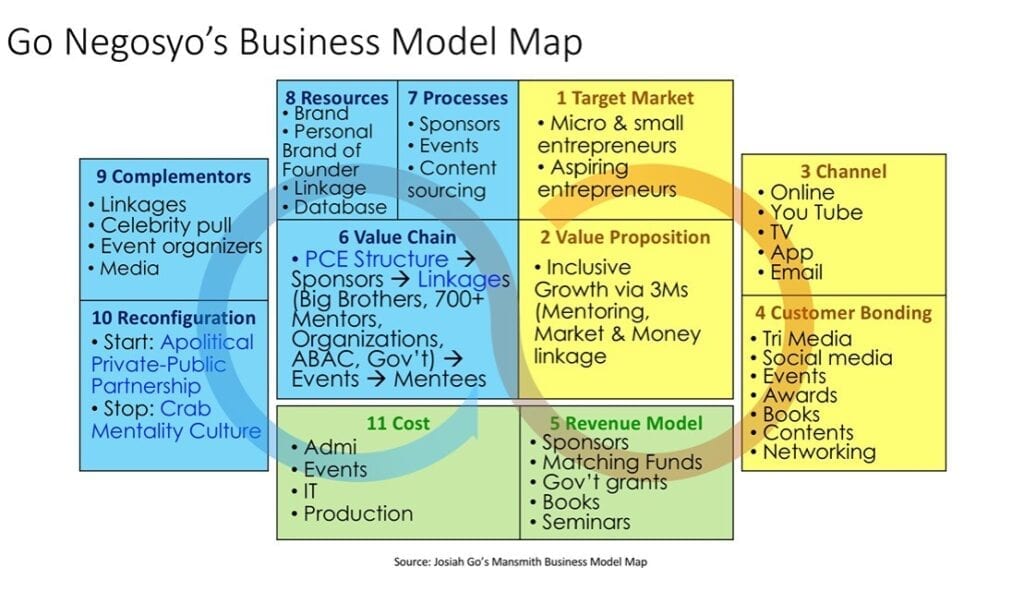 Go Negosyo was founded in 2005 by the Presidential Adviser For Entrepreneurship, Joey Concepcion, who is also the President and CEO of publicly-listed food company RFM Corporation. It is currently in its 15th year.
A business model is the way an organization plans to create, deliver and capture value for its intended customers or constituents. For Go Negosyo, the following comprise their offering model:
Target market: Aspiring entrepreneurs, Micro and Small entrepreneurs.
Value proposition: Ensuring inclusive growth via providing 3Ms: Mentor linkage, Market linkage and Money linkage.
Channel: Multi-faceted channel like online and app access, through a You Tube channel and their own TV show, as well as email services.
Customer Bonding Strategy: Awareness via Tri-media, as well as in social media, holding events and awards, books and contents, and networking parties.
Revenue model: Institutional sponsors, matching funds, and government grants, as well as from the sale of books and seminars.
Go Negosyo's operating model, on the other hand, is composed of the following:
Value chain: The Philippine Center for Entrepreneurship (PCE) structure, sponsors, aggregation of linkages (big brothers, mentors, organizations, Asian Business Advisory Council (ABAC), government), events, to mentees.
Key processes: Sponsorship, events and content sourcing.
Key resources: The Go Negosyo brand, the personal brand of founder, the linkages and database.
Complementors: The value chain linkages, plus guest celebrities, event organizers and hosts, as well as media.
Reconfiguration for Innovation:

Start doing: An apolitical Private – Public Partnership
Stop doing: Crab mentality (as mentioned by founder Joey Concepcion)

Cost: Administration, events, IT, and production.
Two important things stood out in Go Negosyo's business model: their value chain and reconfiguration for innovation.
The value chain of Go Negosyo is extremely strong due to its linkages (known as "ecosystem" since PCE is not in manufacturing). While the organization's innovation building block positioned it as a clear third force between the Department of Trade and Industry (DTI) and the Philippine Chamber of Commerce and Industry (PCCI), it is also a totally new "service" category whose life will continue as PCE regardless of whether its founder is still Presidential Adviser or not.
Throughout our experience partnering with Go Negosyo to assist mentees, we have observed that these same two strengths of Go Negosyo's business model are the ones they can help their mentees the most with in our various mentoring sessions.
In Go Negosyo's show I guested in last November 9, 2020, I was asked what the organization's direction should be moving forward. I shared my discovery that the mentees have been used to a very traditional Business Model style with only 9 building blocks, meaning these mentees have been operating without identifying their value chain and reconfiguration for innovation. As a result, many of the mentees' businesses have started without identifying how they will create value and how they can introduce innovation. Founder Joey Concepcion immediately agreed.
During the first week of December 2020, close to three hundred Go Negosyo mentors and mentees attended my two-hour talk on the 11 Building Blocks of the Mansmith Business Model Map, which incorporates Harvard's Michael Porter's Value Chain with the Blue Ocean Strategy-inspired Reconfigurating for Innovation, aimed to strengthen mentees' business model. The addition of value chain and reconfiguration for innovation as building blocks is meant to instruct, instead of obstruct, the fact that the absence of these two building blocks prevents firms from being mindful of the operating model for providing value, the very essence of a business model. Imagine Go Negosyo's business model without these two! Mentees saw the benefit immediately. Former DTI undersecretary Merle Cruz, MSME adviser of Go Negosyo told me she will make a recommendation whether they will continue with the existing 9 building blocks or adjust to the Mansmith Business Model Map with 11 building blocks.
********
The Mansmith Business Model Course can be accessed through Continuum Academy (www.continuum-edu.com) at a ridiculous intro price of US$30 (P1,488), as part of the 30th anniversary celebration of Mansmith and Fielders this 2020.