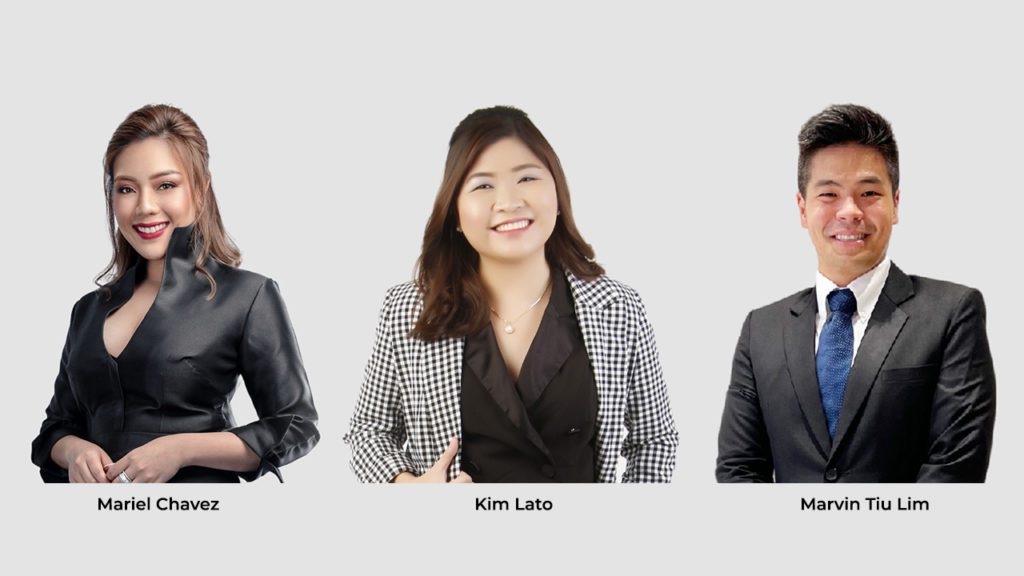 At the recently concluded 16th Mansmith Young Market Masters Awards (YMMA), we asked three of the marketing rockstars to share about new business and growth strategies. They are Mariel Chavez, Brand Director of Procter & Gamble and YMMA Awardee for Brand Management, Kim Lato, CEO, Founder & President of Kimstore Enterprise Corporation and YMMA Awardee for Entrepreneurial Marketing, and Marvin Tiu Lim, Chief Growth and Development Officer of Mega Global Corporation and YMMA Awardee for Marketing Management. Here are the learning points from the YMMA winners:
Q1: How do you bring your brand to the next level of growth?
Mariel: Have a bias for action, not just in executing current plans, but also in making the right pivots should the current plan not work out. The key to unlocking new vectors of growth is ensuring your brand stays relevant to the changing consumer insight or need. Hence, our focus was always on elevating the consumer experience, such as solving an unaddressed need, tackling new pain points, or expanding benefit spaces. By continuously delighting our consumers, not only do we find new growth s-curves, but we also elevate the entire category, even in tough business conditions. Net, if you stretch your brand's equity by continuously evolving your benefit and go-to-market approach to ensure relevance, consumers cannot think about not using your brand in their everyday life.
Kim: My brand, Kimstore, is celebrating its 15th anniversary this November. Our new goal is to introduce Kimstore to the ASEAN community and be a global brand. I, as the CEO, would like to achieve that by focusing first on advocacy marketing because I feel that it's now the time to give back to the community. A lot of businesses were forced to go online. By tapping them and the C2C market, but still focusing on consumer electronics, I will be able to help MSMEs to propel their businesses online with my experience in ecommerce.
Marvin: As the lead in marketing for Mega Global Corporation, it is my responsibility to lead our flagship brand, Mega Sardines to a dominant market share and bring our newer brands to the next level. At the same time, it is also my responsibility to serve the ultimate purpose of our brands and company, to improve the lives of many Filipinos and help in nation-building through our quality, nutritious and innovative products. My challenge is to innovate and evolve our company with very traditional products and bring them closer to the consumers of today. I am able to do this by empowering our people to bring their ideas to the table and collaborate with each other to be able to develop pivotal strategies with the tools of today. Digital transformation and paradigm shift while staying in touch with our core purpose are keys to bringing our brands to the next level of growth.
Q2: You have products that are considered market leaders in some categories, while they are market challengers in other categories. What are some fundamental takeaways from the differences in how you handle these products?
Mariel: The biggest differentiator between the two are the difficulties they face to keep growing, which dictate how each should be handled. For challengers to grow, they need to do something transformative to cut through the noise in an already bustling market. However, going head-to-head with the machinery of category captains can be problematic, so it is important to clearly identify what exactly it is challenging – for example, is it a long unmet need? a market norm? With that as the strategy's anchor, develop a disruptive consumer insight and a daring execution. On the other hand, the onus for market leaders is to keep growing the category. This requires unceasing investment and innovation, since growth will only come if consumers, who are increasingly more discerning on what matters and what doesn't, are consistently delighted.
Kim: The main difference in managing products between a market leader and market challenger is the form of attack or strategy. With market leaders, there should be continuous innovation, lowering of costs, and prices to buyers with the goal of having higher market share gains and profitability. Meanwhile, managing market challengers is more on the reactive strategy such as price matching, looking for competitor weak points and focusing on easier markets. The field of ecommerce moves fast and is a key element in products with tight market shares. The organization should be ready and able to adopt new tools and processes, reorganizing their resources and collaborating with the entire company.
Marvin: Being a market leader in the sardines category for our flagship brand, Mega Sardines doesn't mean we have to be complacent and do nothing. Our task s to hold our fort and widen the gap versus our competitors. However, with the changing market behavior, the challenge is to retain loyal consumers while reaching out to newer ones. Our strategy is to find new ways to stay connected to our target market regardless of where they are. We leveraged on digital platforms to market a very traditional product and ensured that we are there for our consumers in all channels. While understanding our key target consumers have been instrumental for increasing the share of our challenger brands. This meant knowing their needs, where they are, their behavior and crafting our strategies around these learnings while communicating our brand's reason to believe.
Q3: What do you think are the keys to attaining more market share for your products and services?
Mariel: Start with a clear understanding of where your brand stands across key vectors of superiority. Do enough consumers know about the benefit you're offering? Does it have a winning performance? Do you have a clear right to win in store that will drive trial? From there, you're able to assess where your insufficiencies lie and can strive towards addressing those gaps, while double downing on what already works. This requires healthy paranoia, as shifts in inputs greatly affect market share, especially in a saturated category. Couple that vigilance with constant innovation – in the way you communicate your benefit, in the way you deliver your product experience, in the way you approach your go-to-market strategy – and market share will follow.
Kim: We are consistently on the lookout for new ways to connect with our customers. Finding these new channels of communication helps us stay creative, strengthen customer relationships, build customer loyalty, and get the edge on our competitors. We use what we learn from that frontier and apply it to other campaigns. In this way, we are always innovating. It's the marketing version of staying young
Marvin: The ability to pivot strategies while staying true to our purpose in order to meet the demands of this generation is what made Mega Global and our brands successful, achieving dominance in the sardines category and growing our challenger brands. With this sense of agility, we have stayed in touch and remained relevant to our evolving target market.
Q4: What is one marketing failure you will never forget and what lessons did you learn from that?
Mariel: As part of my portfolio when I was still a brand manager, I took over our value laundry brand, which was then in a very precarious state. The underdog narrative seemed exciting so I embraced the challenge, fully convinced that I could turn it around. I romanticized the situation so much that I kept pushing for a breakthrough, even if the brand kept performing poorly across key metrics. Eventually, I crafted an exit strategy, which ironically was successful in driving incrementality to the portfolio. It was something that I should have done much earlier if I truly listened to what my gut and the data were telling me. It was a lesson on knowing the difference between determination and stubbornness and not letting the latter cloud the strategy – a great lesson to learn early in my career.
Kim: We created an 11 peso deal for the 11/11 campaign. The website crashed immediately. The lesson I learned here is to put your customer first in every marketing objective that you will create. In the end, we were able to fix the situation by giving freebies as our call to action PR strategy to the customers who were inconvened in the incident.
Marvin: Launching products to the market prematurely without properly preparing for it gave me a lesson that I would not forget. It is like going into a battlefield unarmed. This gave me a better perspective of how things should be done to be able to be successful in the market. One should do proper research, cover all bases, arm yourself with data and prepare the necessary ammunition for you to fight competition.
*****
Josiah Go is Chairman and Chief Innovation Strategist of Mansmith and Fielders Inc. The search for the 17th Mansmith Young Market Masters Awards (YMMA) is ongoing. Forms are available at www.youngmarketmasters.com