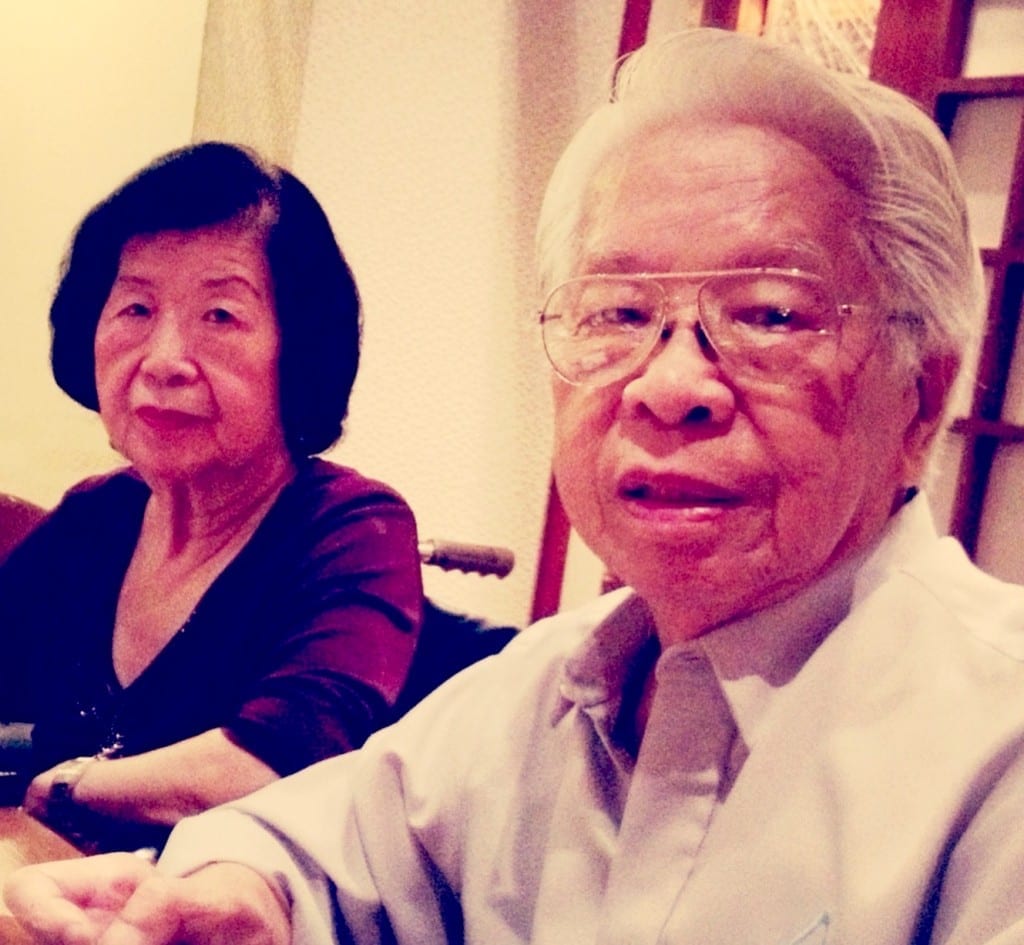 (An anniversary tribute to my late dad, Dr. Charles Gosingtian)
Rich girl, poor boy is often the theme of many movies, and it is the story of my mom and dad.
Dad was a market vendor at age 11. His maternal uncle helped him with his study money. He struggled but he succeeded in being a student leader. He often walked to and from school to have a bit of savings, but sometimes there was no money at all.
Years ago, I asked mom why she fell in love with a poor boy and she said that it was his leadership skills and being articulate that attracted her.
Later on, Dad started earning extra income as a tutor. He also sold life insurance and became a partner in a small business. This led him to invest in other businesses as well as in the stock market.
Life improved bit by bit.  I remember the pride of my father when he invited us, his elementary and high school aged children, to ride in his first brand new car.
Eventually, he was able to buy his first house and lot in 1979 when he was already 50 years old.  I was in second year college and I still remember my mom and how proud she was that she was touring her relatives in our own house. It's likely her way of telling people that she was not wrong in choosing to marry the poor boy.
Dad, however, was far from perfect. My wife told me that my temper and impatience must have been inherited from my dad. When he finally started to mellow down, I followed suit.
My dad passed away two years ago today, Feb 8, 2013. There are three indispensable lessons that I learned from him that I am very much grateful for.
1. Religion and having a personal relationship with God is worth fighting for
When my late grandfather died in 1981, he was able to convert my grandfather into Christianity in his death bed. Instead of having a traditional Chinese Buddhist ceremony, he insisted on having a simple but solemn Christian ritual despite being pressured by some of his relatives to follow tradition.
Every time I was sick, he would go beside me and pray for me. Just the feeling of being loved always made me feel better right away.
2. Education is paramount
In 1978, I passed the entrance exams of both La Salle and another less prestigious school and was set to enroll in the latter when my dad talked me out of it and assured me that he could manage to pay the higher tuition of La Salle.
I felt very grateful to my dad because we were only in the middle class and that in spite of that, he was able to give his five children quality education.
It was at this time that I decided to do well in school. From a C student in high school, I graduated at De La Salle with a Gold Medal in Community Leadership, one of only five graduates who were given special recognition during the commencement exercise of 1982. I also became the president of Englicom, the Filipino-Chinese organization, which became the largest student organization in campus at that time, and won its first Most Outstanding Extra Curricular Organization at La Salle Taft. He was so proud during my graduation day.
My life could have drastically been different if I went to another school. In fact, I met my wife Chiqui while studying at La Salle. Perhaps, he remembered his high school days when he was discriminated and denied acceptance in a school he wanted to transfer to because of lack of funds.
3. Love more than anything else.
Inter-racial marriage wasn't acceptable then. The Chinese like to marry other Chinese, like the preference of Japanese, Koreans, and Indians to their own respective races. Issues such as cultural incompatibility would often arise.
I fell in love with Chiqui, a Filipina, in 1982. Despite her being highly educated and her dad being a justice from the anti-graft court Sandiganbayan, it still shocked many of my relatives then that I got official blessing from my dad to marry a non-Chinese in 1984 in just one meeting.
I remember having a heart-to-heart talk with dad. Instead of him taking a hard line stance, it was I who took that stance. At the end of our cordial dialogue, I was surprised that he not only gave his blessing and that he left my future in God's hands, but that he told everybody in our house to support me all the way and not to make excuses anymore as I was not doing anything wrong.
Today I take the same stance as my dad. I do not interfere with the love life of any of my children and often tell them that they have a free hand deciding how their wedding will be like.
I was entrusted by dad in his sick bed to take care of mom. By then, she was already on a wheel chair. When I am not abroad, I make it a point to have breakfast with my mom at home every day and to bring her to church on Sundays (my elder brother Joshua takes over when I am abroad). Then we would enjoy each other's company as I treat her to some of the nicest restaurants around, continuing a ritual of mom with dad when he was still alive – a responsibility I take very seriously.
Years ago, I gave a poem as a birthday gift to dad. He just launched his first book then. I am posting the poem again as my permanent record online. I miss you dad!
12 Lessons From My Father
By Josiah Go (Dec 13, 1997)
You taught math and physics
And we learned to use logic in our directions in life
You married your girl amidst obstacles
to encourage us to listen and follow our hearts too
You went to sales and business
And redirected our attention against poverty and pain
You required us to work at 15
We now know there is no substitute for hard work
You made collection of accounts our first job To make us learn the importance of cash and continuity
You turned around your own company
And showed us there is always opportunity in adversity
You gave up smoking
So we can experience leadership by example
You shared stories about the past
For us to value a deeper sense of history
You moved us to our home
To pass on a traditional of security and shelter
You also occupied positions of prestige
For us to be industry catalysts too
You allowed us to commit mistakes
To remind us we are but human after all
You have written your first book
To leave us a legacy we'll be remembered by generations to come