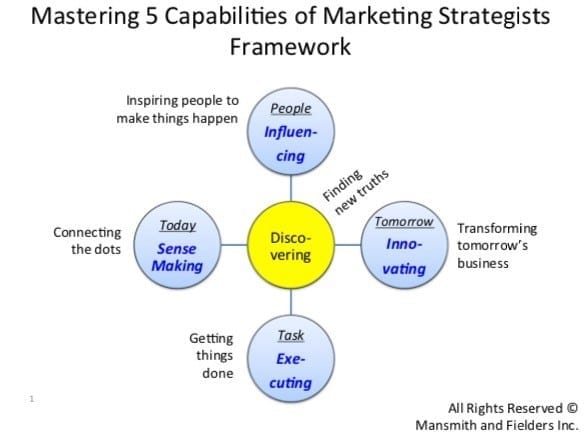 While finishing the book 'The Rainmakers: Marketing and Strategy Lessons From 25 Top CEOs' (a certified bestseller: No. 1 Marketing Book for July 2017), I was able to spend time reflecting on what skills would be needed by these business leaders and their Chief Marketing Officers (CMO) in order to be effective game changers. These 25 CEOs were innovative, in fact, many were market drivers, changing the rules of their industry.
I concluded that for business leaders and marketers to be catalysts for change, they need to have the following capabilities:
See things differently
Think differently
Create offer differently
Connect differently
Do things differently
Thus, I have launched the inaugural batch of my 2-day seminar on 'Mastering 5 Capabilities of Marketing Strategists' last June 6-7, 2017. Thanks to support of our clients, the class was full house. Mansmith and Fielders Inc. has scheduled a 2nd class on September 7-8, 2017 in Edsa Shangri-La Hotel, Ortigas, but it will be the last batch for the year on the topic. We hope to see you and your team before you finalize your marketing plan for 2018.
'Mastering 5 Capabilities of Marketing Strategists' is a pioneering course that shares the critical marketing competencies needed to become an excellent marketing and business leader, beyond understanding the usual marketing concepts, in order to see things differently, think differently, create offer differently, connect differently & do things differently.
Target participants are marketing leaders like marketing managers, group product managers, brand managers, trade marketing managers, sales managers, as well as business leaders and entrepreneurs who want to have a marketing-oriented organization.
Here are some testimonials from the first batch:
"Great lessons and exercises to practice daily or weekly to hone your own marketing capabilities." – Darlyn Ty, President, Viviamo! Inc.
"Very interesting. It's like eating a fully-loaded burger stuffed w/ all the delicious ingredients. Great!" – Ricafort Henry Rallud, Technical Manager, Tai-Chi New Tech Inc.
"Refreshing seminar, focusing more on skill building than concepts and application" – Darwyn Somera, Product Associate, Unilab Pediatrica
Click here for more information or enrollment.