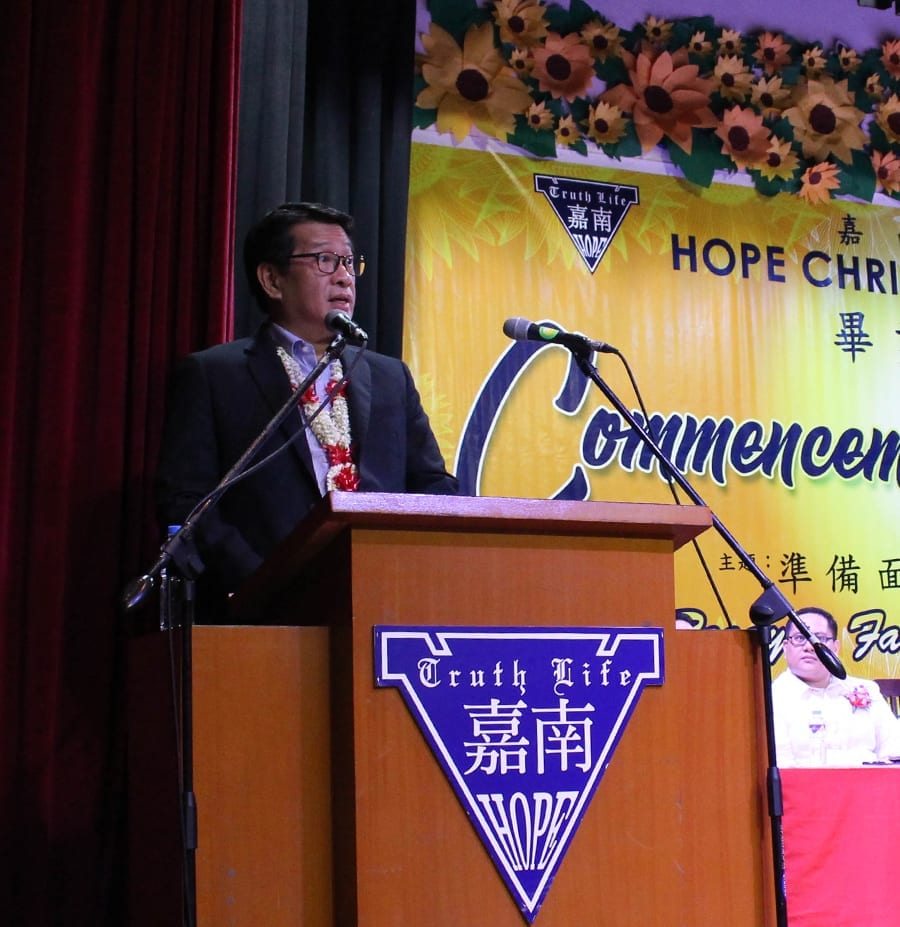 I just finished my first graduation speech aimed at Senior High School students at the Hope Christian High School. It was a pleasure and an honor to have the opportunity to inspire a new generation of students. I shared my story of being a C student back in high school before becoming an achiever during my college days. Who would have thought indeed that I would be where I am now? I am posting my speech below to provide motivation to others who feel that their dreams are out of reach. Feel free to share this with others that you feel may need it.
Speech of Josiah Go
Hope Christian High School Graduation
April 27, 2018
Good morning to the officers of the school, the alumni association, our beloved teachers (thank you for your service), the parents and guardians, and of course, the graduates.
I have been the graduation speaker of De La Salle, FEU and Lyceum of the Philippines, but this is my first time addressing graduating senior high school students, and I am grateful for the honor.
I am going to share 5 quick lessons in 15 minutes that I would like you to be more mindful of in your life's journey.
Lesson 1: Positive Traits and Values
I am going to start by asking you a few simple questions about your classmates and I want you to be conscious of the names that will come to your mind. Ready?
Q1: If you were going to choose a future spouse, whom among your schoolmates would you choose?
Q2: If you were going to choose a future business or project partner, whom among your schoolmates would you choose?
Q3: If you were going to ask someone for help in the future, whom among your schoolmates would you choose?
I bet your answers have something to do with people having positive traits and positive values.
Am I right?
Why did I ask these questions? Because I never thought about these questions in my younger years, but I was blessed to have a fantastic spouse, good partners and good friends. It was by God's grace that my life has been blessed. And I praise God for giving me his grace.
As I reflected on these questions, I asked my younger self if my name would even come out on anyone's list, in any of the questions I asked.
Within the next 10 -12 years, choosing your spouse will be the single most important decision you will have to make in your life. There is no course in school called Choosing Your Husband or Wife; and yet, it is one of the most crucial decisions you will have to make. Pause and ask what traits and values should you be looking for? What criteria should you consider? Good looks will eventually disappear and be replaced with wrinkles, as you get old so focus on positive traits and values.
If you want to know how your future spouse will treat you, check how he or she treats his/her parents. By observing filial piety, you can be sure the trait comes with at least 4 or 5 other good traits, such as kindness, caring, respect and loyalty. If a person cannot treat his or her parents or elders well, how then can you expect the person to be a caring, kind, loyal, and respectful person?
A more important question is to reflect on if you actually have the traits you are looking for. Can you be the person people would be looking for? – – a good spouse, a good partner, a good friend or simply a good human being?
Lesson 2: Recognize Zero-Based Equalizer Opportunities
To those graduating with honors, my congratulations to you.
To those graduating without honors, there is hope.
I was an ordinary student in high school, in fact, a C student without any extra curricular activity, and was occasionally summoned to visit the discipline office. I was totally different from the accomplishments I have done in the last three decades – – Who would have thought that the C student will eventually be chosen as one of the Ten Outstanding Young Men (TOYM) of the Philippines and Ten Outstanding Young Persons of the World, chosen among 1,000 TOYMs from over 100 countries? Who would have thought the student with bad English grammar will be the record-breaking bestselling marketing author? And who would have thought that the same student called to the discipline office would be chosen as the school's Most Outstanding Alumni two and half decades after?
Dear graduates and dear parents, grades are one part of student life, but it is not everything. Do not put all aspirations based on grades. Showing kindness, being an inspiration to someone to pursue their dreams, continuous improvement of character; these are all more important than grades when it comes to the real world. Many of the A graduates, in fact, work for C students. Just look at the president of the Philippines who spent 6 years in high school when it used to be just 4 years, and many of the former A students work for him now. There are many other factors in order to succeed.
Recognize zero-based equalizer opportunities. Your grades in high school will not carry over to college, so you can have a fresh start in a new learning environment. In my case, I became president of Englicom, the Filipino-Chinese student organization, and was awarded 1 of 5 most outstanding student leaders of La Salle in 1982. I also wanted to gain good grades and was finally awarded a second honor certificate on my last trimester.
If you were average in high school, you can be outstanding in college. Start with a vision for a new you and recognize and exploit zero-based equalizers. Have unshakable courage. Be a specialist rather than a generalist.
Lesson 3: Create an Ecosystem
My college life at La Salle was a turning point for me and I wish you could exploit your college life to the maximum.
But always do reality checks. I could not have become president of Englicom without big support from my generous friends and God's grace. Imagine, what are the odds that I would be elected as president of Englicom without any prior experience as officer of any student organization? And a first-timer winning the most outstanding student leadership in community development and leading the organization to become not only the biggest student organization, but winning most outstanding student organization as well? I was not the only variable in my success. I owe my big break to my college friends whose belief in me was more than my belief in myself then.
Be conscious of the friends you keep. If you walk with achievers, you can be an achiever. If you walk with losers, you may end up a loser. But to be able to walk with achievers, you must have integrity and the desire to be an achiever as well. I am grateful for my friends who despite my being a neophyte saw more of my strengths instead of my weaknesses, and gave me the benefit of the doubt.
Be active in student organizations, try to be an officer and lead a project as well. My confidence was tremendously boosted when I joined extra curricular activities. I learned how to mingle with people, how to adjust to others, how to lead, how not to lead, how to create a win-win relationship. Of course, the positions you occupied as well as the corresponding achievements you have done becomes more important when you will work for another company. In my case, I worked for RFM Corporation's brand marketing division for 3 years before becoming an entrepreneur.
Lesson 4: Embrace Adversities
Whatever you want to do, you need to prepare well and prepare promptly, so you can have enough stamina to deal with adversities when it comes. Opportunities have many disguises. Many times, it appears as an adversity. Adversities and failures should be expected in what you are doing and is a given in the course of your life journey. Bad experiences allow us to gain greater understanding of hardship and we become more prepared and resourceful for it when adversity comes again. In fact, we become resilient, or feel less pain with more mastery in life when we experience adversity the next time. During challenging times, we tap our network and find new true friends and allies. We seek new networks to help us cope, recognizing our own limitations, instead of escaping by being addicted to negative things.
Even trauma can trigger a new lens to see the world – – a death threat, a grave illness, witnessing the suffering of a loved one; all of these have the power to widen our perspectives, and motivate us to work harder for the better. We just need to turn them into learning opportunities as well as opportunities to thrive. The survivors of adversity, rags-to-riches stories of taipans Henry Sy, Manuel Villar, Lucio Tan, John Gokongwei and many more are teaching us that challenges are growth in disguise, and we must see failure as interim and mere rehearsal for bigger things in the future, not to have an either/or mindset but accepting both bad and good can happen at the same time.
Lesson 5: Distinguish between Tasks and Treasures
Many successful people have a name, money and power; but a name, money and power are not treasures, they are just the result of success. Real treasures in every journey in life are in 5 areas – an intimate relationship with God, a beloved family, a network you care for and who cares for you, good health and a meaningful self. Life journey will be devoid of meaning without these 5. What is the use of success without a beloved family, or being separated from God?
Dear Graduates
In summary,
1st: Have positive traits and values
2nd: Exploit Zero-based Equalizer
3rd: Create an ecosystem
4th: Embrace adversities
5th: Find true treasures
I hope these five lessons will help you in your journey as you move forward towards attaining your goals in life.
God speed.
(Photo by: Ronald Christopher Liwanag, IT Staff​, Hope Christian High School)