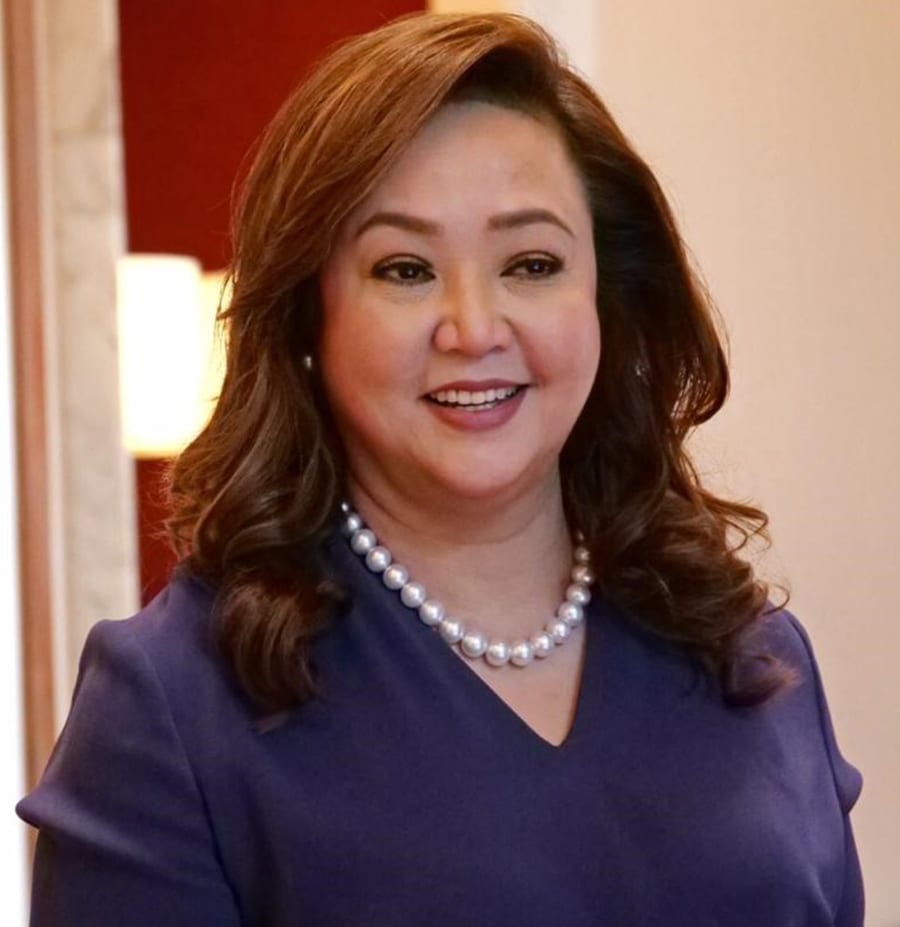 Sta. Elena Construction and Development Corporation is an AAA-rated and Large B general contractor specializing in foundation engineering, power plants, ports and harbors, and roads and bridges. CEO Alice Eduardo, who was recently honored in Forbes Asia 'Heroes of Philanthropy' 2018, shares with us her insights on service and strategy.
Q1. What has been your competitive advantage against the big foreign firms?
A: Filipino talent and ingenuity is superlative, given the right environment to let us shine and realize our full potential. Santa Elena can deliver the same world-class performance and price more competitively because of our cost structure. We are a lean and mean operation with my personal touch. Those, apart from our fleet of the latest, leading edge equipment fully-owned and not leased, are Santa Elena's clear edge. I'm fully invested in our team and our delivery. I, as President and CEO, give the engineering and over-all team my hands-on time on the ground. This is in not because I refuse to delegate, but because I want them to feel that we rise or fall together. I make sure the team is more than happy with their compensation, and assure them that their welfare, their family's welfare is my concern as well. I am a total believer in people being the heart and soul of the organization and if you create a work life for them where their minds are free to focus on the work then productivity is maximized and fulfilment is at a high.
Construction and development is as much about precision and heavy duty as it is about passion and heart. It matters to me that I make a personal connection with each project I choose to pursue. This mindset allows me to embrace every project with the same passion as the first. I avoid the mindset that my work is merely a list of contracts. Each must have unique vision, purpose and personal meaning. Every project I cherish as the team's part in nation building, and also as fulfillment in my own journey as a builder and leader. It has been said that excellence is not an event but a habit. That is how I view my craft.
Q2: Among all of your accomplished projects, what are you most proud of and why?
A: Let me answer that this way… For a developing country on a growth trajectory such as the Philippines, a continuous, reliable supply of energy is a must. Clean energy is the ideal, and in amounts that meet growth requirements and ensure a better quality of life for Filipinos.
Santa Elena has been entrusted with the construction of at least three natural gas-fired power plants of the Lopez Group's First Gas for a combined total project cost of over USD1.5B. These are efficient combined cycle power plants, namely the 1000MW Sta Rita, the 500MW San Lorenzo and the 450MW San Gabriel, all in Batangas. For all these projects, Santa Elena had worked closely with leading worldwide engineering firms: German Siemens, British Balfour Beatty and Dutch Ballast Nedam.
Latest estimates for the Philippines' additional energy requirements through 2030 is over 17,000MW. All the infrastructure and commercial flagship projects we have helped build are in the spirit of nation-building. The power plants
were built in the unique context of helping address a potential crisis.
In terms of rated capacity, the 1000MW Sta Rita is the largest, but in terms of scope, it has to be the state of the art 450MW San Gabriel Flex plant in which Santa Elena performed the design and building of the world's second largest installation of GRP pipes spanning 1.1 kilometers under the sea and 1.4 kilometers buried on the ground, as well as the second largest offshore pipe for power plant cooling water system in the world. I am proud to say that Santa Elena achieved these in record fashion, including attaining six million safe man hours peaking at 6000 workers.
Q3: You have a personalized approach in servicing key clients in your industry. Can you share your service design and how your people are able to follow your corporate practice?
A: An MIT designer said "A design isn't finished until somebody is using it." As a B2B business, Santa Elena's initial effort at "user experience (UX) is at the negotiating table as the case may be if it's not a bidding process. We begin with thorough understanding of the project across all dimensions and in collaboration with internal and external stakeholders. We match our resources and competencies with the client's requirements. We then try to keep an open mind to client inputs. The performance of the job scope adheres to best practices, and any unforeseen adverse events are addressed in a timely manner with client welfare as guide. All these and the value of accountability are constantly emphasized in the workplace and demonstrated as a way of corporate life by myself and the team leaders.
Q4: How is the Philippine construction industry changing and how has Santa Elena evolved to exploit these changes?
A: I view the local construction industry as having evolved in at least three ways: a rebirth of the pioneering landmarks of many decades ago, to entering a new level of infrastructure in recent history, to being guided by the pursuit of conserving the environment.
I picture the design and engineering of the CCP Complex of the 70s and now the Entertainment City of today. I reminisce about the country's beginnings in tollways in the north and south and compare that with the NLEX, SLEX and the elevated structures of today. I imagine once regarding SM North EDSA as the biggest mall and now we have the Mall of Asia Complex. I think of the Araneta Coliseum back then and now there are SM Arena and Philippine Arena.
I feel blessed not only in having witnessed these developments in my lifetime, but along with my cherished team, to be an active participant and contributor to this evolution so far. In my own personal way, it's a thrill to note that one of the architects of the CCP Complex has designed my own residence.
By way of some examples, Santa Elena is grateful to have served those three trends through its expressway projects including NLEX and SCTEX, landmark bridge projects including Sarrat and Pantal, its contribution to all the integrated resorts in Entertainment City, and the legacy of having built three combined cycle clean energy power plants with a total combined installed capacity of about 2000MW. We are equally proud to have built the foundation/substructure for SM MOA.
Q5. What are the key challenges of the construction industry in the Philippines?
A: With the growth in construction-related jobs by over 600,000 last year fueled by 14% expansion in the infrastructure segment, the industry is expected to employ nearly 6 million workers by 2020. The industry must have a steady flow of well-trained technical graduates who will be encouraged to stay and work in the country instead of go abroad. Tied to that is work-force management and talent optimization. The availability of funding/capitalization and liquidity as well as postponement and delays can be further obstacles. On the other hand, challenges that serve as drivers to level up the game is digital transformation and more complicated operating models in a globalized business setting.
Q6: As a woman in an industry known to be dominated by men and by those with technical degrees, how are you able to decide on more technical decisions?
A: It all begins with a curious mind. I have always been fascinated by engineering and have found great pleasure in learning from some of the best. Although obedience to my mother led me to forego a degree in engineering (she is very traditional), I have done plenty of practical self-study. The best classroom is the jobsite. My best professors have been the engineers with whom I happily engage. But I'll tell you I have longtime team members with no degrees who have such creative minds that bring about the simplest, most practical and straightforward approaches to design and problem-solving. As they say you only learn when you listen, not when you speak. And I suppose it's no longer new to say that big dreams, passion and competence have nothing to do with gender.
Q7: What are your unique marketing approaches, given that Santa Elena is a B2B operation?
A: This takes me back to the days when I embarked on this journey over two decades ago. I was relentless in pursuing all possible sources of leads for property development and infrastructure. That included simply combing through the newspapers or industry and general business material and talking to anyone who had relevant information. From there, To your question of unique marketing: I simply made appointments with the executives of the companies that I knew were planning to engage in construction. I went through the process and visited their offices. I did not take no for an answer. If a certain executive or engineer was not available this day then I would sincerely request for the next availability and the next availability. It was this ethic, this earnest desire that paid off. Passion and personal approach was and is the best marketing for me.
Q8: As a non-retail business, how do you boost recognizability and develop your "brand"?
A: Santa Elena's mantra is: Integrity Beyond Structure. We make a conscious effort to be guided by that, and if you make that discipline a habit, it will be your best brand management. For a literal attempt at recognizability, we make it a point to proudly display our company name in our project sites and on our equipment. Santa Elena also supports sports teams including National University's.