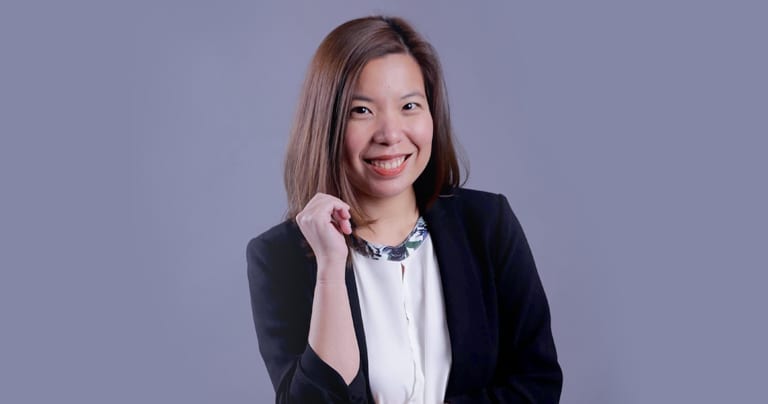 Jan Jizelle Ang is the Haircare Category Leader of Procter & Gamble (P&G) Philippines. She was formerly the Country Marketing Manager of P&G China and a 3-time P&G Key Manager Awardee, a recognition given to the top 10% of P&G brand managers globally. A Mansmith Young Market Masters Awards (YMMA) winner of 2017, Jan Jizelle turned around numerous P&G brands across regions and categories via sustainable brand model solutions.  
Q1: What is sustainable brand model solutions?
A1: From the word 'sustainable', these are interventions that a brand can keep, maintain and defend for a long time period; to achieve its purpose and role for the company/ customer/ consumer. These are interventions that can either be simple or complex – but ultimately addresses a fundamental problem that the brand is perennially trying to solve – usually on establishing a winning market proposition.  
Q2: The market is dynamic. What makes the model sustainable?
A2: Market dynamism is a constant, but oftentimes it is also distracted by 2 phenomena: trends and hypes. A good brand manager needs to identify which is which, and strategize what the brand's position will be when the phenomena arises. That said, 10 years in the industry has taught me that it will always be a balancing act of these 3 pillars:
1.     Mandatory to protect your core business – ensure that this is truly a strong foundation, since this is the bank where you get your cash flow from (whether it be for your Opex, Marketing expenses and eventually top up innovation investments)
2.     Attach to trends that can be big for your brand – Balance innovation vs what your brand purpose/ equity is. A trend may be determined big, but if it does not help your brand positioning long term, you shouldn't get into it.  
3.     Activate hypes only when your business is healthy – hypes are typically short lived and entails a lot of energy as these drive tactical executions more than anything, so invest only when you structure allows for this extra effort
Lastly, the combination of the three should lead to a positive financial – maybe not today, but eventually.   
Q3: What have you discovered as common reasons why brands get in trouble?
A3: There are 3 common pitfalls I observe:
Brands are not clear with their purpose.  This lack of clarity makes brands vulnerable to tap into even the non-strategic/ non-brand building executions.  There is high chance to get attracted with what's sexy (ie. celebrities, what competition is doing), which oftentimes just end up to be a waste of money.   
The second biggest mistake is that brands give up too early. Most of sustainable brand solutions take time, but arguably, it is also the best dipstick as to whether the intervention will also last long/ not a band-aid.
The third biggest mistake is to sacrifice profitability. If the business is not profitable (or doesn't have a line of sight to be profitable via topline growth), suggestion is to relook at the operational structure first and make that work.    
Q4: You have used sustainable brand model in turning around brands across regions and categories. Where do you start? What is the "secret sauce"?
A4: The secret sauce I think is generating that discipline to finding the right problem and the right solution. 
Step 1: Be the brand expert. There should be no other person who knows your brand better than you, which also means that you need to know which will drive your business the most to the least. This business knowledge will eventually allow you to be choiceful on resources and efforts. 
Step 2: Be rigorous in finding that fundamental problem. Never stop until you find the why to the "why" to the "why". I've always told myself, if the solution was that easy, it shouldn't be the answer (because someone else before me should've figured it out). Use your brand knowledge to guide you and merge that with your gut. 
Step 3: Know your brand health by heart. Health defined by both profitability (ability to invest) and equity position in market. Reality is that we cannot do everything – not because we have limitations – but because it's a brand manager's job to not make the brand about everything. 
As a last check – you should also know the sufficiency of plans. Never go with a short-changed plan, because that is as good as launching with a failed plan.   
Q5: You have been in the top 10% of P&G brand managers globally. Can you share your top 3 proudest achievements and lessons that our readers can learn from?
A5: 1. Listen to your consumers with a mindful heart; deliver what is right for them. 
My biggest turnaround project to date has been Pampers diapers – which was declining for a decade. It's now growing double digit for the past 4 years post our interventions. Back then, the easy solution (via consumer verbatim) was to price down and match low tier players. Instead, we got our hands dirty and understood what the consumer + data + gut was telling us, without sacrificing what the brand stood for (superior dryness). This led us to a different portfolio choice which heroed a more expensive product, but was definitely superior vs rest of market (which we knew with our heart was what the Filipino babies deserved). Remaining true to the brand DNA eventually repaid us with stronger brand equity position and topline growth.   
2.     Decisions: Be calculated, with a touch of irrationality.
Brand is a balance of art & science, so you have to be able to live with risks. Last year, we launched a new campaign for Pantene #StrongerNow. To own this campaign, we decided to take a bold move and be the first Haircare brand in the Philippines to celebrate LGBTQ as our representatives of strength. While it did garner controversy amongst certain groups, it was our vision to send out a message of equality which won. The material gained international reach and became a Twitter sensation with US Celebs like Ellen Pompeo and Bretman Rock tweeting about it.   
3.     Develop Ideas and Systems – It takes 2 to tango.
How many good ideas have you seen wasted, because it can't be executed right? While no idea is too magnanimous, a system (or lack of) to run it will either be a barrier or an accelerator. Laundry liquids is an example here. A lot don't know that liquids was launched in early 2000's but failed massively because the system was not ready. It was probably the best innovation in laundry available but
1) anchor brand wasn't as strong yet
2) washing machine penetration was still low and hence
3) the trial system wasn't ready. But when the tides changed 2 years ago with washing machine penetration growing rapidly alongside condo ownership, it changed the landscape for the product.