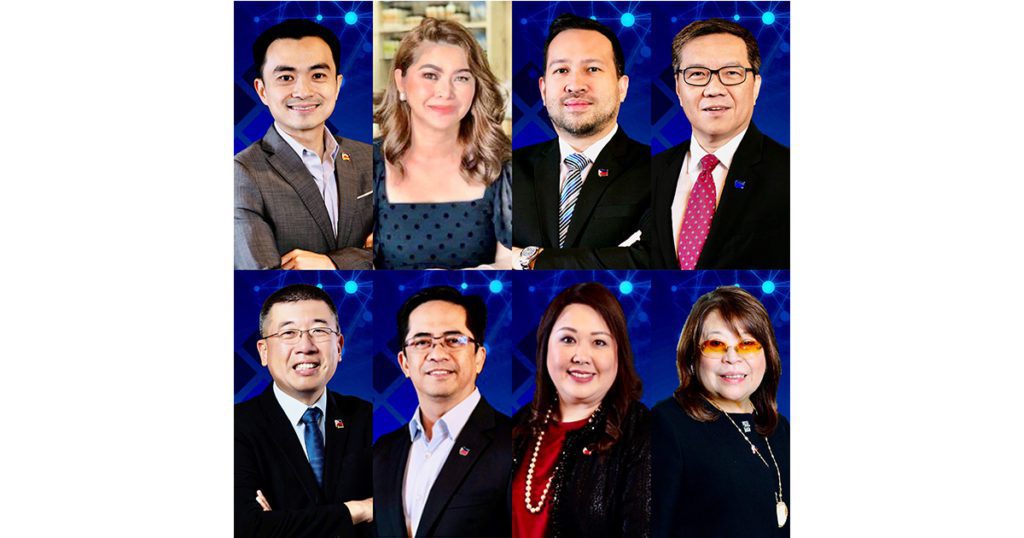 The Philippine Franchise Association (PFA) is the premier franchising association in the Philippines. In this interview, some of the PFA officers share their thoughts about franchising issues post pandemic. They are:
Chris Lim, CEO of La Z Boy, Sherill Quintana, CEO of Oryspa, Richard Sanz, CEO of Bibingkinitan, Joseph Tanbuntiong, President for Philippines of Jollibee, Glenn Yu, Chairman of Seaoil, Joey Garcia, CEO of Wendy's, Alice Liu, CRO of Penshoppe, and Bing Limjoco, CEO of Francorp.

Q1: What kind of franchises appear to be pandemic proof? What did they have or do that made them so?
Chris Lim: Pharmacies and groceries did very well during the pandemic as they served the more basic needs for health, food and safety. Though this industry did indeed experience growth, what really made some of the key players pandemic proof was not just because they were in the right industry, but it was how quick they pivoted their business. The businesses that were able to adapt quickly by keeping their stores open despite lockdowns, those that were able to deliver and service their customers more quickly and conveniently through new channels and those who were able to adapt to their SKUs and services to the consumer needs were the truly pandemic proof businesses. At the end, the pandemic proof businesses were not just defined by what industry they were in but were the ones who understood the changing customer needs first, and quickly adapted their business model and their resource to address this new consumer need.
Q2: What are your realizations about the limitations of franchising during the pandemic and how do you propose to address this?
Sherill Quintana: The pandemic has its silver linings for the franchising sector, prompting pivots and adjustments to address some of the limitations brought about by the health crisis. Most of the franchises who were heavily dependent on their brick and mortar operations, specifically mall based concepts were badly hit. Those who had omni channel presence were able to effectively cope. PFA held several programs during the pandemic to address best practices sharing, digitalization campaigns and negotiations with landlords and government to avoid closures.
Moreover, franchises who were hampered with their mobility in particular areas of business operations were assisted in B2B and outbound missions overseas allowing ready concepts to find possible partners in areas of lesser restrictions. We believe that crisis is a precursor for innovations, paving the organization to survive, if not to thrive together.

Q3: What new franchising concepts have emerged during or after the pandemic?

Richard Sanz: 2020 and 2021 were one of the worst years for franchising in the Philippines. Being a mall-loving country, the government-mandated lockdowns resulting in the closure of malls during the pandemic were a challenge for the franchising companies and brands, which are mostly located inside the malls. However, despite that, some franchising entrepreneurs were able to thrive and even grow during the pandemic. Here are some interesting pivots and startups that I observed during and after the pandemic:

1. Cloud Kitchens – When I was going back and forth to Shanghai in 2018 and 2019, cloud kitchens were thriving. With hundreds of them all over the city, one could scroll endlessly on their delivery apps because of these cloud kitchens. The lockdowns in 2020 opened the gates for cloud kitchens in the Philippines to open, not only in Metropolitan Manila but also across cities around the country. It forced entrepreneurs to either pivot their brands or create something that would have been feasible before. Examples are Kraver's Canteen, and Mad Eats, to name a few of the major cloud kitchen players in the country today.

Interestingly, even after the pandemic, the consumer behavior of food deliveries did not end and still continues to thrive.

2. Outdoor cafes and restaurants/Pick -Up Hubs – When it was proven that the coronavirus was airborne, consumers suddenly had a strong preference to dine and hang out in establishments with sprawling, well-ventilated outdoor spaces. Management of restaurants, bars, and coffee shops suddenly set up al-fresco areas to be able to entice diners to eat out again. Examples are Pancake House, But First Coffee, Kurimi Milk Tea, Gang Gang Chicken Wings.

3. Mobile Wellness Services – Since service-oriented establishments were the most affected during the lockdowns, spas, salons, and even optical shops took their services on wheels to reach even the remotest clients at the comfort of their home. Some examples are Sunnies Optical, Beauty Concierge PH, Blink studios PH, etc.

Q4: How did the pandemic affect the essence of a franchising contract?

Joseph Tanbuntiong: The purpose and principles embodied in the franchise agreement has aided the franchisor and franchisee in navigating the challenging business landscape during the pandemic. In the case of JFC, our relationship with our franchisees has always been built on open communication, shared values, and mutual support and trust which help foster cooperation and shared responsibility between and among us. The nature of our relationship with our franchisees enabled each party to comply with their respective commitments in the franchise agreement and allowed us to identify the appropriate support that we can extend to our franchisees and vice versa. While the pandemicgreatly impacted businesses, it also presented an opportunity to strengthen our relationship with our franchisees and allowed us to successfully pivot towards achieving our shared interests and goals.

Q5: How has the pandemic influenced the qualities franchisors should look for in franchisees and vice versa?

Glenn Yu: At SEAOIL, we pride ourselves on our ability to find opportunities amid difficult situations, and the pandemic allowed franchise applicants with this same quality to come through. They remained deliberate and committed to succeed in the fuel and lubes retail business with us.
Likewise, it became easier for prospecting franchisees to recognize competent and adaptive franchisors who continue to thrive and navigate the difficult path of doing business amidst the ongoing pandemic. Also, for SEAOIL, our franchise applicants value our readiness and capacity to provide support for our partners and employees during these challenging times, as well as our innovations that enable us to continue caring for our customers, such as the PriceLOCQ mobile app that is now protecting over 200,000 Filipino motorists from volatile fuel prices.
Q6: The pandemic brought out many changes in the consumer buying behavior. Which change surprised you most and what does this mean to the franchising business?

Joey Garcia: During the pandemic, Wendy's off premise – take out, delivery and drive thru – grew significantly. But this was not much of a surprise to us. We saw this coming even prior to the pandemic. It was already part of our long term plan.

Q7: Which franchise, local or international, are you most impressed with in 2020-2021 and why?

Alice Liu: Food concepts like Jollibee, Max's and Potato Corner continue to break barriers for our country, bringing Filipino brands to the rest of the world. Being able to open more branches outside of the home country needs solid operational excellence and a good franchise management team to support it. The strong brand recognition in other parts of the globe is also part of the brand DNA of Filipino food, always tasty and well seasoned.

Q8: What franchise concepts abroad do you wish someone will do in the Philippines?
Bing Sibal-Limjoco: We need a franchise concept that must inspire the next generation of great minds. I would like to see concepts that will help bright minds of the future feed their curiosity and explore the exciting world of computer science and will help enter the world of limitless possibilities.
*****
Josiah Go is the Chairman and Chief Innovation Strategist of Mansmith and Fielders Inc. PFA will have its annual conference on Sept 20-22, 2022 at SMX MOA. Registration available through www.franchiseasiaph.com. 
See more articles on Franchising.