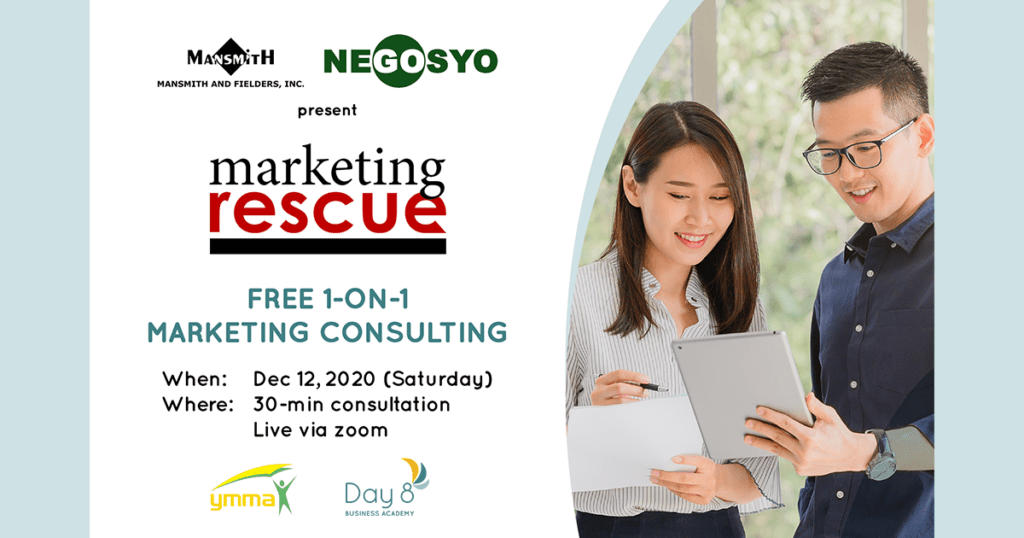 In 2007, Mansmith and Fielders Inc. started the Marketing Rescue advocacy as a tie up public service project with Entrepreneurs Magazine. The Marketing Rescue event was arranged with the magazine's then publisher, Neil Palabrica. It was organized as a free live event, with me answering questions sent in by their readers ahead of time.
It went on like that for a few years, before BusinessWorld came on in 2009 and conducted quarterly sessions of our live Marketing Rescue sessions. In between, we also held the Marketing Rescue in collaboration with different organizations, such as Kaisa sa Kaunlaran, Association of Negros Producers in Bacolod, The Mormon Church in Legaspi City, Philippine Marketing Association, Anvil Business Club, and the Davao Chamber of Commerce, among others.
Sometimes my teammates in Mansmith would take over some sessions. Mansmith YMMA winners Dondi Gomez and Candice Alabanza also helped during a session held in 2009.
When Mansmith set up Day 8 Business Academy (now a Foundation) in 2010, we would host several free Marketing Rescue sessions as well as a separate Entrep Rescue for entrepreneurship-related topics yearly as well.
This year, on Dec 12, 2020, our biggest Marketing Rescue event yet will be conducted to help answer the questions of over 100 SMEs. Go Negosyo, led by Joey Concepcion and adviser Merly Cruz, have agreed to a formal collaboration where this kind of mentoring can be done at least twice a year to SME graduates of their KMME programs.
Mentors for the event are 38 marketing rockstars, composed of 30 Mansmith Young Market Masters Awards (YMMA) winners and 8 Mansmith Senior Consultants. 
There are four topics for SMEs to choose from: new products, digital strategy, growth strategy, and turnaround strategy. If you are an existing owner of an SME business, and interested in signing up for a one-on-one Q&A with any of our YMMA winners or senior Mansmith consultants on any of the topics listed using a Zoom breakout room, kindly fill up the form below bit.ly/KAYANATIN in order to get an email briefing. In case the slots are full, please leave a question and the context of your question so we can invite you to a Marketing Rescue follow up seminar where one or more of Mansmith senior consultants will be answering your questions.
See you there!
********
Please also visit www.day8.org to avail of their 10th anniversary subscription price of 19 different business seminars for only P1,688 with one-year access.