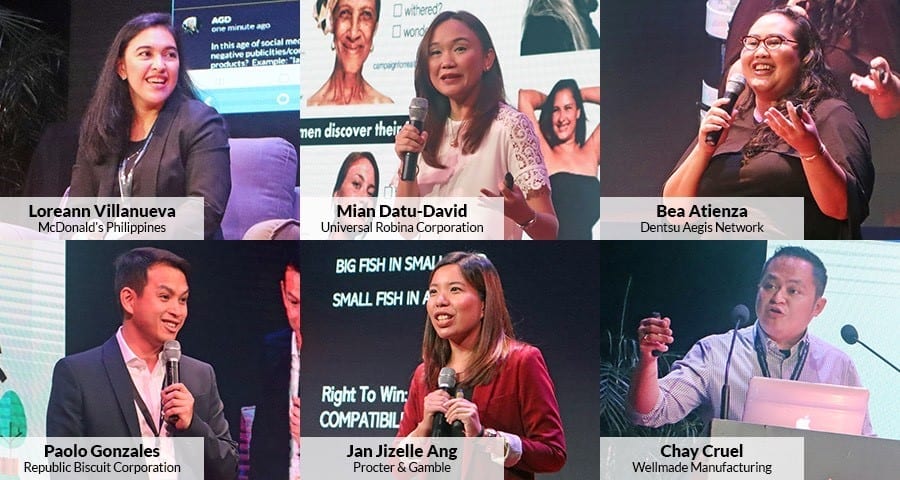 Six awardees of Mansmith Young Market Masters Awards (YMMA) recently assembled for the 1st Mansmith Brand Summit. I chaired the conference and opened it with a fearless forecast – that marketers will hear more and more of the word TRUST, while the marketing rockstars shared real-life cases about the importance of branding.
TRUST is the latest currency in the ways of doing business today. And brand is all about trust. Trust is made stronger with relationship. Relationship cannot survive without credibility. Credibility creates economic edge as it increases speed of consumers' choice. Credibility is beyond image. It is about delivering what you promised. A credible brand becomes a simplifier of choice. A brand, therefore, is all about consumers – listening, understanding, engaging, satisfying and building trust with consumers and their social circles, and the larger community your brand serves.
These are the key points that I have learned from the six Mansmith YMMA, who are also regarded as the country's marketing rockstars.
Loreann Villanueva is the Director of Strategy and Insights of McDonald's Philippines. She started the sessions by "Linking Strategy and Brand DNA"
Leverage on insights to carve a very unique space in the minds and hearts of your target consumers.

Identify your key strengths and invest on sustaining what your brand claims to deliver. Create a list of insights and consider reality, relevance, resonance, and results when choosing.
Make sure your strategy allows your brand to be distinctive, not just differentiated.
Don't forget the power of your brand to make a difference in the life of your consumer and that your own personal DNA, at the end of the day, is to serve a purpose.
Mian David-Datu is the Vice President of URC and shared her experience on "Developing Your Brand Purpose". Living your brand purpose should be leader-led, culture-infused, and measured. This is neither corporate social responsibility nor tactical marketing.
Brand purpose matters to the people it serves, be close to them.

Per Kantar, 61% of Gen Z and Millennials prefer brands with point of view. The brand purpose can be an effective platform to these 'woke' generation and play a unique competitive advantage more than features that can be matched.
Brands with purpose grew 69% faster than those without.
Examples of brand purpose: Starbucks' "inspires and nurtures the human spirit"; Dove's "help women discover their real beauty"; and Cebu Pacific Air's "to make every Juan fly".
Bea Atienza is the Chief Digital Strategy Officer of Dentsu Aegis Network and shared "How to Build a Strong Brand Digitally".
Think how people will pitch your brand to their friends.

How marketers think of their brand is not the same as how consumers think of the same brand.
The true test of a brand ecosystem is how it stands when no campaign is running so, cultivate it; manage its foundation.
Bravely review your value proposition. It has to be characterized by these four additional criteria for digital campaigns: conversational, memorable, desirable, and sharable.
Juan Paolo Gonzales is the AVP for Marketing Operations and Capabilities of Rebisco. He demonstrated "How to Convert Great Analytics into Great Strategy"
Analytics is not just numbers; it is making sense of things.

There are three types of analytics – Descriptive, Predictive, and Prescriptive.
Budget is not a constraint for having research. Annual reports, census data, in-store visits are some sources of free research. Or you can also do your own.
Always seek opportunity. (In 2004, Del Monte Fit 'n Right was originally planned as Del Monte Kinetics for energy but failed the concept test.)
Jan Jizelle Ang is the Category Leader of Procter and Gamble (P&G) and was previously the Country Marketing Manager of P&G China. She delivered a talk on "No Nonsense Training for Brand Marketers".
Fundamental brand training is about who, what, how, and why.

Connect with your consumers choicefully and emotionally – sell "relations, stories and magic", not just products and services.
Brand value is equity (emotive benefit) plus product performance divided by price. Manage these three variables.
Define the "size of prize" (market potential). Do you want to be a big fish in a small pond or a small fish in a big pond?
Joseph 'Chay' Cruel is the Managing Director of Wellmade Manufacturing. He shared about "Solving Big Problems, Asking the Right Questions"
In asking questions, know the big picture first, then breakdown into issues using different points of view while avoiding confirmation bias.

Always consider impact, cost and ease of execution (ICE) when making decisions.
Detergent is a P50 billion category in the Philippines with P10 billion advertising spending.
While with Smart, they discovered most consumers do not know their load is expiring, so a simple reminder brought in an extra P300 million sales monthly.
The next opportunity to listen to the newest award-winning marketing rockstars will be at the 14th Mansmith Young Market Masters Summit on October 29, 2019 in RCBC Theater, Makati.