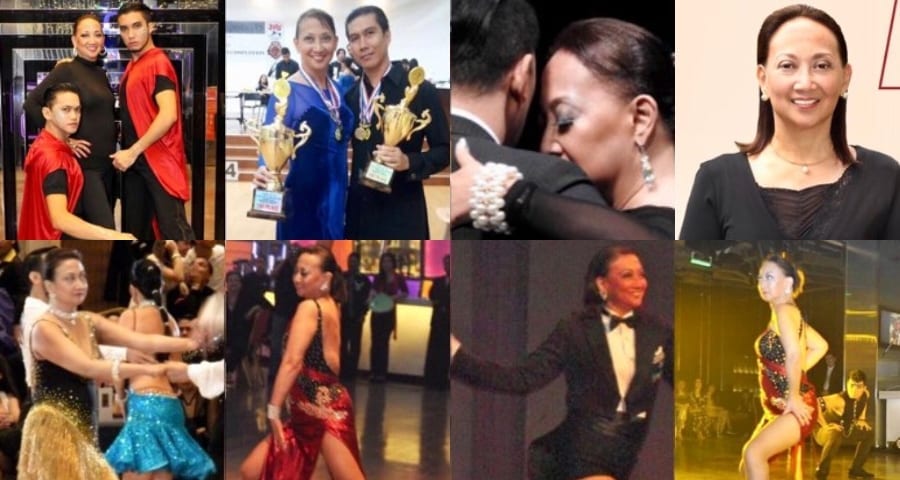 Malu Dy Buncio took early retirement from Avon in 2004 at the height of her award-winning, top management career to build another life outside of corporate. She was not even 50 when she decided to retire.


She enjoys doing ballroom dancing almost daily, except when she has to run seminars for Mansmith and Fielders, Inc. and Corporate Achievers Institute (Coach) or give motivational keynote talks to companies.
Her serious daily practice paid off as she has reached international level of competitive dancing and has won many awards, despite having to overcome breast cancer at one time.


I am a very competitive person but Malu taught me the best competition is against the self. Self should be the unit of analysis, not comparing with others. I can still vividly remember her words, like a magnet that sticks to the heart. She shares that she dances against herself all the time to attain her personal best record with each time being better than her previous best, until she turned out to be a world-class dancer.


Many rags-to-riches stories are people with Ph.D., whom I fondly refer to as 'poor, hungry and driven'. But there is another type of successful people who also posses the Ph.D. trait, this time with a different meaning – 'Passion, Hardwork and Determination'. Malu belongs to this second type.


She is passionate with whatever she puts her mind into. She works hard on learning and doing what needs to be done and has the determination to keep practicing, not just to perfect her craft but to avoid previously committed mistakes, as well, that kept her attaining her personal best. In the process, she built up a capability that many thought is not possible for her age (she is 7 years my senior). I have always maintained that capability is not just competencies, but the need to have commitment and coordination. In her case, coordination with her dance partner, their coaches and dance organizers. And I would say she possesses the capability.


Her results show proof – Amateur Salon champion of the Manila International Tango Festival in 2013; Champion of the 1st Philippine Open Dance Festival in 2017; Champion of Tango de Pista in the senior level of Korea International Dance Competition in 2018 and many, many more. She is proudest landing at the highest rank among Filipino dancers in her category (35 years old and above), and also the highest rank in her category in Southeast Asia in the Blackpool Dance Festival in England in 2015. She placed 28th out of close to 200 competing dancers from all over the world in Blackpool, which is considered as the 'Mecca' of ballroom dancing in the world.


Malu shows consistency. It is not only in dance that she kept doing her personal best. She has also developed a discipline to do home style cooking at the crack of dawn and sells delicious Hainanese chicken in Legazpi Sunday Market that finances her hobby. Like dance, she tracks the number of servings, which has gone from less than ten to over a hundred for a half day effort, an evidence of customer satisfaction and proof of another dimension of personal growth – doing what's needed, avoiding mistakes, and being better than your previous best.


It was the first time I watched Malu in action last night at the Lunar Fortune Party at House Manila in Holiday Inn Express, Resorts World. It is evident that she enjoys what she does, has the energy of one half her age and the enthusiasm of a beginner. Looking at the discipline of how she prepares before a dance competition taught me valuable lessons about how to do execution in business and the importance of personal growth and winning against one's self.


Whether it is Malu the dancer, Malu the marketer, Malu the entrepreneur, or Malu the consultant, she is an inspiration to many, an epitome of what personal growth should be all about.
Malu is one of the reasons why I want to learn dancing. She makes me think that I can do it. Who knows, I may just surprise my wife Chiqui one day!