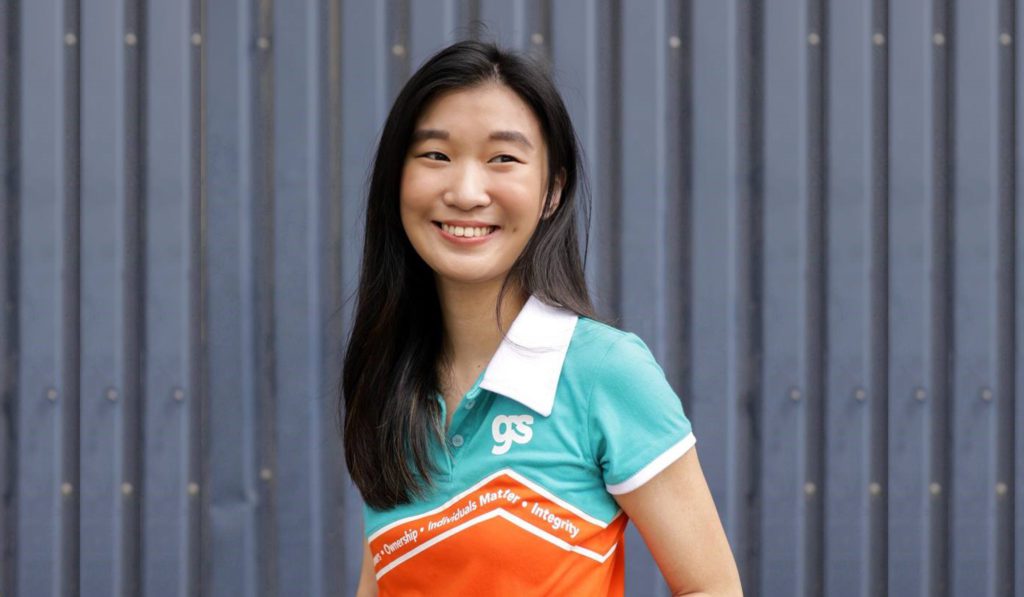 Camille Steffi Ang is the Group Manager of Marketing and Demand of GrowSari, a tech-enabled platform helping sari sari stores in the Philippines get capital loans and obtain physical and digital products for resale. She is a winner of the Mansmith Young Market Masters Awards (YMMA) for 2021 for Marketing Management. In this interview, she shares her perspective on linking her customers to growth.
Q1: What are the typical challenges of a sari-sari store owner and how is Growsari addressing these issues?
A1: There are 3 key issues sari-sari store owners struggle with: 1) having a single source of complete and affordable goods, 2) lack of differentiation from other sari-sari stores in the same area, and 3) access to capital to run their store well.
Sari-sari stores struggle with sourcing and delivery of FMCG goods, as there is not a central place to get goods at affordable prices, so they need to source from many agents, go to different places to complete their assortment at the most affordable prices. What we offer in Growsari is a one-stop shop for their store; they can just order everything they need in their app, because we have more than a thousand of fast moving sari-sari store stock keeping units (SKUs) at distributor prices, and we're able to price competitively because of our partnerships with FMCG companies.
On top of that of FMCG goods, we also offer other services to sari-sari store owners that are relevant to their customers like load, bills payment, and online shopping, and we're able to do this through our key partners like Smart, Bayad Center, and Lazada. This allows sari-sari store owners to have some level of differentiation from other sari-sari stores in their area, meaning more suki.
Finally, we also have this rewards program called GrowCoins that allows our users to earn from every transaction and use these GrowCoins on any of Growsari's services. We even provide a credit line for our users, where they can order goods or transact any e-service first, earning from this, before even having to pay Growsari for it.
Q2: What is the business case for these sari sari stores to do business with Growsari rather than buying from other major wholesalers?
A2: Our users love Growsari because we're a one-stop shop for everything a sari-sari store owner needs to run their store: 1) a way to have complete and affordable source of FMCG goods, 2) access to other services like load, bills payment, and e-commerce to drive more end consumers to buy from their store, and 3) access to a credit line that can be used across the entire Growsari ecosystem so that they can manage their capital better to continuously run their store.
Q3: What are the profiles of sari sari stores that have signed up with Growsari? Are they bigger, medium or small sari sari stores?
A3: We cater to all kinds of sari-sari stores, especially the small ones who do not have access to good, complete, and affordable goods & services, because they're in the far flung areas without access to agents from bigger FMCG companies or major wholesalers.
Q4: How was store acquisition done during the lockdown?
A4: Because the pandemic hit, we had to pivot from our agent-dependent way of acquiring stores to a digital-first model, starting with something this segment is most familiar with, Facebook. We ran Facebook ads to get users to download the app, and built credibility & trust by showcasing how big of a network of sari-sari store owners already currently source goods and services from us, created relatability by speaking their language, and showed value by talking about the benefits of sourcing from us like affordability, convenience, and business expansion.
We also made sure that our in-app experience is simple and intuitive, allowing users to sign up and order as seamlessly as possible, and we even track where most people drop off in the process in order for us to improve our app or education comms depending on the need.
Finally, we supported our users with callers & field agents as needed. If they meet certain pre-defined triggers like not ordering for a certain period, we will deploy a caller or agent to assist them with anything they need.
Q5: Many have tried but failed to link to sari sari stores in their financial supply chain in the past. Collection performance is also a tricky issue. How do you motivate sign ups? How do you motivate pay ups?
A5: We're able to motivate sign ups on the platform because of the unique value proposition Growsari unlocks for our users, and we're able to leverage the right channels to reach out to them across digital as well as more human interaction whenever needed, as we know this segment of users may potentially need further assistance given they may not all be as tech-savvy.
We're also able to motivate pay-ups for the credit terms we give our users, because our credit score leverages our existing relationship with our users and how engaged they are in our platform. The more engaged they are, the more invested they are in Growsari, and they will do their part to pay on time to continue to be able to use the platform.
********
Josiah Go is Chairman and Chief Innovation Strategist of Mansmith and Fielders Inc. The 16th Mansmith YMMA awarding and Summit will be held on Sept 14 and 15, 2021. Free registration through https://continuum-edu.com/courses/16th-young-market-masters-summit/
See more articles on Marketing Strategy.