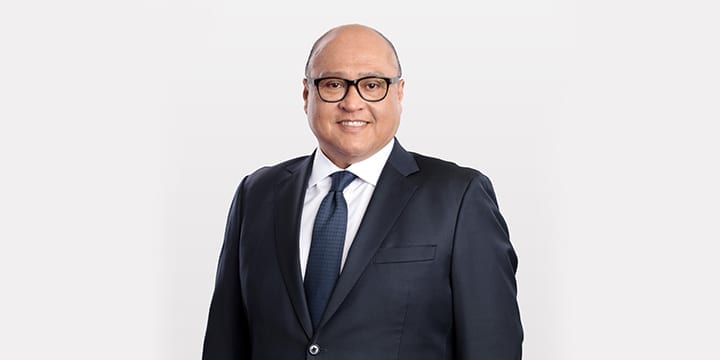 Jose Arnulfo "Wick" Veloso joined the Philippine National Bank (PNB) as President and CEO in November 16, 2018 after heading HSBC for 23 years, serving his last post there as its first-ever Filipino CEO for the Philippines since December 2012. Stock price of PNB has reversed its struggling trends the last 6 years and has gained over US$500 million within 6 months from his appointment as CEO. In this interview, he shares his turnaround strategy for PNB.
Q1: What motivated you to join PNB – considering the move entailed a major switch from an international bank to a century-old bank?
A1: I have come to a point in my banking career where I want to play a more active role and help in nation building, in the crafting of bank strategy and its implementation. PNB has a multitude of opportunities to grow. For close to a quarter of century, I worked in a multinational bank. In HSBC, I learned so much. And now, I would like to bring what I know to PNB. This institution has a strong presence in the provinces, and I want to implement what I have learned in banking to help my fellow Filipinos in the countryside. I would use my experience in banking to help support infrastructure, agriculture, manufacturing industries, consumer lending and help our customers fulfil their aspirations. The more customers we support, the more we help build our nation and strengthen our economy.
When Dr. Lucio Tan interviewed me for this role, he shared with me his vision for PNB. According to him, the word Philippine in Philippine National Bank means so much to him because this is the place where he was able to make his name. His vision is totally aligned with what I would like to do for the rest of my career which is to grow the Philippine economy and help alleviate the lives of the Filipino people especially in the provinces. He also shared with me that a vast number of our Filipino workers are overseas and would like me to find ways to help grow the Philippine economy so that they can come back to a more vibrant and progressive country.
Q2: Fintech firms have been disrupting banks with faster, cheaper and more convenient apps to get loans and remittances for the unbanked. What are your plans to tap the unbanked that is twice the number of people compared to those in the formal banking industry?
A2: I have always challenged my management team, if we really do understand the business of banking then why do the money lending investors exist? That means we have not been trying hard enough to understand the needs of the people. We need to look at how these unbanked were on-boarded by money lenders and how they became comfortable with them. It boils down to a different credit review process. By using appropriate technology and a quick turnaround time money lenders address concerns of borrowers by fulfilling their need when they need it most.
PNB is investing in technology just like any other bank that is innovating. Please take note that technology is significantly improving every day. We believe that the high cost of technology will eventually lower as more competitors in the fintech world provide easier and simpler solutions. In the meantime, we want to make sure that we have the basics: account information & balances, electronic remittance, fund transfer, electronic bills payment and the like – before we embark on a full end-to-end process. However, as our customers continue to use their mobile phone for bank transactions, do remember that customer experience is going to greatly improve.
Over the medium term, there will be vast improvements in our digital banking as we are now being guided by big data. The first movers in this innovative space are going to spend a lot. We believe that by providing the basic services in our digital platform now we will be able to leapfrog our competitors when the cost of technology is significantly cheaper. What is important is that we offer and continuously improve our basic services now.
Now, let me go back to banking the unbanked. Our long-term goal is to create a subsidiary, that's a joint venture with a company that is engaged in micro finance. We want this to be a totally different operation separate from the bank. We need people who can reach and bank the C & D markets. These may not be college graduates but people in the community like housewives, leaders, those in the farms and in the wet markets. What we would like to do is to build a new platform that is able to do microfinance focused on our overseas kababayans and employees in the provinces. Hopefully within five years, 10% of PNB's loan portfolio will be allocated to microfinance. We are already in discussions with a company and hopefully we can do a deal before the end of the year.
Q3: PNB was once the biggest bank in the Philippines. Today, it is number 5 in equity and less than a third of the largest bank. What are your top priorities as president of PNB and why?
A3: Our primary strategy is to embark on safe aggressive growth.
We will continue to grow our corporate book as well as our commercial banking business where PNB is already strong. Two-thirds of the branches of PNB are in the provinces, and we will continue to service these customers together with the large local companies that are involved in big infrastructure projects. We cannot ignore the large local corporates. Major transactions end up with them due to their ability to handle large transactions that needs huge amounts of capital.
Over the medium term, we will build our consumer loan business. Currently we are merging PNB Savings Bank into the main bank. This will allow the 712 strategically located PNB branches a network that will support this initiative efficiently. All banks are in this type of business but PNB has got strong and loyal commercial banking customers whom we will continue to service and tap in the provinces. I have discussed the micro lending plan that will improve PNB's overall return due to a wider consumer base.
During my first 6 months in the bank, we focused on getting the bank ready for our strategy. As the second semester begins, we are well into the execution stage wherein I am focusing on turnaround time and customer experience.
We already have the momentum going. By pushing more of our resources and energies to businesses which give bigger returns, our existing strategy continues to work. Our marching orders are to grow within industry. Some of the details of the strategies we employ:
1. We would like to grow our consumer finance business from 10% to 20% of our total loan portfolio within the next 3 years by accelerating the growth of this segment together with SME lending in all branches around the archipelago. By folding in our PNB Savings into the main bank, we will advantage of our 712 branches across the country.
2. We have 76 offices in 16 countries, right now 90% of their focus is on remittance. Over the medium term, we target to build the capabilities of our International network by booking more consumer finance products such as PNB's "Own a Philippine Home Loans." It is a unique product which only Philippine National Bank can offer overseas, having full banking licenses in various jurisdictions like United States, Hong Kong, Japan, and Singapore. It is a convenient way for overseas customers to apply, book and pay for these loans without having to come to the Philippines. Many Overseas Workers, Filipino immigrants, and foreigners married to Filipinos want to have a retirement home in the Philippines. We can help them through our "Own a Philippine Home Loan."
PNB also offers investment opportunities for overseas Filipinos. Our range of UITF products provide an excellent avenue for our kababayans to grow their hard-earned incomes, to ensure a stable future for them and their loved ones. It is within our goal to help our compatriots level-up financially while we guide them on how to maximize their earnings.
3. Help marginalized Filipinos by giving them access to affordable financing. This frees them from usurious rates which is prevalent in the microfinance business.
4. Strengthen our digital technology capability to make end-to-end banking seamless for our customers. As we grow all our businesses, we shall arm our colleagues with better tools to delight our customers using technology and improved processes. By partnering with technology leaders, we will build technology internally to make banking safer and easier for our customers. Our objective is a complete customer experience where they will be able to say that Philippine National Bank is the easiest bank to deal with.
Q4: Many banks do or offer the same thing. What do you envision PNB's distinctiveness to be?
A4: Apart from our expansive reach locally and abroad, one of the best traits of Philippine National Bank is that our Filipino middle-income and low-income segment customers are not intimidated to speak with our officers. This resonates strongly in a recently concluded event I attended; a woman told her story on why she decided to open an account with PNB. She told everyone that it is with PNB that she experienced the staff welcoming her with a smile, that the staff made her feel like they were ready to help her in every way they can like she was a longtime friend. Our customers do not feel like they are speaking to bankers, but they feel like speaking to friends that they can trust. Our staff, especially in the provinces are known to be hospitable and approachable. PNB is part of the local community. We are their partners, their neighbors that holistically help them in their financial needs. No matter who you are or where you came from, PNB will gladly open its doors as it is the bank that our customers can lean on.
Q5: You plan to double return on equity from a yearly average of 5.8% before you took over, to 12% in three years, a level last done in 2013 (2012 was even higher at nearly 20%). What have you done so far to make it happen? What else will you do to make it happen?
A5: At the start of my tenure last November 2018, ROE of our core business was at 5.2%; currently, it is at 5.9%. We plan to improve the return on equity to 7% by next year and between 9 – 10% on the third year. However, please take note that I told the team to aim for 12% within 3 years because it would be an injustice to Dr. Lucio Tan if I told the team to only shoot for the moon and not for the stars.
We have increased our core profits same time last year by 32%, and we have grown our total resources by 25%.
Like other banks, we are cross-selling and building technology to help operate more efficiently. We have a solid brick and mortar network that covers the archipelago and key cities around the globe. These have worked conventionally. We are building technologies around them and this is what will help us meet our targets.
Q6: What would you like the public to know that they still do not know yet?
A6: Some still think that PNB is a government bank. We were established in 1916. And over the years we were granted full banking licenses in Japan, Singapore, Hong Kong, and the U.S. specifically in the state of New York and California. Subsidiaries in China and the U.K. can connect PNB's vast domestic reach to those that provide commerce to the Philippines abroad. During our bond offering roadshow, a lot of analysts were not familiar about PNB's management, strategy, and vision.
PNB is a strong organization. A testament to it is the commendable efforts of the PNB's biggest resource which are the extremely hardworking, and dedicated men and women located all over the country and abroad. Our recent achievements coupled with the bank's strategy is already a proof that Philippine National Bank is a sleeping giant that has finally awaken.
Catch Wick Veloso LIVE (rare appearance, rare insight sharing) at the 11th Mansmith Market Masters Conference, happening on March 18, 2020 at Resorts World Manila. Register early (pay in January 2020). Visit www.marketmastersconference.com.