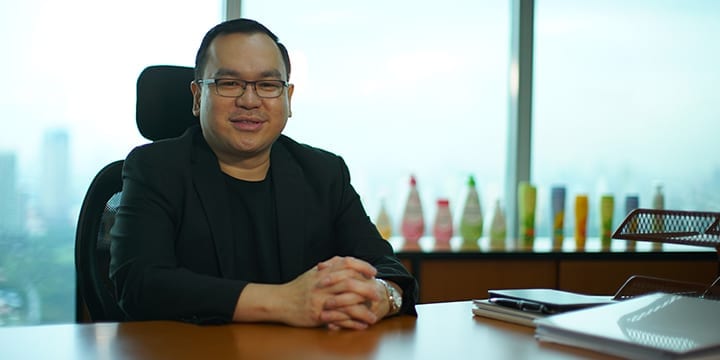 Ian Santos is the Country Manager of Mundipharma Philippines' consumer healthcare and ethical businesses. Mundipharma is a privately owned global network of independent associated companies, with presence in over 120 countries across six continents.
They are leaders in pain management and wound care, as well as significant players in respiratory and eye care. Mundipharma is the maker of the popular global mega brand Betadine. Ian used to be the National Sales Manager of Colgate-Palmolive (Philippines & Russia), Sales Operations Planning Director of Coca-Cola, and most recently the Pharma Vice President of GlaxoSmithKline Philippines. He was also recently recognized as a Top Pharma Leader at the Pharma Gorilla Global Conference. He shares with us why it is important to pay attention to internal marketing.
Q1: Why is it important to treat employees as internal customers?
A1: Employees who are aligned with a company's mission, vision, and objectives will be in the best position to help the organization achieve them. It is in the company's best interest therefore that they treat their employees as internal customers, who they should effectively sell to and align with to ensure their mutual success.
Employees need to be sold not only on the intangibles. They also need to experience and believe in the company's products or services before they can become effective advocates for the company. Once they have belief and passion in what the company sells, the job is already half done. You will have a solid team of associates who are motivated to take the business to greater heights. They will be proud to work for the company and it will positively manifest in their interactions with external customers, regardless of their actual roles in the organization. Something magical can happen when a company is able to truly reach employees heads and touch their hearts.
Q2: Should companies employ only people who are aligned with their "corporate culture"? Why or why not?
A2: There are many talented individuals who will do very well in certain companies. But these same individuals may not necessarily succeed elsewhere, even if they are in similar roles. Having worked in several companies and industries, I've learned that when an employee's values and behaviors are fully aligned with that of the company's values and culture, they will likely succeed in their role and stay long.
People will perform at their best in an environment where they can be their authentic self. When the corporate culture runs counter to their principles and beliefs as a person, they will waste precious energy on trying to fit in, instead of focusing their energy on being a productive employee. This can eventually lead to job dissatisfaction and demotivation. Hence, right hiring becomes very important. Companies should bring in talents who are a great fit to the organizational culture so the chances of success are high at the onset..
Q3: There is a popular belief to make employees happy first before making customers happy. What are your thoughts on this?
A3: I am a firm believer in the mantra: "Take good care of your people, and they will take good care of your business."
This means more than just providing competitive salaries and benefits, which is a basic requirement to attract and retain talent. It is also a must to create an environment where people are trusted and respected, constantly developed so they can add value and excel in roles that amplify their strengths, and provided a safe workplace where their well-being is given prime importance.
Always strive to create work-life harmony for your employees. Companies who are able provide a good mix of monetary and non-monetary benefits will likely be able to sustain high engagement of employees. For instance, look into work from home arrangements, flexible work hours, as well as value-adding activities such as mindfulness sessions, personal finance training, and spiritual and physical activities. Its all about helping associates develop their whole self.
I am sure that as customers, we have all come across engaged employees. Think of the last time you encountered highly motivated employees in a drive-thru restaurant or a supermarket. How did they come across and how did it make you feel? Employees are a reflection of the company. When you treat your employees well, they will also treat your customers well. A great customer experience starts with a great employee experience.
Q4: Who should lead internal marketing activities, Marketing or HR?
A4: While HR usually leads internal marketing initiatives like dissemination of company strategies and initiatives, I believe the best approach is for marketing and even other departments to partner with them to ensure a fit-for-purpose internal marketing campaign for employees. Marketing can help provide more creative approaches to communicating, for instance via digital channels, over and above the usual powerpoint slides and emails. There are many aspects and best practices in marketing that can make your internal marketing initiatives more relevant and exciting, especially for the younger generation of employees.
Internal marketing must also start from the top. When employees see that all members of the leadership team are involved in ensuring clarity and alignment of everyone, employees feel valued and become more invested in the success of the company. Leaders must be champions of a company's internal marketing campaign, constantly engaging their teams so that everyone is always kept in the loop.
Q5: Can you share some of your internal marketing strategies that benefited Mundipharma's market performance?
A5: It all starts with day 1 of our employee experience. We have now made it a must that company tools of trade like cars, laptops, mobile phones, and even business cards are made available as best as we could on an employee's first day of work. We also ensure each new employee is provided a pack of company products that they and their families can immediately try them. In their first weeks of employment, they are introduced to the leadership team,and get exposed to all areas of the business, from HR to marketing managers who educate them about the brands and products we sell.
We also hold periodic employee product sales so our employees can invite their friends and family to our office and take advantage of limited offers on our products. Aside from generating trial and awareness, this enhances business ownership where our employees act as our brand advocates to people they know.
With our major push into digital and e-commerce we encourage our employees to share posts of our pre-approved brand messages and materials in their social media platforms. We are seeing good traction, with more employees sharing our posts online. I would like to consider myself the company's chief product and employer brand evangelist, so you will often see me sharing company and brand activities in my social media accounts.
When I took the helm last year, everyone knew the Betadine brand but very few outside our industry knew about Mundipharma or our other products. It is quite heartening to see that through various initiatives and channels, awareness for our employer brand as well products like Betadine daily feminine wash, throat spray, oral gargle, body wash, and foaming hand wash have significantly increased. Many have been positively surprised that there is more to the company than just our ethical business, and that there is more to Betadine than just wound care products.
Top of mind awareness for our heritage Betadine products have been enhanced, and that has also created a halo effect for our newer products. Overall, we are pleased to be in the midst of a banner year for our company.
Q6: Your company has recently been recognized by HR Asia as one of the Best Companies to Work For in Asia. How has internal marketing and culture contributed to these awards?
A6: One of my personal missions when I accepted this role was to elevate the Mundipharma employer brand to be at par with the best local and multinational companies in the Philippines. I knew that for this to happen, we had to re-engineer our culture. We need a culture that will significantly increase employee engagement, motivation, and trust in the leadership and what we wanted to accomplish as a company. Special credit goes to our leadership team who worked hard to build the culture we needed to achieve our internal and external goals. The culture we have built, and are constantly working on sustaining, has been the cornerstone of our success thus far. This new culture could only be understood well, felt, and lived by everyone if we made important changes in the way we executed our internal marketing campaign.
We are grateful and thankful that these efforts have been recognized by HR Asia Magazine, the most authoritative publication for senior HR professionals in Asia, who recently named us one of the 2019 Best Companies to Work For in Asia. But I am most proud of the fact that our own employees rated us in the HR Asia survey consistently higher on average than other companies across several industries in key areas such as culture, diversity & inclusion, mutual trust & respect, social responsibility, empowerment, focus on employee well-being, and quality of leadership, among others. This not only validates what we are doing right, this also inspires us to continue focusing on the welfare of all our employees.
Q7: Big companies have harder time communicating with their employees. What advice can you give them to have effective internal marketing communication?
A7: Overcommunication is key for internal marketing to succeed. This is even more relevant when the organization is large. The bigger the organization, the bigger the chance that ideas and key messages get lost in translation when it reaches front liners.
Hence when we communicate important initiatives, we don't simply email them but we communicate via regular townhalls, field engagements, and even small group sessions by the leadership team with their own people. We also try our best to simplify communications so that there is little or no chance of misinterpretation. I always like to communicate using no more than one page or one slide if possible. Less is always more in terms of content. More is better in case of frequency.
Last and most important of all, leadership needs to set the tone and be champions of internal marketing.
In summary, use different channels of communications, simplify your content, but always overcommunicate. Keep in mind that effective internal marketing can significantly contribute to high-performance, high employee engagement and retention of talent. It is worth leadership's investment in time and effort.
Catch Ian Santos live as he talks about Optimizing Channel Management to Reach your Target Customers in Sensei's 2nd Business Conference this September 13, 2019 Register here.