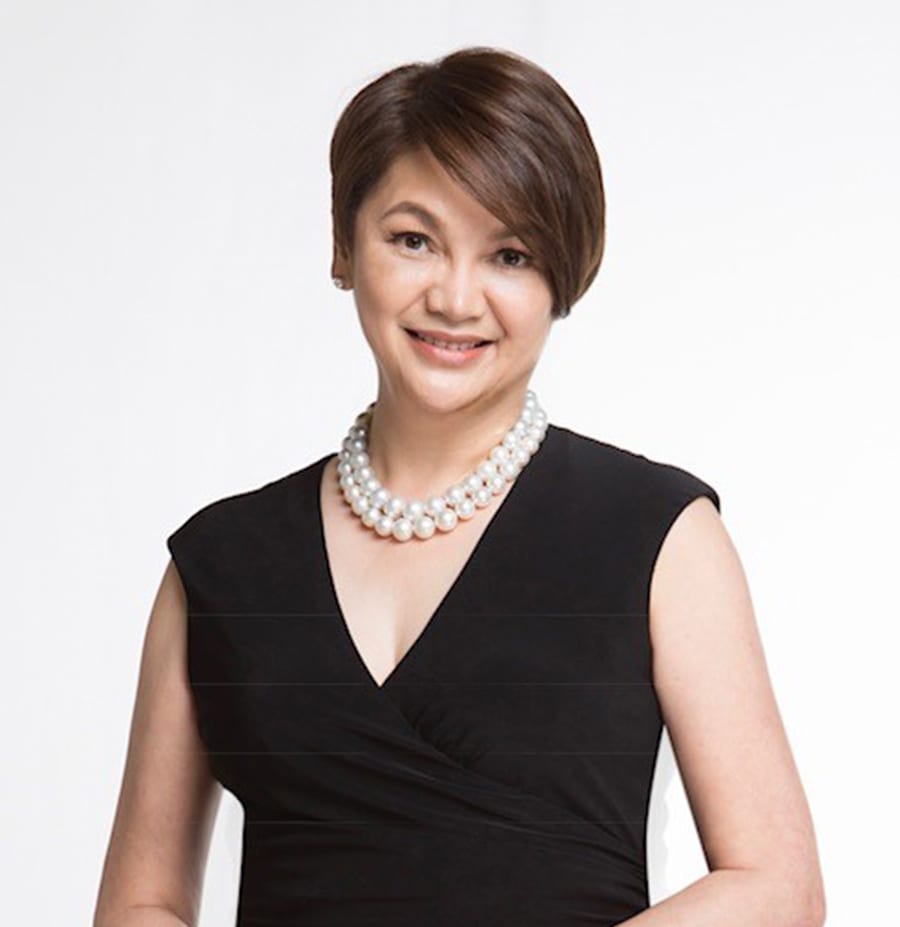 Venus Navalta is a highly respected media industry leader with a brilliant track record for building successful media agency operations. She rejoined the Interpublic Group as CEO of IPG Mediabrands Philippines back in 2015.
She was previously Chairman of ZenithOptimedia, Philippines, where she propelled the agency to winning three "Media Agency of the Year" awards. Venus spent most of her career in McCann World Group as EVP and Country Head for Universal McCann, gaining the agency an unprecedented five "Media Agency of the Year" awards. A past President of the 4As, Venus graduated with a degree in Broadcast Communication from the University of the Philippines College of Mass Communications, and was honored as one of its most outstanding alumni. She shares her latest experience of starting all over again and building a new media agency from scratch.
Q1: There are many competitors considered as 'Goliaths' in the marketing communication agency space. What unmet needs were you trying to satisfy with the entry of IPG Mediabrands?
A: The marketing communications industry is undergoing rapid changes and you need dynamism and agility to take advantage of all the opportunities in this new highly interconnected world. As a start-up, we can not play by Goliath's rules. We are the David that sees the world from another angle so our approach was naturally different.
Yes, we are a start-up but we are backed up by a global network. I come from an establishment agency background so I have the experience of organization, systems and processes, knowing what will no longer work and where the new revenues will be coming from.
We knew that the digital practice here is still largely operated in a silo. We put digital, data and technology at the center which allowed us to win initially mostly clients for these specialized services, some even from abroad. But digital, data and technology are just parts of a bigger ecosystem. Our connections agencies UM, led by Reena Francisco and Initiative, led by David Trovell, are responsible for creating an integrated and open communications solutions, insuring that both ideas and channels are linked seamlessly with an agility to respond to real time opportunities and challenges. With this approach, the local big wins followed on the second year.
Starting from scratch allowed us to create an organization with a high diversity of talents required for this modern age. Mediabrands' employee number 2, Albet Buddahim, is from a Client digital background (P&G), a deliberate move so all our thinking starts with the end in mind – what business results need be delivered.
In just over two years, we have grown from less than ten to 120 today with our digital, technology and data teams growing the fastest, making up 60% of our team. Manila is now one of IPG Mediabrands' hubs for advanced business analytics with the team growing from 2 in 2016 to 30 in 2018.
Q2: You were already the chairman of a media company when you started IPG Mediabrands in the Philippines. Can you share with us the key challenges of your start-up entrepreneurial journey?
A: My journey into the world of entrepreneurship is both very humbling and exciting. I had to learn and unlearn a lot in a very short period of time but it was also very exhilarating! Three key lessons:
First: You make do with very little and you really wear multiple hats. When I was setting-up the company and scoping opportunities, I was a one-woman team. From a corner office with a solid support team, my whole office was contained in a bag. I was squatting in other people's conference rooms and became comfortable working in coffee shops and at home. I was the CEO who set the vision, chart the course of the company and got approval from global management but I also did a lot of the work including client presentations, creating plans, etc., including trying to figure out how to use the new high tech copier. I actually did the shopping for the office cutleries. No work was beyond or beneath me.
Second: As an entrepreneur constantly watching revenues and expenses, you embrace any opportunity that comes your way. Very few big corporations will entrust their business to a start-up. You first have to build your reputation. So we went for the long tail. We won 46 new clients on our first full year of operation, earning enough to break even. It was tiring but winning a client almost every week puts us on a constant high and gives us a reason to always celebrate.
Third: You are fearless — your creativity, innovation and survival skills are elevated. You become very resourceful, imaginative, inventive and are braver. And you discover new reserves of these values within you and from your team. I always tell our young team that we have nothing to lose and everything to gain so there is no way but up. It was easy to take a lot of risks, to try new things and undo them quickly when they don't work. Our new clients recognize these and are excited to work with a team who thinks differently, comes up with fresh approaches and is unafraid to venture into the unknown and untried. Our global management likewise recognized this and gave me a bonus for "innovation and bravery", a first for me, as all my previous bonuses were for financial achievements and awards won.
These are valuable lessons and I hope that the future generation of leaders of Mediabrands Philippines never lose sight of these fundamental values of entrepreneurship. I am lucky and grateful for leading a start-up at the ripe old age of 57. Very few get this opportunity.
Q3: From nowhere in 2014, IPG Mediabrands latest billings will put you among the Top 5, making you the fastest growing agency. You have also won many awards in your career. What does it take to build a winning team, a winning culture?
A: Hmmm… this is a difficult question to answer. I have to credit my mentors, Menchu Esteban, Emily Abrera, Ricki Arches, the late Art Pusta, and many more, for allowing me to be part of a winning team, a winning culture. From them, I know what success looks like. And to have the heart of champions. We love winning and we hate losing but we learn well the lessons from losing.
I also credit the many clients I have had who are winners and leaders, their high expectations forced me to create teams that will meet and even exceed their exacting standards. The affirmation we get for work well done inspires us to do even better. When we have meetings with unhappy outcomes and the team gets depressed, I encourage them and guide them to come back with work that will delight the clients. So their self- confidence and belief in the team is quickly restored. Winners attract and beget more winners.
A great talent team is the foundation of our business and is our biggest asset. I think I have a special talent for creating the right talent combinations. JP Salustiano, our Chief Insights and Strategy Officer describes my talent management style as "positive …. approaching each one of us differently, always focusing on our unique strengths."
And for this talent management style, I credit my Mom who brought us up, 9 children of varying talents and interests. I recently found out that it is not in my nature to be maternal but I was nurtured by my Mom's strong modelling so I became one.
Now, I am "Mother V". I treat each one with my brand of tough love. I do my best to bring out their unique gifts, to generously share these gifts with their team and the company and be open to likewise receiving the unique gifts of their team mates. I teach and am hands-on when necessary. I treat them with candor so they know where they stand and are well grounded. I am transparent. I point out areas for improvement and call out unacceptable behavior. I allow them to fly, test their wings, to leave me. I am proud of their achievements and am generous in giving rewards. I guess this is the environment that nurtures a winning team, a winning culture.
I am happy that people have formed lifelong friendships while in my care and I see a lot of "reUMions" happening around the world as a number of them now occupy key roles in other countries.
Q4: As the pioneer of 'insourcing', tell us your concept of this revenue mode
A: The idea stemmed after a BPO requested for a proposal to train their social media team. We did not get to work with the BPO but being an entrepreneur, Albet and I saw the opportunity.
We pitched to our global management that the we can do some of the digital work required for our clients in markets like the US and Canada in real time at less costs. After all, we use the same global tools and processes and our team have passed the same certifications from Google and Facebook. We started with our L.A. office and now we are working with five markets in the US plus Canada and Australia.
As mentioned earlier, Manila is now one of the hubs for advanced business analytics. We service the US, Mexico and Asia-Pacific with our team of 30 people. Our data scientists do sophisticated work for global brands giving us a unique learning advantage versus our local competitors.
Q5: What made you want to transform from a digital agency to a full-service marketing communication agency, and now to a marketing agency?
A: We really set-out to be a marketing communications agency but as a start-up, most of the work we got on our first year were on digital. This was a blessing in disguise. As we acquired experience marketing in the digital age, it became easier for us to connect this to the traditional marketing world where people like me have more experience.
Marketing decision making today is more informed. With analytics, we are able to understand better the relationship, impact, contribution and effectiveness of the various marketing channels that we use. Data technology allows us to combine science with the art of personalized messaging which directly leads to business results. These are the kinds of marketing services that we are offering.
We have become a marketing agency for some clients. The Miss Universe event is one example where we took on multiple roles including sales and sponsorships, beyond creative and media communications. They came to us with no budget and we earned for them.
Q6: Which marketing campaigns are you proudest of so far and why?
A: From my previous life, I am proud of a game-changing strategy we did for Coke that made the local industry change the rules on competitive airing and brought me to the Coke global boardroom in Atlanta. I am also proud of the J&J campaign we did on touch therapy that won for McCann its first Cannes Lion.
From last year, we are proud to have worked on the Miss Universe event. It put the country in the world news for all the right reasons and brought smiles to 100 million Filipinos.
From our current work, I am excited and very proud of the work we are doing for our Client Chen Yi. They are revolutionizing and mechanizing the rice industry in the country which can increase the farmers' income to 10x more. We are their marketing agency and among the work that we do is creating an app for farmers that will increase work effectiveness, improve quality of product and increase harvest yields. We are proud of this as we will potentially contribute directly in creating inclusive growth.
Q7: You decided to be a full-time housewife 2-3 times in your life, how did your experience affect your management style of IPG Mediabrands?
A: Being a full-time housewife made me richer in a lot of ways. It grounded me. Being known as the "Mom of", "wife of", "friend of" and not having a company as a second family name is both sobering and liberating. It reminds me how transitory everything is.
Family management is about common sense and simplifying matters so my ability to cut to the core of the matter serves me well in creating organizational structures and solving business issues.
Family is about emotions and feelings so it honed my listening skills and observation ability. I am sensitive even to unspoken thoughts. Very important qualities as I manage a diverse set of talents and personalities.
And the experience taught me focus and prioritization. I was and will be there 100% when I am most physically and emotionally needed by my loved ones. So I don't have "guilty feelings" whenever I go back to the corporate world. I embrace it is with passion, enthusiasm and joy!
Catch Venus Navalta LIVE (rare appearance, rare insight sharing) at the 11th Mansmith Market Masters Conference, happening on March 18, 2020 at Resorts World Manila. Register early (pay in January 2020). Visit www.marketmastersconference.com.