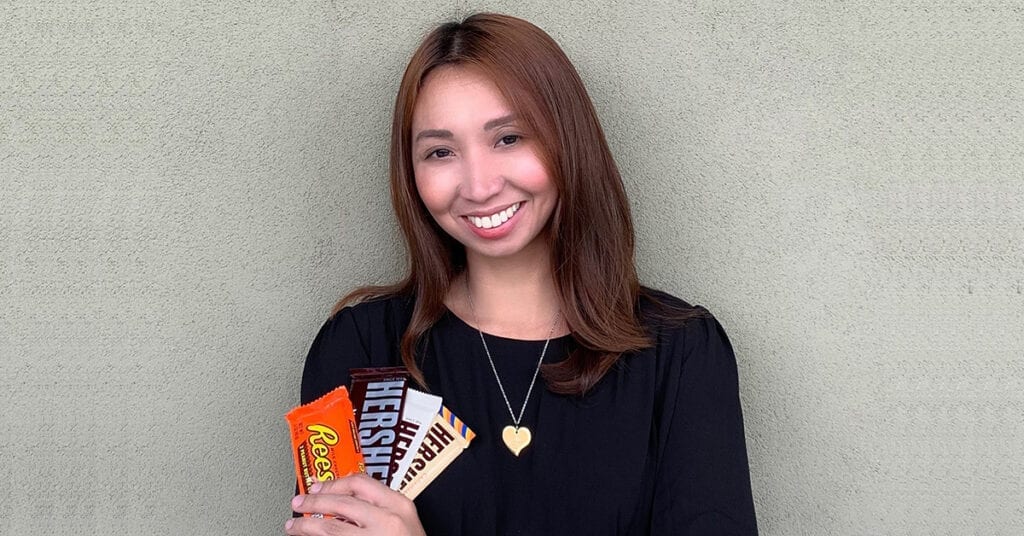 Arlyn Mendoza started as Country Manager of Hershey's Philippines on August 1, 2019. Prior to this, she was Sales Head of General Nutrifoods Philippines, National Sales Manager of Asia Brewery – Pascual Foods, among other companies. With the help of bestselling author Emilio Macasaet III, she has designed a route-to-market model that presents both economic and relational mechanisms with the latter including top-to-top engagement, shared norms and expectations, and culture styles.
In this interview, she shares with us the importance of choosing and managing distributors.
Q1: What is the business case for outsourcing your sales force to third party distributors?
A1: There are a number of reasons why a company will still consider an outsourced sales force.
First is Financial. Having a 3rd party distributor somehow reduces your operational expenses given that it converts your fixed to variable cost, which will only vary with sales revenue. If not much sales were generated, then it results to less distribution cost as well.
Another reason why companies outsource their sales force is because of distributor's competencies. You can leverage on their strength through faster, wider and deeper placement & availability of your product.
With this, you will be able to conserve your time & energy so that you can focus on building your brand and conceptualizing sales & marketing strategies. Just imagine more than 50 sales personnel natiowide in your payroll, plus the complexities of logistics if you settle to directly service nationwide customers.
Lastly, outsourcing your sales force minimizes your risks associated with account management such as trade receivables and inventories. However, company's final decision on which route-to-market to use will always be contingent to its capacity and objective.
Q2: Should major key accounts be covered by the company themselves? Why or why not?
A2: Ideally, yes, in terms of retailer engagement. Servicing, collection and other operational aspects of the business would be expensive unless the company already has scale.
Directly engaging the retailers will bring focus and control in selling and negotiation.
Another option is having an exclusive team within the distributor's structure. This will give you more control and confidence that the sales people are focused only on your brands.
Q3: How can both a principal and a distributor prequalify if they are compatible?
A3: Primarily, both the principal & distributor should have common mindset on how to do business. For them to be compatible, both organization should have market centricity outlook. Their frame of mind should be market oriented and not product oriented.
There are cases wherein the principal is market oriented but the distributor is not, chances are the principal will not be able to gather all important market information they need to arrive in a strategy to improve the brand. However, principal can try to rub-in that market centric frame of mind to their distributor for them to appreciate also the importance of market data. In return, principal will analyze and market insights from the information provided by the distributor, in this way they will value and understand reason behind what they do. If they can do this, then collaboration will follow.
But another case is if the distributor is market centric and the principal is not, so even if the distributor will provide market information but they will realize that it's not appreciated by the principal, eventually they will stop sharing that information anymore. If this is the case, then no market or business analysis is happening. No collaboration or any effort from both organization to improve the business.
The KYC model, which means "Know your customer, Know your consumer and Know your competitor, will be very helpful and a good foundation to initialte compatibility and collaboration for both the principal & distributor.
Q4: What are the indicators to determine that the principal and distributors are collaborating?
A4: There are actually 2 mechanisms that we can consider to validate:
First, there should be Transparency. If both principal and distributor are market centric, then they already know what is expected from them and they understand the reason behind what they do. The distributor is openly informing the principal of issues happening or even possible issues that will happen. In return, the principal will likewise share with the distributor any pertinent finding that would help to strategically aid sales growth.
Second indicator would be higher level of growth investment. Again, if the distributor is market oriented, then they will be willing to invest towards the growth of the market. Unlike if a distributor is only focused on selling the product and not understanding the market, they will not allow additional investment since they deem that it's a cost for them.
Third indicator is very obvious, which is Performance. If the distributor is collaborative, definitely it will reflect in their performance. Positive result will be seen, it will be a win-win result for both organization.
Q5: How can a principal promote collaboration with their distributor?
A5: There are 2 mechanisms that a principal should consider to promote collaboration with distributor. One is Economic, which are the basic prerequisite, such as legal contract which clearly states scope, KPIs, and investments. Second mechanism is Relational, which is the not common one, though equally relevant and should be applied simultaneously with the economic mechanism. With relational, there should be top management involvement to positively affect top management commitment which relates to better performance and results.
Another factor for relational is an established shared norms and expectation, this is when you build and set up a social contract with your distributor on what will be the agreed action on different situation.
Lastly is complementing culture with your distributor. As principal you need to gauge how your distributor reacts to change and how their people intereact. Knowing and understanding their culture are often neglected which will spark conflict in the partnershipQ6: What are red flags that a principal should start considering replacing a distributor?A6: Qualitatively, you should look in the areas of the distributor's capability, integrity and culture.
Cultural dynamics are frequently an overlooked factor of principal-distributor relationship. Culture of both organizatin should be attuned and in harmony to drive positive outcome.
Quantitatively, based on set KPIs such as sales performance and fundamentals, service level and financials.
Q7: What is your formula for determining the right compensation for distributors?
A7: It depends on the product and the category it plays in. Safest way is to work on a P&L simulation with the distributor.
Get insights on operational costs, like inbound-outbound logistics, structure, merchandising, etc. to come-up with the right discounts and allowances. Bottomline, both the principal and distributor should earn profit.